Is it possible to make money with Points2Shop?
You might be wondering how it works and how much one can earn in a day. Typically, Get-Paid-to sites like these don't offer substantial earning potential. Some of them are even considered scammy, while others only provide a few cents in earnings.
So, the big question is, is Points2Shop legit?
In this review, I'll provide you with all the information you need to know about Points2Shop, including its legitimacy. Additionally, I'll share some useful tips on how you can earn a few hundred dollars simply by typing names.
Let's dive right in and get started!
Disclaimer
Please note, I am not a member or an affiliate of points2shop.
This review is based on research and information available online in the public domain.
Any recommendations and conclusions are only opinions and may not apply to all persons or situations.
Points2Shop Quick Overview
Name: Points2Shop 
Website: www.Points2Shop.com
Price to Join: $0
Recommended: Not really. Members are rewarded with points that equal a few cents per hour.
Points2Shop is a legitimate site that rewards you for completing various tasks.
While it offers points as earnings instead of cash, these points can be exchanged for gift cards or Amazon products, provided you're from the US, UK, or Canada.
However, one major drawback is the low earning potential, making it questionable whether it's worth your time.
Fortunately, there are alternative methods, more intricate in nature, capable of generating 4 or 5 figures per month. The key lies in investing more time and effort into the system.
Personally, I use a method that consistently generates 4 figures and even more.
If you're serious about establishing a sustainable online income from home, check out the link below. It's where I learned how to achieve 4-figure earnings on the internet.
What is Points2Shop?
Points2Shop is a GPT site where you are rewarded for doing activities like surveys, playing games, going through contests, and so on.
You are not earning directly cash, but rather earning points that can be exchanged for books, cloth, gift cards, etc.
It is free to use so everyone who is at least 18 years can sign up and try how it works.
The site has about 50 thousand visits per month and most of the traffic (more than 50%) comes from the USA.
Then, 20% from Brazil, 5% from Denmark, and so on.
(I always look at such data – that gives me a first hint about the legitimacy of the website).
Who is the Founder of Points2Shop?
This site was registered in 2007, so by now, it is a well-established site of its kind.
Mathijs de Jong is a founder of Points2Shop and he is currently the company CEO as well.
The reason why I mention who is behind the system is that there are many scammy sites out there promising you to make money online.
One of the common signs of these scammy sites is that they don't show who is the founder or who is behind it.
Who is Points2Shop for?
Anyone who is interested in earning a few bucks online and likes to do surveys can join the Points2Shop.
It is also important to say that this platform does not pay cash. Members are rewarded with points that can be later converted into gift cards or products on Amazon.
Another drawback is that only people from the US Canada and the UK can actually convert the points to gift cards.
Members from other countries can still get a gift card and can try it on Amazon if it works.
Points2Shop tries to improve its service in this manner so it should be applicable to more countries.
Let's convert it into real numbers.
Member makes only a few pennies and it can take several days to make $5 to $10.
I personally don't recommend this kind of site.
It is better to learn how to create a website and how to monetize it.
I was fortunate to find a great platform where I have gained such knowledge and now I earn 4 figures online.
How to Join the Points2Shop?
It is very easy to join and you can actually sign up also with your Facebook or Google account.

You have to agree with the T&C (Terms and Conditions), Privacy policy, and cookies, and you are ready to go.
It may happen that there are some issues during the sign-up process, but this was not my case.
How does Points2Shop work?
Points2Shop offers at least 5 ways how you can earn points.
1) Paid surveys
The earning potential depends on the survey. And the surveys that are available for you depend also on your location. 
For example, when I check the surveys from my location I only find 1 available survey.
When I do reviews, I do use the VPN (Virtual Private Network), since some sites are blocked in the EU.
Being logged in from the US, I suddenly see a lot more surveys:
As you see the earning potential varies but it is no more than $1.22 per survey. Usually, it takes about half an hour to find the survey so if you do the math you know exactly much much you can earn for a day.
Also please note that you will be taken to a different site where you actually go through the survey.
In many cases, you have to (again) accept some conditions, and only afterward you can get started with the survey.
As you go through the different sites, you may get the same question twice.
I find this bit annoying and would leave the site right away.
2) Offers
In this section, you can download the apps and you will get points.
But not for the mere downloading though.
You have to perform different tasks, for example, if you download a game you need to get to a certain level within a certain period of time (usually a few days).
3) Games
In the Games section, you have a bunch of games that you can play; Makes sense, right? 🙂
The number of games also depends on your location and the time you are just logged in. 
At the time I was inside the Points2Shop, I did see only 2 games. 
Here are some other ways how it is possible to earn the points:
Mobile Apps
Peanutlabs
TrialPay
Is there another way how to earn the points?
Yes,
On top of that, you can even recruit others to join the Points2Shop and make money off these people.
If your recruits find others, you can earn from these as well.
This goes 3 levels deep.
You are right, it really resembles Multi-Level Marketing, but the good news is that everyone can join for free so technically there is nothing wrong with that.
And here is how much you can earn:
You can earn a 15% commission on your personal recruits' activities. You know that the members are rewarded with points. So Let's say members below you earn 100 points. 
Your reward is 15 points. 
Additionally, you earn 3% off the recruits on the 2nd level and, 2% on the 3rd level.
What Do People Think about the Points2Shop?
There are many different opinions about Points2Shop on user-generated sites, like for example Trustpilot.
We see both extremes. 
Many recent complaints are about the decreasing quality of support and opportunities.
With that being said, I wouldn't even consider joining the Points2Shop.
If we take a look at a different review site, like Sitejabber, we see that most of the users are satisfied with Points2Shop.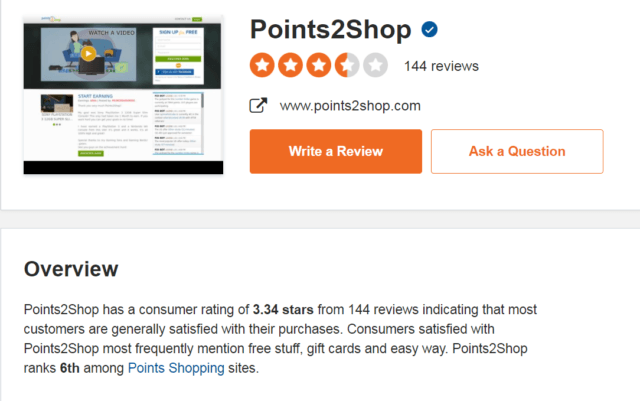 So it really comes down to a personal choice.
That is why I have included my favorite way on how to earn money online at the very bottom of this article.
Is Points2Shop Legit?
Yes, it is a legit platform however you won't make a lot.
Members earn points and these points can be exchanged for gift cards. If you are from the US, Canada or the UK you can also exchange the points for products on Amazon.
The drawback is that it is not possible to earn a lot.
On average, the amount of points you can earn per hour ranges from 30 to 40 cents per hour.
The surveys are the main way how to earn points within Points2Shop. And yet many of the surveys are pretty annoying.
If you are determined to make a decent income you have to start referring other members to join.
And let me tell you that this will take time and effort.
With such a mindset one would be better off with affiliate marketing. 
I started (consistently working) on my website at the beginning of 2019.
As of this writing, I earn 4 figures and can work anytime I want and from any place I want.
That is what I consider one of the biggest advantages when it comes to making money online.
With proper education and support, everyone can achieve that, and if patient enough it is possible to make $100,000 per year.
What I like about Points2Shop

It is free to get started. There is no risk of losing money
What I don't like about Points2Shop
Earning potential is too low
Annoying surveys – time-consuming
3rd party survey sites where you have to reveal your personal data
Conclusion
We have covered Points2Shop.
Although we did not go through every detail. The reason is that this is not a good survey site. 
I am not a fan of such sites, but if you want to know what is a relatively easy way how to earn a few bucks, go check the SquadHelp. 
I hope you find this article helpful if you have any sort of questions let me know in the comment section below.
I will do my best to give you feedback within 24 hours.
Thank you for reading
Mike