You may also like:
Please read the following note right at the beginning:
If you are looking for an Elites Empire Review I might disappoint you a bit.
This particular article is about a company called Elite Marketing Pro.
Generally speaking, I don't recommend any MLM company, but if you want to know more about Elite Marketing Pro, please stay with me.
Typically, people involved in any MLM company do not make or lose money.
According to FTC and Jon M. Taylor, MBA, Ph.D."
"Of the 350 MLMs, I have analyzed for which a complete compensation plan was
available, 100% of them are recruitment-driven and top-weighted.
In other words, the vast majority of commissions paid by MLM companies go to a tiny percentage of TOPPs (top-of-the-pyramid promoters) at
the expense of a revolving door of recruits, 99% of whom lose money."
Therefore, it doesn't make sense to get involved in this business model.
On the other hand, if you want to learn how to make consistent income online, choose a business model that has been proven to work.
It is called Affiliate Marketing and you don't have to sell any products, you don't have to recruit anyone.
These gurus from Elite Marketing Pro, claim that you can basically do what you love.
That you could work from any place in the world and basically be your own boss.
I get it, me too.
It seems that Elite Marketing Pro can provide such an opportunity.
But does it really?
Or Is It a Scam?
You know that there are many shady companies promising you to make money online.
How about Elite Marketing Pro?
Jump to:
Let's check how this company works.
I have invested time and energy to come up with as objective a review as possible about Elite Marketing Pro.
Let's dig a bit deeper to find out more about this company.
Disclaimer
Please note, that I am not a member or an affiliate of Elite Marketing Pro. This review is based on research and information available online in the public domain.
Any recommendations and conclusions are only opinions and may not apply to all persons or situations.
Elite Marketing Pro Summary
Name: Elite Marketing Pro
Website: www.elitemarketingpro.com
Price: Advertised Price: They offer different programs, starting from $47 up to $25,000
Owners: Tim Erway as President and CEO
Elite Marketing Pro Overview
Elite Marketing Pro (EMP) is a coaching-based system for entrepreneurs and network marketers.
They teach customers how to promote their own educational training products.
As far as I have found out there are 4 main products, which we will be reviewing below.
Besides the promotion of their products, you can learn how to promote your own business as well, by learning marketing skills.
You will be taught strategies on how to get traffic (both organic and paid), lead generation methods, and also copywriting.
Elite Marketing Pro is not for people that are about to start an online business.
Therefore in case, if you want to learn how to create a simple website that will get free traffic I recommend a different product.
Please check the link below to find out more:
What Is Elite Marketing Pro?
Elite Marketing Pro is a company that teaches experienced network marketers how to scale their business in the online world, using attraction marketing.
That means, instead of approaching potential customers, you are approached by them. This system is very attractive for those involved in MLM companies or direct selling companies.
The company has been founded by Tim Erway, Ferny Ceballos, and Matt Crystal.
Tim Erway is the CEO. He has been a successful marketer since 2002.
Elite Marketing Pro operates worldwide; It is a global community with more than 50,000 active entrepreneurs in more than 100 countries.
The Pros of Elite Marketing Pro

Good Quality Training
Great Support. They also have a Facebook page with active members
Large active community
The Cons of Elite Marketing Pro
Courses are overpriced.
Too much focus on self-promotion
Could not find the free trial to test out the platform
The most expensive products are non-refundable
Who Is Elite Marketing Pro For?
Elite Marketing Pro is a company for people is that are driven, network marketers who want to attract more customers using the internet.
All products within the Elite Marketing Pro platform are meant for all network marketers and business owners, regardless of their geographical position.
Partners of Elite Marketing Pro and also customers are from all over the world.
All the products, though, are in English only.
Apparently, they also have some basic products which are designed for newbies in internet marketing.
Most of them though, are already for advanced marketers.
Especially marketers who are active in MLM marketing and do not like the traditional ways of recruiting such as:
Cold calls and emails,
Meeting with your prospects,
and attending worthless networking events.
The EMP approach is different and it focuses on a strategy where prospects chase you, in other words how to sell without selling.
What is Attraction Marketing
As mentioned above, after applying the attraction marketing formula there is no need for cold calls or emails, and you don't have to bother your friends and family.
This way is really effective and it is also called attraction marketing.
Here is a short video explaining what is attraction marketing.
(It is made by other guys, from a different company called My Lead System Pro, but they explain in a funny way what attraction marketing is).
It is applicable also for brick and mortar business owners.
The biggest disadvantage I see with EMP is the price.
They have several products with different price tags.
The price for their products varies with the time so I will be listing the current prices for October 2019 below.
List of Elite Marketing Pro Products
Here is the list of 4 basic products you can purchase with a description of each product.
Elite Marketing Pro – Insider Membership – $597
This is their core product.
It is said that this has a value of more than $6,000.
I personally think that the value is a bit overrated. Sure you can get many tools if you become an EMP Insider including:
Exclusive Elite Training – member-only private training including 5-step profit formula
Private Mastermind Group – get in touch with other members of this community where you can ask questions and get feedback
Live Traffic Training – Live weekly training on how to advertise the business with paid traffic
Traffic Generation & Marketing Tools – 5-minute capture page creator, content marketer tool, and turn-key blogging system to attract new visitors
EMP Insider Monthly – monthly training webinars by the top gurus of internet marketing
Now the real price for the Elite Marketing Pro Insider is $597 (then $297 Annually).
Where does the $6,000 value come from?
They just break down the tools above and attach a $900 price tag to it.
This trick is commonly used all over similar products.
One gets a feeling that he actually saves money.
10-Minute Traffic Machine – $997
With this system, you should be learning how to create a "flood of laser-target traffic" and email marketing as well.
This particular sub-product is a 5-week step-by-step training where you can study everything you need to create a flow of high-quality traffic into the business.
It includes the following Bonuses:
Elite Marketing Pro Membership – complete marketing system that can be used to create multiple streams of online income
Page Creator Pro – a software to crank out customized capture pages and sales pages with a few clicks of a mouse
10-Minute Traffic Templates – Templates for every part of the sales funnel, ads, landing pages, and so on
Traffic Jum Start – 1-on-1 implementation calls with a coach to help start getting traffic immediately
Group Coaching Calls – a full year of weekly coaching calls to give all the help needed
EMP Insider – a monthly traffic generation training to keep up to date with techniques and strategies that are producing results
Private Mastermind – a vibrant community where one can ask questions, get feedback, and connect with other marketers
Attraction Marketing Formula – $47
Here the potential prospect will discover the secrets of creating a never-ending flow of leads and explode the network marketing business.
Again, let's break down to see what exactly it covers:
Private Facebook Group – an exclusive community with support. That includes the possibility to connect with thousands of home business entrepreneurs and top network marketing leaders
Attraction Marketing Formula – Guide to creating an online prospecting and recruiting machine on autopilot
Elite Marketing Pro Affiliate System – Instant access to a marketing system to attract and sponsor an army of people into the business
Ignition Coaching Program – 12 module income acceleration training, including 1-on-1 coaching to explore the lead generation machine setup
Social Retail and Enrollment Blueprint
In this training, it is explained how to use social media and to launch the business with a surge of new customers.
Let me share with you what is inside:
4 specific types of videos on how to show your product
The easiest way to create high-impact videos, build value around the product
Simple step formula for using videos to attract prospects
How to identify the most powerful prospect and how to find people who want to buy your products
These modules seem to be very valuable. But in order to get all of them you can spend more than $1,500.
If you are interested in how to learn internet marketing but don't want to be risking losing your money, you may want to have a look at the educational platform called Wealthy Affiliate.
It is very thorough training, including weekly live webinars and you can get started for free. No credit card is needed.
Support
One would expect great support from a program like EMP. And they do such a page.
They have the FAQ, as a 1st step if someone has questions. If the customer cannot find an answer, he can raise a ticket.
The feedback is usually within 48 hours.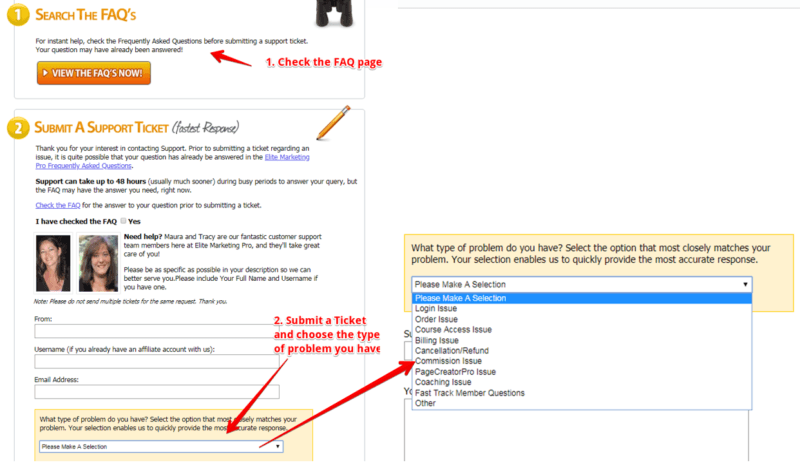 The support is also available on their Facebook page, where you can ask questions.
You will get answers from the Elite Marketing Pro team and also from other members who already have experience making money.
Elite Marketing Pro Price Structure
We have already covered the price of the basic products they offer.
Altogether though, their products start from $27 to over $25,000.
Some of them are for beginners, as already mentioned. But most of the products are intended for already experienced marketers.
I assume that is also the reason why it is so expensive. Business owners usually do have more resources and besides this is tax refundable.
They also have different payment strategies, for example instead of 1 payment of $997, one can pay 3 payments of $427. Obviously, the 1-time payment is cheaper.
Another example is the price of the Attraction Marketing Formula – which is $47.
But it can be purchased for $1, and then the rest of $46 will be paid after 7 days.
The payments are accepted only by credit card (Visa, American Express, MasterCard, and Discover).
Let's sum up the main products and the refund policy.
Price for EMP Inside Membership: $597 Annually (You have a 30-day money-back guarantee)
10 Minute Traffic Machine costs $997 or you can make 3 payments each for $427 (30-day money-back guarantee)
The attraction Marketing Formula costs $47. As I have mentioned above there is this $1 trial for 7 days (30-day money-back guarantee)
Social Retail and Enrollment Blueprint are for $147. (with a 30-day money-back guarantee)
There are also other products you may purchase once you are inside the EMP program.
These products cost more than the regular ones as listed above. They do have different policies regarding refunding.
For example, the Elite Marketing Pro VIP has a conditional 12-month money-back guarantee.
Here are the conditions:
must be an active VIP member for at least 90 days
must watch all (12) of the Ignition Coaching modules
must attend a minimum of 3 calls with the VIP coach within the first 60 days of enrolling in the VIP program
must attend a minimum of 6 VIP traffic review webinars
must set up, launch, and run an Elite Marketing Pro ad campaign with a minimum ad spend of $300 for at least 30 days
must submit a minimum of 3 ad campaigns on the VIP traffic review webinar
Other programs like EMP Acceleration Coaching and Mentorship Program, as well as EMP Elevation Mentorship Program, have no refunds.
All sales for these products are final.
It is also recommended to purchase an autoresponder. There are different products you can purchase with different pricing. The price differs from about $20 a month up to $150 a month.
My Final Opinion of Elite Marketing Pro
I think the educational material is good and you learn a lot.
Although in order to get the maximum knowledge you have to buy several products for which you can end up paying thousands of dollars.
You might get the investment back in a short period of time when you decide to promote these products and earn commissions from them.
In my opinion, many people do not have the budget to invest more than $2,000 in such products. Correct me if I am wrong.
I believe when someone wants to learn how to build an online business, there is a good alternative for almost 1/10th of the ELM price.
Basically, in order to start an online business, you need to have a website, choose a niche, and learn how to get traffic.
I know, sounds easy and I do realize that in order to get it right a guideline or training would be a great idea to follow. But it does not necessarily need to cost several thousand.
For about $1 a day, you can get access to a great online educational platform.
Regarding the Elite Marketing Pro;
You may find some reviews calling it an EMP scam. It is not a scam. It is not a pyramid scheme either for example the Digital Income System.
Besides, I know that many users do not like the system inside since it is not very user-friendly.
I think that includes mostly newbies who prefer step-by-step training where the coaches take you literally by the hand.
What also I don't like is that EMP mainly targets the MLM sector.
But it is my opinion and you may have a different experience/opinion with MLM.
(Here are my thoughts about the MLM type of business and my preferable one)
You are welcome to share your opinions in the comment section below.
Elite Marketing Pro at a Glance
Name: Elite Marketing Pro
Website: www.elitemarketingpro.com
Price: Advertised Price: They offer different programs, starting from $47 up to $25,000
Owners: Tim Erway as President and CEO
Conclusion
The training is great. Although, I do not feel comfortable spending several thousand dollars on a course or courses.
Maybe there is this strange misconception that a more expensive product must deliver higher value. Well in some cases it is possible.
I am sure, you have probably reviewed some similar products as well.
If you have a chance have a look at the following online educational platform.
You can get started for free, explore the platform, check the different training modules, and let me know how much would you invest in such a product.
You only need your email to get access.
If you prefer to watch a video:
(You might be asked to use your email address, you can just close that pop-up window and continue to watch the walk-through video)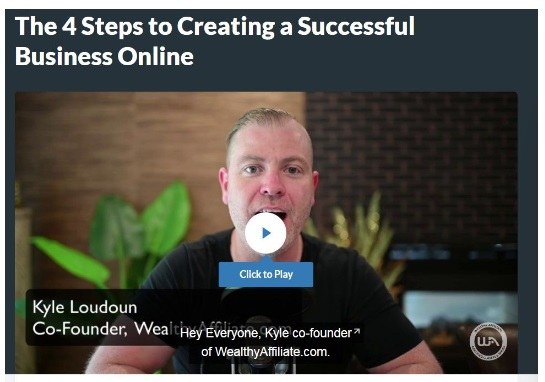 I am curious if you think that it is necessary to spend thousands of dollars in order to learn internet marketing.
Please share your onions below.
Cheers 🙂
Mike.