I am sure you have already seen the ad on YouTube starting like "Whoa whoa whoa, seriously, you don't want to invest a buck ninety-nine to this book, then you are completely out of your mind".
Sounds familiar?
I saw Fred Lam's ads many months ago and his ads I used to find a bit annoying. But somehow, the more I see it, the more I like it.
I think he is a funny guy.
I did some research about him and his products as well and found it interesting, maybe even misleading.
What does it mean?
Is Starting From Zero a Scam?
We will be looking at his audiobook for $1.99 which is available on ClickBank and you can get it also from his website startingfromzero.com/book.
This page has been created back in 2008 so it has been a while. He is not afraid to show himself since then, unlike many other ClickBank Products.
That might be a good sign but we are going to do a deeper review of this product called Starting From Zero by Fred Lam, anyway.
Disclaimer
Please note, that I am not a member or an affiliate of Starting From Zero.
This review is based on research and information available online in the public domain.
Any recommendations and conclusions are only opinions and may not apply to all persons or situations.
Name: Starting From Zero
Website: www.startingfromzero.com/book
Price: Advertised Price $1.99 + Upsells
Owners: Fred Lam
What is the Starting from Zero?
Starting from Zero is an audiobook written by Fred Lam.
We are going to review the second edition which has been introduced in 2019.
Fred is a real person as I mentioned already. Unlike many other ClickBank products where they use just a fake owner or spokesperson as in the case of a product called Copy My Email System.
Fred has started his career in 2006 as a dishwasher. Soon after he got introduced to the Internet Marketing world and his life changed. Today Fred is the CEO of several businesses including iPro Academy.
Fred has already coached thousands of students around the world and he continues sharing his knowledge in Starting From Zero.
You can purchase this book either on ClickBank, or you probably have seen his ad running on YouTube.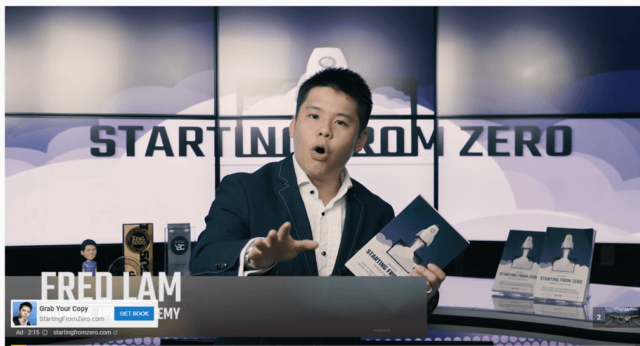 You may be wondering, how come his book costs only $2 and he makes millions? Well, he has another business.
But in this particular case, this book for $1.99 is just a kind of legal bribe.
According to Fred, inside the book, you find the exact system step-by-step including tutorials that allow his students to go from zero to generating over $30 million in sales. He says
After the purchase, you get to the website where Fred asks you to join eCompreneur for "just $49". That is an upsell.
There are more of them and we will take a look at what is inside of this upsell in the Tools & Training section.
This audiobook shows you the basics of eCommerce.
If you are interested in what is inside you can take a look at the Amazon site.
It was more expensive than on ClickBank since if you purchase the book from ClickBank you will have to deal with 2 upsells.
Disclaimer:
Please note, that the ink above is an affiliate link.
That means if you click on them and purchase the product, I will receive an affiliate commission at no extra cost to you.
Who Is Starting From Zero For?
Well, anybody who wants to make some side money or even searching for a full-time income can dive into the e-commerce business. And Fred Lam says he can help any person, even with zero experience.
He says he made 5 millionaires, more than 30 6-figure earners and that is because of the stuff that is inside this book. Apparently, this system allows dropout students to become a millionaire. Even a grandma can become a millionaire with Fred's system.
I believe that is a bit of an overstatement.
What is inside Starting From Zero?
Starting From Zero according to Fred is not a book based on theories. It is full of actionable and items, tutorials that can be applied to start a business starting from nothing.
There are an audio version and a digital copy for $1.99. As already mentioned the price on Amazon is approximately 10x higher.
Fred says that he could have given you this book for free but he wants you to have your "skin in the game".
Let's take a look at what is inside and how to get this book.
I ordered the book via ClickBank. Right after the purchase, I was sent to the following website where Fred has another offer for $49.
As you see it is very easy to miss that link below that shining offer.
In case you have not missed it and click on it, here is what happens.
You are sent to another page with 2nd offer – Upsell. This time if you want to skip that offer you have to take an even closer look than before.
What kind of game is this? I mean I wanted to have a book so I ordered it. And it is impossible to get it because of these 2 upsells "standing in the way".
So wrote an email to fred@startingfromzero.com asking what was up with the book?
4 hours later I received an email with a link to sign into my account on the iPro Academy platform. I did and successfully downloaded the PDF file (e-Book).
It is something over 200 pages of an e-book.
For that price, I think it is not bad material, you can listen to the audiobook or read the PDF file.
1) eCompreneur
The main product is not the book of course.
He offers training where he mentors someone through the process of becoming an eCommerce entrepreneur. It is a 12-Week training. That is part of the 1st upsell which is for $147.
As a part of this upsell you get access to two "result-driven automation". One is a tool for Shopify drop-shippers to save money and time. The 2nd is a URL for Facebook marketers to drive clicks and conversions.
2) Influencer Masterclass
This is a step-by-step training on influencer marketing by Connor James. He is apparently a 7-figure Instagram expert and Fred's student. He shows how to build, grow and scale the business through the power of influencers.
You can then "save your seat" for a webinar. The workshop will cover:
Master, the 5 Steps to build a profitable e-commerce business by creating little sites using the automated software
Never worry about product development, inventory or risk – Start generating sales from thousands of products without touching them
Live Demo: Here you can join Fred and watch him live to build a store selling physical products in less than 17 minutes.
Why there must be such noise around this product?
I mean he offers you a book for $2 and it turns out to be at least 2 step process through 2 upsells (which are not cheap) and registration for a webinar… let alone that you still don't have the book.
I must have contacted support to get access to the pdf file.
Let me share with you the content of the book, so you can have an overview of what is it all about.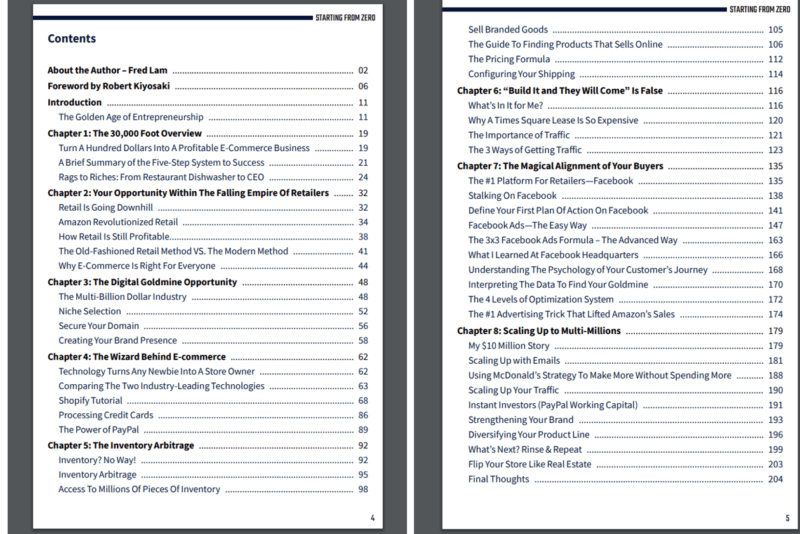 Also after contacting support I received a link with my user name and password for access to the iPro Academy Classroom.
There are 8 different courses. I have paid for the Starting From Zero 2.0 only, therefore, there is a "Start" button, instead of "Enroll".
At the bottom of each course, you see the length of the course.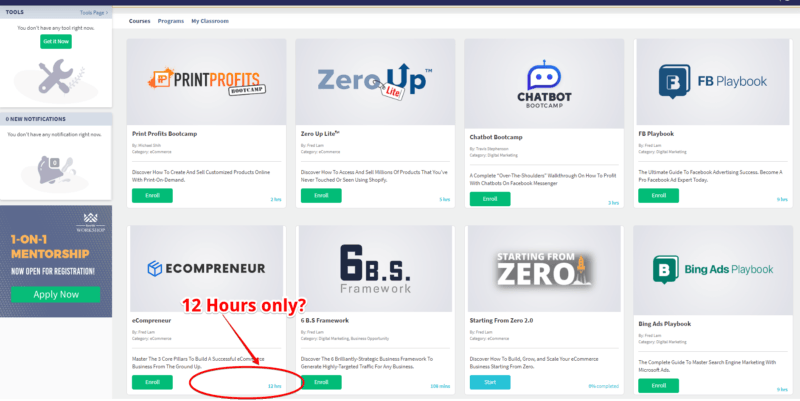 Honestly, I was surprised by the length of the mentioned ECOMPRENEUR – is it only 12 hours? It was said it lasted 12 weeks as I remember well.

Have you had already experience with the Fred Lams Starting from Zero book? If so, please share it in the comment section below.
Starting From Zero Support
For the e-book, there is no support needed I guess.
Although to get the book, you might need support as it was in my case.
As for the other two offers – it seems that the client will have a mentor to go through the training.
Once you are inside the iPro Academy Classroom, you have also access to the support page.
There is a section for FAQ and also a section for each program or tool within the iPro Academy.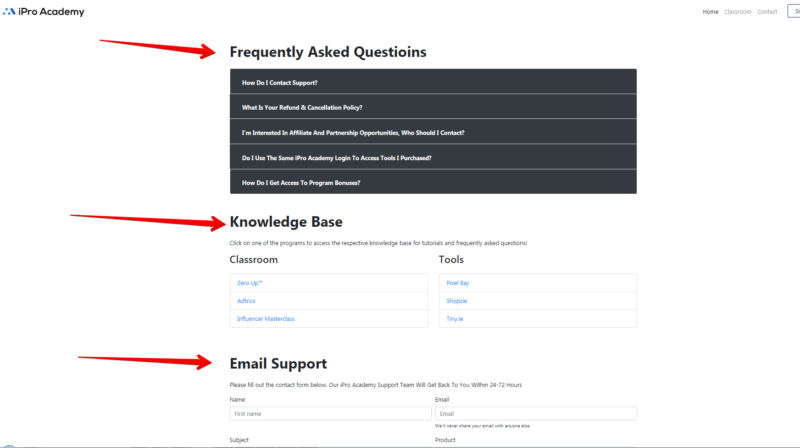 On top of that, there is Email support, which works fine.
How Much Does Starting From Zero Cost?
The price of the book is fair. You have an option to buy this "special offer" called Brilliantly Strategic.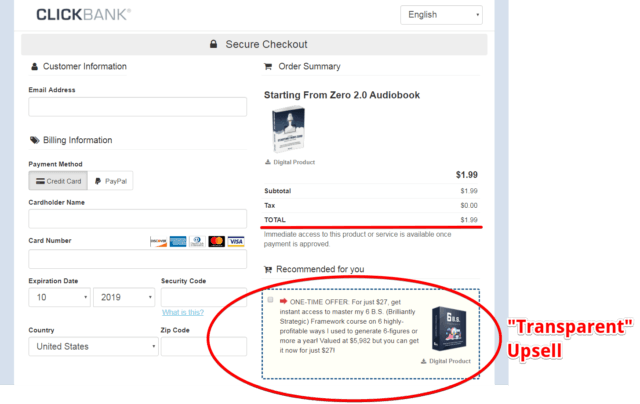 This training reveals 6 frameworks for anyone who wants to start generating up to 6 figures per year. Inside you can find 6 different business models with traffics.
We are going to have a look at the upsell structure including the "Bump Offer" I have marked in the screenshot above.
Upsell – Bump Offer – The price is $27
Upsell – eCompreneur – The price $147 for 3 Months + $49 Monthly
Downsell to that so you can get this course for $1, but a 7-day trial + the original $49 Monthly
Upsell – Influencer Masterclass – The price is $197
Donwsell to that so if the customer says no, he can have an opportunity to grab the course with a 3-Month payment plan for $79 (means $79 x 3 payments)
The last one is not a downsell, as you would end up paying more.
To sum it up the entire course can be expensive considering the first offer of $1.99.
My Final Opinion on Starting From Zero
First I thought that he had a valuable product. The price for his book is nothing, I mean how does not have $2 for a book?
I purchased the book and I went through his funnel.
The "buck ninety-nine" offer is just clickbait to lure you into buying the upsells.
I find it a very misleading and dishonest way of making money.
Why just can't say, ok here is my course that will teach you how to make a full-time income. Here is the stuff you are going to learn and here is the price. It will cost you $400.
It is not honest to say that inside the book for $2 you find a complete blueprint of how to become a millionaire but the reality is that you have to spend an additional $400.
Fred introduces himself as a respected person in the industry, so why does he have to be that misleading?
For me, this is a deal-breaker and I tend not to trust the guy anymore.
Starting From Zero Pros

Front End Price
More than 200 pages book
Money-back Guarantee
Starting From Zero Cons
Before getting the book you are hit with the upsells
The book itself is not enough info to starts generate income
E-commerce business has its disadvantages (You have no control over the quality of the products; You deal with customer service etc…)
Conclusion
I remember Fred some time ago he was launching a different product. Then I did not pay attention and a few months ago he got this new product called Starting from Zero.
I did a bit of research and I found out that he has launched already several products and/or courses. He does not stick to a product he believes in.
Therefore he keeps launching this product only with one intention – to make money.
He does not care about the value the customer should get.
I trust more products/courses that teach 1 thing right from the beginning.
Do you want to learn about Affiliate Marketing?
Then have a look at this particular course review.
It has been founded in 2005 and since then they keep evolving. Today they have more than 300,000 active members.
If you want to learn something about the concept of funnels, check out Russell Brunson. He has been doing that for more than 15 years.
As for Starting From Zero, I am really curious about your opinion.
Please if you have a chance leave a comment below; or a question I would be happy to give you an answer (hopefully within 24 hours 🙂 )
Thank you for reading
Mike