Dealing with cryptocurrency may seem like a great opportunity, but as you probably know, there are numerous scams in the space that fail to live up to their promises.
So, is Cash FX Group one of them?
Let's delve deeper.
In this article, you will discover what Cash Forex Group is all about, who its founder is, the required investment, and most importantly, whether your investment is secure and how much you can potentially earn.
Jump to:
Disclaimer
This review is based on publicly available research and information online. Any recommendations and conclusions are opinions and may not apply to all individuals or situations.
Quick Overview
Name: Cash FX Group
Website: https://cashfxgroup.com/
Price to Join: $300 to $100,000
Recommended: I don't recommend it (potentially a pyramid scheme)
Cash FX Group Review – Summary
Cash FX Group is an investment company specializing in Bitcoin trading, founded in 2019, with its headquarters in Panama.
The company claims that investors can earn up to a 15% return on their investment weekly, promising a path to financial freedom.
Does this sound too good to be true?
The trading company engages in Forex trading using Bitcoin, which is inherently risky. When combined, the risks become even more pronounced.
At present, some individuals are making profits, but it's essential to note that these gains likely come from newcomers who have invested in the system. We'll assess Cash FX Group's performance, but personally, I wouldn't invest my money in this company.
For those interested in company, I can introduce you to a legitimate firm that offers comprehensive educational materials, trading signals, and access to mentors, making it suitable for beginners.
This company is known as Forex Signals, and you can find more information about them via the link below.
They offer a free 7-day trial.
What is Cash FX Group?
Cash FX Group is an investment company that invites you to invest in the Crypto and Forex trading business, promising substantial returns in a relatively short period.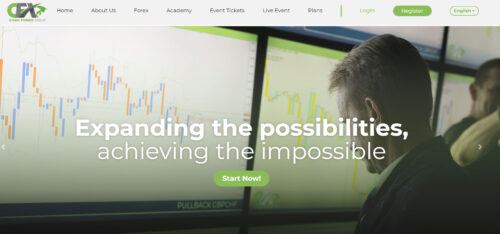 Imagine the potential of earning lots of money, possibly even a remarkable 15% weekly on your investments.
It may sound like a dream come true, with four-figure sums piling up in your account.
Sounds amazing, right?
But, as the saying goes, if it sounds too good to be true, it probably is.
Let's take a closer look at Cash FX Group.
This company operates on a Multi-Level Marketing (MLM) model, which places significant emphasis on recruiting.
You might have come across reviews or YouTube videos where people promote this company, encouraging you to join referral programs through their referral links.
Before we proceed, let's examine the six signs of a pyramid scheme, although I won't claim that Cash FX Group is one. It's essential to be aware of these typical signs.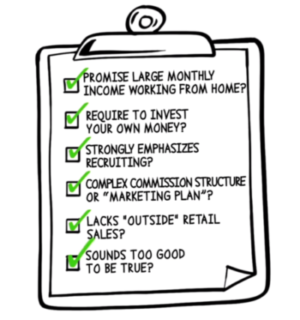 Cash FX Group Structure
To join Cash FX Group, you can purchase a Trading Pack and Academy Pack, allowing you to:
Earn Trade Rewards
Access the Academy
Participate in the Affiliate Program
There are various packs available at different price points, which we'll explore shortly. When you invest, your money is converted into Bitcoin and enters the Forex market.
Regarding whether your funds actually reach the financial market, this remains an open question, with rumors suggesting that earnings are primarily derived from newcomers' investments.
More About Cash FX Group
Cash FX Group was founded in 2019 and boasts over 60,000 members from more than 180 countries. The majority of website visitors hail from:
USA: 22%
UK: 15%
Canada: Almost 10%
South Africa: 7.8%
Trinidad and Tobago: Almost 7%
The increasing number of visitors to their website indicates growing interest in their business. The company's address is listed as follows: RBS Tower, Ave Balboa, Ramon H. Jurado St., 9th floor, Punta Paitilla.
Forming your own opinion about the company's Panama-based headquarters is encouraged.
Cash FX Group's Website Traffic Decline
If you've been tracking Cash FX Group's online presence, you might find this noteworthy. According to SEMrush, their website's monthly visitors have experienced a significant drop.
It went from around 100,000 visitors a month to less than 50,000.
This decline in organic traffic can be indicative of changing perceptions or interest in the company. It's essential to keep an eye on such trends when evaluating the credibility and sustainability of any online venture.
When Will Cash FX Collapse?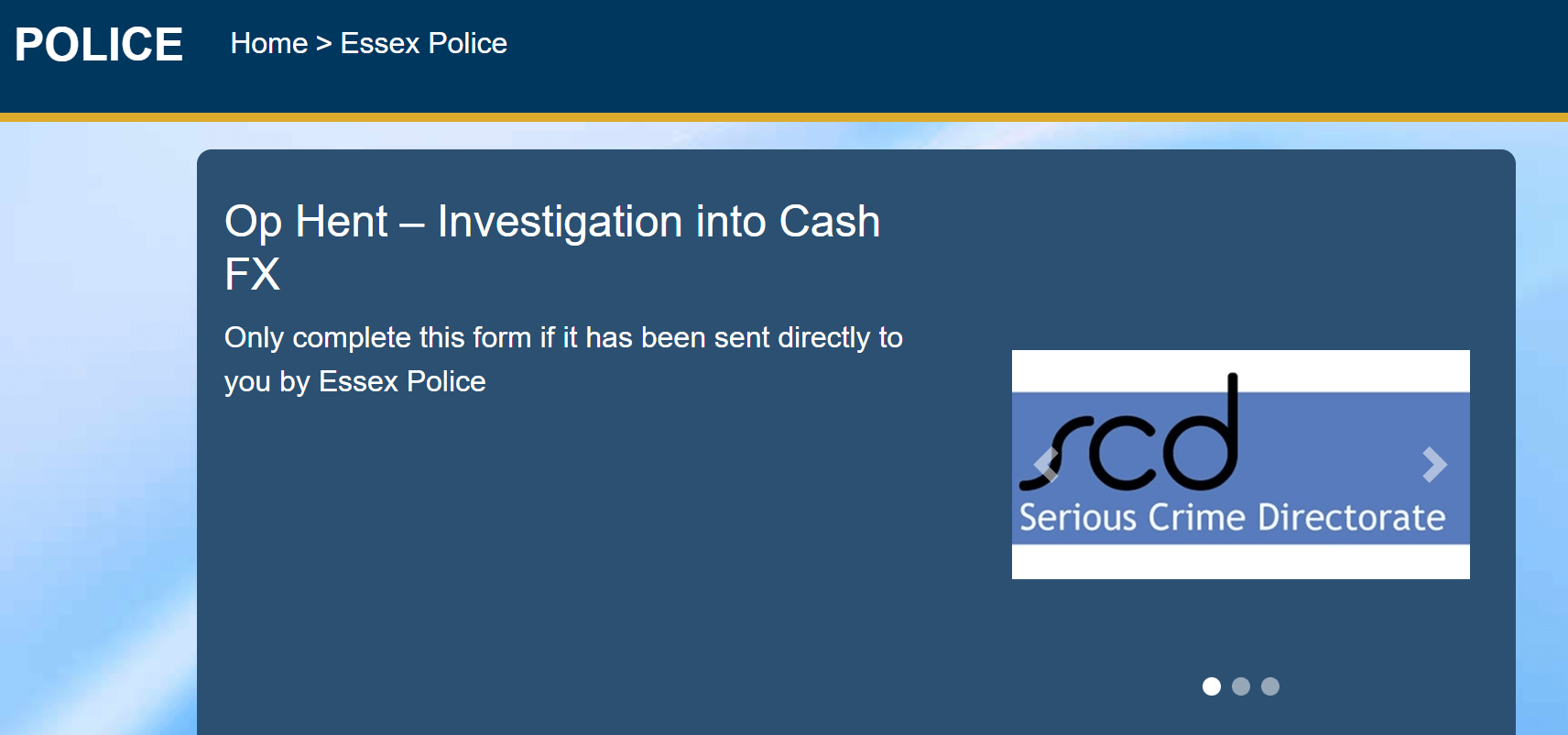 Cash FX Group's future is uncertain as a police investigation, named 'Operation Hent,' unfolds.
It's a matter of when, not if, Cash FX will face consequences.
Victims have reported their experiences, prompting the Serious Crime Directorate (SCD) to intervene with a questionnaire.
Reporting these activities is a moral obligation, and the investigation signals a potential end for Cash FX.
Who is the Founder of Cash FX Group?
Huascar Lopez, who also serves as CEO, is the founder of Cash FX Group.
He hails from the Dominican Republic and gained early exposure to network marketing in 2009.
Following this, he ventured into tour operation as his first business.
He began working with cryptocurrencies in 2014, reportedly trading over $100 million in cryptocurrencies by 2016 before establishing Cash FX Group.
One note: Initially, there was no information about the founder on their website, and this addition may raise questions.
Who Is Cash FX Group For?
While anyone can join Cash FX Group, the question remains: Is it a wise investment? Can you genuinely achieve a 15% weekly profit, with returns paid in Bitcoin?
The allure of "get-rich-quick" schemes can be tempting, but caution is paramount. Many new companies in the Forex and Crypto trading niche seek to capitalize on beginners' eagerness.
Cash FX Group, being a relatively new company (registered in 2019), has already faced issues and complaints from individuals who attempted to make money through it. On the other hand, you will encounter numerous overly positive reviews claiming it to be a perfect company.
However, skepticism is warranted. Cash FX Group has faced accusations of being a pyramid scheme.
In 2019, the UK Financial Conduct Authority (FCA) issued a warning, stating that Cash FX Group "has been providing financial services or products in the UK without our authorization."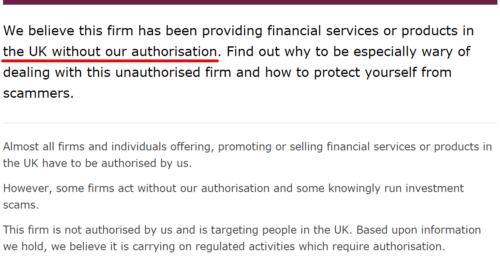 History is filled with cases of pyramid schemes and Ponzi schemes that seemed profitable for a while but eventually crumbled.
Cash FX Group's limited track record, having been around for just over a year as of this writing, raises concerns about its sustainability.
Better Solution?
Here is the #1 Rule:
Never invest money you can't afford to lose.
If you do have funds to spare, conduct thorough due diligence and invest in authorized companies.
For those serious about trading, here are authorized companies worth exploring (source: Investopedia):
London Capital Group (LCG): Best Forex Broker for Beginners
XTB Online Trading: Best Forex Broker for Low Costs
Saxo Capital Markets: Best Forex Broker for Advanced Traders
IG: Best Forex Broker for the U.S. Traders
How to Join the Cash FX Group?
To join Cash FX Group, you need a sponsor, which may raise concerns.
Why would you require a sponsor to sign up?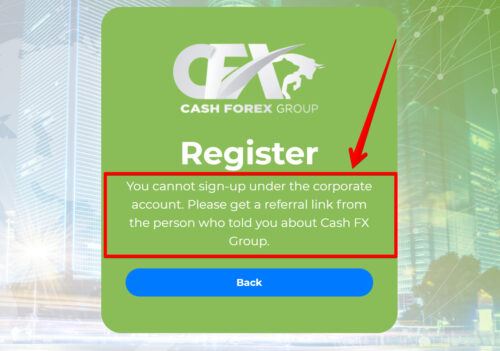 As shown above, you can't simply log in without a sponsor, which can be seen as a red flag. MLM models, heavily reliant on recruitment, may not be everyone's cup of tea.
For those who share my reservations about MLMs, you've likely reached the end of this article, and I wish you a wonderful day.
However, if you're curious to learn more, keep reading.
As previously mentioned, Cash FX Group operates as an MLM company, requiring you to have a sponsor (or upline) to join. Using your sponsor's link, you can register with the company. Your upline receives a commission from your initial investment.
I believe there are better opportunities than MLM companies;
E.g., compare MLM with Affiliate Marketing.
How Much Does Cash FX Group Cost?
Assuming you have a sponsor, you can sign up for Cash FX Group.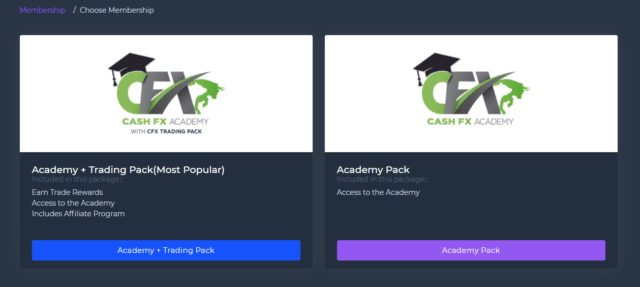 After confirming your email, you get access to the portal, where you can select a package.
For instance, let's take a closer look at the costs associated with the Academy + Trading Pack, one of the most popular options according to their website. This package encompasses various tiers:
Elemental Package: Ranging from $300 to $3,000
Advanced Package: Priced between $5,000 to $20,000
Supreme Packages: Costing from $30,000 to $100,000
Let's take a look at the costs of the 1st option, the Academy + Trading Pack.
It starts with an Elemental package where the price ranges from $300 to $3,000: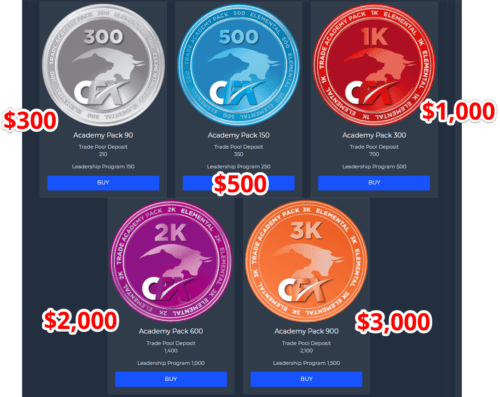 to Advanced that costs from $5,000 to $20,000…
…and finally, the Supreme packages cost from $30,000 to $100,000!
Getting quite steep, ain't it?
Here is the price breakdown of the Academy Pack: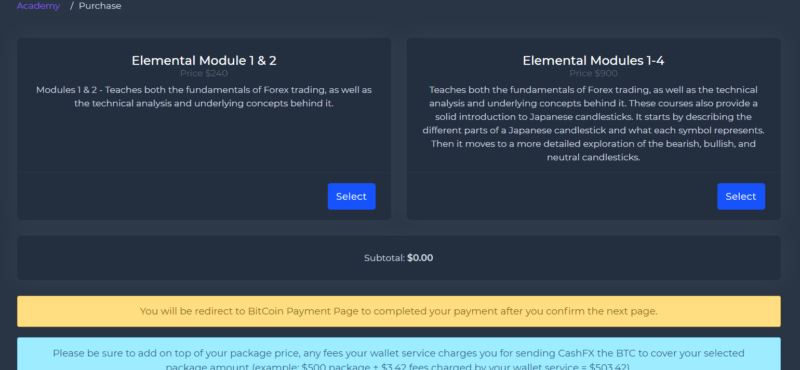 With the Academy pack, you can choose
Module 1 & 2 and pay $240
or choose
Modules 1 to 4 and pay $900  + additional fees (a couple of bucks).
It's essential to note that if you accidentally select the wrong package, you'll need to contact Admin, but this may incur a 5% Admin Fee.
It sounds like a lot to invest, right?
No Evidence of Investor Payments
These investment amounts may seem substantial, and it's crucial to consider that there is no concrete evidence that investors' funds are being utilized in the Forex market.
Additionally, the company cannot offer securities in any jurisdiction.
Alternative Income Opportunities
I could introduce you to a legitimate business opportunity, but it doesn't involve trading or MLM. This method does require some effort and time.
If you're interested in learning more, please let me know in the comments section below.
Is Cash FX Group a Scam?
As of now, there is no definitive proof that Cash FX Group is a scam.
Nevertheless, caution is advised when dealing with this company due to several concerning signs that it might resemble a pyramid scheme.
Are people making money with Cash FX Group?
Yes, there are numerous individuals claiming to withdraw profits regularly.
However, these individuals may have a vested interest in recruiting you, as they earn commissions from your investments.
Could Cash FX Group be a pyramid scheme where people still make money?
It's a possibility.
But how long can this last?
Let's draw a parallel with a basic example, the Shell Game: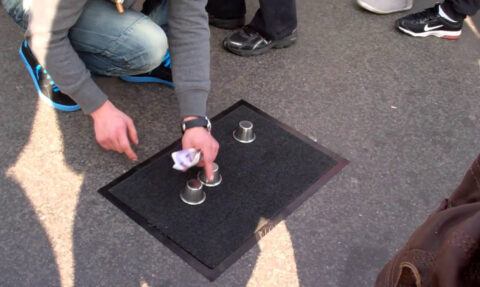 Is Cash FX Group still in its early stages where clients are making some money?
What I like about Cash FX Group

At this stage, some individuals are making money, likely through recruiting new members.
What I don't like about Cash FX Group
Legal issues
The potential for being a pyramid scheme, considering its age and existing legal problems
Reported withdrawal delays
Not registered to offer securities
Unrealistic claims about return on investment
Numerous complaints about customer support
Concerns surrounding its trading pool (funds flow downward to pay downlines and upwards to compensate upline members.)
Conclusion
If you're interested in learning how to trade, it's advisable to engage with financial firms that are authorized and regulated.
The list provided earlier includes companies recognized as authorized forex dealers.
These reputable firms don't promise unrealistic high returns and always acknowledge the inherent risks involved.
So, would you take a chance and join Cash FX Group? Why or why not?
Please share your thoughts in the comments section below.
If you're already a part of Cash FX Group, we welcome your perspective, as this can contribute to a valuable discussion.
In any case, we hope you found this article helpful.
Thank you for reading, Mike.
Interested in Trading?
Check Forex Signals as the biggest forex trading community teaching proven strategies from experienced mentors. 
It is great for beginners and they also offer a Free 7-Day Trial!