Then welcome to my page where I am going to show you How To Start an Affiliate Business from your Home.

I have created this page for a person like you, who is interested in building a real online business. You probably already have experience with some scams or BS sites like get-rich quick-schemes.
It is not easy to find a legitimate platform where you see right at the beginning what to expect.
Of course, the ultimate goal here is – How to Build a Profitable Business Online?
In order to have such passive income, meaning to get something from the internet, you first need to put something into the system. That is the basic law that applies to other parts of life as well.
I will go through the basic steps of starting an online business; I will explain what is currently the best way to start an online business, what are the fundamentals, some tips, and I will show you at the end that you do not have to be alone at this journey.
About Me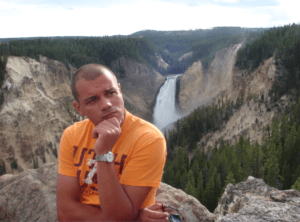 My name is Mike, and I have touched the online world, I mean business-wise, in 2014.
My friend who was at that time a CEO of a local company (they organize outdoor events) asked me to help them to find and bring customers from other areas of Western Europe. I was located in Bavaria – Germany at that time. First I started to think about all the procedures I have to open some kind of travel agency. And I meant brick and mortar kind of business.
He advised me that none of that I need. I only need a website and marketing. On the one hand, it was a relief, because it sounds easy. On the other hand, I did not know anything about running a business online.
But it was a challenge. I hired an external company to build a website for me. I had one session with one marketing guru, who showed me basic stuff in a couple of hours.
And then I started to search online for tutorials on how to find customers, how to run ads, how to write emails to companies and so on.
I have learned how to set google ads, how to set google analytics and a term like a keyword. Later I was watching one free tutorial on Facebook Ads. That was actually good – Frank Kern was teaching in his online course how to target the ads to a very specific audience.
Till this point, which is about late 2016 I spent about €2,000 on google ads, and more than €2,000 on Facebook Ads.
When I look back at the spending, I can tell you I did not know what I was doing. I actually was involved in "hope marketing", we may call it. No plans, no strategy, no specifically selected keywords.
Maybe only the specifically targeted FB ads worked out.
At the beginning of 2017 one Italian group contacted me with the interest. They really came to our place and they actually been already 4 times. So I got some "investment" back.
The disadvantage of such a business model is that there is a certain limit of people who can attend such outdoor activities. That is actually an issue with any sort of offline business as well.
With that basic information about digital marketing, I have had heard many stories and podcasts. It got me thinking that I might start something similar on my own.
Like fully internet business regardless of physical location or another kind of limitation.
The whole learning process for me was paint-full. You hear one strategy from one source, that other from different sources, so I was overwhelmed and that led to procrastination.
I also heard about a ClickBank and wanted to promote one of the products. It did not work out so I got to the point where I realized that probably I was gonna need to pay for some training or course.
But one thing was for sure – I have learned that I need to have a website.
Purpose of this guideline
I have had enough of this trial and error system.
In late 2017, I kept searching for some guidelines, or a website with training and tutorials. Lots of offers, but most of them have been either too expensive, or they had these upsells which I really hate.
What I was searching, was a legit online training with no BS and for a reasonable price.
So with little extra effort, I finally found this online platform. I learned a lot and still keep learning and simultaneously applying the material.
I am sure that there are probably other guys like you or me searching for an online platform that teaches how to set online business.
Therefore I will explain to you what to expect, so you can decide whether it is for you, or you prefer other methods.
What to Expect
There is a bit of misconception when it comes to online business or make-money-online.
A lot of people think, that since it is the internet, it is very easy to make money and in a few weeks. Like a couple of thousands of dollars per week or so.
I do not blame them.
I used to be guilty of that thinking as well. We all see the banners, make 1,000 overnight, and so on.
I can tell you that is BS. Scams.
In order to build an online business, one has to put some effort into it.
Even on successful websites or channels on YouTube – People spend hours and hours a day creating content or video. It takes time until they get a decent amount of traffic.
There are certain rules on how to get ranked well and that is one of the techniques this platform teaches.
I hope you do understand the law of nature, that there is no reward without effort.
On the other hand, building a business online requires a small amount of money (or none at all) and a considerable amount of time.
"There's No Such Thing As Something For Nothing"
Napoleon Hill
You can choose when and where you will be actively working on your business. You do not depend on open hours or any specific location.
Let's take a look at the conception of online business from scratch.
Best Way To Start an Online Business
The Internet evolves and in some areas of the internet business, it is not so easy to make money.
I mean, these days you can't just buy a bunch of .com domains and sell them with income at any time. (Unless you build some content that generates traffic to that site).
Also a little tip for you:
Recently there are more and more domains with custom extensions, like .agency, .rent or .zone
There is nothing wrong with them, and you can go ahead and purchase one if you want to build a business around it.
Just don't buy them for the single purpose of selling them.
Please remember that ".com" is always king.
If you want to run a charity organization you can choose .org
Also if you insist on a specific name, you can go for .net but that is about it.
Most likely there will not be any .com domain boom like it was back in the late 1990s.
So you want to concentrate on a website with a .com extension. You can always come up with a unique name, even if it is a bit longer. You are fine also with a longer name, as soon as it makes sense and it is easily remembered.
The good news is that the number of internet active users is growing every year.
And more and more people are buying on the internet. There are courses online, eBooks, podcasts, webinars, and even very specific areas where people actually do make money.
More and more people do buy physical products online. Even my mother buys stuff online. (It is not inappropriate to reveal a women's age -> but in 1987 she was 30 years old 😀 )
There are certain proven methods, which when you follow, you will start to generate income. With time you can get to 4 figures income per month within a year or two.
Yes, it takes effort – I already told you.
Let' put it this way:
How long does it take to finish college? Let's say 3 years? What do you get after that? You probably have debts and you gotta find a job, right?
Affiliate Marketing
There are many different ways how to make money online. Probably the most simple method is Affiliate Marketing.
Other ways you can make money online as a freelancer.
You can create content for companies or do research. You can become a virtual assistant, blog manager or WordPress assistant. Within such an online platform you can choose any direction you want.
For the purpose of this Guideline, let's focus on Affiliate Marketing.
With affiliate marketing, you do not have to own any product which you need to sell. You most likely need a website though. But don't worry about any technicalities. These days you can create a website within a minute.
If you have only a little experience with Word, Excel, or Powerpoint – you basically have all the knowledge for building a website.
Your only task is to give an honest opinion to your visitor, and/or objective advice. That way you build trust.
How does Affiliate Marketing Work?
1) Internet user or potential customer does research, using specific Keywords. You will be taught how to choose keywords as part of your content – so the customer will land on your website, because of that specifically chosen keyword.


(Basically, you want to use a Keyword that triggers traffic, but at the same time there is not much competition in search engine results – If this is not clear to you, don't worry about that at this point)

2) Customer lands at your Website that has valuable information (including pictures, specifications, pros and cons etc).
3) Clicking on the link, to be more precise on The Affiliate Link at your website (whether it is part of the text, or picture), the customer gets to Amazon (or another site -> there are literally hundreds of thousands of Affiliate programs just like Amazon) and he decides to purchase the product.
Affiliate Link has a unique code with your ID, which is generated once you sign up for any Affiliate Program – like in this example Amazon.
4) The product is shipped to the customer.
5) Amazon sends you the commission.
Basically, you are like an adviser or consultant who gives your audience a non-biased opinion about a specific product in a specialized field. In a specialized field where you are the authority or at least have more expertise than the actual customer.
Please keep in mind that your website is built around some niche, some hobby you have a passion for. Something that you have an interest in. That is your chosen niche.
So here comes one of the biggest advantages of having an affiliate marketing business.
You don't have to deal with any physical product, you don't have to worry about ordering the product from the supplier or shipping – nothing of the sort.
Traffic – Free or Paid?
Paid traffic we can call PPC – Pay Per Click.
We are going to touch on this part very briefly.
Basically, you set up your Google Ads Account. Here you create your Ad Campaign with specific keyword(s). You will set the maximum amount of cost per click – how much you are willing to invest if somebody clicks on your Ad. Let's say 50 cents.
If somebody clicks on your Ad, he will get to your site. The advantage is that for a few bucks your site can be visible on the first page as per the screenshot below. The downside is that with a limited budget your Ad may no longer be visible and you will have to make a new payment to activate your Ad.
If you are not very familiar with Google Ads, I would suggest trying it out with $5 or $10 max. Have 1 keyword only and you can check how visitors behave at your site.
As we are not interested in paid traffic (at least for now) we want to focus more on how to get to the 1st page of search engines without paying a dime.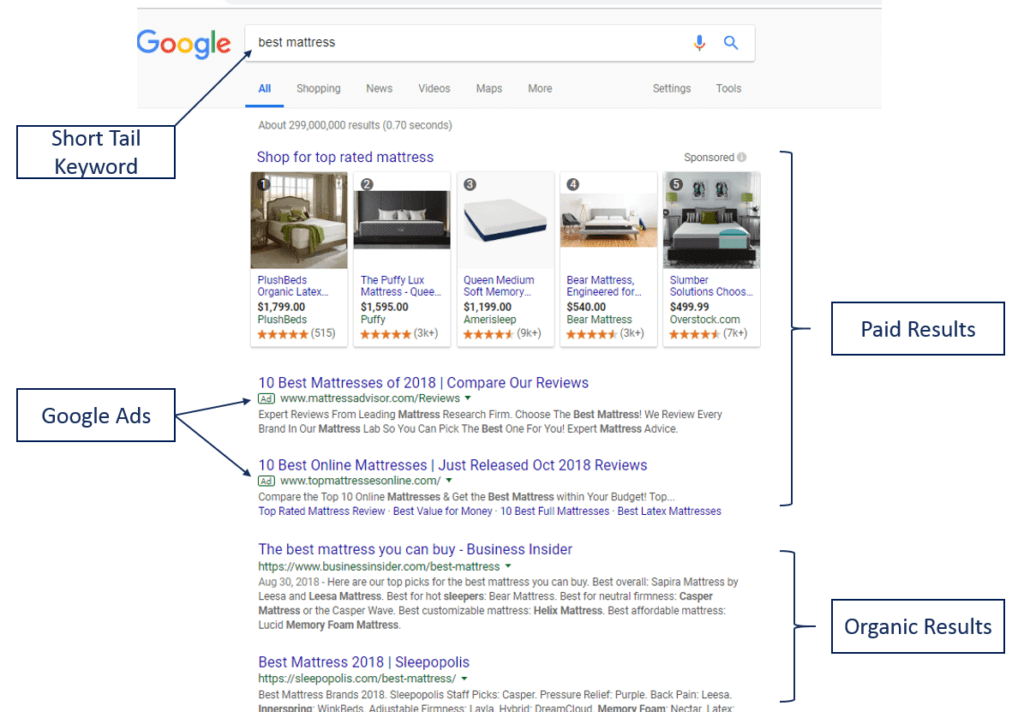 Free TRAFFIC – Organic Traffic
In the online platform where I am a member, they teach how to create your website in a way that it is ranked well in all search engines. You want to have your site on the 1st page of Google (and other search engines). In that way, you can receive a lot of traffic and that eventually means monetization.
There is no code, no shortcut – as mentioned earlier, you really want to create a site with good quality content, which is valuable for your visitor.
It makes sense.
How would you feel if you are looking for e.g "best mattress" and all you see in search engine results is unrelated content and/or incomplete information?
You would try that search engine maybe 2 or 3-time max, and never ever again, right?
So you want to deliver value to your visitors. You want to help them.

As mentioned already, it is important for you as a creator to choose an interest that you like. Remember, you don't want to lose interest in your chosen niche while you create your website/business.
Once you are passionate about it, you won't have any issues down the road.
I hope you are not freaking out by the fact that you need to have your own website 🙂
Really, don't worry about that. It is really simple these days.

You can go ahead and try it by yourself.
All technical steps are being done in the background and you only need a few clicks. Within the Online Platform, you get also free high secured websites.
As mentioned, visitors come to your website quite naturally. In your content, you use specific keywords. You have chosen these keywords via a free research platform, which is part of the Online Course.
I will give you a brief overview.
The secret is to pick up a keyword, which people use inside of the search engine and at the same time does not trigger that much competition.
Let's take a look at the Keyword Research Tool (which is part of the platform).
We use the keyword "best mattress" as shown in the screenshot. (BTW that keyword research tool is called Jaaxy)
For the sake of simplicity, let's focus only on 2 results (actually the most important ones).
1) The average number of searches that the keyword receives per month
(how often is this keyword used in the search engine – Avg.
2) The number of competing websites ranked in Google for this exact keyword – QSR.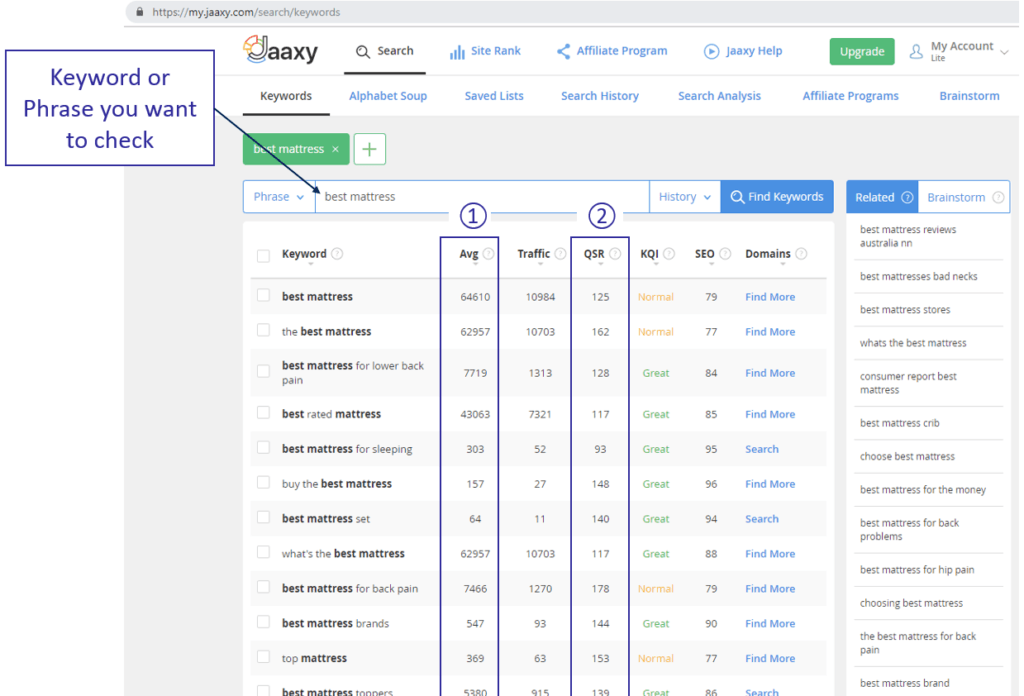 You want to use such a keyword that people already use (1)
And at the same time, you don't want other websites (competitors) to use this keyword (2)
From this specific example, we see that the average number of searches is 64,610. Which is Great.
But, the competition above 100 websites is too much. For newbies, we want to focus on 50 or less so our website will rank sooner at high positions.
As you see, Jaaxy gives us other options related to the keyword. By looking at the number, we want to use the keyword "best mattress for sleeping".
With this keyword, you have a much higher chance to be on the 1st page of google. On the other hand, that keyword gives only 303 searches.
The rule is, to use one keyword per 1 post or page (article).
So with more articles on your website, the traffic will naturally increase.
More traffic means earning. And this way you already can have an income while you sleep.
At this point, it is The Passive Income.
Are You Interested?
My guess is, you are.
You might be a little bit afraid of the writing, though. Please do realize that we are not talking about any novel or thesis for your professor.
Creating the content on your website is mere communication with your readers.
You simply write as you would talk to your friend.
So let's move on and take a look at the platform I have mentioned several times.
It is called Wealthy Affiliate.
====> You can create your free account right here.
Before you jump to any conclusion I will give you a general summary of the Wealthy Affiliate Platform.
General Overview of Wealthy Affiliates
You can look at the Wealthy Affiliate platform as a social platform. Although that would be a very simplistic way to look at it.
Most Importantly it is a training platform with great support, live training (all recorded so you can watch them over and over again), many tutorials, and tons of other information regarding Digital Marketing.
Why I mention the social aspect.
You are part of the community, and as a member, you have your profile with basic information like your photo and a few words about yourself.
Actually, you do not have to use your own photo – everybody will respect that. It is just that it is always fine to see the other member, but again that is completely up to you.
Here is a screenshot of how does the WA profile section looks like:
As you see the platform is easy to navigate through and the owners, Kyle and Carson made it mobile-friendly as well. That I find very helpful- whenever I wait in a grocery store in line I just read the blogs of other affiliate marketers (=members) I am interested in.
On the left upper section, you have a number of different features.
For example Website feature brings you to the section where you build a website, you can manage the website, and you can ask for feedback and comments.
To create a site via this feature takes only a few minutes max. Everything is pretty much preset and once you pick a domain, your HTTPS:// website is ready.
Live Events – here you can watch the live webinars, there are more than 300 of them. Every Friday there is a new one going on – you can attend alive and you can also ask your question. That is a great benefit of attending this seminar alive.
The research function brings you to the Keyword Research tool – Jaaxy.
Choosing a proper keyword is essential and we will talk about that later. I remember when I came to WA, this tool was still restricted to a few words a day. Then it got opened and you can now search for hundreds of keywords daily.
Then you have a live chat – where you can raise your question and instantly you get feedback from other members online. There are people from all around the world, so regardless of the timezone you are in, there still will be somebody online.
What Is The Training Structure With The Free Membership
As I mentioned, the free Membership will give you an overview of how the platform works. You have a chance to try it out, and test it on your own. As per the screenshot below you have a better picture of the lessons you can take. Level 1 consists of 10 lessons.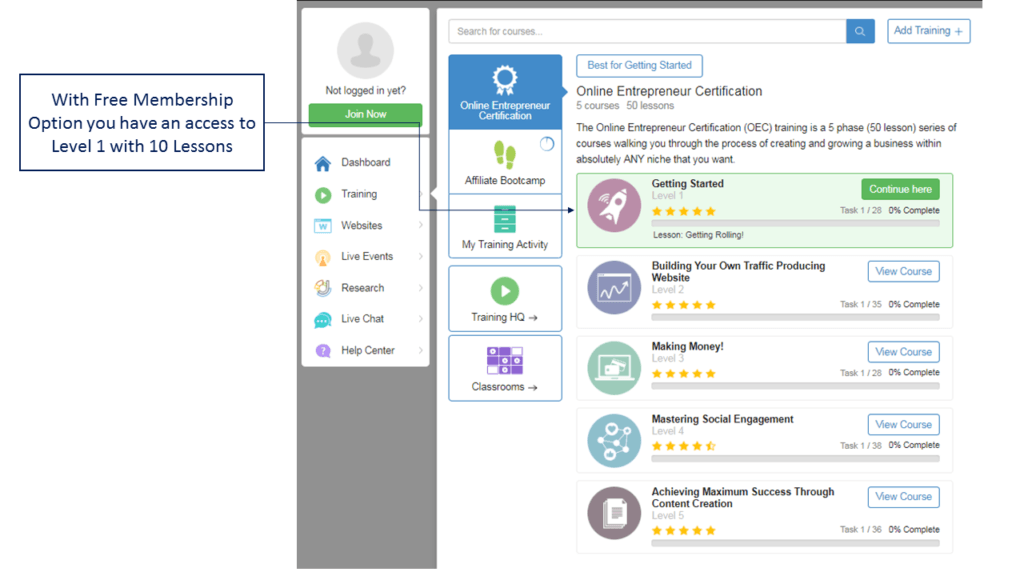 Here is the list of features you have access to:
Beginner Training Course – as mentioned above

2 Websites (hosted at Wealthy Affiliate and they are for free)

Limited Search on Jaaxy (Keyword research tool)

1-on-1 Coaching – Limited for 7 Days

Live Chat – Limited for 7 Days

Affiliate Bootcamp Training – Phase 1
Then you have the Affiliate Bootcamp Training.
This is a course that will walk you through the process of creating a business related to the Wealthy Affiliate Promotion.
Yes, you can also establish your business in this Make Money Online niche. I am also part of this training and you probably already have found out that this site promotes Wealthy affiliate as well.
I am being perfectly honest with you. If you sign up for Premium Membership, I get credit for it. That makes me an affiliate for Wealthy Affiliate.
Of course, you can click on my link and will not sign up and you will learn also quite a lot I hope.
If you will decide to become a premium member we will get in touch and we will be able to communicate also through private messages. In other words, once you sign up you won't be left alone.
The first training is called Online Entrepreneur Certification.
It consists of 5 Levels. Each Level has 10 lessons as per the screenshot below: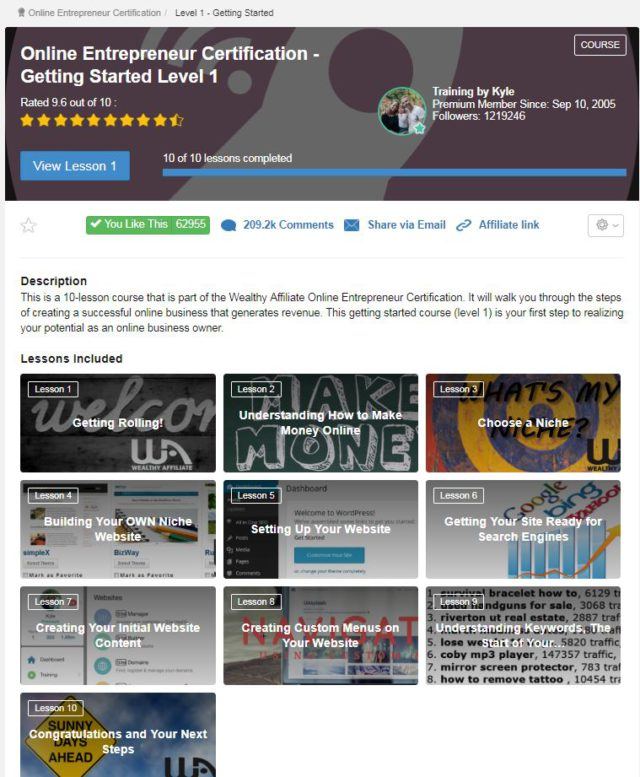 As a result of Lesson one, you will be able to start working towards your new goals, and it does not necessarily have to be only financial goals. (Of course, having financial independence is our main goal :)). You will choose your niche and you start building your own site around this chosen niche.
Lesson 1 covers also techniques, how to optimize your website using WordPress, and how to create quality content that ranks.
What Is The Training Structure With The Premium Membership
Once you become premium – Congratulations. You have been wondering what the price is:
Here is the deal:
$49 per month
or
$359 per year (with yearly membership you get a discount = $29.91 per month)
Now, you have access to all features within Wealthy Affiliate Community. Here is a screenshot of Level 2 and Level 3 – just an overview: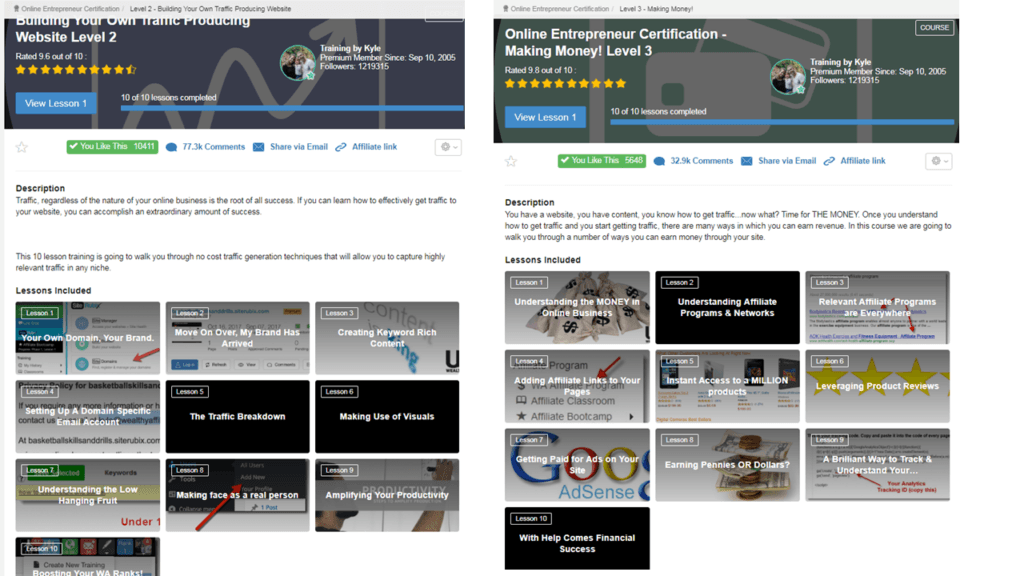 Besides that, here is a list of what comes with the full package:
Weekly Live Interactive Classes

300 Hours of Education

Online Entrepreneur Certification (50 lessons)

Affiliate Bootcamp Training (70 Lessons)

1,000's Training Modules

Classrooms (regarding e-commerce, local marketing, Facebook Ads…)

You Can Create Your Own Training and Earn Revenue

Your Own Authority WA Blog

High-Quality Hosting

SSL Certificates

25 Free SiteRubix domains Sites

25 Custom Domain Sites (only additional costs – about $15 a year, you have to pay for such custom domains everywhere)

Private Messaging with other Premium Members
Within each Lesson, you have a theory or an explanation, including videos, so you can grasp the lesson much easier. You can go through the lessons at your own pace.
Nobody will rush you.
You can go back and do some points again. At the end of each lesson, you have a task to perform. There is no better approach than applying what you just learn.
Along with the lesson, you can create blogs, ask questions, use live chat, or search for answers.
What I really love, is the Live Training, offered by Jay – a coach with a very charismatic voice and on top of it, he is able to explain the new stuff also to a little baby.
These Live webinars take place on Friday and usually they are about 65 minutes long. At the end of each Webinar, there is a Q&A Session.
For whatever reason, if you can not watch the Live Event, you can watch the replay whenever you want, and how many times you want. There are more than 300 of these Live Events including case studies.
For example, there is a sequence of 4 or 5 lessons where Jay shows you how to build a website. I mean from scratch – including Research of Niche, Writing, SEO, Marketing + tip and tricks.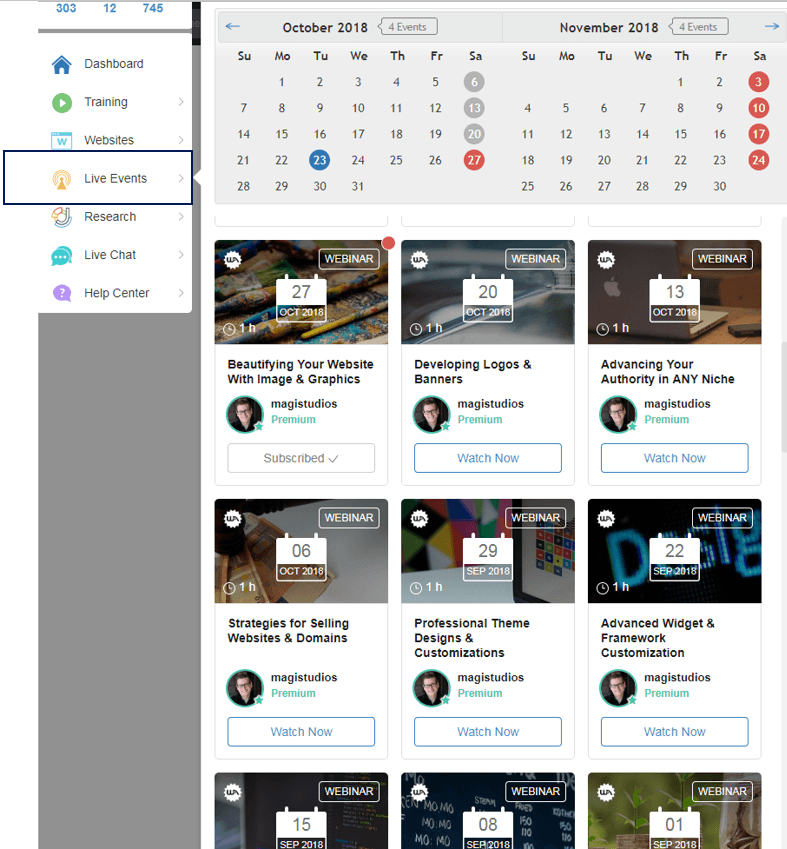 NOTE: The reason why the events are marked on Saturday instead of Friday, is due to different Time Zone. For me, they always start on Saturday at 2 am. From time to time I watch it alive, but mostly I do watch the replies.
====> You can join this great platform by clicking on Direct Link. I will see you there 🙂
Members of Wealthy Affiliate with Outstanding Results
There are members at Wealthy Affiliate that make $3,000 – $5,000 a month. Many of them even more. Not all of them feel like sharing their income with others and that is perfectly OK. 
Just briefly I picked up a few who I consider role models.
Grace has been a member for a little over 2 years, and now she earns a full-time income online:
Here is another recent achievement.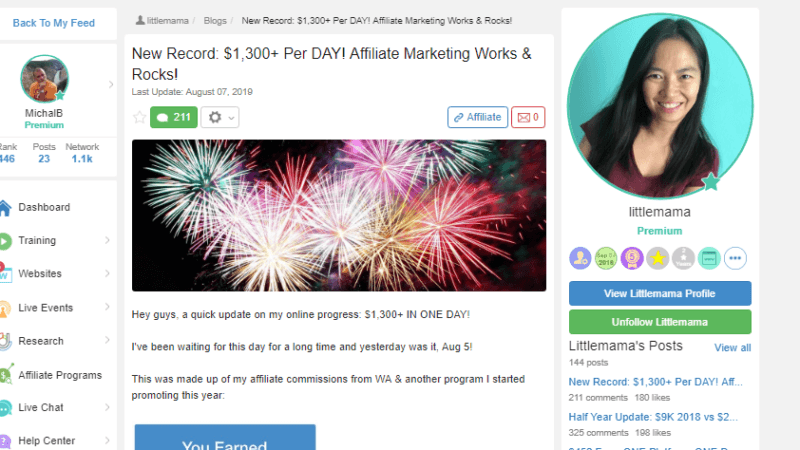 You can read the whole post if you are interested.
It took about a year for Dylan to figure it out. Once he did, he earns 4 digits a month (currently close to $10,000 months ). He also made a great post on how you can sell the website you built: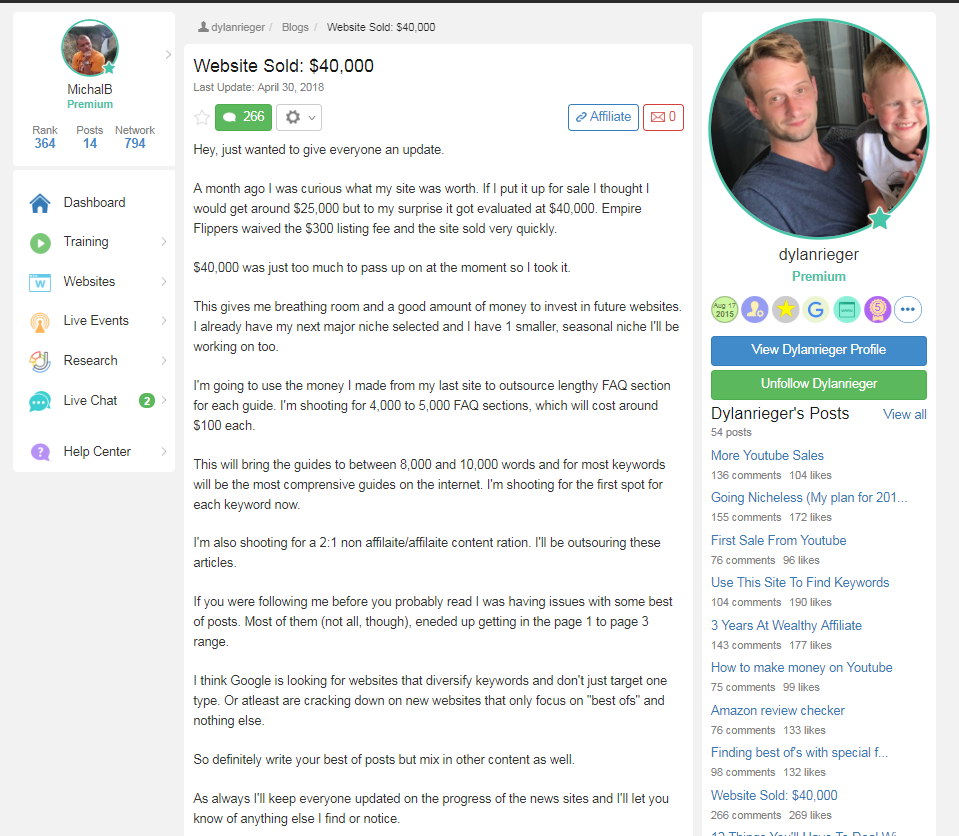 Eddy is a great guy. He is very straightforward. You can check his blogs at these websites:
MoreRealReviews.com & MoreBlogging.com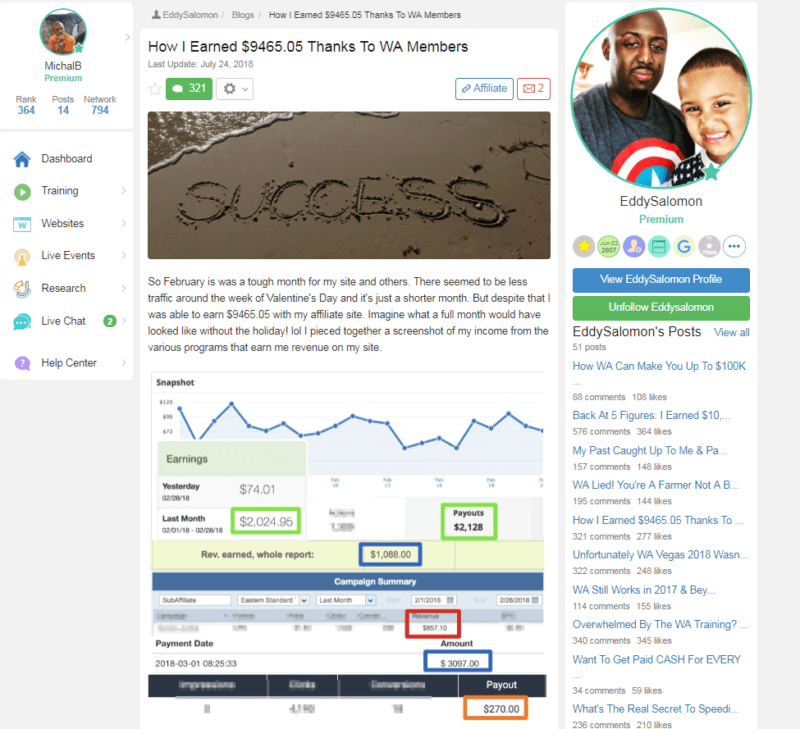 And you can see many such stories inside the Platform. You can check them by yourself, or let me know and I will give you a hint.
If you are really serious about being independent, please take action and go check what is in there for you.
You don't have to use your credit card.
As mentioned there is a free membership option. For that purpose, you need to use an email.
Actually, if you are very careful signing up for something new – just create a new email for this purpose only.
In case you will not like the platform you can still leave.
If you feel good about it, you can sign up for premium (Currently for a 49% discount for 1st Month), and I will see you there 🙂
Cheers
Mike