It seems like you are doing some research on a website called Easy1Up.
This company has been around for a while, but it is always good to read a fresh review.
Easy1Up looks like a great opportunity to make some money online (Or a lot of money?)
At least it is what they say on their website.
You and I know that such information is often biased, so it is a good idea to find objective data.
In the following Easy1Up review we are going to explain how it really works, what are the Pros and Cons, and whether or not this is a good opportunity for you.
If you think this won't work for you, I might offer you some alternatives so you will leave this site better informed.
Let's get right into it.
Jump to:
Disclaimer
Please note, I am not a member or an affiliate of Easy1Up. This review is based on research and information available online in the public domain.
Any recommendations and conclusions are only opinions and may not apply to all persons or situations.
Overview
Name: Easy1Up
Website: www.Easy1Up.com (The domain doesn't exist. It redirects to a new domain e1ulife.com)
Price to Join: $25 – $2,000
Recommended: Yes and No
Easy1Up Review – Quick Summary
This is a digital "educational" platform operating as a mixture of Affiliate Marketing and Multi-Level Marketing.
They offer digital courses, but the main emphasis is on recruiting new members.
At first, to me, Easy1Up seemed like a good opportunity with good products containing lots of training.
But I was wrong.
The founder of Easy1Up is infamous as a serial gifting admin and he still seems to be successful and is able to get away with it.
The second red flag with Easy1Up is that the digital products just cover up the real intention of Easy1Up and that is recruiting.
Don't get me wrong.
It is possible to make money with Easy1Up, assuming you know how to promote offers on social media, how to get free traffic, and how to attract people's attention.
Because the courses within Easy1Up won't teach you that.
Besides, Easy1Up does NOT have:
Money-Back Guarantee
Free Trial
In case you don't want to be involved in an illegal gifting scheme, you may check the link below.
It shows how to legally create consistent income online.
It is not a get-rich-quick scheme and the 1st five lessons are absolutely free. You only need your email to sign up.
Easy1Up Vs E1ULife
Before we start, please note that Easy1Up was renamed and now it is called E1ULife. But it is still the same company, with the same founder.
The new domain Easy1Up was registered only in December 2021.
This is a comment tactic among a lot of shady companies.
Let's go on with the original review.
What Is Easy1Up?
Easy1Up is an online educational platform teaching network marketing, internet marketing, and many (rather a few) aspects of affiliate marketing.
This company also operates as an MLM with 6 different levels.
We will explain how it works in a minute.
The bottom line is that you as a member can sell their products and you can also build up your team. The more people you recruit the higher earning potential there is.
I am not a fan of MLM companies, and to be honest I was a little bit disappointed to find out that this is an MLM.
Also by checking their FAQ section, I have found out that they do not offer any money-back guarantee.
And when it comes to earning potential, there is also a shady tactic they use.
What Else Do We Know About Easy1Up?
As I mentioned this company has been around for a while.
The website was registered back in 2007.
Since then there were a couple of updates, the last one happened in June 2021.
They make some changes over time, for example, they have added the most expensive products to their packages, and also it is now possible to play the game with bitcoin and tether.
Based on the Alexa rank (that estimates a website's popularity), in the last 90 days, the popularity of their website dropped.
But still, the majority of their audience comes from the USA and Canada.
Is Easy1Up a Pyramid Scheme?
Talking about MLM…
You might be wondering whether this is a pyramid scheme.
Well, it is not since by now we know they do offer digital products, or they call it: product packages.
There are 6 different packages starting from $25.
So technically speaking if a multi-level marketing company sells products and its members are able to make money from selling these products, it can't be called a pyramid scheme.
On the other hand, it is also important to know where is the emphasis.
1) is it selling the products (that should have some kind of value)?
2) or, is the emphasis mainly on recruiting?
If the 1st prevails, then it is a legitimate MLM company.
Otherwise, you are dealing with a pyramid scheme and the chances that the company/website will be shut down are pretty high.
It has happened before, but it seems that people behind Easy1Up are doing quite OK in this manner.
Who Is Behind the Easy1Up?
Peter Wolfing is the founder of Easy1Up.
He comes from NYC, USA.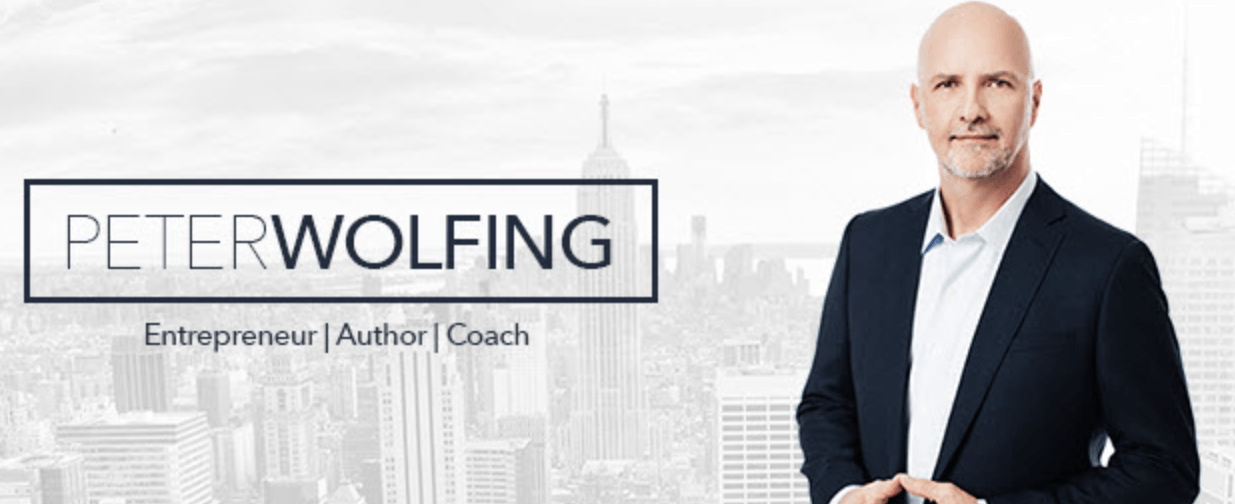 Back in the 1980s, he was a sergeant in the U.S. Marine Corps. At the same time, he also had MLM industry training and in 1990 he fell in love with the network marketing concept.
According to his website, Peter has been providing support services and training to network marketing companies for more than 20 years.
Research also shows that he has been involved in many MLM companies, including Hand and Heaven.
This particular company was known for being a gifting scheme.

Hand and Heaven had originally no retail products or services.
There was an update on the website in September 2021. Since then they have included 6 products, each for a different price.
Starting with "Faith and Success" for $30
then, Self Actualization for $110
Physical Vitality for $275
Financial Growth for $550
Spiritual Growth for $1,100
and finally, HOH Live for $2,500
This is the way how to trick the FTC (The Federal Trade Commission).
A company pretends to have retail products or digital courses, but the main emphasis is on recruiting.
That's where the "real" money is.
Hand and Heaven, as a company, was not the only one…
The number of MLM companies that were launched by Peter Wolfing in the past exceeds a half-dozen.
Easy1Up is just another one of those.
Am I saying that you can't make money with Easy1Up?
No, in theory, it is possible.
But the point is, do you want to be involved in an illegal gifting scheme?
What else about Peter?
Peter also has his own YouTube channel, called Intentional Mentoring.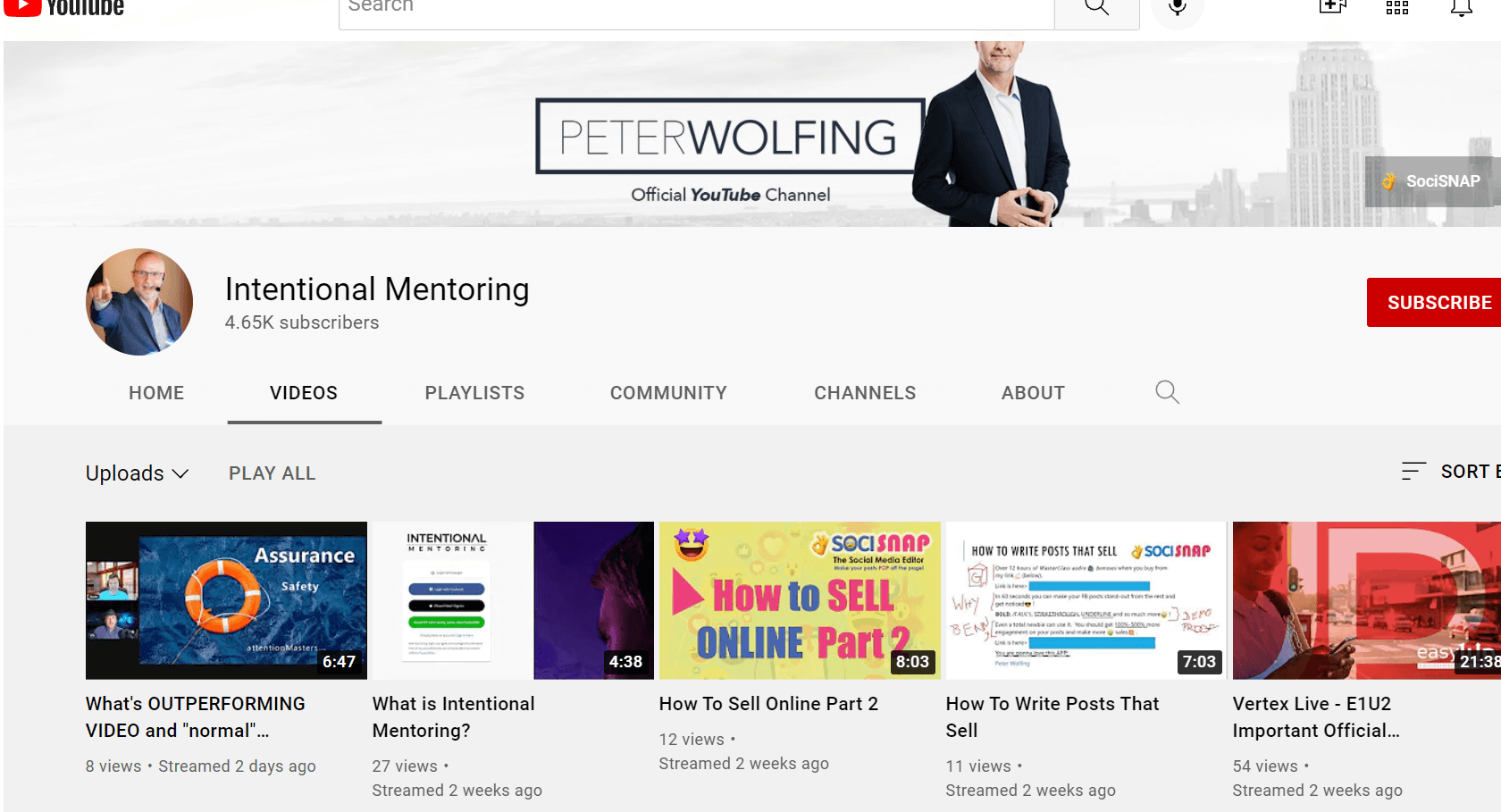 It has more than 380 videos and as of this writing almost 5,000 subscribers. Peter's videos are mostly educational with regard to sales and personal development.
Considering that his YouTube channel was created in 2011, it has only 280,000 views.
How Much to Join the Easy1Up
There are 6 packages for different prices and let me go briefly through them.
Elevation $25
This is the cheapest one and it is an introductory lesson.
It concerns basic information about how to find customers using social media.
Elevation Elite $100
These are video series on Free Marketing and Cash generation.
It mainly concerns, Udemy, Product creation, Intro to Social Media, and YouTube.
One thing I want to point out, they also teach her Solo Ads.
Let me briefly say, that I don't recommend Solo Ads.
This is not viable anymore and the odds that you lose money are pretty high.
If you want to read more about the Solo Ads:
Are Solo Ads Worth It?
Vertex $250
In this course, one can learn the basics of affiliate marketing.
Most likely, you know that an affiliate marketer, in essence, connects the vendor (selling service/product) and potential customers.
If the potential customers purchase the product or service using the affiliate link, he becomes happy customer :).
The affiliate marketer gets his/her commission and the vendor sold the product/service.
Vertex Elite $500
Vertex Elite teaches how to get free traffic on the internet (also called organic traffic).
Vertex Pro $1,000
Vertex Pro concerns mostly the Paid traffic.
The format of the training is a video and it covers several topics from WhatsApp Marketing to Reddit Marketing or FB marketing.
Vertex Live $2,000
This is the most expensive package. It contains more than 18 hours of content and 2 tickets to a future live event.
It concerns topics like:
Sales Funnels
Basics of Dropshipping
Amazon Affiliate Profits
Content Marketing and so on.
To be honest, it is nothing extraordinary, nothing that is worth $2,000.
BTW, do you remember the packages offered by the previous company called Hand and Heaven?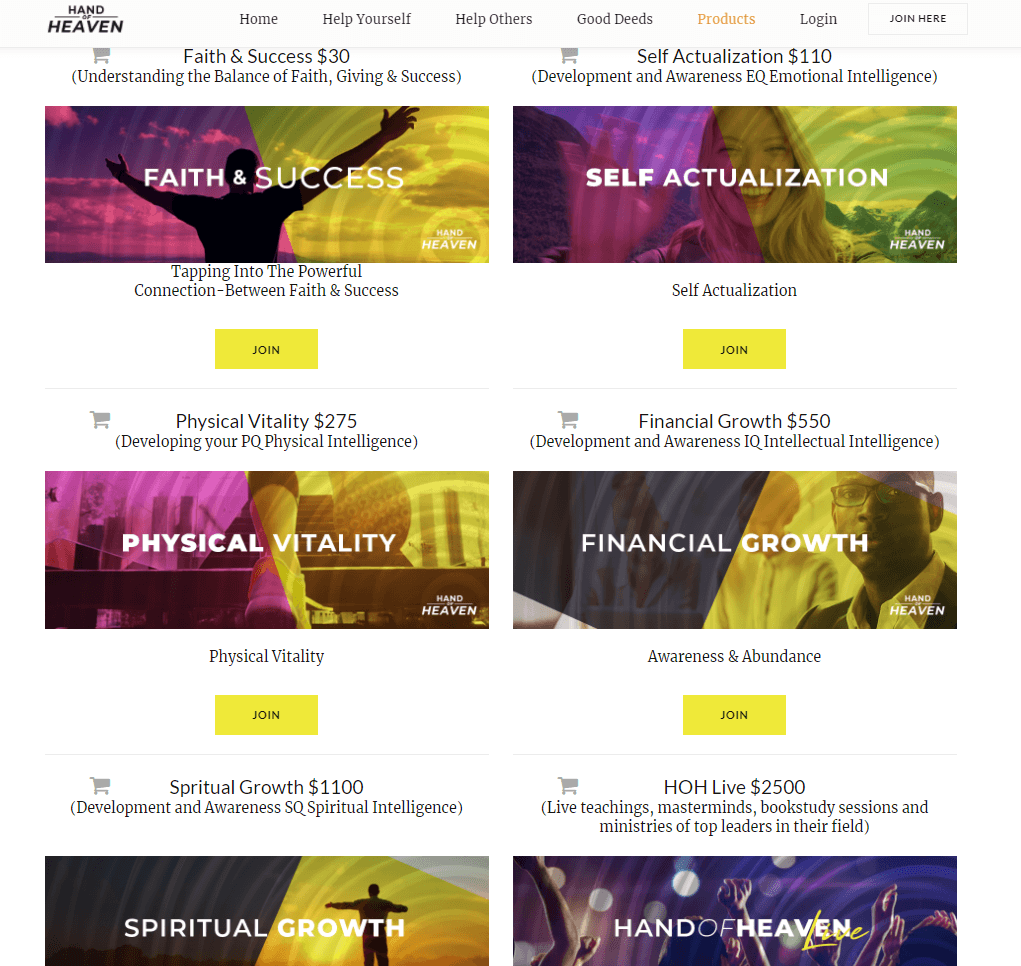 It also has 6 tiers for a very similar price range.
Easy1Up Compensation Plan
How much can one earn with Easy1Up?
Easy1Up works as a pay-to-play.
That means, that in order to become an affiliate you must become a member and choose one of the tiers mentioned above.
The shady thing is that if you join the cheapest one for $25, your commission is based on this lowest tier, regardless of what your downline purchase is.
So, in order to take "full advantage" of this model, you are forced to purchase the most expensive one.
On top of it, you must pay a 10% administration fee. That is basically the profit for Easy1Up.
How Much Can One Earn?
Let's say you choose the $1,000 tier and your downline chooses the same.
You get 100% commission. That's pretty good.
That's why I mentioned that it is theoretically possible to make money with this system.
But here are the crucial questions you want to ask:
Am I good at marketing?
Do I have thousands of followers on Social Media?
Am I able to push my team and "force" them to be more active?
If your answer is no, then it'll be very difficult.
Then you can only hope that someone will purchase it.
Start low and then Upgrade
Well, this might seem like an option.
But please bear in mind that in order to upgrade, you have to pay the full price.
This is a screenshot from the Easy1Up FAQ section:
In case you can't read it here is the text:
"You can upgrade at any time. The price is the full price of the new product and not the difference between where you are and where you are going."
What do I like about Easy1Up?

In theory, it is possible to make money
What I don't like about Easy1Up?
Poor training material
Shady History of Founder (Co-founder of previous illegal gift schemes)
No Money-Back Guarantee
Is Easy1Up a Scam?
The main focus is on recruiting and not selling the actual programs
That makes Easy1Up a borderline pyramid scheme.
Well, they use the trick and included some digital materials within their program.
That tricks the FTC and makes it more difficult to sue them.
So from the outside, Easy1Up doesn't look like a scam or pyramid scheme.
But people who joined the company mainly complain about:
Lack of support
They have to promote this company on Social Media and it becomes difficult due to the Facebook Policy (or Twitter and others)
They feel bad about spamming their family members and friends…
Better Opportunity?
As mentioned at the beginning, I would like to show you a different platform, which objectively has way better training.

This platform, called Wealthy Affiliate, has been around for 15 years as of this writing, and to this date, there are more than a million members.
Of course, not all of them are active. It is just human nature.
But I believe you are here because you want to change something in your life, whether it is quitting your 9-5 or just wanting o to learn something about SEO.
Whatever the reason might be, you can check the training for free.
And I want to be transparent here so let me say it again;
You can join the first 5 lessons for free. It is quite intensive training where they teach:
Basics of How to Make Money Online
Choose a Niche and build your own Niche Website
Get Your Site Ready for Search Engines
Create Content
and more
These 1st 5 lessons are part of the Starter Membership, which is again for free. There is no need to use a credit card.
You need just an email.
Their training continues with 40+ additional lessons.
That is part of the paid membership, but for about $1.50 a day, you can have access to (almost) all of it.
People who have gone through the training become an expert in SEO, they know how to get free traffic on a website.
Many of them earn 4 figures (including me), and even more.
Now it is up to you.
Do you want to give Easy1Up a chance?
Sure go ahead.
But you can also check the training I personally recommend and then make a comparison.
Let me know, what are your thoughts.
Also if you have experience with pyramid schemes, I would appreciate it if you can share it with others in the comment section below.
That will help a lot of people.
Thanks for reading
Mike.