You have found this "opportunity" to earn money with a system called Paid2Tap.
First of all, I am glad you do the research (assuming you have not signed up for it, yet)
It seems, that more and more people keep signing up for it and it really bothers me.
This website promises to make $500 a day without doing a lot of work, and without investing a dime.
Is it really possible?
In the following Paid2Tap Review, we are going to check how these guys behind the system operate, and what is really their mission, so to speak.

Disclaimer:
Please note, that I am not a member or an affiliate of the Paid2Tap.
This review is based on research and information available online in the public domain. Any recommendations and conclusions are only opinions and may not apply to all persons or situations.
Paid2Tap Summary
Paid2Tap is supposed to be a website where you can earn money by doing surveys, and contests and sharing this "opportunity" with your friends, family, and others.
Apparently, you get paid a signup bonus, and also for each person that you refer you get $10.
What is the most absurd claim is that for every click on your "invite" link you get $2!
This is all nonsense, and there are many red flags that only prove that Paid2Tap is a scam.
Please stay away from Paid2Tap, since it harvests your personal information and then sells it to 3rd party (most likely on a black market).
If you want to check the actual Red Flags, read on.
Meanwhile, I would like to explain what it really takes to make money online.
First of all, it is possible for anyone to start making consistent income online. But please understand that it takes effort and time.
For more details click the link below.
What Is Paid2Tap?
Paid2Tap is supposed to be the #1 Earning Network.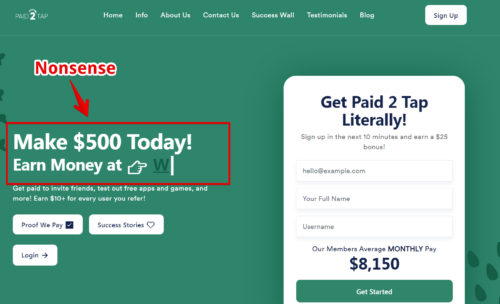 Apparently, it is possible to make money on your phone, by sharing your invite link or completing surveys.
Actually, they claim that you get a bonus just for joining the Paid2Tap.
And here are the 3 steps that you should follow:
1) Create your account and get a $25 sign up bonus
2) Share your "invite" link with your friends, family members, and followers and receive $2 when someone clicks on it and $10 for every sign-up
3) Finally get paid via Cash App, Zelle, Paypal, and more
Now, legitimate survey sites really do pay for signing up. Or they give some kind of bonus in their own currency (like points or credit).
But no legit site pays more than $5 for signing up.
And the 2nd point?
– To get paid when someone clicks on your invite link?
This is ridiculous.
There are more Red Flags within the Paid2Tap site and we are going to prove that this entire website/system doesn't work.
Please stay with me, since many of these scams operate in very similar ways.
Once you learn what to check, and how to check it, the chances that you get scammed diminish.
And if you are interested in how to really make money (in the long term) I have something for you, as well.
Who Is Behind Paid2Tap?
When something seems too good to be true, it would be a good idea to check the product or website a bit deeper.
Therefore, you want to know who the creator is.
There should be some information, ideally in the About Us section.
And here is the first issue:
They say the Paid2Tap was established as a website in October 2015.
This is simply not true.
Let's find out when this website was registered – the real date:
By checking the URL on a website called WhoIs.com we see that it was in 2021.
How about the CEO and other members of the "Small Team with Big Heats?"
I only check the 1st two guys.
But short research shows that these people are models
This is the Kevin:
And Mattie:
They just changed/removed the text on their t-shirt, so it looks "legit".
(Today, it is easy to use simple software and make such changes).
How Does Paid2Tap Work?
By now we know that it is very easy to sign up.
I don't recommend doing that, especially don't sign up with your email address.
If you really want to see the dashboard, use a fake email – create an email address for this purpose only.
Also, don't use your own name and surname.
But my recommendation is don't do it anyway since I am not sure how sophisticated they got over the years.
They might even pull up some information based on your IP address (but this is just my guess).
This is the Dashboard (and it has the same pattern as many scams from this category).
There is a menu and instructions on how to start making money.
The thing is that those who signed up and start doing the surveys and other "money-making" activities within the Paid2Tap really see the Earnings increase.
But does it really?
Here is what happens, if someone wants to withdraw the earnings:
Request for withdrawal
The person gets a message that it is on the way
After a few days, he or she gets another message saying that the clicks and referrals are fake. Therefore the account is closed and no money is sent.
This is how this scam really works.
So please, stay away from it.
Any Red Flags?
Yes, there are many of them.
The very first one is the alert notification saying that this is a potential phishing site.
Based on my experience with these scams, I can tell that this is true.
Paid2Tap is a Phishing scam, that goes after your data.
1) Unrealistic Income Claims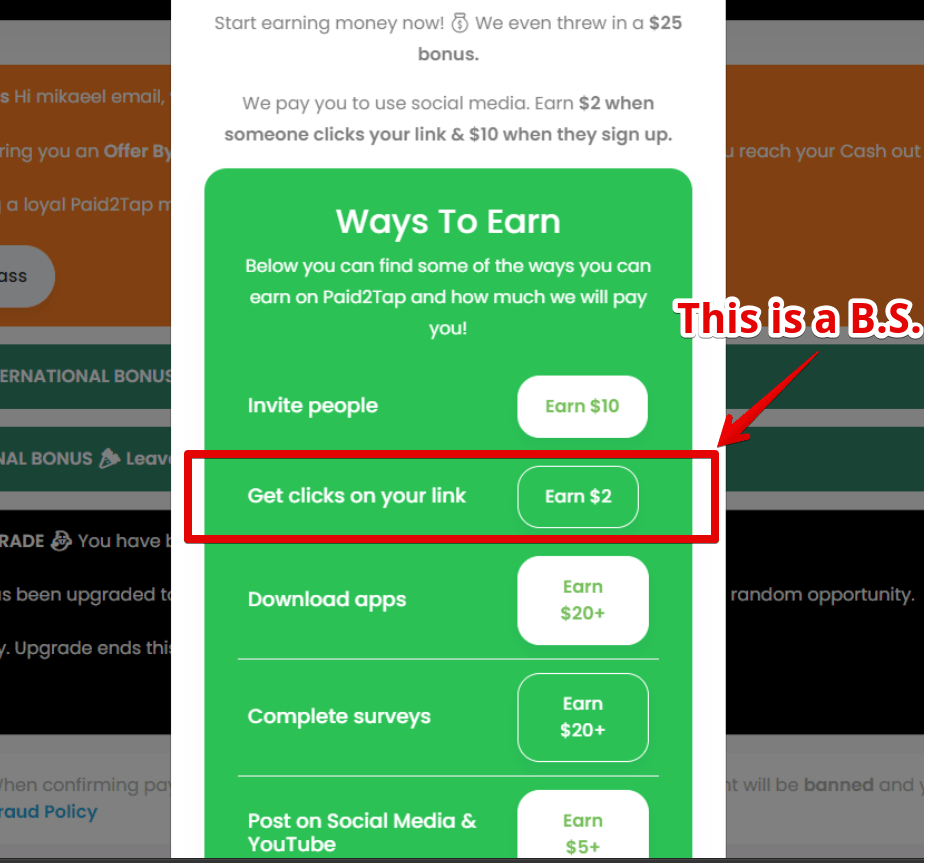 Make $500 Today
Get a $25 sign-up bonus
Share your invite link and get $2 whenever someone clicks on that
These are all ridiculous statements.
Where does the money come from?
Even though the website was registered only at the end of July 2021, the number of visitors is at least 1,000 a day (most likely more).
How many out of these 1,000 people don't want to make quick money?
10%? 50%? I would say all of them.
So can they afford to pay more than $25,000 per day?
I doubt it very seriously.
2) Contact Information
They have a contact form, that doesn't work.
Besides, there is an error.
Why is it possible to select only from 5 countries?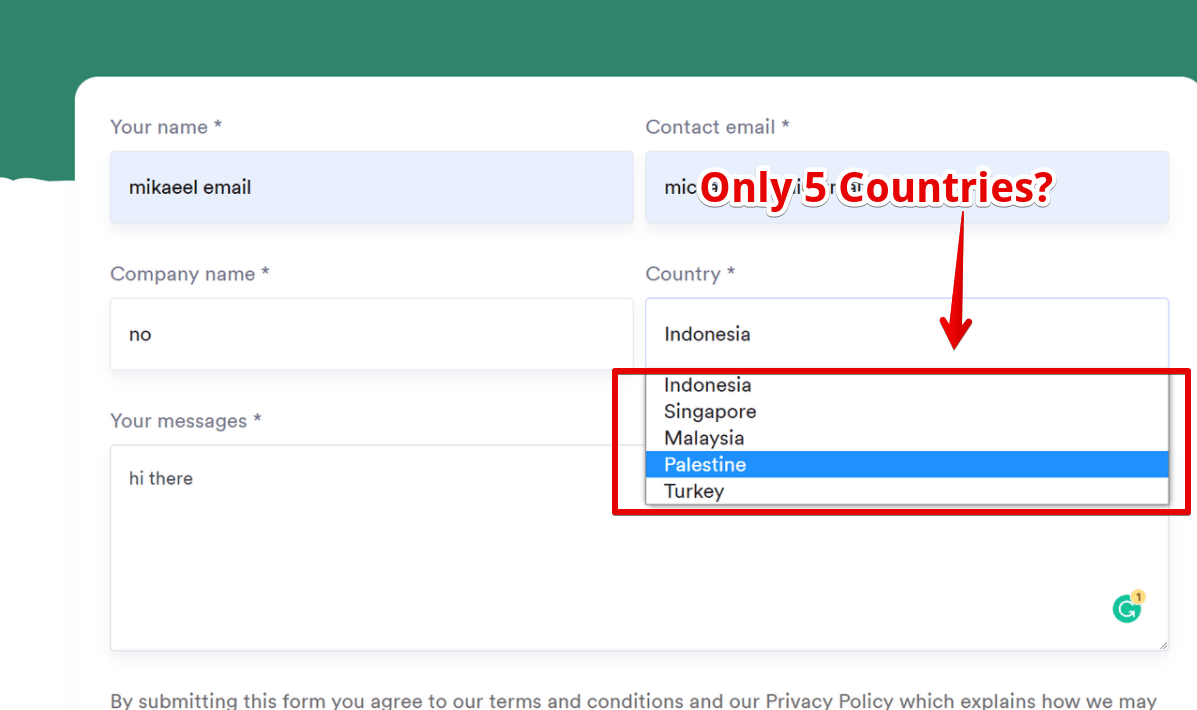 Anyways. I found an email, in their "Terms" section so I wrote a short message.

Did I get feedback within 24 hours?
Actually, it was within seconds: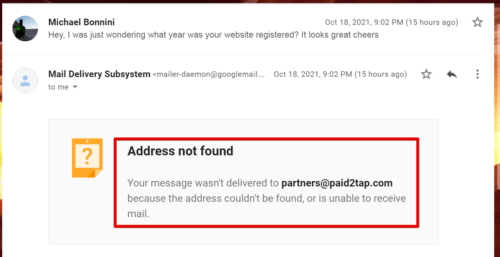 If you can't get in touch with anyone, that's a sign that they don't want to be bothered.
That's another sign of a scam.
3) Registration Date
They lie about the date when it started.
4) Fake Payment Proofs
How is it possible that someone got paid when the website was not even registered yet?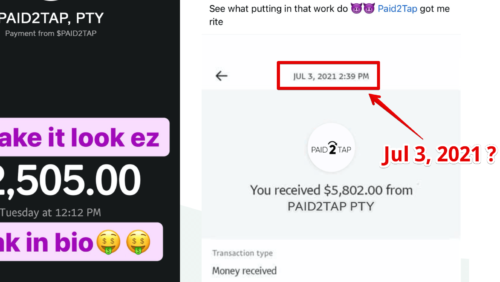 These screenshots are fake.
5) Fake Testimonials
These photos are taken from Twitter or Pinterest.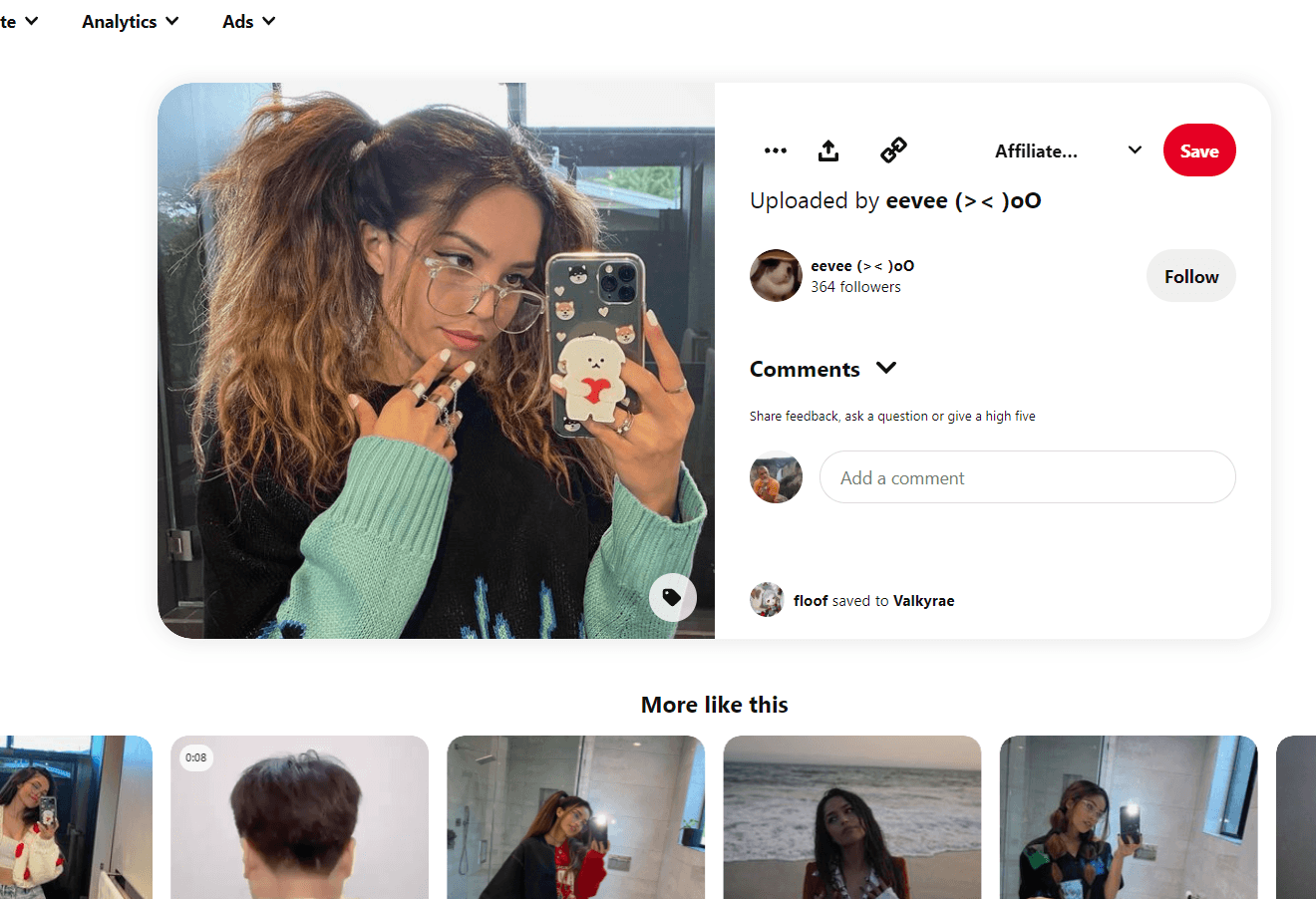 6) They don't pay
This is the main problem with Paid2Tap is that none of the people that have signed up did receive a dime.
Nothing. Niente.
I believe that is enough to convince anyone that Paid2Tap is not worth trying.
So, How to Make Money Online?
There are many legit platforms where you can make money.
The question is whether you are looking for some pocket money, or do you want to learn how to run an online business.
Regarding the 1st alternative, you can check some legit survey sites, but let me tell you that the earning potential is small.
We are talking about $5 to $10 a day max.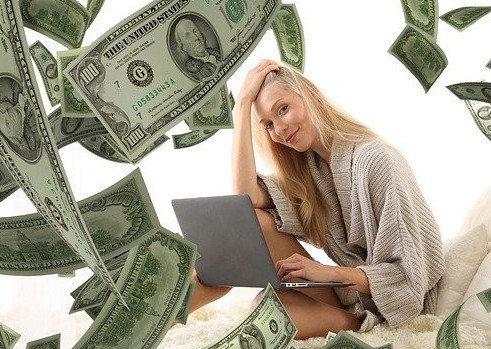 Now let me share with you a little secret:
There is no such thing as a get-rich-quick scheme.
With that being said, all sites promising you quick money for little to no work are misleading and scammy.
Please understand that the money you want to make is for time being in the pockets of other people.
In other words, you want to let them know about your valuable service, so they exchange their money for the service you offer.
Right now you probably don't have the proper knowledge, but the good news is that it is not that difficult and the platform that I recommend has great step-by-step training.
In principle, there are the following stages:
Choose an Interest (it is also called a niche)
Build a Website (no worries, this is easier than you think)
Get Traffic to your website (you will learn how to attract visitors, without paying for the Ads)
Start generating revenue.
Now, there are many little steps in between, but as I said, the training I can recommend is going to teach all of it.
And here is another good news.
You have access to the 1st 10 lessons for free.
Paid2Tap Pros

There is nothing I like about Paid2Tap
Paid2Tap Cons
Data harvesting scam
Fake testimonials
No one gets paid
Fake CEO and the entire team
Is Paid2Tap a Scam?
Yes,
Paid2Tap is a data harvesting scam that doesn't pay.
Whoever is behind this scam, collects personal information (from email addresses to credit card information) and uses it for their benefit.
Stay away from Paid2Tap!
There are other ways how to make money online.
We have touched on that subject as well, but if you have questions let me know in the comment section below.
Also, I would be curious about how did you find out about the Paid2Tap.
Please, share this information by posting a comment.
It will be beneficial for other readers as well.
Thank you for reading
Mike.