Hi, I am Mike. I do digital product reviews for more than a year now.
This post is about a new digital product called 10 Minute Paydays. It can be purchased on a website called ClickBetter. ClickBetter is an internet retailer, similar to ClickBank.
Some information regarding their website.
Their website www.10minutepaydays.co has been created in May 2019.
Traffic to this website started to grow in June/July. I assume that the traffic will probably grow for a month or two and then as people will find out what is this product about, the number of visitors will decrease.
Let's start with 10 Minute Paydays Review.
10 Minute Paydays (10MP) is one of many "cheap" digital products promising you big earnings for no effort. The incomes they promise you are something like $5,000 a day!
The price for this product is only $9. At least that is the front-end price.
We will find out that there are at least 2 upsells and the product is far from what it is promised in the sales pitch.
Name: 10-Minute Paydays
Website: www.10minutepaydays.co (Product doesn't exist as of this 2021 update)
Price: Advertised Price $9 + Upsells
Owners: Gregg Price (spoke person; most likely the name is made up)
10 Minute Paydays Overview
Let me share with you my thoughts on the sales pitch. It is about 15 minutes long video where you hear all the cheap marketing tricks and stuff like "generate $5,000 a day". The entire sales video is full of BS, and unrealistic income claims.
I mean it is possible to make thousands of dollars a day for somebody who works hard and has lots of experience.
But it does not work for newbies. You have to be a really experienced internet marketer to have such an income.
I assume you already know that with 10MP you are not going to gain that much experience.
Also, no one can earn $5,000 a day for just 10 minutes of work.
10 Minute Paydays are supposed to be a system that gives the average person an opportunity to make money online, quickly and easily.
I have checked also the members' area, so in the section below you will see by yourself what this system is.
Please, after you read it, let me know in the comment section below what are your thoughts about 10-Minute Paydays.
The Good & the Bad

Money-Back Guarantee
Low Price (watch out for upsells, though)
N/A
Unrealistic Income Claims ($5,000 a day for 10 minutes of work?)
Upsells
Low-Quality Training Material
Who is 10 Minute Paydays For?
Like many similar products, the owners of 10MP try to convince you that this is a perfect and legit way how a newbie can generate thousands of dollars per day with little to zero effort.
The entire product is intended for newbies only because this is the most vulnerable group. That is why I have reviewed the product and created this post.
I want to warn all beginners, that this is not a way how to make money online.
The owners of this system try to convince potential customers with testimonials. These testimonials are fake. They use hired a person from a website called Fiverr.
There are just too many red flags and I believe they are obvious also for people who do not have that much experience with internet marketing.
10 Minute Paydays Tools & Training
You have actually no way of knowing that this product is very similar to products like Cash Sniper or AZ Sniper.
If you take a look inside the members' area you see almost the same menu structure and also the offer to join other ClickBank products called Super Affiliate System.
BTW, this is a High ticket program created by John Crestani. The cost is $997. It is expensive but it definitely delivers some value. If you are interested in the Super Affiliate System, you check the review is well, by following the next link below.
Back to the 10-Minute Paydays.
Right on the welcome page, you see this offer to join different products. It is a Super Affiliate System by John Crestani (this product is legit but a bit expensive).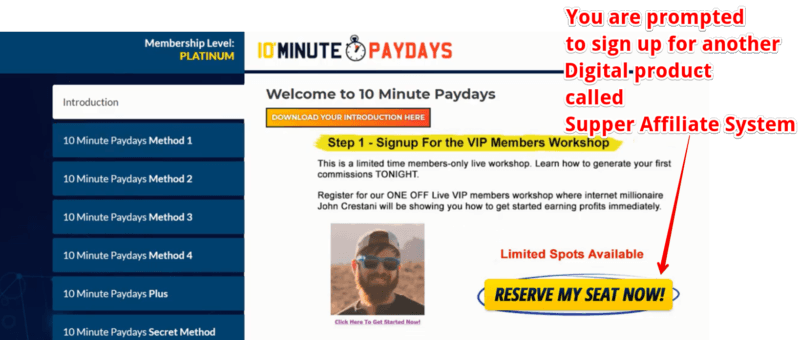 Then on the left-hand side, you see this menu. It is divided into several sections. Here I am going to outline what you can find here. They are all E-books.
Method 1
Making Money by Doing Online Voiceovers.
This is a PDF file with 17 pages. You find here a basic overview of Voice over the market, recognizing your potential, recording equipment, and some further learning.
Method 2
Making Money by Selling Stock Photos.
This is a 21-page long PDF where you read about Stock Photo Market, what to photograph, about the equipment. One chapter is about Licensing. There are 2 pages about Retail Use, Editorial Use, Public Use, Free Use, and eventually Image Theft.
To me, it seems quite a lot of material to be stored at 2 pages only. So it gives you an idea that this is just an overview.
The last chapter is about sites you can join.
Method 3
Making Money by Freelancing Online.
In this e-book, you find an overview of the freelancing market, how to get started, again sites to join, and some basic stuff you will need (contact addresses, PayPal, different kinds of software).
This PDF file (e-Book) is 21 pages long.
Method 4
Making Money With Online Gaming.
Here you have an overview of the Online Gaming Market. You can be paid by playing games. I am sure this might be interesting for some of you, right 🙂
This is again a short e-book, up to 21 pages.
10 Minutes Paydays Plus
This one has 28 pages and it is about how to subcontract freelance jobs, and how to outsource work (cold email and phone calls). On chapter talks about replacing a freelancer. Then you can read about defining your role (leadership and Management on 1 page), and attracting high-ticket clients (3 pages).
10 Minutes Paydays Secret Methods
10 Minutes Paydays Support
I could not find any contact to support. The only way how to get in contact with support is probably via email by clicking on "Contact Us"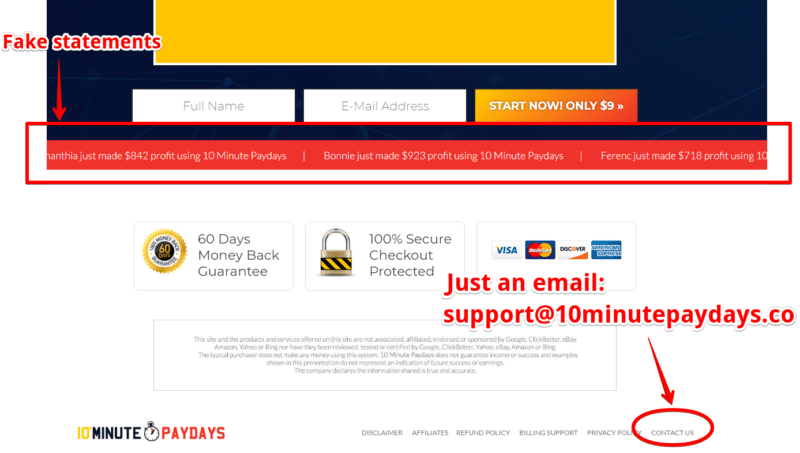 In case you have already purchased the product and you would like to have your money back, the best way is to contact the ClickBetter directly.
They respond quickly and there is no question on why you want your money back. I believe I got my refund back within 3 business days. It also depends on your location and your bank, but I believe you should get your money back within 5 business days.
10 Minute Paydays Price Structure
The basic price is $9. Actually, in the sales video, you are told that this entire program is Free.
The only fee you are paying is a one-time payment and it is a contribution towards server maintenance and paying the customer support team.
Then I am curious how Gregg will explain the upsells:
Upsell: This is Paydays Plus. The cost is $197, and it is supposed to double your profit.
Upsell: This again, should increase your profit up to 5x. The cost is $147.
Apparently, there are downsells to both upsell. Meaning the 1st upgrade you might get for $97 and the second one for $47.
But even with the "discount" you still might end up paying $153. It is not explained how you double the profit, though. So I would save money.
My Final Opinion of 10-Minute Paydays
To put it very simply, this product does not deliver the promised value.
In the sales video, you are promised to earn $5,000 a day with almost zero effort – which is ridiculous.
Inside the members' area, you get only a bunch of PDFs with some general information. Just stay away from the 10 minutes paydays. Your time and/or effort is not worth it.
You are probably looking for a way, how to make money online. There are some legit courses you can join. Some of them offer also a free trial.
Is There a Legit System Teaching How to Make Money Online?
I am sure you have seen a lot of similar digital systems, pretending to give you an "automated cash machine".
Well, it does not work like that and you know it.
The secret about how to make money online is just dedication and persistence. And if one has a proper guidelines, success might come within a few months (6-10 months)
You have already shown to yourself, that you are dedicated to finding a way how to generate an income online and I am sure you are also persistent. Otherwise, you would not be reading this post, this far.
Now you may be asking yourself – how about that guide?
The thing is that we all are different and if A-system works for a person Z, it won't work for person X. And so on and so forth.
I also don't know all the systems out there to offer you a list you can go through.
I just know what platform worked out for me, and you can check it out as well.
Otherwise, there are more and more videos on YouTube you can check. If you looking for free educational stuff you can check Neil Patel or also when I search for some information I go to check the website backlinko.com
If you want to find out more, just let me know in the comment section below this post.
10 Minute Paydays at a Glance…
Name: 10 Minute Paydays
Website: www.10minutepaydays.co
Price: Advertised Price $9 + Upsells
Owners: Gregg Price (spoke person; most likely the name is made up)
Conclusion
I absolutely do not recommend 10-Minute Profits.
First of all, you see this hyped-up sales video promising you to profit thousands of dollars per day. Second, you can only work up to 10 minutes to achieve that income.
I dare to say that that is absolutely BS.
Inside the members' area, you have just a bunch of PDF files with little value.
Then, there are a couple of upsells, so you can end up spending a couple of hundreds for nothing.
I assume that 10 Minute Profits will be still available for a few more weeks, maybe months, and then this product will disappear. It might reappear with a different name and logo soon after.
To sum it up, 10 MP is just another one of those to stay away from.
Are you interested in how to make money online in a legit way? You won't be earning thousands a day, though.
Like with everything there is a learning curve. You must absorb certain knowledge, then apply it, and only after that, you can expect the earning.
So Again, if you want to find out more let me know down below.
Cheers 🙂
Mike