There are still new products coming out, I mean the e-products which are available on the ClickBank website. One of the new products is called Spring Profit.
The page has been launched in the end of 2018 and it started to get traffic in February 2018. So I believe the name is accurate – it was supposed to be ready for spring. (My guess only)
Let's do the Spring Profit Review.
UPDATE November 2019
I have recently checked the availability of Spring Profits.
Spring Profits Is NOT AVAILABLE Anymore
1) The Website Does not Exist anymore – actually it is for sale.
2) Did not find any similar products either on ClickBank or Clickbetter (in case they have changed their name and thus website)
In case you still want to find ways how to make money online stop wasting your time.
Go check my review of this platform and let me know what are your thoughts about that. You can get started for free to test it out. You do not need a credit card. No payment necessary – just use your email.
You can read the review if you want to find out why the Spring Profits do not exist anymore.
Most probably the refund rate was too high – so customers were not satisfied as I described below.
Spring Profits at a Glance…
Name: Spring Profits Review
Website: www.springprofits.com
Price: Advertised Price $37 + Upsell
Owners: Daniel Green (at least according to the sales video)
Product Overview
If this is the first product you are interested to review, I am happy for you. You probably have this healthy sense of checking products before buying them. Have you had a chance to check the Spring Profits sales video?
I am sure, even with no previous experience you can feel that entire video sounds just – too good to be truth.
I mean this statement is… I wanted to say "exaggerated", but to be more precise -> it is just a lie.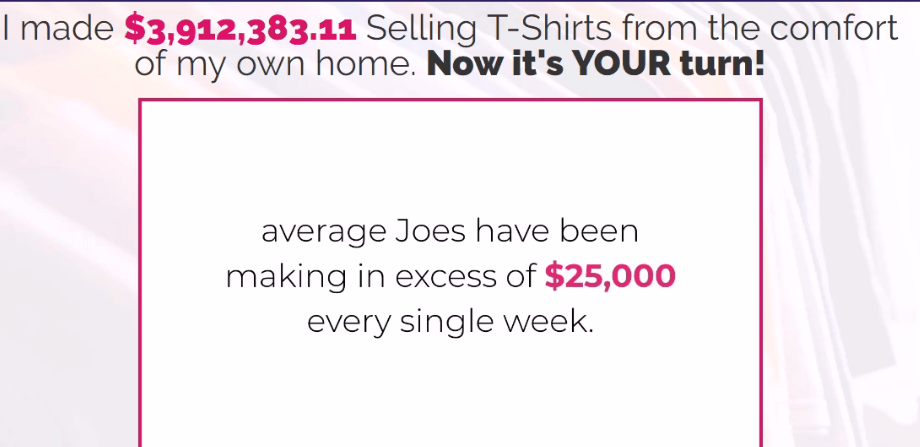 In order to have such income, you do need experience, at least 2 years of full time working online. And such income is never that consistent. Your effort needs to be consistent to keep such income.
Well, I always wonder why they have to tell such complete lies in the sales videos.
They spoil it right away – at least that is the way I feel. Let me know in the comment section below, what do you think about such statements.
But first of all we want to know what is it we potentially will be buying, right?
Well, first of all, the owner or the spokesperson wants you to make feel that this is the "gold mine opportunity" for you. That is why you have the testimonials and screenshots of the income and so on, which I am pretty sure those are just faked.
Anyways, this guy David Green who says he is behind the Spring Profits says that he made more than $3 Million selling T-shirts on-site – Teespring.
Teespring is a website for custom merchandise, which allows people to make money by selling these custom T-shirts.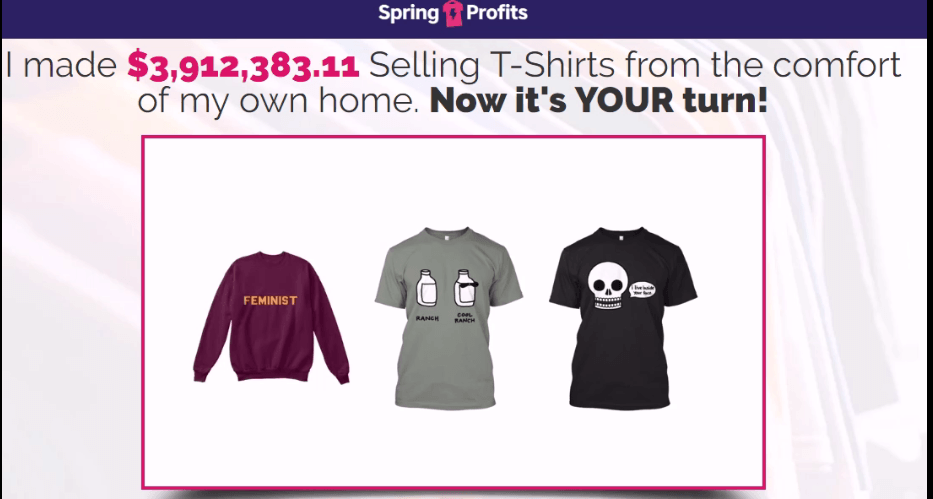 That sounds like a pretty good idea, actually. But we will be looking a bit deeper.
I think we can skip the story of Daniel like he was fired, went through struggles and eventually found this website. He made that sum of money as you see at the top of the picture and he wants you to make thousands of dollars per week.
That is just hype to me.
The Good & the Bad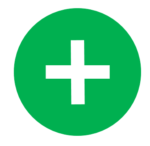 Money-Back Guarantee
Quite Good Learning Material (even it is PDFs only)
n/a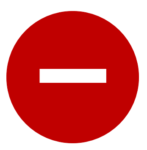 Fake Testimonials
Unrealistic Income Claims
Upsells
Who is it For?
If you have only slight experience with similar products, I bet you already know that this product is probably not that great as promoted in the sales video.
All these products, including Spring Profits, are intended for newbies. That is the most vulnerable group. Look at their promises and false claims:
You probably spotted that guy at the end – he is just an actor hired on the Fiverr site.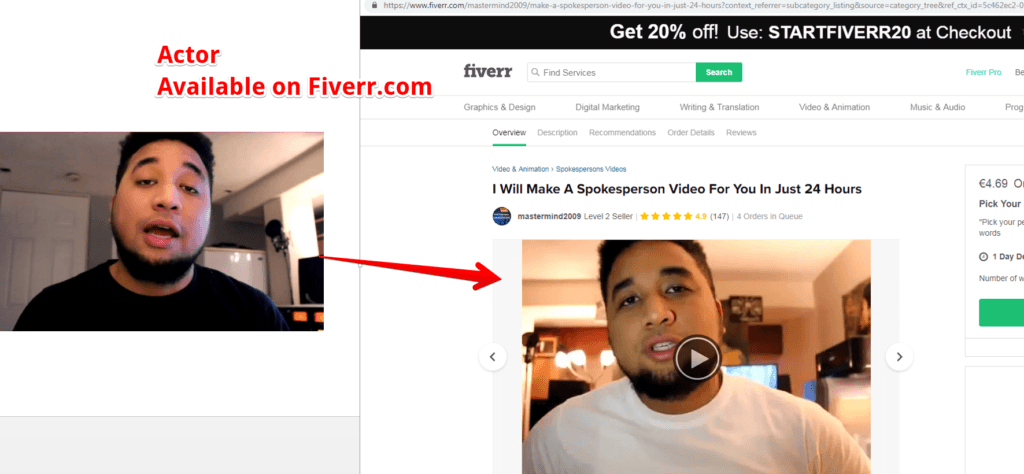 If you google his image, you will find that he does other testimonials as well. (It seems to me, that he also promotes some pills… )
Obviously David Green did not use his customers… In fact, we are not quite sure who David Green is. There is no "About me" page on his website.
Spring Profits Tools & Training
Like already said, this platform is to teach you how to make money online selling t-shirts on this webpage Teespring. How does he want to do that?
If you buy his product, you get access to 3 eBooks. Actually here is how the members' area looks like:
I have found in many ClickBank products an ad for another ClickBank product. If you scroll down, you see the option to sign up for John Crestani's product, Supper Affiliate System, or internet Jetset, or however, he calls his course right now.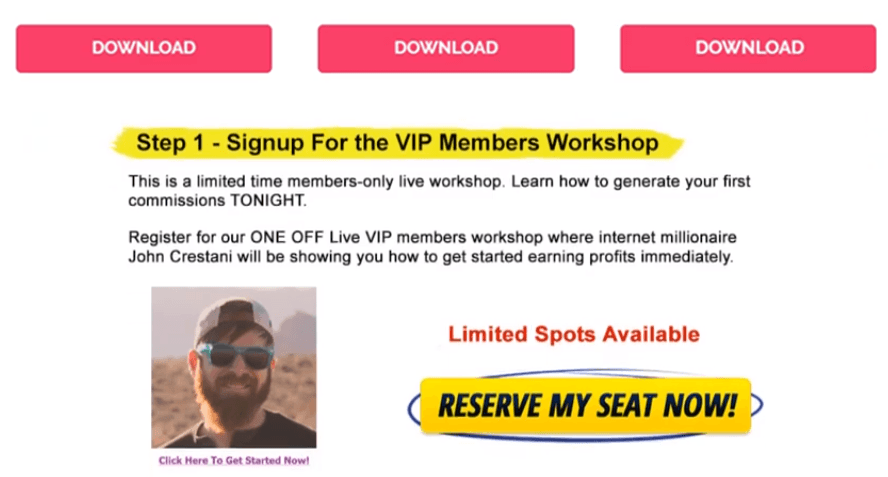 At this point, I do not want to judge John's product, but to me, it is strange being inside one platform and have that option to be distracted so easily… Unless, there is some commission for this "David Green" guy, right?
But let's take a look at the material Spring Profit has to offer.
1) First PDF is called Spring Profits. It is a 51 page long eBook and it is divided into the following Chapters:
Introduction to Building T-Shirt Business
Market Research
Keyword Research
Trademark and copyright research
Where to find T-shirt designs
Listing T-Shirts on Tee-spring
Marketing and Branding
2) The second eBook called Content Crusher has 25 pages and here are the main subjects:
Content marketing for Tee-spring
Developing a content strategy
Scheduling and publishing your content
Other platforms and sales channels
Email marketing
3) And finally the 3rd eBook contains 28 pages and it deals with social media:
Spring Profit Social
Facebook Marketing strategies
Instagram Marketing strategies
Pinterest Marketing strategies
creating mock-up ad
Facebook paid promotions
If there were also videos, and/or tutorials it would make this product much better. Unfortunately, it is not the case.
Support
I have not seen any link to the support page inside the members' area. There is one email address (support@springprofits.com), though – where you probably can write an email.
As I recommend in other reviews, if you by any chance purchased this product and you want your money back, go directly to ClickBank support. It is easier and faster than through the Spring Profit page.
Spring Profits Price Structure
The advertising price is $37 and that is the same price via ClickBank. That is a good sign so you have your money back guaranteed.
Unfortunately, there are also upsells. You are not informed about them (obviously) in the sales video. And even inside the member area, it does not say what you actually getting for these upsells.
And I am not even sure how much are the upsells. But I know that if you decide to promote Spring Profits you may earn up to 60% commission for every customer you refer to this product. Based on my experience, there is at least 1 upsell for $197, otherwise "David Green" would not offer a 60% commission.
My Final Opinion of Spring Profits
For sure there is some value in this product. Although I see the downside of this system – the thing is that the margin for one T-shirt can be a few bucks, only. The market is literally saturated with T-shirts. Imagine how many T-shirts you have to sell in order to make $2,000 a month.
If you have a $2 bucks profit per T-shirt, you have to sell 1,000 t-shirts per month. That is more than 30 T-shirts a day. In order to sell 30 T-shirts a day you need quite a lot of traffic to your website. And that takes some time, at least 6 months.
Spring Profits at a Glance…
Name: Spring Profits Review
Website: www.springprofits.com
Price: Advertised Price $37 + Upsell
Owners: Daniel Green (at least according to the sales video)
Overall Rank:

VERDICT:
I would not buy the product. I mean it is not a bad idea to sell custom-made t-shirts. But I believe you do not have to invest $37 in this product. First of all, this investment does not guarantee you the profit. And then you can google "how to sell t-shirts online", and I am pretty sure you will get lots of available info for free.
To me, it is quite expensive to spend $37 on 3 PDF files.
What may be also an option for you, is to become an Amazon Affiliate, create your own website and earn commission out of the sale you recommend.
If you have other opinions, let me know please in the comment section below.
How to Get Started with Affiliate Marketing Business?
I have been a member of Wealthy Affiliate since late 2017 without a prior marketing experience.
Beginning of 2018 I have learned how to build a website that drives traffic and makes sales.
Since the summer of 2019, I am a full-time internet marketer and I work from anywhere I want, whenever I want.
Training within Wealthy Affiliate teaches how to generate a consistent income in the long run.