Do you want to know more about keyword research tools, and you are wondering what is Jaaxy?
I am glad you have landed on this page as this is going to be a thorough Jaaxy Review, which is in my opinion one of the Best Keyword Research Tools there is.
In a different article, you can find additional information about how to find a keyword for your website, but this specific post concerns Jaaxy only.
Let's get started.
How can you take advantage of this tool, even in 2022 so your site will rank at the top positions of Google?
Disclaimer:
Please note, that the following post might contain affiliate links.
That means if you click on them and purchase the product, I will receive an affiliate commission at no extra cost to you.
This review is based on research and information available online in the public domain. Any recommendations and conclusions are only opinions and may not apply to all persons or situations.
What Is Jaaxy?
Jaaxy is one of the best keyword research tools that can help you to get your website to the very top of google search results.
Here is a shortlist of the main features that Jaaxy has to offer:
Shows possible traffic volume (how much traffic your site can get using the specific Keyword)
Determines how difficult is competition (the number of websites that try to rank for the very same keyword)
Finds related keyword data based on original research (helps you to think "out of the box")
Jaaxy has also additional features, like checking the availability of a domain, alphabet soup technique, Keyword list, and others.
We are going to elaborate on these features as well.
Jaaxy Pricing
One thing at the very beginning, Jaaxy is not a free tool.
It has 3 different versions, well actually just 2, because the first option is basically a trial.
You can check the tool for free with 30 searches available.
It is worth mentioning though, that every member of the Wealthy Affiliate Platform uses Jaaxy -the Lite option- for free.https://setaffiliatebusiness.com/wealthy-affiliate-review/
This is absolutely sufficient and unless you are an advanced internet marketer you don't need to upgrade to the paid option.
But as I have mentioned, you can have a taste of Jaaxy for free where you get 30 searches. That is the 1st option.
Then the price structure is as follows:
2nd Option Pro: $49/month
3rd Option Enterprise: $99/month
At the bottom of this page, you find also the overview of membership options.
Now, let's take a look at what is inside and if it is worth the money.
We will do the review of the most popular membership – the Pro for $49 a month.

Jaaxy Features
The main purpose of the Jaaxy is to help you to determine what keyword to use in order to get the most traffic to your website.
After entering your keyword you will see a bunch of data, like numbers and similar keywords that are generated based on your keyword.
Let's start with a simple keyword and we are going to explain what the numbers mean: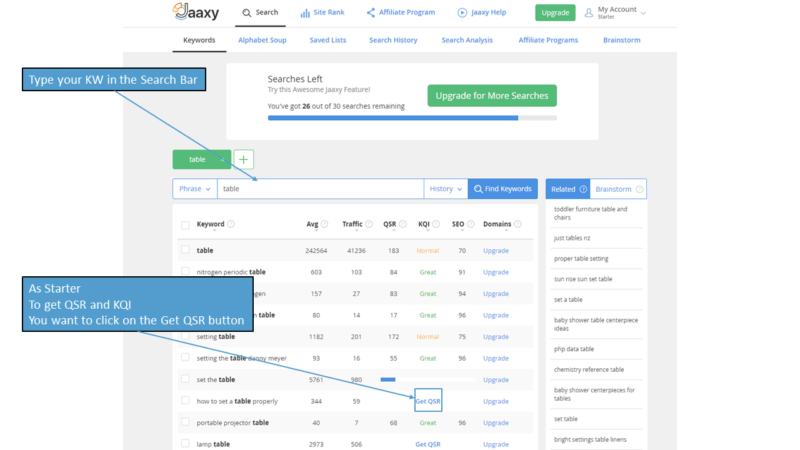 So you have entered the keyword you want to use in your article. You are not sure though, how much traffic you can get and how many other websites use this keyword.
Let's take a look at the Jaaxy results and see whether there is a better option.
On your left side, you see many alternatives to your keyword.
Next to each keyword, there are these data:
Avg: Average number of searches that the keyword receives per month.
Traffic: This is visits to your site if you are ranked on the 1st page of the search engine (in the TOP 10)
QSR: stands for Quoted Search Results and this number gives the number of competing websites using the very same keyword.
KQI: (Keyword Quality Indicator) – that is a result of both, Avg and QSR. It gives us a visual overview to see right away if it is worth using the keyword or not. (Great, Normal, Poor)
SEO: Indicator based on traffic and competition – a higher number more likely you rank for this keyword. The range goes from 1 as the most difficult to 100 as the highest probability of rank.
As a member of Pro Membership, you can sort the data according to the highest number of searches (Avg) or lowest/ the highest competition (QSR).
On the right-hand side, you see a column with Related Search Terms.
These are related terms to your targeted keyword. Its purpose is to give you more ideas. You simply click on one of the KW and basically, you are digging down where Jaaxy will come up with different ideas.

TIP (what is most important):
What you are looking for (especially when you just starting to build your website) are low-competition keywords.
Meaning you want to use such a keyword that potentially drives the biggest amount of traffic (Avg) and at the same time, there is the lowest number of competition (QSR).
You can follow the 100/100 rule, meaning you want to use a keyword that gives you more than 100 in the Avg column (more than 100 searches per month) and less than 100 QSR (there are less than 100 competing websites using this keyword).
AVG +100 (over 100)
QSR -100 (less than 100 )
If you start out, you are OK also with a 50/50 rule.
Such KW in your post will increase the probability of ranking in a short time (within a few days) on the 1st page of Search Engines.
If you want to know where and how to use the keyword in your article, check this post where you find 9 steps that help you to increase your site's ranking.
Back to the Jaaxy
Let's say that your niche is "Garden Furniture" and you want to write an article about tables.
In the image above we see that the keyword "table" has a lot of searches of more than 200,000. The amount of traffic your website would potentially get is also awesome, 41,236.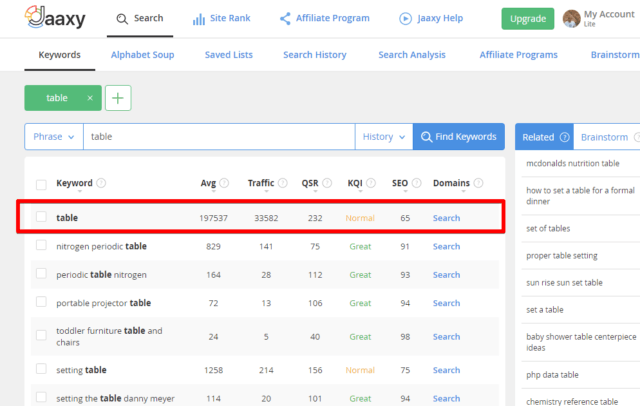 Now, let's take a look at the same keyword more than a year later.
As of today's writing (This article has been updated in June 2020)
The amount of searches for the keyword "table" is still impressive as well as the amount of potential traffic the website can get 33,582 visitors per month.
But the competition is quite high and a website with low authority won't rank well.
If you just starting out, and you want to rank for the keyword "table" your website with the article about "table" will most likely end up at the position 200 or so.
And no one goes to page #20 in Google search results:

So what to do to rank higher?
We want to find a more specific keyword. That means less traffic but at the same time, less competition.
And that is our goal – to find low-competition keywords (or they are also called Low-Hanging Fruit Keywords).
In the screenshot below we have found such a KW "garden table".
TIP: Start with a broad search first. I mean use a simple 1-word keyword and then as you see related keywords pick the one you like the most. Then dig down by clicking on it and you get more targeted keywords.
So by clicking on "garden table" we get the following results:
Feel free to use the Jaaxy for free and test out how that works alive:
In the next sections, we are going to explain other Jaaxy features.
Domain – Check the Availability Related to Your Keyword
If you are about to create your own site, this is a very useful feature.
You can see which domains are available.
It is recommended to pick the extension ".com". If you insist on your specific domain name and ".com" is not available you can then choose either ".net" or ".org". As the last one would be ".info".
If Jaaxy in the last column shows, that all three are taken, there is a pop-up window with alternatives. This includes your phrase with dashes and different combinations.
Broad KW does not have many available domains as it is obvious from the picture below (compared to the screenshot above, where we have much more low-competition keywords and domains as well).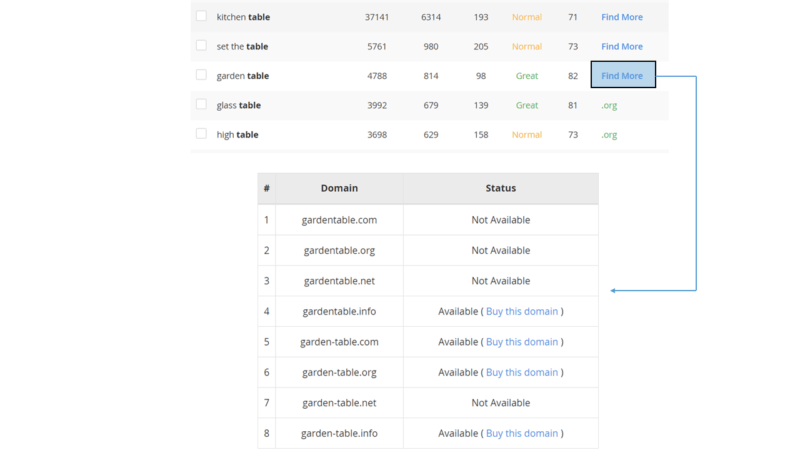 Alphabet Soup Technique – Your Keyword with A-Z Combination
Sometimes when you are not sure what phrase to use, it is a good idea to go to the Google search bar, and before or after your core keyword start typing "a", "b", "c", and so on… you will see that Google gives you a lot of options.
This is called the Alphabet soup technique and you are probably familiar with it.
Jaaxy does the same only you have all letters in one place.
So you type your phrase in the search bar and this feature allows you to go through the entire alphabet, either by scrolling down or you slide to the side.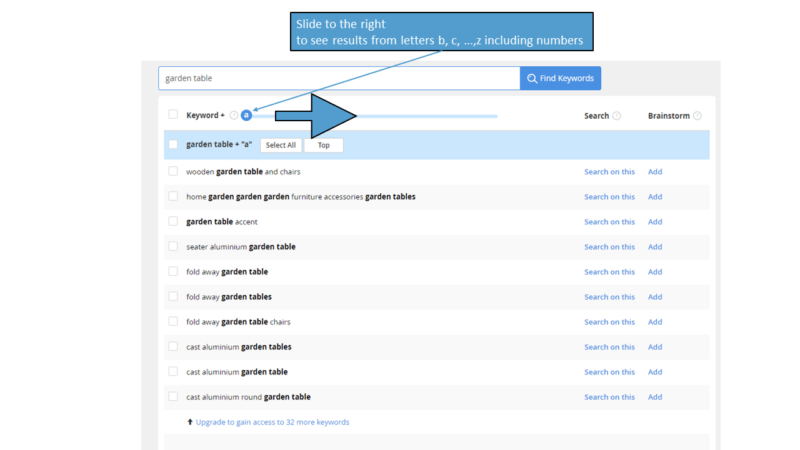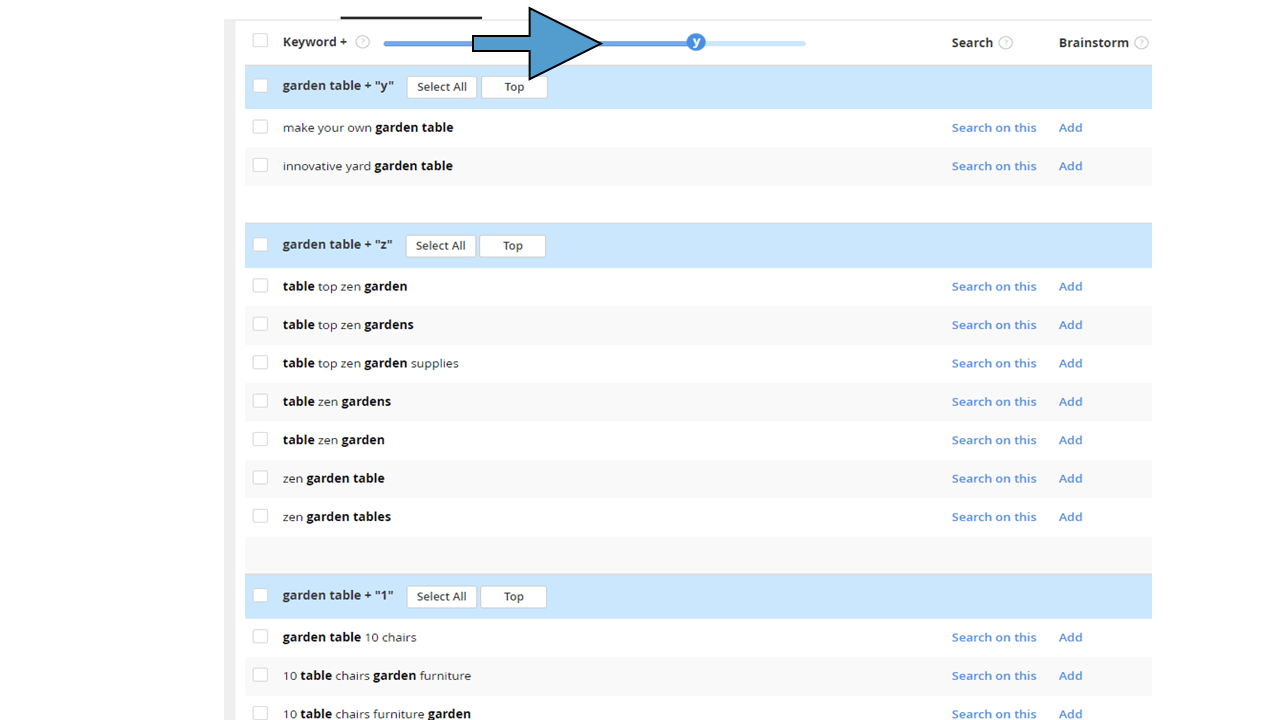 All alternatives you have in one place, including the letters in front of your phrase or after.
If you want to come up with such results manually using Google, it will take you 20 minutes at least.
Saving and Managing Your List of Keywords
Building an online business, or just any website, requires planning.
Effective planning includes creating a schedule for your posts. (We know that for each post we want to have one specific keyword).
The ideal planning is to come up with let's say 20 different articles in advance. It may take the entire day, including searching for low-competition keywords.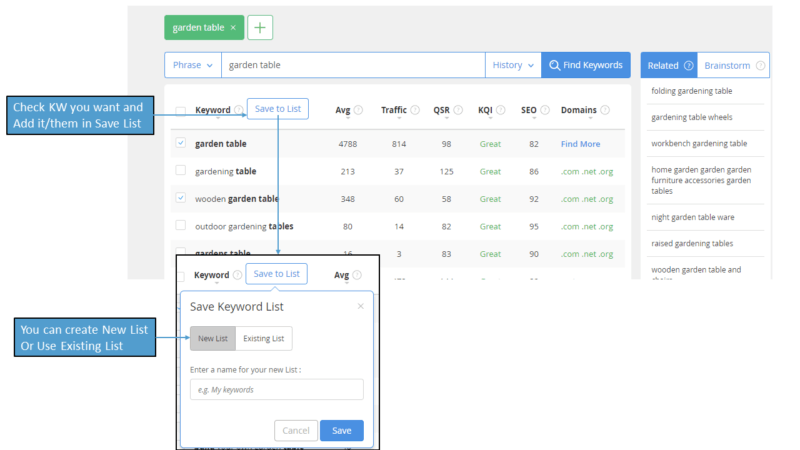 We want to store these keywords so when we come to the point of creating an article we won't be distracted by searching for a new keyword.
You can save keywords one by one, or just select more of them and save them into the existing list or just create a new list. We can have as many lists as we want to.
Of course, the list includes all associated data with the keyword.
The list can be exported into a CSV file or Txt file.
You can delete the keyword from the list or manage it however you wish. It is up to you.
Search History – Track-Back your Keywords
I find this feature very useful. Sometimes I get carried away by searching for new KWs and forget to save them. The search history feature is very helpful. You can get back to the previous search whenever you want.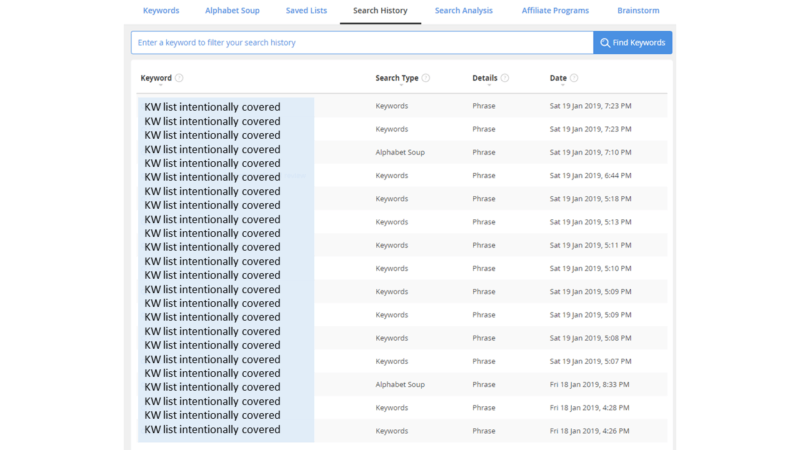 Again you can organize by date or search type (Keyword or Alphabet Soup).
Brainstorming Feature
We often find our minds in a "slow state" or, we just do not feel like thinking.
Brainstorming helps you to come up with related ideas or just will get you "out of the box".
What is really cool, is that it goes through Search Engines and/or Social Networks and it picks up the most popular keywords. You can then add your favorites to the queue and call them later.
Jaaxy Pricing – Summary
Jaaxy is one powerful tool and in order to develop such a tool, it takes effort. No wonder that there is a fee.
Nevertheless, you can check the tool, you have the 30 searched for free.
That should be enough to get the feeling – whether it is worth investing in the tool or not.
Starter membership includes the video tutorial to Jaaxy.
It has about 20 minutes and here is part of the tutorial. (Video is recorded with an older version of Jaaxy – you can see that that environment is a bit different, but the functionality is the same):
Last, but not least I also would like to point out, that if you are willing to invest $49 a month, you can then also think about the Affiliate Marketing Training Course.
For the same price of $49 a month, you get the Premium Membership inside of the Platform.
And the coolest thing is that the Jaaxy Keyword Tool (Lite Version) is for free as a part of that Premium Package.
Conclusion
The importance of proper keyword research is essential.
Using a proper Keyword (or phrase) can get our website to 1st page on any search engine.
In other words, we want to show Google that our content is worth looking at and any person landing at our page will be satisfied with the information she/he was looking for.
That can be done by choosing a proper phrase (Keyword) in your Meta Title, Meta Description, in your content as well.
Being on the 1st page means traffic and once you have thousands of people a day on your site – you will make money!
We have covered Jaaxy as one of the best tools and the 49 bucks, a month is not a bad deal.
Let me know if you have any questions regarding Jaaxy, or if you would like to share your opinion in the section below.