Email marketing is a good way to make money. But in order to be successful, you have to have an email list with many subscribers.
Usually, this is a long process to build such a list, it takes weeks sometimes months. Apparently, there are some products that have this offer, saying something like, "Sign up for a free email account and we will take care of you"
I stumbled upon a product named Instant Email Empire which claims that they will set up a free email account for you and you start making money instantly.
Instant Email Empire Quick Overview
Name: Instant Email Empire
Website: www.instantemailempire.biz/main
Price: Advertised Price Free ($40.80 + Upsells)
Owners: Bobby
What is Instant Email Empire?
First of all, it is funny how their sales video starts. I mean you see this nice opt-in page with the logos of TV companies.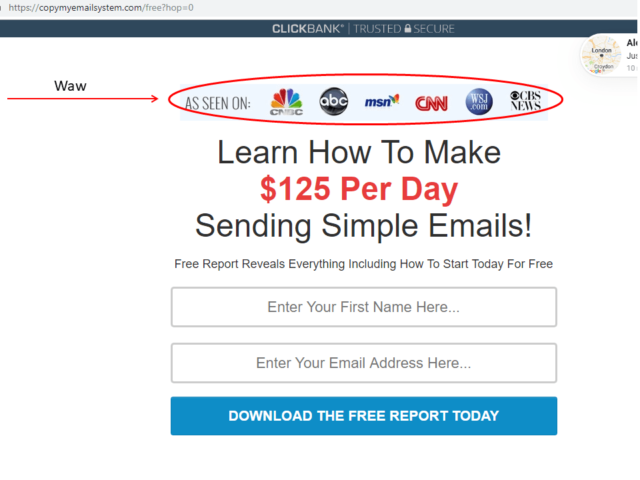 Then the sales video starts with a compilation of newscasts claiming how great it is to start working from home and that this is a great way of earning. 
That is actually the truth and recently more and more people getting into the digital marketing business.
But in this case, the owners of the Instant Email Empire just spliced the TV news in order to raise the viewer's interest to make an impression, that they actually talk about this particular product.
After the compilation, Bobby shows up. He is a spokesman for this product. I kept checking their website but could not find the full name.
Just a quick note; I am not a big fan of high-ticket products as offered by Frank Kern or John Crestani. Although I must admit that you can find some stuff available on YouTube which actually does have value.
Why am I mentioning these guys? They reveal their full name, even though Frank used to be a scammer (a long time ago and he admits it:) )
So, why Bobby does not say his full name? Is it because he is a paid actor?
Also what I found out, this product has been on the market for a while but it had a different name. If you check the Copy My Email System – you find out that it is the same thing.
Instant Email Empire Pros and Cons

Money-back guarantee
n/a
n/a
Claiming that it is a free product, in fact, it costs more than $40
No real platform where you can learn
False scarcity
Spokesmen – not a real person behind the product
Who is Instant Email Empire For?
It does not say specifically who can join. But from the general introduction video, it seems that anybody can join this program.
"But you better hurry, since there are only 100 places available". That is just a fake scarcity. There is no limit on how many people can join an online platform.
There are other red flags as well, so I suggest you not join the platform. If somebody repeatedly says that you can join for free, and then you are asked to pay $40 – that is an instant deal-breaker.
Instant Email Empire Tools & Training
Right of the bat, there is no real platform where you can learn something. After the sales video, you are asked to fill out the form with your name address phone number and you are already a "member" of this platform.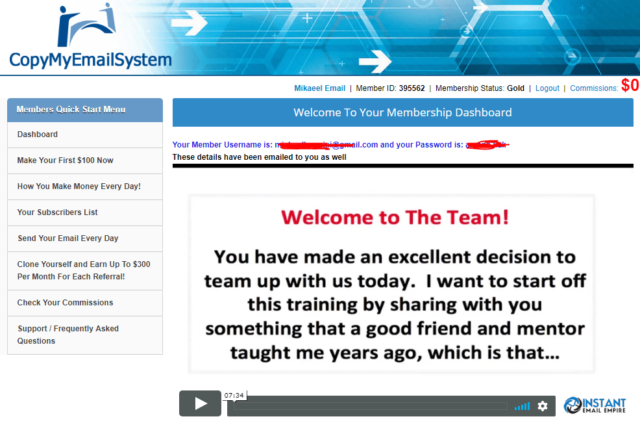 There is some information about how the program works. Briefly, it goes like this:
Bobby (that is the guy who supposedly is the owner or spokesman) says that his company sends many emails to millions of people who asked for "this" information. Apparently, these are not spammy emails.
And under "this" information he basically means everything. From making money online, losing weight, education, investing courses – you name it – he does it.
But he has a problem – he can not reach everyone who is looking for this information. He needs to clone himself. Of course only metaphorically. By clone, he means a partner – You.
He asks you to partner up with him:
He sets you an email account for free
He uploads new email subscribers to your email account
He gives you emails and offers
He splits the money after you make the profit.
"It sounds awesome."
But that's it. Unfortunately it only "sounds" awesome since there is not such a system that works that way.
Instant Email Empire Support
Inside the platform, there is a menu where it says Support/FAQ, but it is only Frequently Asked Questions. I can not find any email or link where you can raise your question.
Instant Email Empire Price Structure
Well, first of all, let me show you that the platform is not free. Yes, you might get the email account for free – but come on – where do you pay for setting up an email account?
Right at the bottom, you see that you need to pay $34 in order to get subscribers.
So if you decide to pay the $34, which is something over $40 (including VAT) you are offered an update for little extra costs as per the screenshot below: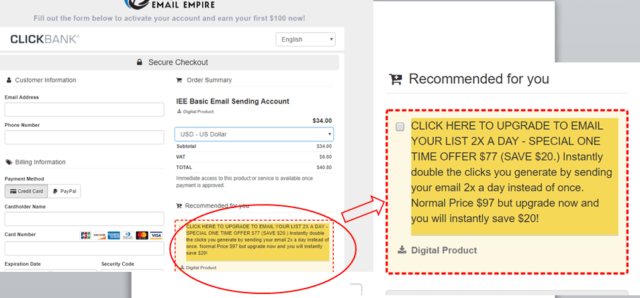 What might happen after you subscribe is that you can make some small sales. You might earn some cents or a few bucks, just to get you excited. But that is basically it.
You end up paying more than actually make.
His "system" resembles the Solo Ads.
If you know what solo ads are, you know that even with the huge subscriber list you still may not make a dime.
My Final Opinion of Instant Email Empire
To be honest, when I started to do the research, I was a bit confused, since I was not sure which product I should be reviewing. Whether Instant Email Empire or Copy My Email System. You know what? It does not really matter, because they both are the same products. Apparently, whoever the owner is, he kept changing the product names.
The reason is pretty obvious I believe. Once more and more people find out that this is pretty much a scammy product they stop signing up for it. So the owner will just change the cover and name and sells the same thing over and over again.
Alternative For You, That Actually Works
If you looking for an alternative to how to make money online, I have a solution for you. I must point out though that the alternative I have on my mind is NOT a get-rich-quick scheme.
It is a particular educational platform where you can learn a lot about affiliate marketing and you can apply that stuff while you learn.
There are members who are able to make a profit within 6 months, but usually, it takes a bit longer. But the results people have are usually 4-digit income per month. I have done a review of this system and you can also read success stories at the end of the post.
Also, what is great in my opinion is that you don't need to use your credit card to test out the system. That is right, you can set up your free account (it is called a starter membership) and check out the system.
Instant Email Empire at a Glance…
Name: Instant Email Empire
Website: www.instantemailempire.biz/main
Price: Advertised Price Free ($40.80 + Upsells)
Owners: "Bobby"
Conclusion
Email marketing is a good way how to generate income.
But I have not mentioned the most important thing, which is – you have to provide value to your readers with every single email you send out. If not, they will simply unsubscribe from your list.
I do not recommend the Instant Email Empire at all.
Do you have any questions regarding Bobby's product? Or maybe you would like to find out an evergreen way, how to build a sustainable business online.
Let me know in the comments below. Your opinions are highly appreciated.