This time we will be reviewing Patric Chan's program called CB Passive Income version 5.0.
Just looking at the name of the product one can already assume that CB stands for ClickBank. Passive income is obvious and it is basically something we all want. It is like having a real estate rented out and just collecting money each month.
In the online world, it could mean for example software that generating money for you. There is a bit of misunderstanding in the idea of passive income conception. To put it simply: In order to have passive income, first you need to be very active and work hard and eventually you will be able to get to the point when you make money while sleeping.
CB Passive Income 5.0 is the version or 5th generation of Patric's program. 5th generation is supposed to be good, I assume.
First, we will check what has changed since earlier versions, and then we will be taking look at the current version, which should be ready for 2019.
Name: CP Passive Income 5.0
Website: www.cbpassiveincome.com
Price: Advertised Price $47 + Upsell (Optional Upgrade)
Owners: Patric Chan
CB Passive Income 5.0 Review – Product Overview
Well, it is already a good sign that Patric is a real person. And he is active in forums and blogs – in fact here is a post about him commenting on another review.
CB 5.0 should be a turn-key system to make money online. How does it work? We will talk about that in the next paragraph.
Let me start by taking a look at the previous versions.
First CB Passive income first version was launched in the middle of 2013. Patric claims that it helped hundreds of marketers and also newbies to make money online. A year later it was already updated to version 2.0. This version 2014, was developed for the customer to get more leads from promotion and to generate passive income. It does not say what actually had been improved.
What about version 3.0. With version 3.0 comes multiple "secret pages" to promote. That means, that you were able to multiple streams of income.
With version 4.0 the program was optimized for mobile phones. That was a good move since the number of mobile phone users increased dramatically. Also it worth mentioning that with the 4.0 version they (Patric and his team) created Facebook Click-To-Optin Feature. Mobile traffic visitors had been able to subscribe without typing in their email addresses. You are probably familiar with the similar features when you want to sign up and it gives you an option via FaceBook or via Google.
Well at this point Patric says you can buy traffic at a lower cost because mobile traffic is cheap. Isn't it because of the fact that people usually do not buy through cell phones? Correct me if I am wrong down in the comments section.
And finally, version 5.0 released in 2018.
"The hottest marketing strategy for recent years, including 2018 is Funneling". So in the newest version, the customer is able to clone Patric's proven funnel.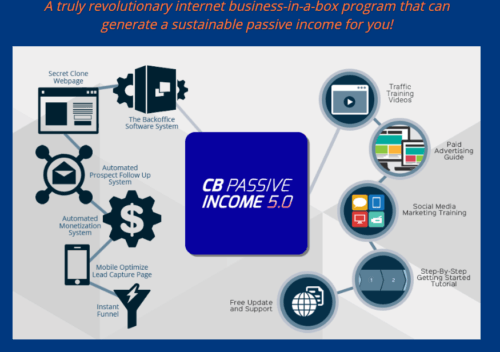 To sum up. CB passive income 5.0 is a business model where you give away valuable internet marketing products and you collect commission out of whatever the customer buys.
If you have not gone through Patric's sales page I would like to also mention that Patric's seems to have a good reputation in the internet marketing industry. You can tell right from the testimonials, which in his case are not fake.
What also backs up his reputation is the fact that he is the author of several books. One of his books is called The 72 Amazing Ways To Internet Profits and it is found to be on Amazon.
He is also co-author of the book Clicking Cash with Robert G. Allen. You can check Robert's book at Amazon as well.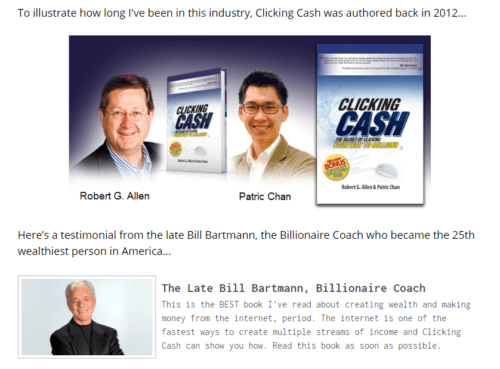 Well, with such a reputation he should be selling good stuff, right?
The Good & the Bad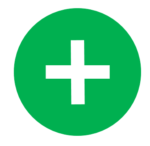 60 days of money guarantee back. In some cases, ClickBank refuses to give the money back for the current month. It may start to be valid the following month.
You can take some knowledge out of his training
An owner is a real person with a real company (This "identification" aspect should not be considered as Pro. It should be absolutely normal but considering other low-quality products it turns out to be a positive feature)

Training is not up to date completely
The training platform should have both video and text tutorials. Video tutorials are missing.
Upsells (I personally don't like upsells, but many people are OK with them)
Who is it For?
Like many of the ClickBank products, also CB Passive Income 5.0 is intended for newbies but also for intermediate marketers. Well, at least that is claimed in the sales video. Since the program does almost everything for you, and you only need to get the traffic.
Well, "only to get the traffic"?
I would like to remind you, that this is the hardest part. And I mean both, organic (free) and paid traffic. There are many people pouring money into the Ads, and they only get some traffic. And traffic does not necessarily mean monetization.
CB Passive Income 5.0 Tools & Training
The training he provides seems well organized from first sight. It is also easy to use and easy to understand.
Right at the beginning, you are advised to read the checklist. These are short PDFs and it has 3 parts:
How to make money online and about ClickBank
How to do internet marketing
Using CB passive income as the shortcut
So in the 3rd part, you are shown how to set the system up. It consists of 3 following steps:
Step 1: Your unique link pages
Here you find several pages which you are going to promote to get subscribers. For each page, there will be your unique link.
You will get your unique ID as per instructions in this Step 1.
Step 2 Choose your unique link pages
Here you are shown how to promote any of your unique link pages at the same time. There are (at least for time being) 7 different funnels you can promote.
Here is basically what it says:
"When the website visitors go to any of these Unique Ling Pages and enter their email addresses to subscribe, they will be subscribed to your CB Passive Income account.
After that, they will automatically start receiving promotional emails from the system with your ClickBank affiliate links.
They will always continue to receive emails to purchase various ClickBank products that are related to making money online. If they decided to buy, you'll make affiliate commissions"
Step 3: Promote your unique link page
In this section, you are shown the section within the platform where you are taught how to drive traffic to your link page.
Apparently, they cover both paid traffic and free traffic.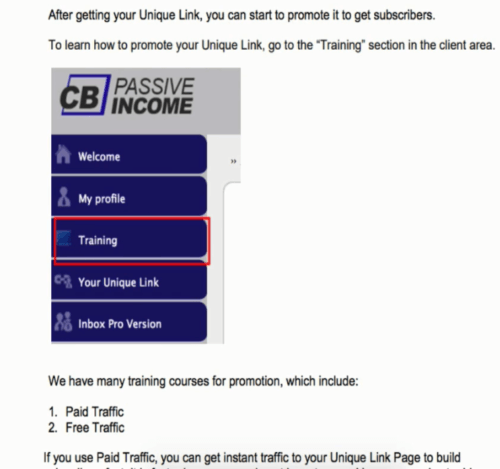 Your Unique Link
(this is the 4th Selection in the menu on the left-hand side inside the platform)
Here you find the list of the offers you want to promote. Underneath each funnel, you have a description and if you decide to promote the funnel you just click at the bottom of the funnel to get the link
There your link is generated with your unique ID.
So if the visitor clicks on your link, he is directed to a squeeze page or opt-in page. He may eventually buy the product, but there is no guarantee. Also please note that if you get 5 people out of 100 who buy the product – Congratulations -> you get a pretty high conversion.
One other note I would like to point out. Within each funnel, you have this message saying that you should go to upgrade – that is basically the one-time upsell for $97.
Well, to me that would be a deal-breaker, but apparently many people are OK with that. i
In my opinion, if one has a budget of about $50 a month he can be part of a much better training platform, with an active community, online support, more than 300 video training, and NO UPSELLS whatsoever.
And it is free – in fact, for the first 7 days, one can act inside the platform as a Premium Member for free. After 7 days he has to decide, whether to stay for free with limited options or he wants to go with the premium membership for about $1 a day (if signed yearly). Again No Additional fees.
But I digress.
Back to CB 5.0 Platform.
Traffic promotion training
You are going to need traffic. In the Training feature, they have 2 different traffic sources.
Solo Advertising or Solo Ads – I would not recommend using solo ads since it is basically spamming.
Bing Ads – Not a bad strategy, since the ads within Bing are still cheap.
Free YouTube traffic training – YouTube is the #2 Search Engine.
Reports
You are able to see how many conversions you get from different traffic sources. This particular feature you have for free and is called Google Analytics.
At this point, you can not build your own email list. Which kind of sucks. And that can be crucial.
Patrick knows about that and he offers you to build your own list once you purchase one of the other upsell. That is already a 2nd Red Flag!
So that is the CB Passive Income 5.0 in nutshell.
CB Passive Income 5.0 Support
CB passive income is a real brick-and-mortar company. They do have their own team including support staff. Which sounds great.
I have not been in touch with support, but there are different opinions. I believe it also depends on the kind of question you ask.
There are people who get an answer within like 8 hours. On the other hand, there are cases when a person could not get feedback in months. I believe he had issues with generating traffic and raised the question to the support team.
Apparently, he could not get the answer, at all.
CB Passive Income 5.0 Price Structure – How Many Upsells?
As already announced, the advertised price is $47. Which gives us a total of $56,40. You may get a special price for 14 days – to try out the system. The following offer pops up: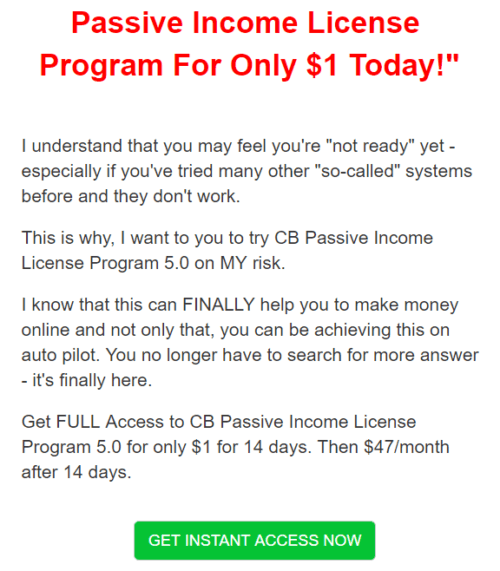 I am not sure if that works all the time – and I was surprised myself as well.
Nevertheless, besides the monthly payment there are some upsells, or options – probably a fancy name for upsell. Here is the structure:

For the core offer, you can get a discount if you decide to go quarterly. Then it is $97 per 3 months (you save $44).
My Final Opinion of CB Passive Income 5.0
So you might say that since it is already 6 years on the market, it must be some value in it. It is always a good sign then some products last for more than 5 years. That means that there is still a demand.
In the last 10 years, the internet has been evolving like crazy so in order to sustain such a training platform, one must be able to keep it updated.
Well, it is safe to say that his program is not a scam.
Although I know there are a few better platforms, and considering the price structure, even a cheaper one.
You can have a look at my recommended system. Everyone can get started for FREE – it is called a Starter Membership and there is no need to use a credit card. You can sign up to the platform just by using your email. You will get 7 days of access to the Premium training.
The platform is made in a way that everyone can test it out and then decide whether to continue as Premium or not. There are no additional fees (except $15/year for the hosting).
You have nothing to lose since the company won't ask you for a credit card until you decide to upgrade to the Premium Membership.
CB Passive Income 5.0 at a Glance
Name: CP Passive Income 5.0
Website: www.cbpassiveincome.com
Price: Advertised Price $47 + Upsells
Owners: Patric Chan
Overall Rank:
VERDICT:
It really looks like a good program, but I believe it does not deliver good value for that price. And I do not even mean the upsell part.
I do have mixed up feelings about this as a whole. On one hand, he has a reputation, but I guess I would expect more from the program. Also what I see as a downfall is some of his training material which seems outdated.
If you have already some experience with internet marketing, or at least you know how to build a website, I am pretty sure you are able to promote the ClickBank products on your own.
But it is just my opinion. I would be interested in what are your thoughts about Patric's program.
Or if anything did not make sense, please let me know I would be more than happy to answer you as soon as I can.
How to Get Started with Affiliate Marketing Business?
I have been a member of Wealthy Affiliate since late 2017 without a prior marketing experience.
Beginning of 2018 I have learned how to build a website that drives traffic and makes sales.
Since the summer of 2019, I am a full-time internet marketer and I work from anywhere I want, whenever I want.
Training within Wealthy Affiliate teaches how to generate a consistent income in the long run.