Hey there, welcome to my site.
It seems that you are interested in dropshipping and you have been doing some research about the website called SaleHoo.
This is a ClickBank product and if you are familiar with ClickBank you probably know that there are a lot of scammy or misleading products.
How about the Salehoo?
Is SaleHoo a Scam?
We are about to answer this question right away, but if you want to know how it works, what is the price of their service, please read the article till the end.
Salehoo is not a scam, but it has some drawbacks as well as any other products out there.
I am going to give you also some pros and cons of this business model.
Eventually, I will show you an alternative, that you might or might not like.
The bottom line is that SaleHoo has helped a lot of drop-shipping entrepreneurs. There is only a small percentage of people that are not happy with it.
Disclaimer
Please note, the following post might contain affiliate links. That means if you click on them and purchase the product, I will receive an affiliate commission at no extra cost to you.
This review is based on research and information available online in the public domain.
Any recommendations and conclusions are only opinions and may not apply to all persons or situations.
Quick Overview
Name: SaleHoo
Website: www.salehoo.com
Price to Join: $67 per year (or $ 127-lifetime access)
Recommended: Yes, If you are interested in Dropshipping
SaleHoo Summary
Salehoo is a service that provides a list of verified suppliers that are able to ship the products directly to the customers.
For a reasonable fee, one can become a SaleHoo member with access to more than 8,000 vetted suppliers.
It is perfect for dropshipping entrepreneurs and also for people who are just about to start with dropshipping.
Salehoo also offers training, support, and tools.
What is SaleHoo?
Salehoo is a directory of wholesale companies and dropship suppliers.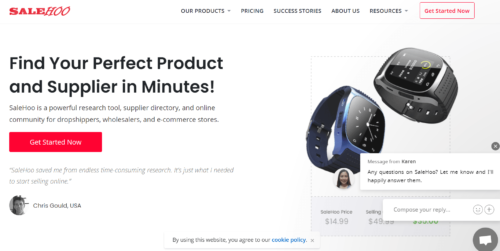 So, the company provides service for people (and small companies and/or individuals) who are interested in dropshipping.
In other words, SaleHoo offers a solution for dropshipping entrepreneurs searching for certain products from wholesalers (for example in China) with the intention to sell these products with a profit margin to different countries.
And the beauty of dropshipping?
You buy products for a wholesale price, sell them for profit and you don't even get to see the products.
These items (products) are directly shipped from the supplier to the customer.
As of this writing, SaleHoo has a list of more than 8,000 legitimate suppliers from different categories (or niches).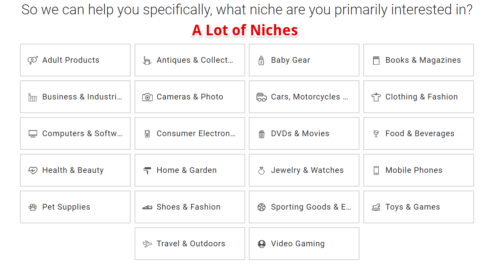 But there is more;
Salehoo provides training, community support, and product research tools.
You have access to tutorials, guides, and an active community so you don't feel alone.
One Note:
You may have seen this product within the e-commerce section on ClickBank.
Despite the fact that there are many misleading and low-quality products in the ClickBank e-commerce section, SaleHoo is perfectly legit and for a reasonable price, it offers valuable service.
SaleHoo is a well-established company with more than 137,000 members.
It is also obvious from the data about the number of monthly visits to their website: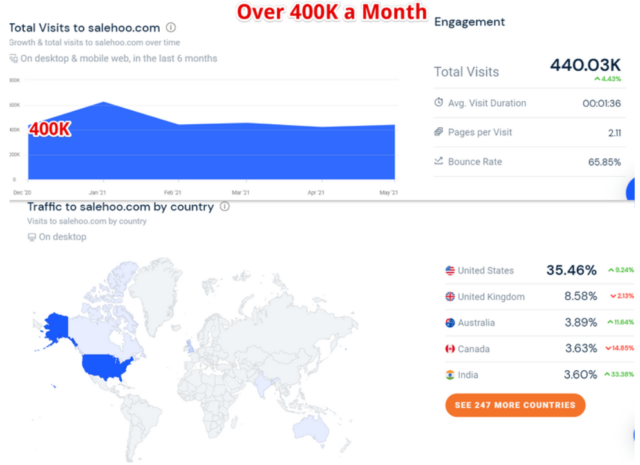 So by now, you know that they offer international wholesale contacts to their retailers mostly in the USA, as per the screenshot above.
Founder of Salehoo
When it comes to the ClickBank products, you also want to find out who created the product, or service.
In many cases, it is not clear and if there is no clear information about who is behind, be careful as you might deal with a scammy product.
But in the case of Salehoo, we don't have to worry about that.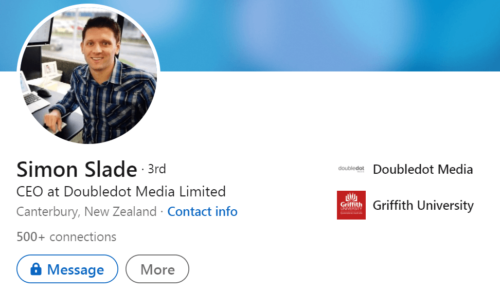 It is clear that the founder is Simon Slade from New Zealand.
Research shows that as of this writing (July, 2021) he is 39 years old and currently he is also CEO of Salehoo.
He studied marketing and graduated in 2013 with a bachelor of business management.
The company's head office is in Christchurch, New Zealand, but they have staff in the US, Asia, and Australia.
Who is it for?
It is a great tool for people who want to start with drop shipping but are not sure where to start.
Therefore SaleHoo is a perfect tool, to begin with.
It can save a lot of time, money, and headaches.
Generally speaking, the problem with suppliers (for example in China) is that there are a lot of low-quality manufacturers/products.
With SaleHoo, this has been taken care of.
The thing is that SaleHoo guarantees that all of its suppliers are legitimate. They don't sell any fakes.
Besides this is a good opportunity for people who want to have another stream of income or even those who want to become their own bosses.
Another reason, why it is a good idea to start with this company, they do offer training and support.
So instead of dealing with issues on your own, you simply go to Salehoo and solve them right away.
Also, any dropshipping entrepreneur should consider joining the SaleHoo due to the large portfolio of services.
What is the Price?
First of all, when it comes to the payment, you will see that the purchase will appear under the name "ClickBank".
You may have noticed that SaleHoo is a ClickBank product.
(ClickBank is a global internet retailer and affiliate marketplace founded back in 1998.)
So, don't worry about that, since some people are very skeptical when it comes to digital products (including myself) and might think that this is a scam.
Not it is not 🙂
There are two options concerning the SaleHoo Price.
You can either pay for an annual membership or a lifetime membership.
It is either $67 Annually
or
Comparing to other products, in the same category, this is really a good deal.
What Products Salehoo Offers?
There are main Products SaleHoo has for you.
Let's briefly check what is inside each of them.
SaleHoo Directory
Within the SaleHoo Directory, you will find the product you want and the specific supplier.
Customers who want to sell on Amazon and/or eBay find the Directory very valuable.
Inside there is a list of the trusted drop ship and wholesale suppliers.
It also contains about 1.6 million products and 8,000 suppliers.
SaleHoo Dropship
This is a brand new dropship automation tool for Shopify store owners.
Store owners now can have direct access to high-quality and at the same time low-cost dropship suppliers.
They also have control over pricing and shipping for all products.
With this tool, it is no more necessary to manually reaching out to suppliers.
Just select the products that have high-profit potential and your stores will be full of products.
Educate
Salehoo offers great training, and users can learn from experts, on how to build, launch and grow a business online.
This is a new premium educational platform with in-depth courses.
There are e-commerce training videos available, showing how to create an online store from scratch.
What I like about this training, they use real case studies.
What do other people think of SaleHoo?
When doing research about any product, it is always beneficial to check other reviews and I always take a look at Trustpilot.
There are only 15 (out of 385) of them that are not entirely happy with SaleHoo.
And here is one of the latest ones: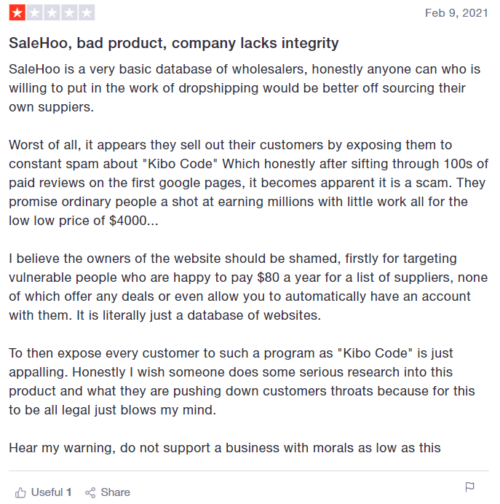 As you see the SaleHoo representatives always do their best to give feedback.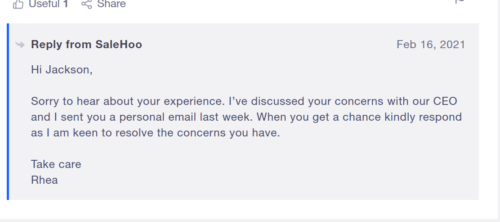 I am sure you realize that there are always some folks that are not happy with this or that.
The important thing is that guys from SaleHoo always try to be helpful and supportive.
Besides, the 60-Days-Money-Back guarantee is enough long period to figure out whether this works for me or not.
Some Interesting Facts
If you are using Salehoo products and want them to sell on Amazon, make sure to have approval from the Salehoo suppliers first.
In case you have a specific question about a certain product, you can always contact Salehoo support for a demo at the following link:
https://www.salehoo.com/contact
(the support can be reached also via phone by dialing 1-888.881-8703)
Salehoo has suppliers who can deal with eBay sellers.
Salehoo Group Limited is an accredited business at the BBB (Better Business Bureau) with the best rating of A+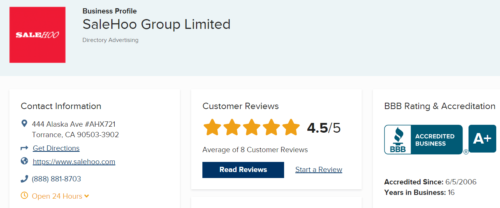 Before We Wrap Up
If you want to start with some online business and you are not sure what path to choose, dropshipping is a good way to go.
One of the aspects that need to be taken into consideration is:
"How do people find the products that I am about to sell?"
Sure you can sell the items on Amazon or eBay, but there are additional fees involved.
The idea is to have the largest profit margin possible.
Have your own website
Therefore, having your own website is most likely the best solution.
It may seem like a lot of work, especially for those who have not created any website.
These days, it is easy though.
You may use WordPress and using the Elementor plugin, you can have a good-looking website in a matter of hours.
With your own website, you create a brand for yourself.
And this is how to build a sustainable business for long-term success.
We know by now, with SaleHoo it is not a problem to find a legitimate supplier for a reasonable price.
It is important to realize that you still need to let people know about your online store.
In other words, how people would find out about your site?
If you really think in the long term, there are some skills you want to master.
So the question is:
How to make the website "visible" in Google.
You need to master also some basics of SEO – unless you have a budget for advertising.
Once you know how to rank well with your site, you can even implement another business model called affiliate marketing.
You see, having a website is very advantageous since you have multiple streams of income.
If you are interested in affiliate marketing you can check the link at the very bottom of this post, where I explain more.
I know I digress…
Sorry about that, but I wanted to show you that if you are serious about drop shipping then great.
SaleHoo is a good platform to start with.
Down the road, you might have more options and therefore I also mention affiliate marketing.
FAQ
There are many questions about dropshipping so I have decided to create a section for it.
1) How Much Money Can I Make with Dropshipping?
It depends on the product.
But assuming that you have the right one, it is possible to have a full-time income with dropshipping.
To be fair, there are of course people that lose money (mostly those at the beginning of the journey) but obviously, there are people making 4 digits per month (US dollar) or even $10,000+ per month.
It is important to understand that there is always a certain learning curve.
With the Dropshipping on Shopify course, one can speed up the process of making money.
2) Do I have to use Chinese Suppliers?
The answer is No.
The thing is that most drop shippers use Chinese suppliers, but it doesn't have to be your case.
What becomes crucial is the fast shipping and therefore it makes sense to use domestic suppliers.
Besides, it is always beneficial to support local businesses.
You can filter suppliers by their location within the Salehoo Directory, so you can source from wherever you prefer.
Here is a short video where you learn how to prepare your Dropshipping business, including information about how to start using US suppliers and how to diversify your market.
3) Can I Dropship from the US (and what are the Benefits?)
Absolutely and there are many benefits.
The thing is that there are many Chinese products that flood the market, in the US, EU, or even Australia.
So it would make sense to be diverse from others and use the US suppliers regardless of your location.
Especially when you have a customer base in America.
Here are some benefits you want to consider:
Product Benefits (Higher quality, Higher retails prices
Shipping Benefits ( Fast shipping for US Customers, a reliable tracking system)
Better Customer Satisfaction
Easier Communication
Warranty (in case there is something from with the product you want the supplier to be responsible for)
With that being said, you don't have to "get rid off" the Chinese Suppliers.
The good strategy is to work with both, US and Chinese at the same time and leverage what is more convenient for you at the given time.
4) How Do I Get Customers to My Store?
Basically, you need the traffic to your website (store).
There are many ways how to you can get customers to your website, mainly there is:
Paid traffic
Organic traffic (for free)
For the former, you need to have a budget.
Start with a small amount and leverage advertising on Google, Facebook, Instagram.
For the latter one, you need to come up with content.
Meaning, create a blog and write a small article regarding the product you are about to sell.
Have one article per item.
You don't have to be a professional writer. Remember, you are a communicator – you want to deliver an objective message to your prospect.
It would make sense to learn basic SEO stuff, so you know how to rank well in Google.
Therefore, please check the link at the very bottom of this post, for more details.
5) Is Dropshipping Still Viable Considering the Current Global Situation?
There have been economic downturns and upturns and there will be.
Therefore those who are prepared for the slowdown in economic activity have a better chance to survive.
As a practical tip: let your customers know about potential delays.
Communicate with them, notify them. Most of them will understand and they stick with you.
Be honest and your customers will appreciate it, especially in the long term.
6) How Much Money Do I Need to Start Dropshipping
In theory, you don't need much.
Above we have covered the way how to get free traffic to the website.
The hosting costs several bucks per year and then you need time for the content creation.
But it is always better to have some resources. Specific knowledge is not for free.
Salehoo offers great training for a reasonable price.
Let's say $1,000 to $2,000 for the hosting, course, some apps, and already mentioned advertising, to get immediate traffic.
7) What are the Emerging Dropship Niches in 2021?
The SaleHoo team is checking Labs data every day, so they have developed sort of a sixth sense.
Here is a list of the niches, you might pick up:
Natural Handbags
Baby Products
Home Workstation (as working from home is a growing trend)
Survival Kits
Biohacking Products
Martial Martial Arts Equipment (considered as the world's fastest-growing sport)
Homebrewing (if you like beer 🙂 )
Fanny Packs for men
SaleHoo has more than 8,000 reliable suppliers, regarding these niches above.
What I like about SaleHoo

Responsive support and great customer service
Very good training materials (both to watch and read)
60 Days money-back guarantee
What I don't like about SaleHoo
It may take some time to create the eCommerce brand (it requires effort and patience, as well as any business)
Some may complain that there are not enough products, comparing to other networks
Support available "only" Mon – Fri 5:30 pm to 1:30 am, Eastern Standart Time (Bahamas, Jamaica, Rhode Island, most of Quebec)
Is SaleHoo a Scam?
No, Salehoo is not a scam.
It is a great platform for anyone who wants to start selling things online.
Salehoo is a well-established company that has already helped over 130,000 online business owners.
For anyone who wants to start with dropshipping, SaleHoo is a great place to start.
Although I would also recommend learning how to create your own site.
Leveraging the basic SEO skills will automatically make your option of having consistent income online, much wider.
I hope you have found some value in this SaleHoo review.
In case you have questions or concerns, please use the comment section below.
I will make sure to provide you with an answer/feedback within 24 hours.
Thank you for reading
Mike
Interested in Learning (Basic) SEO Skills?
I have learned the basic SEO skills as a member of one particular educational platform that I joined in 2017, without having prior marketing experience.
Beginning of 2018 I have learned how to build a website that drives traffic and makes sales.
Since the summer of 2019, I am a full-time internet marketer and I work from anywhere I want, whenever I want, earning 4 digits per month.