Just Create Videos And Make Money? Actually, this is nonsense.
Are you doing some research on how to create simple videos and make money with them?
You have probably stumbled upon this product called VidRocket and you are wondering whether or not this is a good software that is going to help you to generate revenue.
First of all, I am glad you do your research since we all know that there are a lot of scams and misleading products out there.
In the following VidRocket Review, you are going to learn what is it, how it works, and most importantly, what its earning potential is.
Disclaimer:
Please note, that I am not a member or an affiliate of the VidRocket.
This review is based on research and information available online in the public domain.
Any recommendations and conclusions are only opinions and may not apply to all persons or situations.
Name: VidRocket
Website: www.phlos.net/vidrocket-sales-fe/
Price to Join: $12.95 + (Upsells – more than $250)
Recommended: Not Really
VidRocket Summary
VidRocket is software available on the WarriorPlus platform that is supposed to help you with video creation.
It also claims that you can get tons of traffic to these videos without any effort.
The problem with the VidRocket is that they use already created videos from YouTube. Videos that belong to other people.
That would be considered stealing and YouTube punish channels for such behavior.
VidRocket has also additional tools like
video editing
thumbnail creation
But these are very basic tools and you have more options, using YouTube studio editor, and for thumbnails, just go to Canva.com, which is free as well.
With that being said I believe it doesn't make sense to purchase the VidRocket.
You won't make any more with it and if you are serious about making money online, you should take a step back and take a better look.
There is no such a thing as easy money
Noone makes money online with some "push-button" system.
It is still possible to make money online thought, and also build a sustainable business online, but it is necessary to gain some knowledge and learn new skills.
For more information check the link below:
What is VidRocket?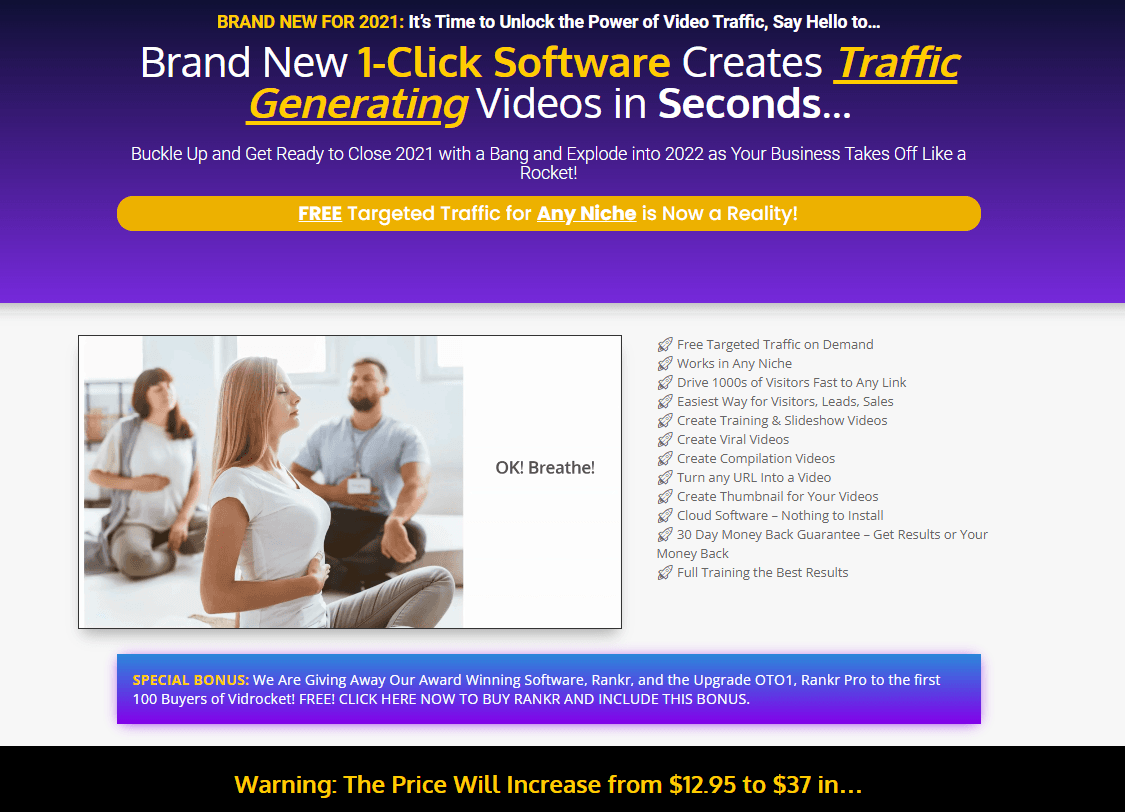 VidRocket is a simple traffic-generating video creator.
Apparently, you don't need any experience or technical skills.
On their sales page, they claim you can make tens, even 100s of videos within a fraction of time.
And the best part?
There are some buttons within the system and by pushing these buttons you get tons of traffic.
Also, with VidRocket you can convert regular text content into videos… In other words, it claims that it can turn any URL into a video.
Right off the bat, let me tell you that these claims are misleading and we are going to find out how it really works.
Who is Behind VidRocket?
There are two guys behind this product, but mainly Trevor Carr is the master.
He comes from London, UK, and has been with internet marketing since the 1990s. So he is well experienced.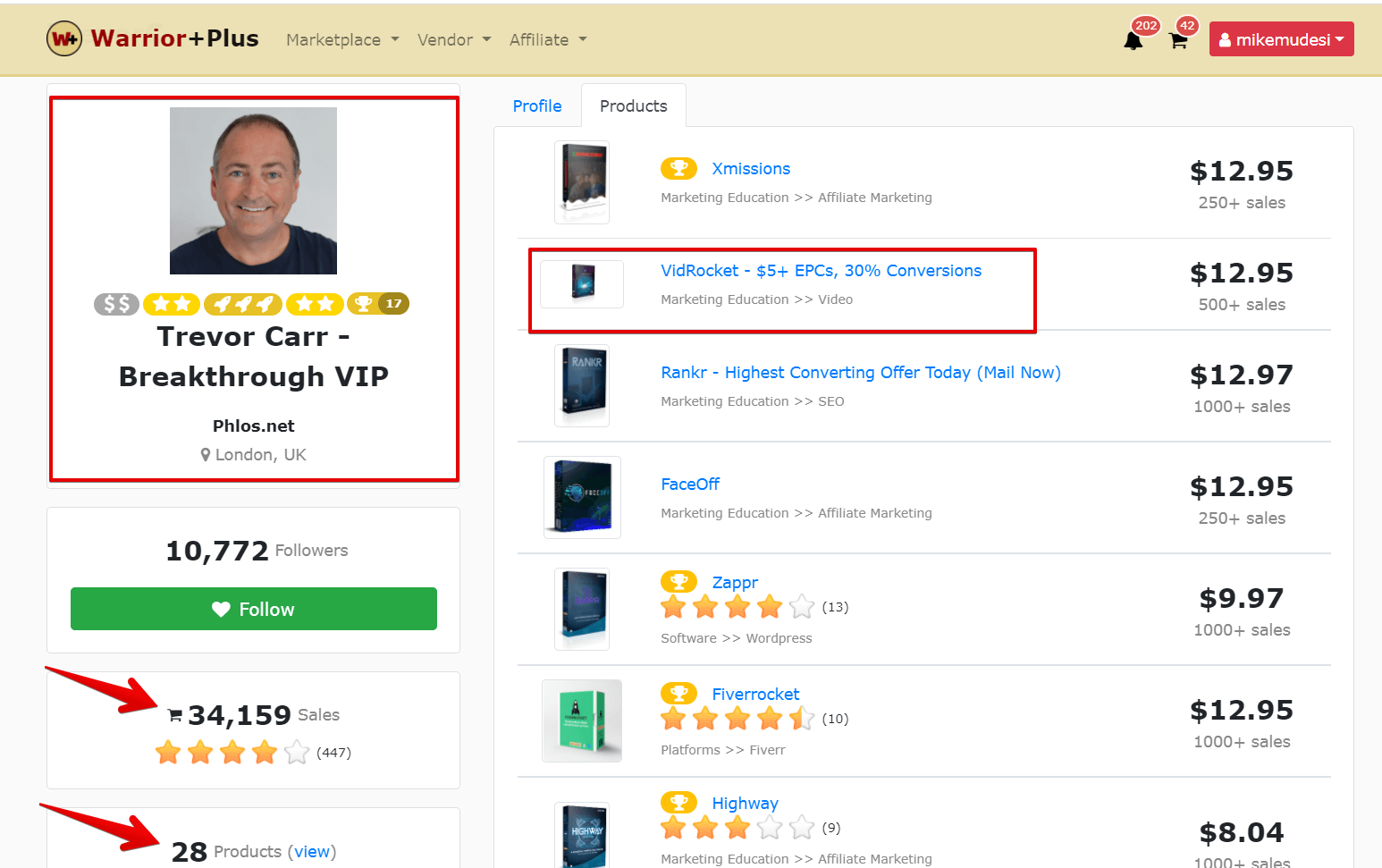 As we see from his WarriorPlus profile has created 28 products and from the ratings, it seems that people are quite happy.
Other than that, he likes curry (so do I 🙂 ), plays guitar, and holds a black belt in Karate (so do I 🙂 – but he is in Shotokan style, and me, in Goju-Ryu style.
Oh, I am sorry I digress.
Trevor also has a goal to teach others how to make money online, and VidRocket is one of his products.
VidRocket was launched at the end of December 2021, so as of this writing it is a new product.
To be honest, I am a little bit disappointed, because VidRocket is not a product that will allow you to generate consistent income online.
How Does VidRocket Work?
One of the first things that make me worried is the claims saying that with VidRocket you can make money and:
you don't need paid traffic
you don't need SEO
there is no hard work involved and everything goes fast and easy
This is simply not true.
They want to think that you don' need to put any effort into it…apparently, this app does all the heavy work for you.
I do think these are misleading claims.
To make money online, it is necessary to put work into it and no software can do the hard work for you.
But let's take a look at the demo video where it is explained what you can do within the Dashboard.
A couple of things I want to point out;
This software uses other people's videos and websites and that is not OK.
And I wouldn't mind if someone claim that this is stealing.
All these videos would be considered reused content.
This is against YouTube policy:
"Channel uses someone else's content without making changes that add significant value."
Here is the screenshot from a particular YouTube channel that violated this policy: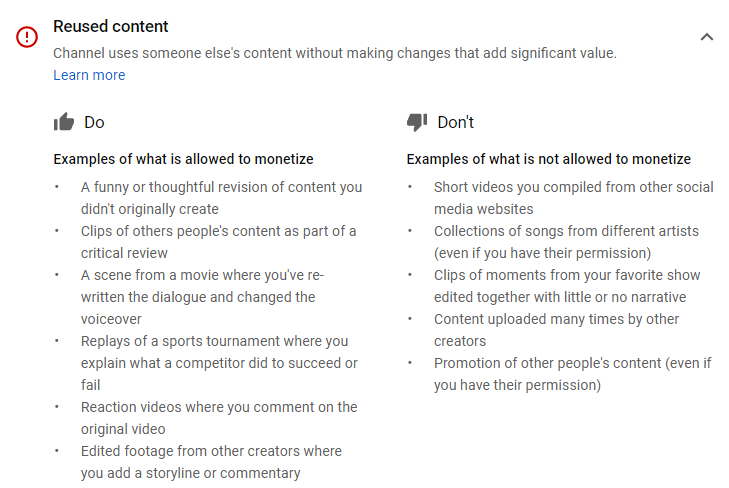 2nd part is, that the videos created using VidRocket will not be visible to anyone.
I mean, you need to have a platform where you can post videos.
For example YouTube or a website.
We know that YouTube doesn't allow such videos.
It might be possible to somehow share them on Social Media. But it is necessary to have tons of followers to make a few bucks.
What is the Price of VidRocket?
As with many other W+ products, the price you see on the sales page is just a portion of the entire package.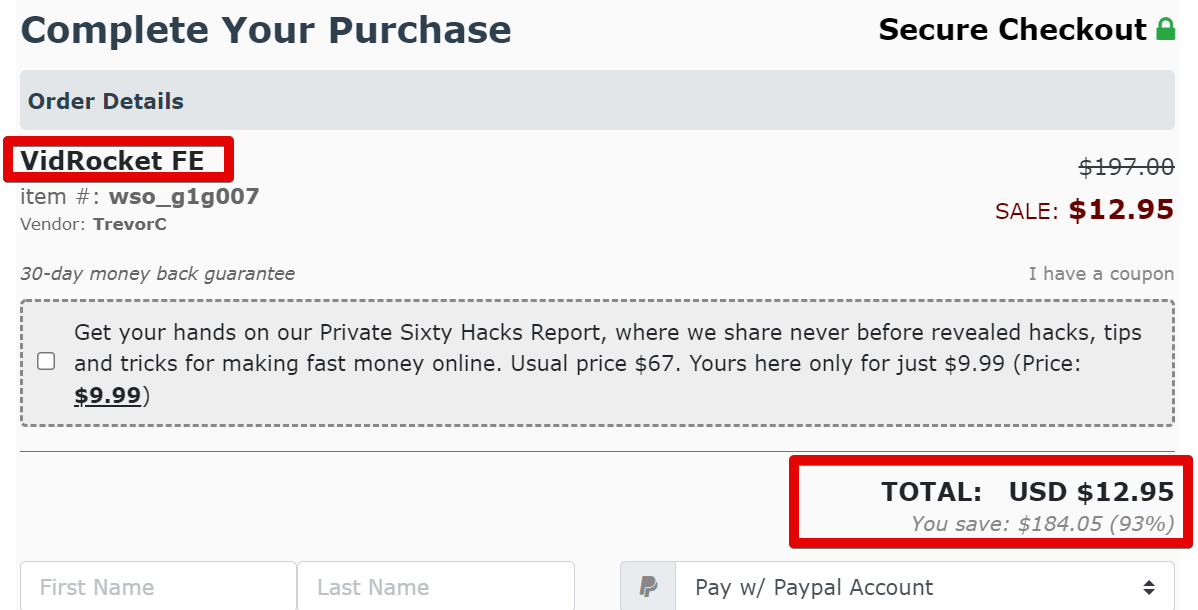 Yes, the $12.95 is a front-end price and there are a bunch of upsells so you can end up paying several hundreds of dollars.
You are not told about these upsells until you purchase the basic product for $12.95.
And be aware that right after check out you will see pop-ups asking you to upgrade right away.
It is possible to skip these upsells, but you have to take a closer look to spot the "skip button".
And there are 6 of these OTOs (or One-Time Offers):

If someone is not careful enough and purchases all the OTOs, he or she ends up paying a little over $280.
it is quite a lot of money, considering the value of VidRocket.
Earnings Disclaimer
Let's also check the disclaimer, and here is a screenshot: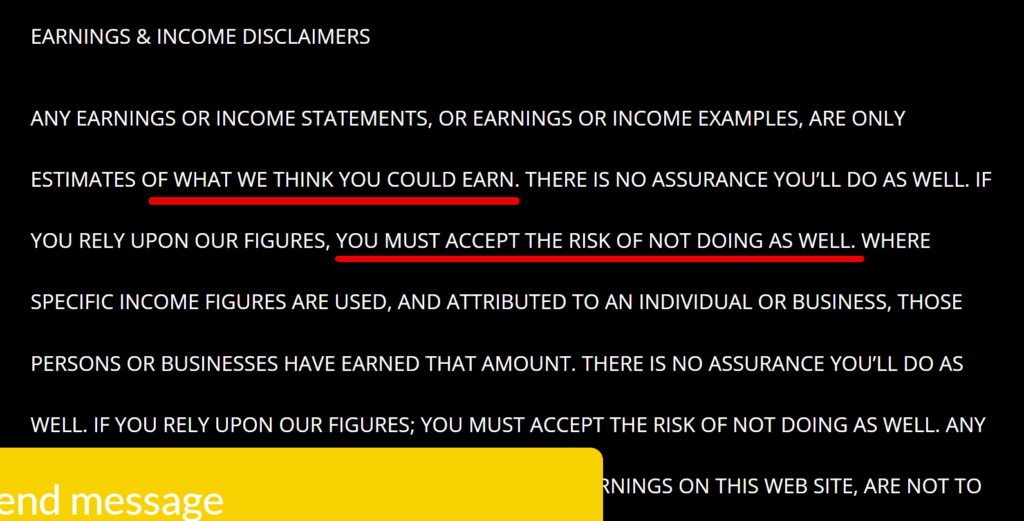 It is at the end of their sales page and it is written in very small letters. So I tried to zoom in and made a screenshot of the most important information.
As you see there is still the risk that you won't make any money.
So this is contrary to what they say in the sales videos.
In other words, they are pretty misleading on their sales page.
How to Make Money Online?
It takes months until one can start earning consistent income online.
Sometimes it takes more than a year and it doesn't matter whether you have a YouTube channel or a website.
I am still a newbie when it comes to making money o YouTube.
On the other hand, I make a couple of hundred per month with my website.
And I know already what I am doing, so in the close future, I expect to make 4 digits per month on a regular basis.
(Was there already, but made some mistakes so need to fix that).
The good news is that anyone can do the same.
As I mentioned in the VidRocket Summary at the beginning. It is necessary to gain some skills. I know people (that are part of the same educational platform as I am) making 4 digits within 6 months!
So if you are really serious about building a business online check the link here and we can meet inside the platform.
VidRocket Pros

Money-Back Guarantee
Simple Thumbnail creator
VidRocket Cons
It is almost impossible to make money with this product

A lot of useless upsells
Videos created within VidRocket are considered Reused content
Conclusion
I am a bit disappointed with this product.
The thing is that Trevor has a good reputation and he is a well-experienced internet marketer.
I am not sure why he sells such low-quality software, as VidRocket certainly is.
Maybe this method used to work 10 years ago (in the 2010s) when there were plenty of Creative common videos on Youtube.
It doesn't work that way anymore.
It is necessary to comply with YouTube rules and above we have shown the Dos and Don'ts.
For example, you can use already existing videos, but it is essential to edit them, so it has a notable value.
I hope you find this review relevant.
Otherwise, let me know in the comment section below 🙂
Also, If you have questions or you want to know more about the legit ways how to make money let me know in the comment section below.
Thank you for reading
Mike