This is another WarriorPlus product that has been launched only recently (as of this writing, December 13th, 2021).
There are dozens of such products on WarriorPlus created every single week and it is not easy to keep up with the new launches.
It is probably not easy to determine which product has some value and which ones are not worth your time and effort.
I am glad you're doing your research and in the following Share 'N Earn Review, you are going to learn everything you need to know about this system, including:
How it works
What is the earning potential
How much does it really cost
Is there a better alternative
With that being said let's get right into that.
Disclaimer:
Please note, that I am not a member or an affiliate of Share 'N Earn.
This review is based on research and information available online in the public domain. 
Any recommendations and conclusions are only opinions and may not apply to all persons or situations.
Name: Share 'N Earn
Website: www.www.sharenearn.today/sharenearn-exclusive
Price to Join: $19 + (Upsells – more than $500)
Recommended: No
Share 'N Earn is a tool that can generate content for you. Then you just share the content and can earn revenue.
The problem with Share 'N Earn is that the content is not original. Besides it is created only as a subdomain so the chances that articles generated within Share 'N Earn are going to rank in search engines are extremely low.
This is a useless piece of software that is not going to help you to make money.
The sales page is extremely misleading.
Also, the price for Share 'N Earn can reach more than $500.
There are many red flags and therefore I don't recommend Share 'N Earn.
Please understand that in order to make money online it is necessary to create unique content and then learn how to make people read/view the content.
In the following link, you find more information about the method I have learned.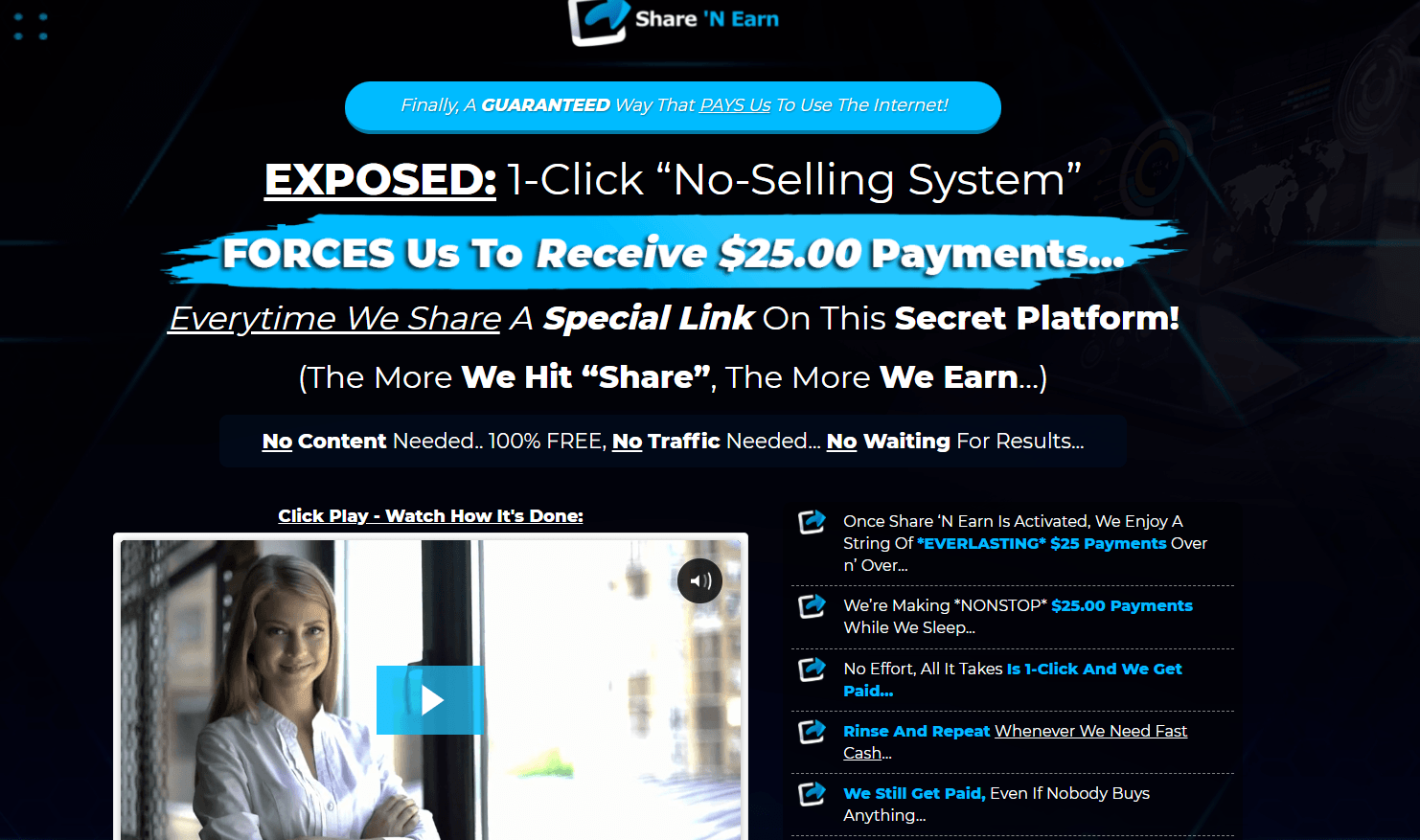 Share 'N Earn is a web-based software that allows you to make money, without any effort. At least that's what the sales page claim.
In essence, anyone can sign up for a few bucks, type a keyword, select a category, and this tool should provide you with a unique article.
It even says that you don't need any traffic and still get paid for sharing.
I don't know about you, but this sounds ridiculous to me.
Even the claim says that you are just 3 clicks away from getting paid:
1st Click – Get the Share 'N Earn (purchase the product)
2nd Click – Activate it (not sure what they mean by that… will explain later on)
3rd Click – Profit (Apparently you get paid every time you share a "special link" to a secret platform)
This is interesting. If it is a secret platform, who goes there?
To me, if something is secret, that means that only a handful of people know about it.
Let's check the Share 'N Earn a bit deeper.
There are two guys behind the Share 'N Earn, Seun Ogundele, and Jason Fulton.
According to their Facebook page, Jason comes from Australia, and Seun from Nigeria.
Both guys have one WarriorPlus profile called elitemediaonline.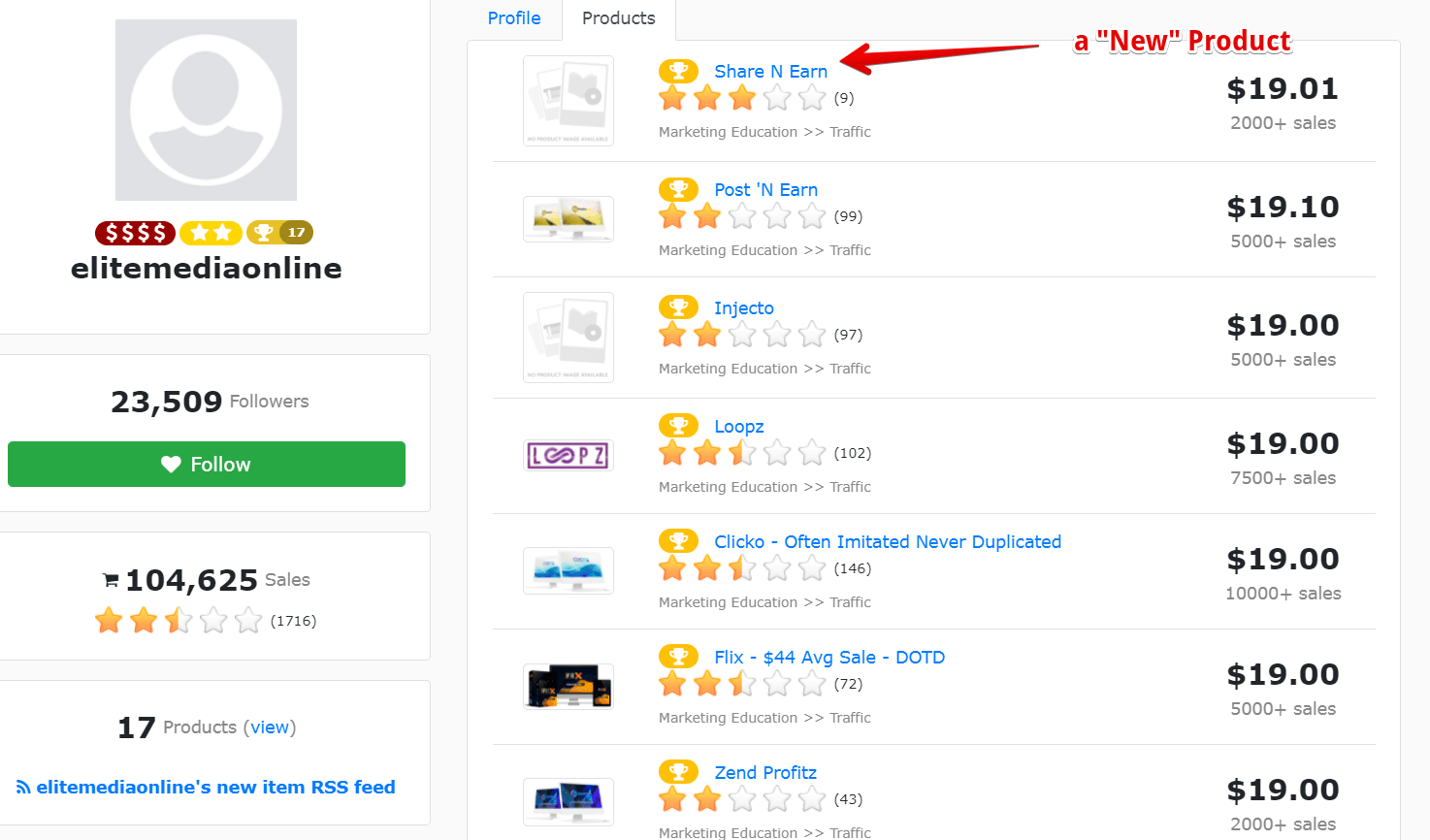 We see from the screenshot above that they have created a lot of products (so far 17).
But from the ratings (on the left-hand side), it seems that people are not very happy with their products.
Also, here is a screenshot from Twitter, where people complain and call them scam artists.
The main problem is that people ask for a refund (due to the fact that those products do not work as promised) but can't reach the vendors, meaning " elitemediaonline".
Unfortunately, this is a general problem with many WarrioPlus products.
What Else Do We Know?
Share 'N Earn was launched at the beginning of December 2021. So not so many reviews are out there as of this writing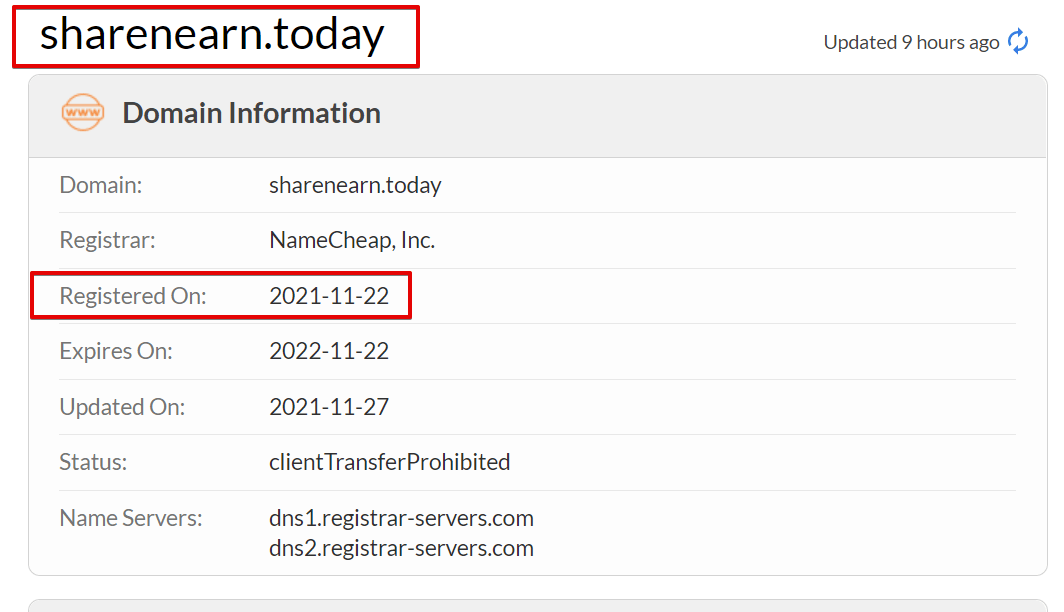 Their website was registered at the end of November 2021, so no issues there.
As already mentioned, in the past, these guys "elitemediaonline" came up with more than 10 products, approximately one per month.
That's a lot of work, right?
Well, not exactly, particularly, when these are all the same…
You might have heard about some of them, let me just mention:
What is their secret that they are able to come up with a "new" product every month?
It is easy, they are all basically the same… all the same nonsense
Let's take a look at how it works.
Right after the payment for Share 'N Earn, you have to skip a bunch of upgrades (if you don't want to spend $500) and then you have access to the Dashboard.
If you remember, at the beginning (on their sales page) they were saying something about "Activate", as the 2nd step.
There is no such button…
Inside the dashboard, there is very basic training and a few features.
The core tool, within Share 'N Earn, is the AI Content Creator.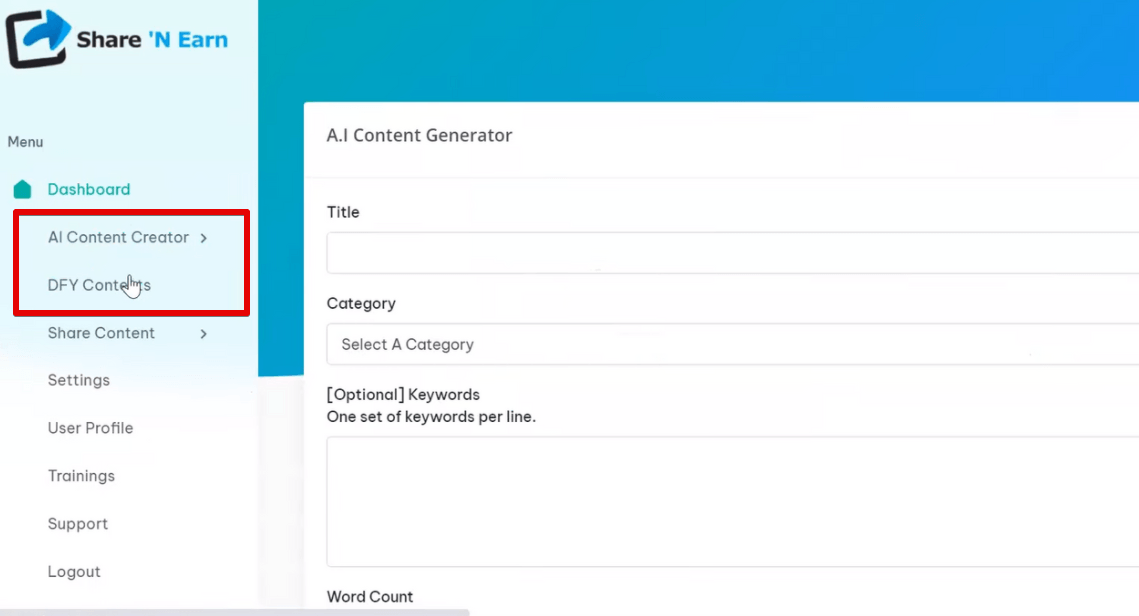 Just enter the:
Title
Category
Keywords
Number of Words
and this tool will generate an article.
This would be awesome, but there are a few major issues with this system.
1) It is Not Original Content
When you double-check the content against any Content Similarity Detection tool (or Plagiarism Checker) you find out that more than 70% of the content is copied and pasted.
This Share 'N Earn AI Content creation tool can generate a few articles based on the same keyword. They all are duplicated content.
2) No One Will Visit the Article
Ideally, the content should be accessible for people so they can come to your article and read it.
But they will not.
This is the URL where your automatically generated text is.

You see that it is only a subdomain and there is no way that this will rank well on search engines.
Imagine having thousands of people using the same domain.
This just can't work well.
You can share it on Social media… but there is another problem.
If someone clicks on the link, he or she doesn't see the content. At first, it is necessary to skip the page with ads and spammy links.
Social media can recognize such spammy websites and again no one will ever get to the content created inside the dashboard.
But What If?
OK, let's assume that people will get to these sites and will click on the ads.
The idea is that by clicking on the ads, visitor generates revenue for the owner of the site.
But how much one can make?
In theory about $10 for 1,000 clicks! these are clicks and not visitors.
Even if 10% of visitors click on the ads, you need a huge amount of traffic to that particular article in order to make a few bucks.
Leads
You might say, but Mike there is a tool inside the dashboard that says Leads, and that is where I can send the article to.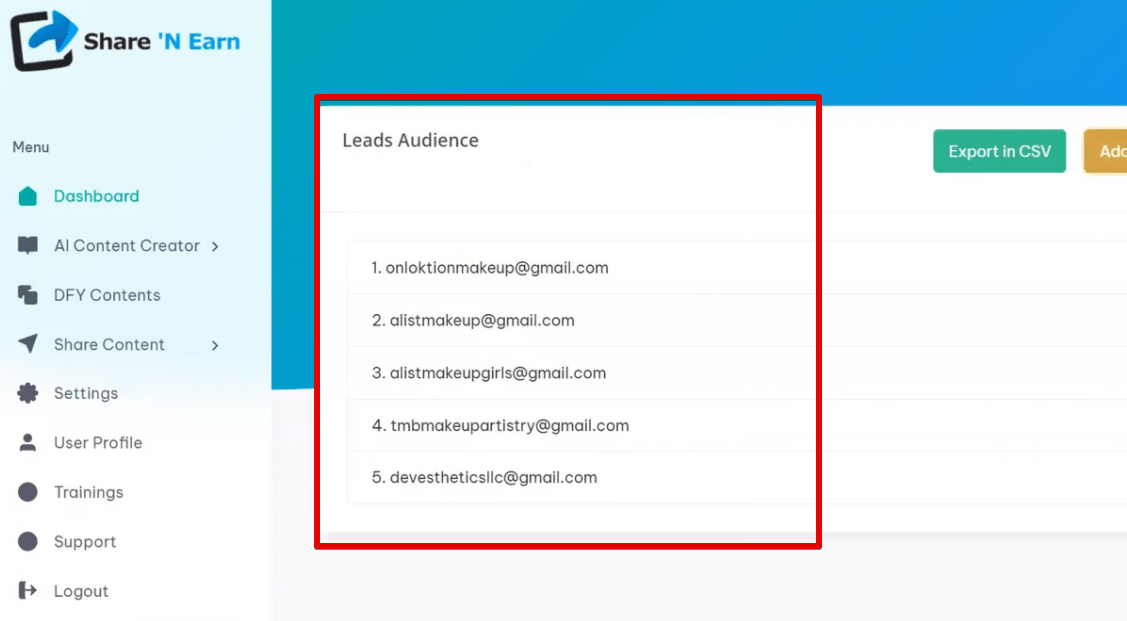 Well, the system only gives you some email addresses to people that never heard of you.
If you send an email to these people, it is again considered spamming.
You can't send emails to people without their authorization or permission.
I don't recommend Share 'N Earn to anyone.
You might even get into trouble.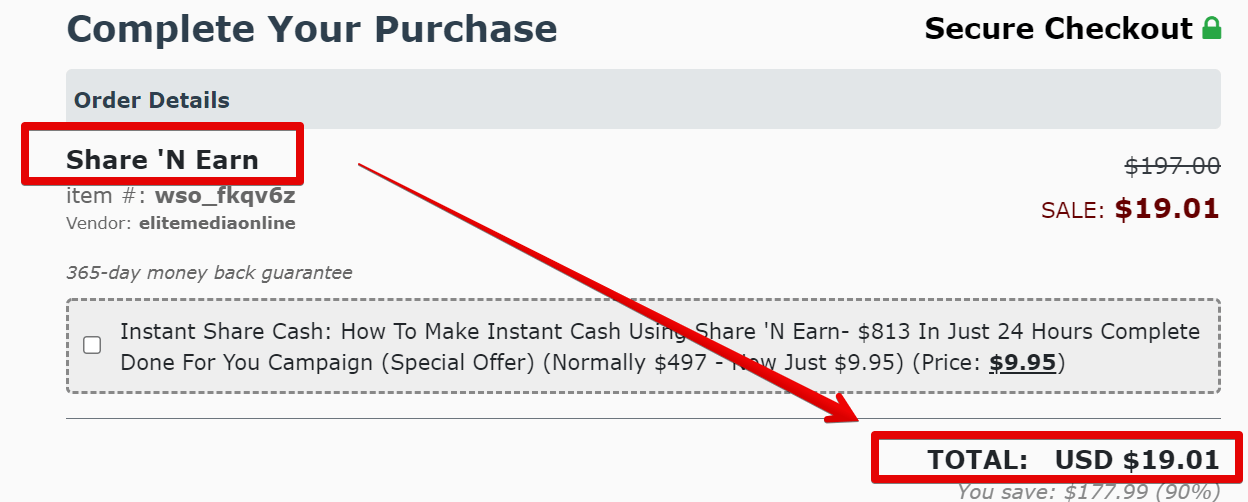 The price is not bad. But would you buy such a useless product?
It doesn't make sense, so even if it would be for free I still don't recommend the Share 'N Earn.
Also, please note that the $19 is not the final price.
There are a bunch of OTOs (or One-Time Offers) and the final price is several hundred of dollars.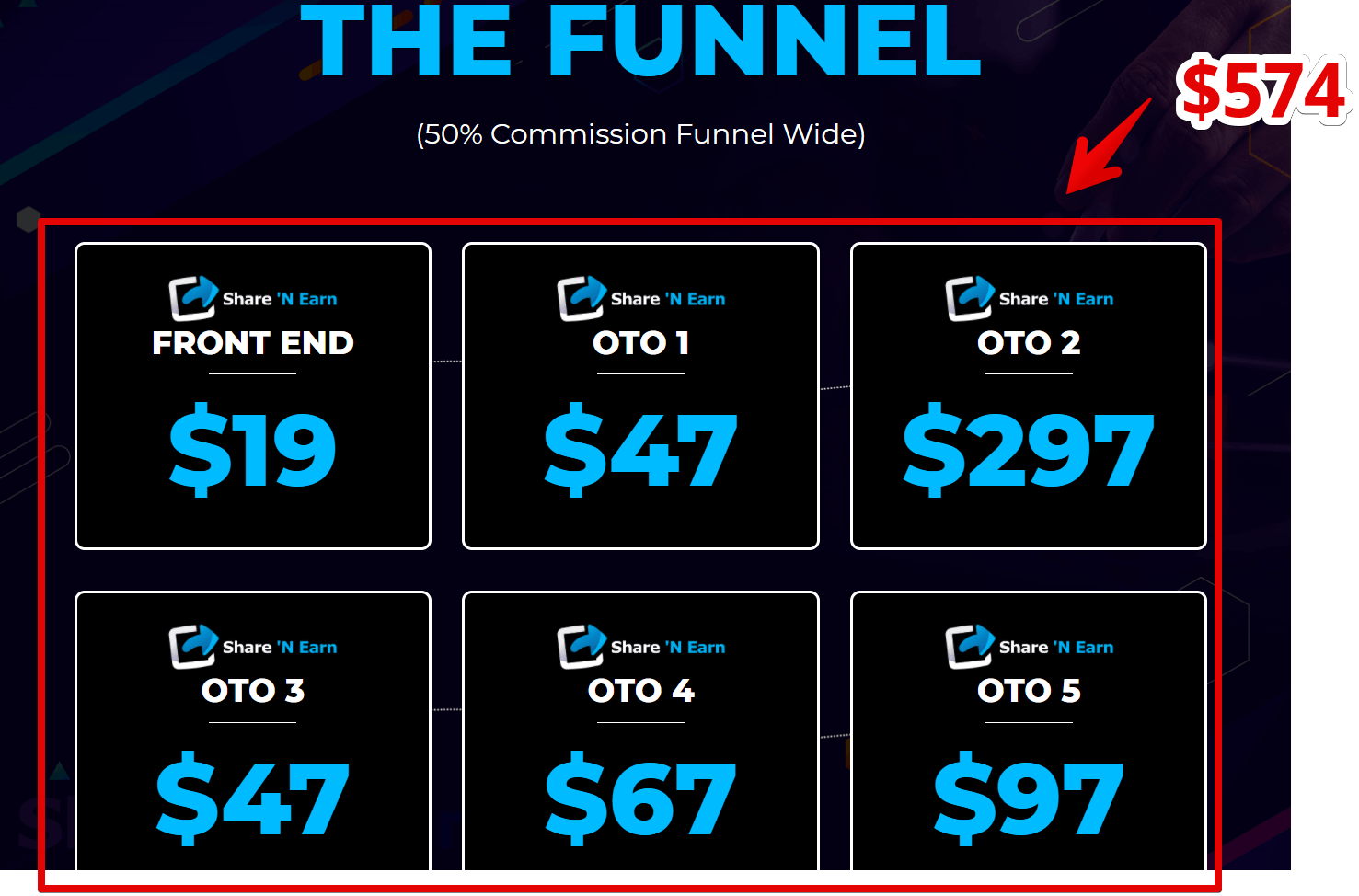 The worst part is that right after the 1st payment, you won't get the product right away.
You are forced to buy these upgrades and it takes some effort to find the "skip button".
For some, this is the way how to make money online, but to me, it is a dishonest and tricky way how someone to make money.
You might have already seen different Share 'N Earn Reviews, claiming that this is a perfect product, with no Cons.
Or for example here.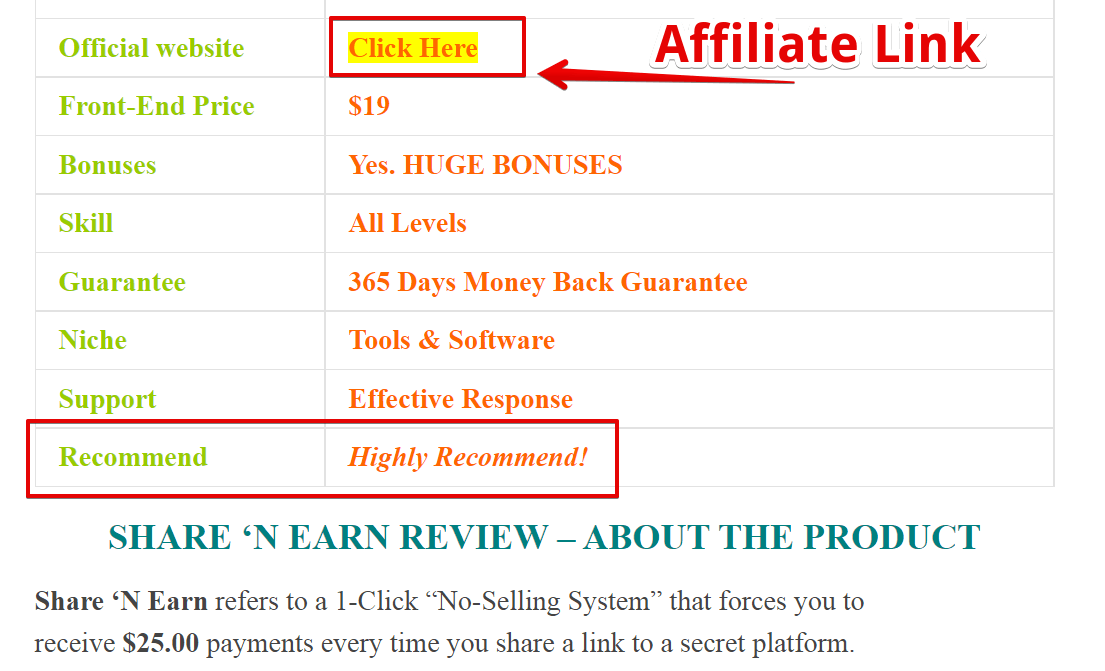 I think you understand why these people promote Share 'N Earn, regardless of the quality of the product.
It is obvious that they get a commission when someone purchases the product.
It is 50% and that is a lot of money.
No wonder, that there are so many extremely positive reviews.
(This is actually how affiliate marketing works, but in my opinion, one should promote only products that have value to the end customer.)
I believe we have shown quite a lot of red flags regarding this product.
Now it is up to you to decide whether or not you want to go down this path.
But please let me know in the comment section below, what you believe more.
The reviews say that Share 'N Earn is a great product.
Or do you find the review on this site more trusted?
In the next section, I will try to explain briefly what it takes to make money online.
How to Make Money Online?
There is no such thing as a push-button system.
There is no such thing as a "loophole" or software that starts generating money for you.
There are many ways how to make money online, but let me share with you the easiest one.
(By easy I don't mean it is effortless).
First of all, you need to own a website or YouTube channel.
Second, you need a lot of traffic or thousands (millions) of views to make revenue.
The good news is that it is not that difficult to learn these skills. It is not difficult, but it still requires some knowledge and also time.
If you are really interested in how to make money online I can offer you access to a particular educational platform.

You will learn how to create a website, and how to grow the website, and eventually, you have more and more visitors.
Along with gaining experience, you will find more ways how to monetize the website. The platform offers something more than just step-by-step training.
In essence here are the steps:
Choose your niche
Create a website around this niche
Learn how to get traffic to your website without spending a dime
Monetize the traffic
Here is the link where you get more details.
Feel free to contact me if you have questions or concerns.

Misleading Sales Page

Tool Generating Duplicate Content
A lot of Upsells
Conclusion
With all the information above, would still buy the Share 'N Earn?
Please let me know in the comment section below.
I hope you understand that in order to make money online, you must put some effort into it.
If you are disappointed and you really think that you can find a push-button system you are welcome to search for it.
And if you find such a system, please get back to me.
Since 2015 I have been looking for such as system, but so far no luck.
I had to learn some skills and over some period of time, I learn how to really make money online.
If you want to know more about the method I use, here is the link where you can get 10 lessons for free.
I hope you find this article helpful.
Thank you for reading
Mike