Have you been wondering who Tyler Narducci is? To be more specific, is this guy a real expert when it comes to marketing services?
In the following Tyler Narducci Review, we are going to find out whether his agency is worth your investment and what kind of service you get.
Disclaimer
Please note, that I am not a member or an affiliate of Tyler Narducci. This review is based on research and information available online in the public domain.
Any recommendations and conclusions are only opinions and may not apply to all persons or situations.
Quick Overview
Name: Tyler Narducci Review
Website: www.sobeviral.com
Price to Join: $1,000 to $10,000
Recommended: Well, It is not for newbies.
Discover my top recommendation platform for anyone (especially beginners) interested in affiliate marketing.
Tyler Narducci Summary
Tyler Narducci is a person running a digital marketing agency. He helps other entrepreneurs to scale their businesses by providing them with leads, contractors, and other support.
He offers good quality, but he is also aware of how much such a service costs.
Therefore if you already running a business and you want to scale it up using Tyler's agency, be prepared to invest in something from $1,000 to $10,000.
Unfortunately, there is no refund, but according to his website, he has a lot of clients that are satisfied.
In case you are a beginner in the digital world and you want to learn how to make some money online, I am afraid his agency is not for you.
Who Is Tyler Narducci?
Tyler Narducci helps entrepreneurs to launch and scale marketing agencies.
Back in 2015, he used to help clients with Facebook Ads. This was his side hustle.
Since then his company has grown and he makes 6 figures.
Today he has basically 2 companies:
Digital Marketing Agency
The coaching program is known as the Done For You Agency program.
Done For you it says that in less than 30 days they will help you to build a 6-figure marketing agency.
Sure this service costs money, but according to Tyler, you will save a lot of time and effort. You don't have to :
Worry about where your next lead will come from
Do your client's work all by yourself
Be stressed about your next phone sale
Apparently, his Done For You Agency is a shortcut where you don't have to waste your time and money by doing all by yourself. It has the following 3 components:
Automating Agency Lead Generation – These are funnels that qualify and optimize your leads
Building your Agency Team – You have access to contractors that will do the hard work for you (so you can focus on your business)
Securing Your Sales – You have pre-qualified business owners ready to work with you
No questions about the fact that Tyler really tries to deliver value to his clients.
Who Is It For?
As already mentioned, Tyler helps people who are already in business. Meaning entrepreneurs who want to scale their businesses.
Also, this is good for people who want to start a marketing agency.
If that is your case and you are interested in building your own agency, I believe Tyler might help you.
But his service is expensive, so unless you have several thousands of dollars to spend (or to invest) I don't think this is gonna be helpful.
If you were looking for easier ways how to create a secondary stream of income you may be interested in affiliate marketing.
This is one of the easiest ways how to make money online and there are people making 6 or even 7 figures per month.
I consider myself a beginner and already making 4 digits. Here is one specific platform where I have learned how to do that.
Done-For-You Agency Registration
You have to go through a simple application that takes several minutes.
That means, a bunch of questions, for example, whether you already have an agency, how long have you been in business, or how much monthly revenue would you like to make, meaning your agency.
One of the crucial questions is, how much are you able to invest right now?
You can select $1,000 to $2,000 as a minimum and it ranges up to $10,000.
After the application, you can select a time when you want to chat or call, and where you will discuss your business goals.
Such an application is great, so potential clients are aware of the potential costs right at the beginning.
How Much Does the "Done For You Agency" Cost?
There are 3 packages you can purchase.
Basically, all of them come with the following online training:
3 Lead Funnels
Facebook Ads Training
Contractor Funnel to build your team
How to pick an Agency niche training
How to price yourself
Agency sales training and phone sales scripts
and so on
Here are the packages you can get.
The starter costs $2,000
Coached Package costs $6,000
And Elite – is currently not available (probably $10,000)
Tyler has a lot of testimonials on his site. The thing is that these might be real, but at the same time, one never knows.
These days it is so easy to have fake testimonials – you can literally hire a person to shoot a short video for a few bucks.
But based on what we have covered so far, the chances that his testimonials are legit are pretty high.
Regarding the price, I want to emphasize, that there is no refund at all.
I mean it would be nice to have a sort of money-back guarantee but it is not the case with DFY Agency.
Facebook Group
Tyler has quite an active Facebook Group with more than 10K members.
Members can find here training on how to launch a digital marketing agency.
You will also be asked a few questions, so the people behind the Done-For-You Agency can fit the best offer for you.
This is at no cost.
What Do Other People Think?
I was impressed that there are a lot of positive reviews regarding Tyler, especially his site sobeviral.com.
There are only 13 reviews, but I don't think they are all fake.
With that being said, Tyler and his agency deliver value to entrepreneurs.
Here is a typical example: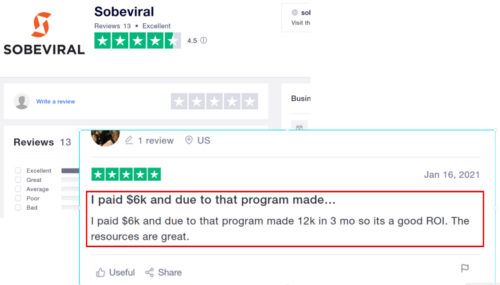 If a person or company has a budget, Tyler's agency is able to help to scale that business.
How About 2022?
I often double-check the products and also other sites (like Trustpilot), to see what has changed.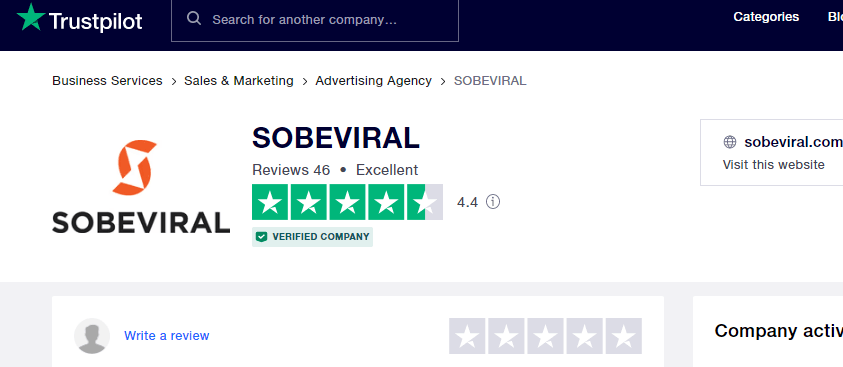 In the case of the Tyler agency, it seems no major issues have been raised recently.
People seem to be happy and that proves that this is a legit and valuable service.
There are some negative ones as well:
From what I can say, it is a good thing that Tyler gives these people feedback.
What Do You Think?
Before we wrap out this review, I would like to know what do you think about Tyler's agency.
I mean, are you in a position where you think Tyler can help you out?
Or are you somebody who just started out with internet marketing, just like me, a few years ago?
Please use the comment section below and share your thoughts.
There are many ways how to make money online, but in 99% of cases, you need to make an investment.
One has to have either:
Budget (enough money to scale an existing business)
Time (enough time to educate yourself and more specifically enough time for content creation).
Do you know what is probably the best way how to survive during any crisis?
It is content creation and let me share with you one particular video where Robert Kiyosaki talks about content creation.
He specifically means content on YouTube, but you know what?
People will still be reading and that's why it is always better to have also a website.
A Website that drives free traffic and one of the best platforms where one can learn how to build a website is Wealthy Affiliate.
I am not saying that this particular platform will be the best for you, but if you never try, you never know.
That is why the founders made it available for everyone – meaning you can get access for free just with your email address.
You can read more about this platform, here, or you can use the link at the bottom of this platform and can get started right away.
What do I like about Tyler Narducci?

Tyler's agency is good for entrepreneurs with a budget who want to scale their business up
A lot of value including training, contractors (so you don't have to outsource the work by yourself), funnels, and much more
What I don't like about Tyler Narducci?
His service is very expensive. It is only for those who have an extra budget of at least $5,000
No Refunds (But at the same time they want to make sure to deliver value)
Some Thoughts at the End
Tyler is a legit person. He has learned how to use Facebook Ads, he has helped a lot of entrepreneurs with their businesses and he continues to do so.
If you run an agency and have the budget, I am sure Tyler can help you out with your business.
However, in case you are new to the online marketing world, this is not a good company to go with.
As a beginner, it is important to learn how things work. I mean skills like:
How to build a website
How to get free traffic to the website
How to monetize the traffic
and then how to get paid traffic only then it is the right moment to learn how to get that business to the next level.
If you want to learn everything above, then I can recommend you a specific educational platform that might suit you the best.
I have learned how to run a website that generates 4 digits, so I don't see the reason why you can't learn the same. And most likely even more since I am a slow learner 🙂
Well hopefully you find some value in this review and if you have questions, please let me know in the comment section below.
Thank you for reading;
Mike.