You are going to find a lot of digital product reviews, MLM company reviews, some tips on how to make money online, and so on.
Recently I received a request to do a review of a company called QubitTech.
Is QubitTech a Scam, or is this a legitimate opportunity where you can make some money?
Let's get started right away.
Disclaimer
Please note, I am not a member or an affiliate for QubitTech. This review is based on research and information available online in the public domain.
Any recommendations and conclusions are only opinions and may not apply to all persons or situations.
QubitTech Overview
Name: QubitTech
Website: www.qubittech.ai – This website does not work anymore.
A New Website: www.qubittech.dev – registered only in February 2021
Price to Join: $100 to $100,000
Recommended: No!
I recommend Affiliate Marketing. Check the Pros and Cons of both business models (Affiliate Marketing vs. MLM).
QubitTech was promoted as a digital ecosystem based on blockchain technology, operating as an MLM company in the cryptocurrency space.
Clients were promised an unrealistic 25% monthly return on their investments, which raised significant concerns about its legitimacy.
However, QubitTech no longer exists as the domains are not available, indicating that the platform has crashed. Research revealed major red flags, including the absence of retail products, blockchain, and registration with Security Authorities.
Additionally, the Spanish financial regulator issued a warning against QubitTech.
In essence, QubitTech functioned as a modern pyramid scheme, making it highly advisable to steer clear of it.
There are legitimate ways to generate consistent income.
For those interested in trading, I can recommend a reputable company called Forex Signals.
They offer ample educational materials, trading signals, and direct access to mentors, making it an excellent option, especially for beginners.
What is QubitTech?
QuibTech is a cryptocurrency MLM company.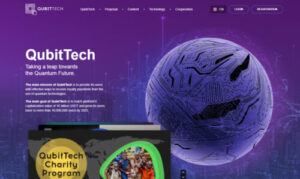 Right off the bat, whenever you see an MLM company within the cryptocurrency niche, please pay attention. The chances that you have stumbled upon a pyramid scheme are pretty high.
(Just have a look at the Beurax, Adasa Group, or FreeBay).
How about QubitTech?
QubitTech seems to be pretty the same.
It promises that it provides its investors with a way to invest in cryptocurrency assets to generate consistent income. Apparently, they are introducing quantum technologies that are supposed to change the rules of trading.
That should allow you to get a 25% ROI every month. The minimum amount to invest is $100.
It is a pretty good return, but does it live up to the promises?
When something seems too good to be true, my recommendation is to take all the promises with a grain of salt, in other words, be skeptical.
Let's find out a bit more.
It was still quite a new company and its original video from its official launch in October 2020 is as of this update (summer 2023) not available anymore.
On top of that their original website does not work anymore.
It is strange since it was registered in 2020.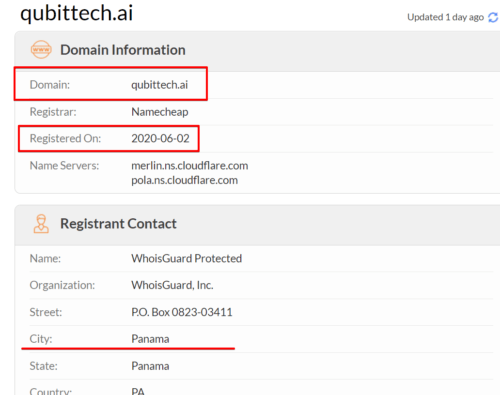 What is the reason?
We are about to find out but let me share with you some news.
Guys behind the company already registered a new website, quibtech.dev.
And here are some data regarding the registration date: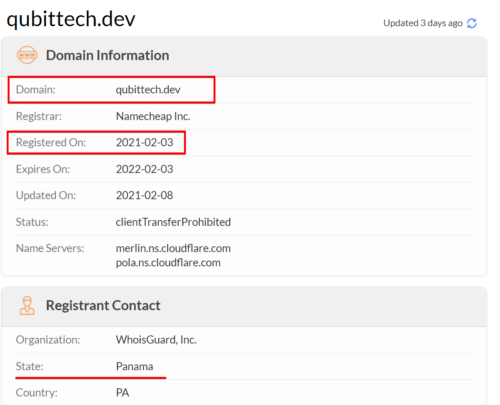 It is really strange that they had to create a new site.
Was it due to technical problems? I doubt it.
Most likely there has been issued some kind of warning against the original site and we will touch that in a bit.
Who Runs the QubitTech?
The CEO of QubitTech is Greg Limon.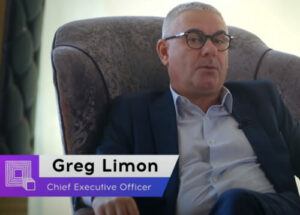 He has been involved for about 20 years in the financial technology world and he has been working also as an adviser for a blockchain project for 5 years.
Greg was also a co-founder of DigiMax, a company based in Toronto, Canada.
But when we check the company's website Digimax-global.com there is absolutely no mention of his name.
The reason is, he is not involved in DigiMax since more than a year ago (as of this writing).
Also, the people behind DigiMax have no involvement in QuibTech.
Is QubitTech a Pyramid Scheme?
The company has no retail products, so the only money that flows into the company is money from new members.
Every affiliate is getting a commission when recruiting a new member.
We will see what kind of structure they use in the Compensation Plan section.
Let's take a look at what FTC has to say about pyramid schemes.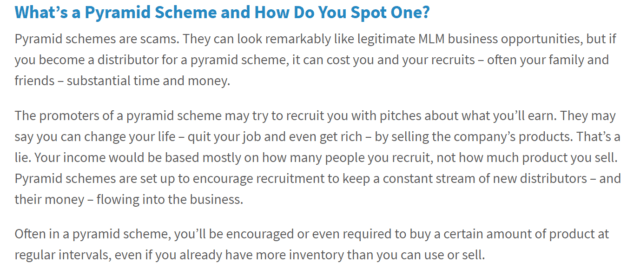 You can read the whole document at the FTC website.
How Much to Join the QubitTech?
You can join the company only via an affiliate link. Then you should choose one of the packages they offer.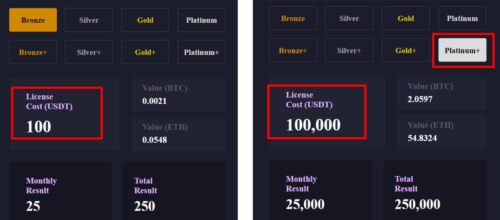 The minimum amount to invest is $100 and then there are several packages. The most expensive cost $100,000!
To get into the "game" you must pay either with Bitcoin or Etherum.
That means that once this structure collapses, you have no way how to recover the funds.
By now we know that the website was registered only in February of 2021. The Alexa ranking skyrocket, so I am sure there is plenty of people coming to the website and many of them also "invest" their money.
My guess is that by the end of 2021 there won't be any signs of such a company, only 99.8% of people who join, will end up without any money.
That is the nature of these pyramid schemes.
Compensation Plan
I don't want to bother you with their compensation plan.
Usually, this information shows how their client can make money, and apparently, there are bonuses and stuff like that.
The company pays their referrals commission using a uni-level compensation structure.


Meaning, people you recruit are directly under you – that is Level 1.
If people from Level 1 recruit new members, these are placed on Level 2 and so on.
How to make money?
Basically, you must recruit new members, in order to make money. You get a commission whenever your downline makes an "investment". This can go down to 12 levels.
They use also some sort of Rankings:
But I don't want to take up your time and bother you with all the details.
Here is a video where they explain how supposedly you can make money:
But the most important section is down below where is a list of a few red flags that I have found.
With that being said, my recommendation is to stay away from QubitTech.
There are legitimate ways how to make money online.
They don't sound that exotic as 25% returns every month, and they sure require some effort on your site.
But people are greedy and when they see such an "opportunity" as QubitTech offers, they are willing to spend their life savings.
They naively things to getting something from nothing
Unfortunately, they end up losing all the money as was the case with Crowd1.
Any Red Flags?
Oh Yeah…
One of the significant red flags is that there is no proof of external income whatsoever (the only money that flows to the company is from members).
And probably from the Ads of the Youtube channel but even with their 10K subscribers, the channel generates up to $200 per month.
What else?
Fake Trading
According to the QubitTech website, you should be able to get 25% monthly returns from their digital licenses.
This is absolute nonsense.
No legitimate company can earn that lot in such a short period of time. In the most ideal case, the number might be close to 20% but per year!
In theory, if the company can give you 25% ROI, what is in it for them?
I mean such a company must be able to generate even larger returns than just 25% every single month, right? (The 25% is supposed to be your take-home).
They want you to believe that since this is a cryptocurrency business, it is possible.
Nothing can't be further from the truth.
Since a client is promised to get a passive income from QubitTech, the company must be registered somewhere.
The truth is that it is not registered with any securities authority.
This is another huge red flag and it alone makes this company a scam.
Warning Against QubitTech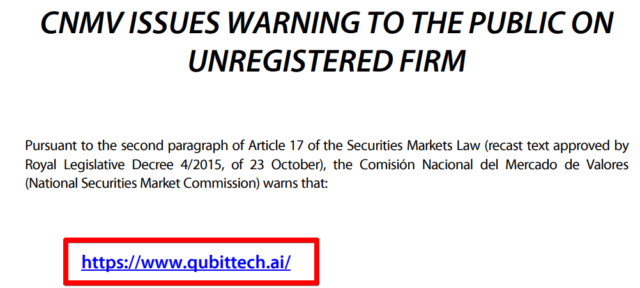 You can find the document at the Spanish Financial Regulator website, or directly at this link.
This is probably one of the reasons, why people who run the QubitTech decided to change the domain from .ai to .dev:
It is quite common that people running such scams, often abandon one company/site and soon they create a new version of the original one, its reboot.
Fake Addresses/Fake email addresses
QubitTech seems to have a lot of branches throughout the world.
Unfortunately, these addresses are fake and if you check the local register of companies you won't find any QubitTech.
The address in Prague – shows a residential building.
And why do they have so many addresses in Russia?
Why would they need 2 different addresses in St. Petersburg, 2 separate addresses in Moscow?
Does a company dealing with cryptocurrency and operating online, need so many offices?
Something does not add up.
How about their official email?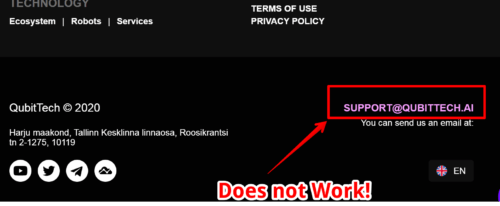 This address does not exist, so how come can one contact them if he or she needs support?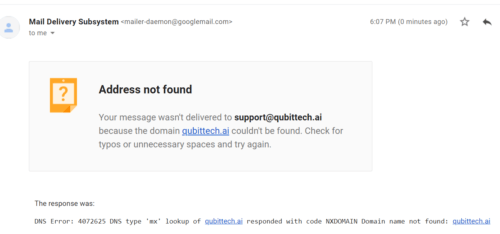 Are you interested in forex trading?
Then this article is about a company that has been around since 2012 and has many thousands of satisfied members:
What I like about QubitTech

Impressive videos showing flashy, expensive stuff. (This is not exactly a positive point but felt like use it here)
What I don't like about QubitTech
Unrealistic claims about the ROI (25$ per month is ridiculous)
It is a matter of time until this system collapse
Not Registered with Security Authorities
Is QubitTech a Scam?
Yes, QubitTech is a scam.
Companies like these don't last long. Most of the time they collapse within a year, and the founders move on – create a new company.
In this case, they just created a new website, registered in February 2021. That is suspicious.
What went wrong with the original site?
And what do you think, how long the current website will last?
Would you invest with QubitTech?
My recommendation is to stay away from them.
Remember that, when it comes to investment, keep in mind these following rules:
Make sure that you have a way out quickly
And most importantly:
Don't invest more than you can afford to lose
If you have questions or concerns please use the comment section below and I will do my best to get back to you as soon as possible.
Thank you for reading,
Mike