Hello there,
Welcome to my website.
I have been doing a lot of digital product reviews in the MMO niche (Make Money Online) and in my experience, there are a lot of scammy products that do not live up to their promises.
How about Secret Email System?
This is a WarriorPlus product and unfortunately, WarrriorPlus is infamous for having a lot of scams.
In the following Secret Email System review, we are going to learn how it works, whether it works, what is the earning potential, what are the Pros and Cons and so on.
The following review also briefly reveals what it really takes to start making money online.
Disclaimer
Please note, the following post might contain affiliate links.
That means if you click on them and purchase the product, I will receive an affiliate commission at no extra cost to you.
This review is based on research and information available online in the public domain. Any recommendations and conclusions are only opinions and may not apply to all persons or situations.
Quick Overview
Name: Secret Email System
Website: www.secretemailsystem.com/wp/
Price to Join: $5.60 + Upsells
Recommended: Not really
Secret Email System Summary
Secret Email System is an eBook created by internet marketing veteran Matt Bacak.
It teaches how to use email marketing in a proper way, so even a beginner can start earning consistent income.
In other words with this eBook one can save a lot of time, because it offers a kind of short cut and it is possible to generate 7 figures with this method.
The problem is that such shortcuts never work properly.
No eBook, nor such a system is going t show you how to start making money tomorrow.
Besides, Matt (the creator) has launched several products that are almost the same.
To create a consistent income online, it is necessary to master some skills and invest time and effort in education.
I personally prefer affiliate marketing where I sell other people's products.
This method I use basically connects vendors and potential buyers.
Sign up for Free and I will guide you through the platform.
No Credit Card Needed – Just your email.
What is Secret Email System?

It is just eBook teaching how to start an email marketing business that generates 6 figures per year.
Besides the eBook, this product contains email swipes, videos, and other training materials showing how to properly set up email marketing.
According to the creator, this system uses the so-called BMG10 method.
Here is what each letter stands for:
Build a list
Mail a List
Get Paid
and 10x it
This looks like a simple plan but does it really work?
Does it work for everyone?
Let's check who is behind this system.
Founder of Secret Email System
The founder or creator of this system is Matt Bacak. Apparently, he has been one of the biggest "underground marketers" in the world.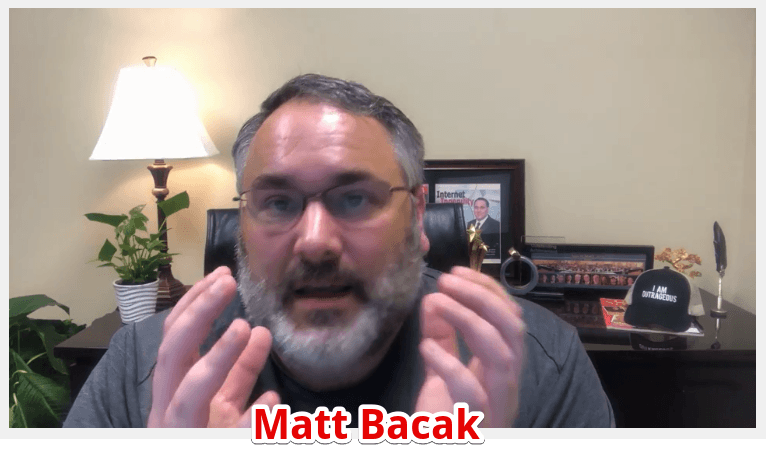 In fact, he as an online marketer goes back to 1997 and as an email marketer, he started in 1999.
Since 2003 he has made millions of dollars and he is ready to share his experience with you, using the Secret Email System.
He has helped many people, for example, Russell Branson – a co-founder of ClickFunnels'. That is an online sales and marketing software.
Matt is the creator of other products as well. One of the recent ones is actually quite decent.
It is called 16 Swipes.
Matt also has his Youtube channel but has not posted any video since March 2018.
I personally find it strange, since YouTube is nowadays a great marketing tool and obviously Matt feels very comfortable in front of the camera.
Maybe he goes slowly into retirement mode, or he just doesn't feel like making new videos.
Who Is Secret Email System For?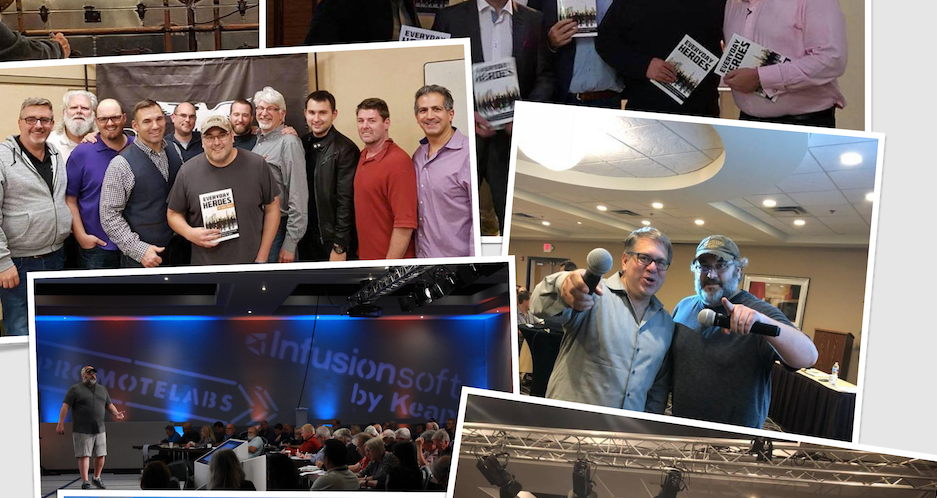 This is intended for beginners, so if you have no experience with email marketing, you don't have to worry.
But really?
Is this going to work for you?
It is advertised as a great system for complete newbies, but I don't agree with that statement.
As a newbie, you want to have some sort of plan.
What kind of product do you want to offer. In other words, you need to choose your niche.
Whether it is a weight loss diet or fishing tools, you want to choose a niche that you'll stick with.
With that being said you don't want to send products concerning the keto diet to people that are interested in fishing.
Once you know what is your audience, you must have a website. A simple website is like a headquarter.
(At the end of this article there is a link with more details n how to properly set up an affiliate business).
But back to the Secret Email System.
It is true that $5 for an eBook is not a lot, but what I don't like is the entire price structure
We are going to check the price structure more deeply in a bit.
But also realize that an investment of a few bucks won't make you rich.
Besides, most of these WarriorPlus products are very misleading and some of them are even scammy.
So be careful when it comes to the WarriorPlus site.
I am sure you have struggled to find decent training that teaches what really works.
What I can recommend, is to check the educational platform that I have joined back in 2017.
I have learned how to create a simple blog website, how to get free traffic, and how to monetize the traffic.
They offer a 7-day free trial so there is no risk on your site.
If you don't like the platform you just leave.
But I digress.
How Does Secret Email System Work?
This whole Secret Email System is a collection of experiences that is grouped in one place. On top of that, you get some additional material but in a nutshell, you are going to learn:
How to create a landing page
How to drive trafic to your landing page
How to get leads
How to promote offers
That is included inside the eBook.
Basically, you get access to a bunch of emails that you can edit, rewrite (and you should) and send to potential customers.
Inside the emails, there are affiliate links. So if the receiver clicks on the link and makes a purchase you get a commission.
With thousands of leads, the earning potential is really high.
But the reality is different.
How it Really Works?
Many of these emails will be sent to people that did not give you permission.
In other words, Email marketing is about relationships. And you need to first provide a value to your prospect and only then you can ask for his email address.
Another problem with these "cold emails" is that they end up in the Spam Folder.
But even if not, the promotion emails are most of the time ignored.

What Else Do You Get?
On top of that, you get also Bonuses that you can download. To mention a few of them:
Irrestibile Offer Video Guide
Secret Email System Checklist (so you know what to implement)
3x Formula Calculator
$2.1 Million Email Swipe Files (1,000 emails that has helped Matt to make over $1M in sales)
Secret of Millionaiers Book
With such bonuses, sometimes it is not easy to get around.
I mean it can be confusing and it is not clear when to use what.
What I find helpful, there are also videos you can download and watch.
Besides, you have access to 1,000 emails that you can re-model and use for your specific offer. That includes a video showing how to edit an email for any niche.
Also, you have swipe files that help to improve the email and also another eBook about the internet millionaire mind.
All this stuff above you can get for the Front End price, which is $5.60.
Is it the final price?
No, it isn't, so let's take a look at the entire price structure
What is the Secret Email System Price?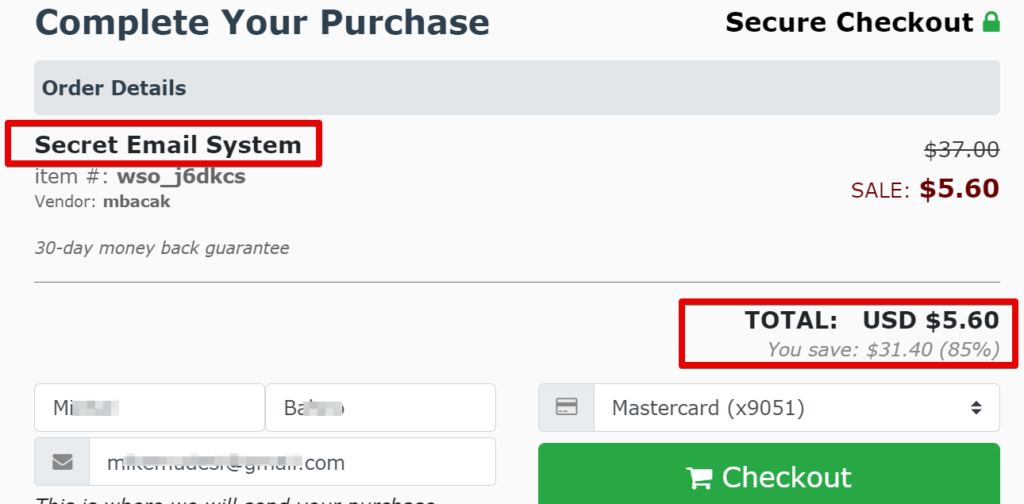 Right after the purchase, you have to deal with the upsells.
Right off the bat, I can tell you that this is not the worst upsell structure.
We know the front-end price is for the basic product – Secret Email System that costs $5.60.
1. Then you asked to get also the Ultimate Email Marketing Package for $97.00.
You can get a discount and then the price is $47.
And the 2nd Upsell:
2. It is "recommended" to purchase the Secret Email Mastermind as well.
There are 2 options. You can either pay it yearly – $84.00.
Or, choose a monthly payment that is $9.95 per month
Matt offers a 30-days money-back guarantee, but unlike with ClickBank, you have to ask directly Matt.
That means, that WarriorPlus is not responsible for the refund.
This is a drawback and that's why whenever you come across WarriorProducs, think twice before purchasing it.
Secret Email System FAQ
1) Is It possible to generate 7 figures using this system?
In theory yes.
But Matt has been doing this for more than 2 decades, so he knows what he is doing.
Even though he made his best to collect all the tips and tricks into one book, it doesn't mean that this will make you a millionaire by the end of the year.
All these Gurus exaggerate just to get you to buy the book/product and then they make money by selling the upgrades. (see the What is the Price section above).
But people making such money are not newbies.
Internet marketing is not a science. That's why there is not such a thing as a blueprint or template that can be applied and starts making money.
Marketing is an art.
That's why you need to learn some skills, apply them, test them, and according to the results make further decisions.
2) Does the eBook contain enough data to start generating income?
No, it does not.
If you have already your list and you are wondering how to craft an email, this system can help you.
Meaning, within the 1,000 emails you will find some inspiration that can improve your conversion.
But if you are just about to start with email marketing, this eBook won't help you much.
The thing is, it is not so effortless as presented on the sales page.
3) Is there a guarantee?
Yes, there is a 30-day money-back guarantee.
Matt even claims that if you don't like the product, he refunds the money and you can keep the book.
4) Is Secret Email System a Scam?
No, it is not.
For 5 bucks you get some material that you can use.
Assuming that you skip the upsell structure, you can actually take advantage of 1,000 emails.
What I like about Secret Email System

The price is very good for the basic product
30 Day Money Back Guarantee
What I don't like
Exaggerated earning claims
1 Click Upsells – it is very easy to get charged more than the initila $5.60
It is neccessary to gain a lot more knowledge than it is offered by this product (this eBook is simply not enough)
Some Thoughts at the End
I personally do not see a lot of value in the Secret Email System.
It is just another product that Matt created… Actually just rehashed older and he sells it as a new one.
The reason is simple – to get new customers.
What is good about the Secret Email System is the front-end price.
In case you are looking for inspiration, when it comes to crafting emails, then this can be helpful.
But I don't recommend this to newbies.
In case you have questions, please let me know in the comment section below.
I will be more than happy to provide you with feedback.
Thank you for reading
Mike
How to Get Started with Affiliate Marketing Business?
I have been a member of Wealthy Affiliate since late 2017 without a prior marketing experience.
Beginning of 2018 I have learned how to build a website that drives traffic and makes sales.
Since the summer of 2019, I am a full-time internet marketer and I work from anywhere I want, whenever I want.
Training within Wealthy Affiliate teaches how to generate a consistent income in the long run.