You may also like:
Leftcoins appears to be a platform that offers investment opportunities by using software to unlock electronic wallets.
So, let's dive into its business model, investment plans, and possible red flags.
We'll also address concerns about the company's legitimacy and provide a guide for evaluating similar investment platforms.
Jump to:
Before You Invest: Steps to Assess a Company's Credibility
Before you decide to invest your money, it's important to do some basic checks to ensure that the company is legitimate.
Here are a few steps you can take:
Use their chat button if they have one, and pay attention to how they respond. For example, I assessed a platform called Megalith Trade, and their response wasn't very polite.
Check the email address provided by the company and try sending them an email to see if it's valid.
Verify the telephone number provided by the company.
Look up the company address and, if possible, double-check it with the rental office or the building administrator.
Check the domain registration date and compare it to the date the company claims to have been founded.
Determine if the domain has traffic, both organic and other types. You can do this for free, and it won't take more than a few minutes.
If the company claims to have certifications or accreditations, verify this information independently by contacting the certifying or accrediting organization directly.
If you find any issues during these checks, be cautious.
I don't know about you, but when it comes to my money and especially investing online, if any of the aspects below raise a red flag, it's a deal breaker for me, and I do not trust the company.
Disclaimer
Please note, that I am not a member or an affiliate of Leftcoins.
This review is based on research and online information in the public domain.
Any recommendations and conclusions are only opinions and may not apply to all persons or situations.
Leftcoins Summary
Name: Leftcoins (Full name:  Leftcoins Digital Algorithms PTY LTD)
Website: leftcoins.com
Price to Join: Free to join. But the full participation requires an investment of $25 (up to $100,000 in various cryptocurrencies)
Recommended: No
Leftcoins claims to offer investment opportunities through a system that finds and uses forgotten digital money wallets.
It provides a variety of investment plans with promised returns that are so high, that they alone raise a red flag (up to 4% a day).
Significant concerns about the legitimacy of the company exist, including inconsistencies in registration details, lack of verifiable ownership information, and a business model that raises suspicions of a Ponzi scheme.
Potential investors should exercise caution and thoroughly research before considering an investment in Leftcoins.
What is Leftcoins?
Leftcoins is a company that primarily operates in the realm of software for unlocking electronic wallets.
According to their website, their main objectives include:
locating abandoned wallets,
identifying high-balance wallets,
and matching secret keys to provide profits to investors.
Basically, Leftcoins is -supposedly- a company that offers different ways for people to invest money, no matter if they're new to investing or have lots of experience.
They say that you can get your money back really quickly anytime you want, and they have a group of people who invest in Leftcoins where you can talk and share ideas with others.
The research casts doubt on the legitimacy of Leftcoins, and its business model is suspect and could potentially be a Ponzi scheme.
Additionally, there are inconsistencies in Leftcoins' registration details and website domain.
Leftcoins Website Information
When I looked into the traffic for Leftcoins' website, I noticed a few interesting things.
Firstly, the website doesn't seem to get much organic traffic, as most of its pages are ranking on the 5th page or beyond.
The majority of their visitors come directly to the site, and they also get more than 10% of their traffic from social media.
What's more, over 17% of the traffic is referrals.
This could suggest that current members are actively trying to recruit new members, which is a common characteristic of multi-level marketing schemes.
And in a worst-case scenario, it could also indicate that the company operates as a Ponzi scheme.
Website Registration Date
There are discrepancies between the information regarding the foundation of the company (as stated on LinkedIn) and the actual website registration date.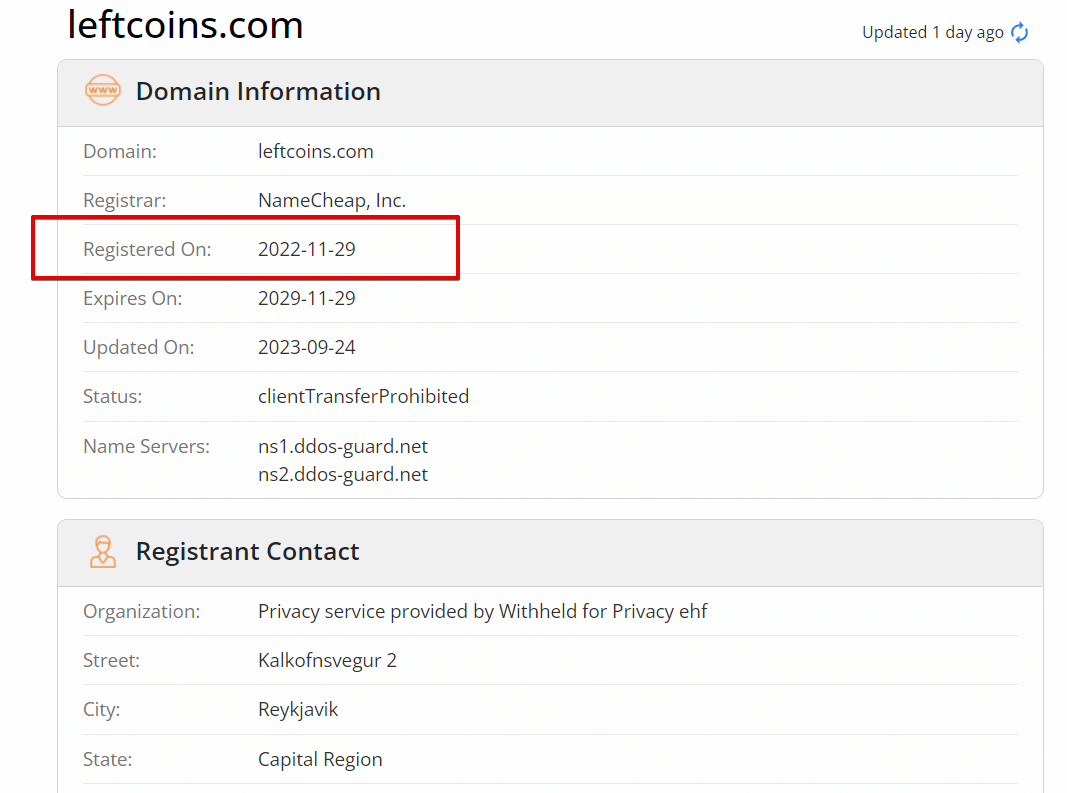 This inconsistency is another issue that bothers me, and I personally see it as a cause for concern.
Company Address
When I checked the physical address of Leftcoins on Google Maps, I couldn't find any trace of the company.
It seems like the address they provided might not be accurate, as it didn't show up in the building's directory either.
This makes me wonder if they really have a physical office or if they're just operating online.
Communication Issues and Lack of Response from Leftcoins' Support Team
I attempted to contact Leftcoins through their email address (support@leftcoins.com) but received an "Address not found" error.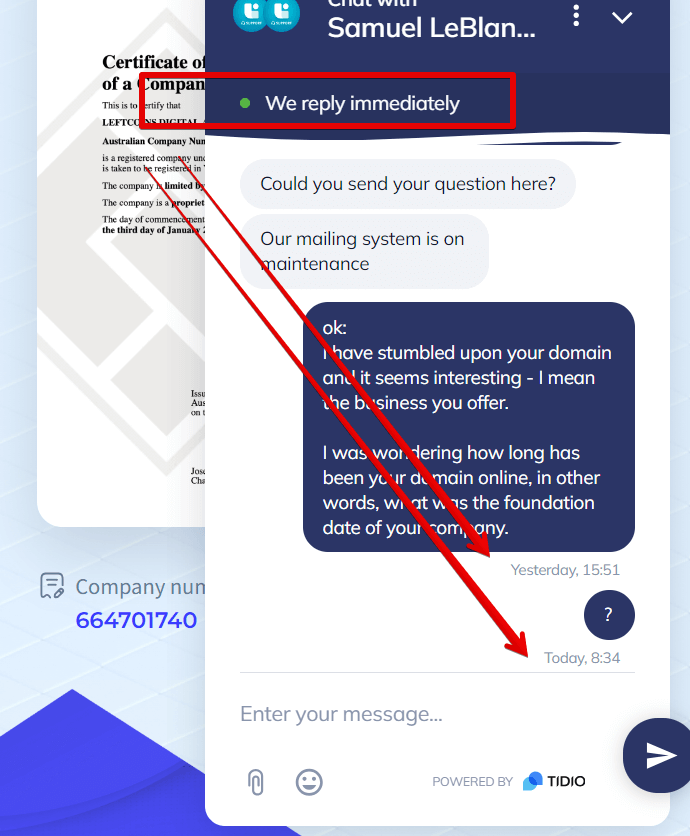 I then used the chat button on their website to ask about the issue and inquire about the company's domain and foundation date. Here's how the conversation went:
Me: I tried to email you, but got an "Address not found" error.
Leftcoins (L): Possibly an error from your email provider, but tell me how I can help you?
Me: No, my email provider is OK. It seems the problem is on your site.
L: No, the error is from your provider, sometimes it can't find the addresses.
Me: I use Gmail. Is there something wrong with Gmail then? (Attached screenshot of "Address not found") Do you have a different email address?
L: Could you send your question here? Our mailing system is on maintenance.
Me: I have stumbled upon your domain and it seems interesting – I mean the business you offer. I was wondering how long has your domain been online, in other words, what was the foundation date of your company.
L: (No response)
Unfortunately, I received no feedback from Leftcoins regarding my question about the domain and foundation date.
Who Is Behind the Leftcoins?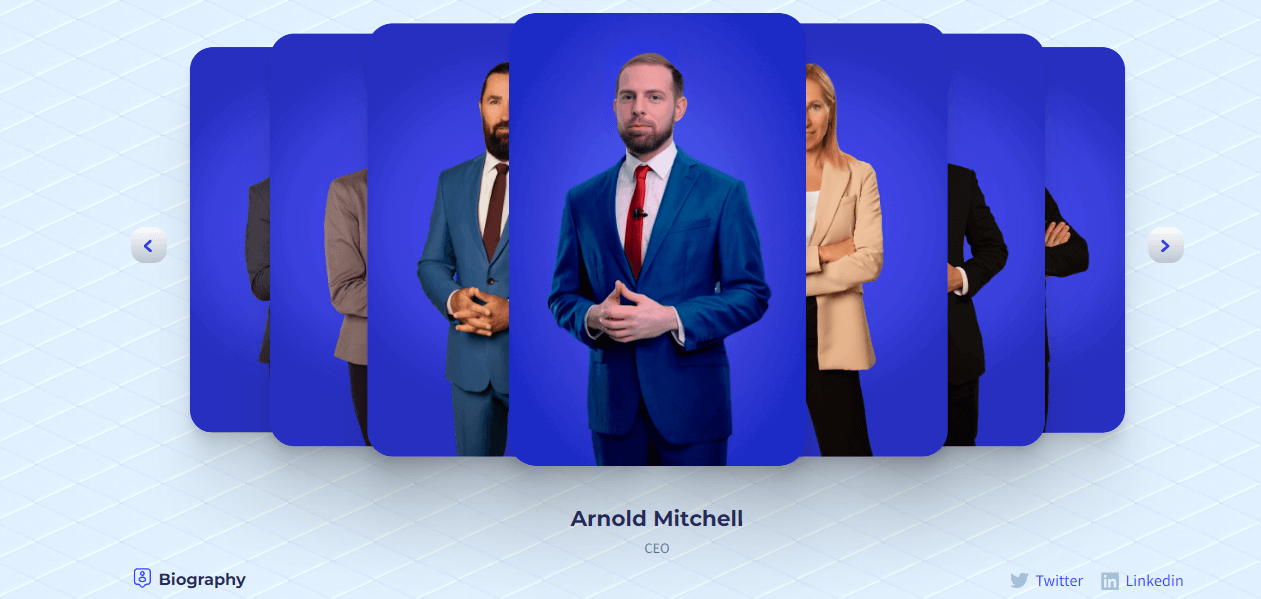 Leftcoins claims to have a team led by CEO Arnold Mitchell, alongside key members such as:
Derrick Wade (CFO),
George Harrington (CTO),
Dora Barrett (CMO),
Amanda Miller (HR Director),
Steven Pope (Cyber Security Chief), and
Michael Pitts (Head of Cryptography).
The names of the people listed on the Leftcoins website are real names, but they don't actually correspond to the individuals who are supposedly behind the company.
The names on the Leftcoins website are likely just picked from real people who have no connection to the company.
This suggests that the creators of the Leftcoins website are using fake identities for the people supposedly working at the company, which raises doubts about the legitimacy of Leftcoins.
What Products Leftcoins Offer?
Leftcoins doesn't sell products like a regular store.
They have a platform where you put your digital money (cryptocurrency) and they promise to use it to make more money for you.
However, this seems a bit iffy and risky.
Also, the fact that they make money when new people join, and not by selling products, is a big red flag. This could be a sign of a Ponzi scheme, where early investors are paid with the money from new investors.
This kind of setup usually collapses, and people can lose their money.
So, even though it sounds easy to make money with Leftcoins, you should be careful and think twice before joining.
How to Join Leftcoins?
Joining Leftcoins is a straightforward process, and it is for free.
First, visit their official website.
Next, sign up by providing some basic information like your name, email address, and password.
Once you've created your account, you can log in and explore the platform's dashboard.
How to Make Money with Leftcoins?
Leftcoins claims to offer investment opportunities through a system that utilizes software to find and access funds from "forgotten cryptocurrency wallets," with the help of key searching and matching hardware.
This system allegedly unlocks abandoned cryptocurrency wallets, redistributing the funds to investors.
To start making money with Leftcoins, you need to make a deposit first.
The minimum amount you can deposit is $25, but you can invest up to $100,000.
The platform accepts various cryptocurrencies for your deposits.
How to make a deposit?
They had a video explaining the simple procedure for making a deposit.
For some reason, though, the video was taken down.
One could guess, why… right?
Anyways, I had a chance to watch it so, let me share with you the main points they mentioned in the video:
Navigate to Make a Deposit: Open your operational dashboard and navigate to the "make a deposit" section.
Select a Server: In the opened window, select the server you want to invest in.
Choose a Currency and Proceed: Choose the currency you want to use for payment and press proceed.
Copy Payment Address and Amount: Copy the payment address and amount provided.
Paste in Wallet and Confirm: Paste them in the required fields in your wallet, use the QR code for convenience if necessary, and confirm the transaction. Make sure to use proper coins and the exact amount for automatic activation of the deposit.
The company offers a variety of investment plans promising returns ranging from 2.5% to 4.7% per day.
Let me show you what they present;
| Server Type | Investment Amount | Profit Rate | Daily ROI | ROI per Month |
| --- | --- | --- | --- | --- |
| VPM-025 | $25 | 2.5% | $0.62 | $18.75 |
| VPM-050 | $50 | 2.5% | $1.25 | $37.5 |
| VPM-0100 | $100 | 2.5% | $2.5 | $75 |
| VPM-0250 | $250 | 2.5% | $6.25 | $187.5 |
| VPM-0500 | $500 | 2.5% | $12.5 | $375 |
| VDM-X25 | $2,500 | 2.8% | $70 | $2,100 |
| VDM-X50 | $5,000 | 3.0% | $150 | $4,500 |
| VDM-X100 | $10,000 | 3.4% | $340 | $10,200 |
| VDM-X250 | $25,000 | 3.8% | $950 | $28,500 |
| VDM-X500 | $50,000 | 4.0% | $2,000 | $60,000 |
| VDM-X750 | $75,000 | 4.3% | $3,225 | $96,750 |
| VDM-WX1 | $100,000 | 4.7% | $4,700 | $141,000 |
Overview of Leftcoins Investment Plans
The table above provides an overview of the investment plans offered by Leftcoins. It includes both virtual (VPM) and physical (VDM) server types, with varying investment amounts ranging from $25 to $100,000.

I strongly advise against investing in a company that promises such unrealistically high returns.
The claim of a daily return is not only suspicious but is also likely bait.
Based on this claim alone, I wouldn't invest in the company.
Leftcoins Affiliate Program
Leftcoins offers an affiliate program where users can earn commissions by referring others to the platform.
The affiliate program has several partner ranks, each with different commission rates and bonuses based on the number of referrals and the level of the referrals in the referral hierarchy.
Here is a table summarizing the affiliate program:
| Partner's Rank | Attracted by Level 1 | Level 1 Rate | Level 2 Rate | Level 3 Rate | Level 4 Rate | Level 5 Rate | Instant Bonus |
| --- | --- | --- | --- | --- | --- | --- | --- |
| STAGER | 0 $ | 5% | 1% | 1% | 0% | 0% | 0 $ |
| JUNIOR | 5 000 $ | 7% | 2% | 1% | 0.5% | 0.5% | 250 $ |
| MIDDLE | 20 000 $ | 8% | 2% | 1% | 1% | 1% | 750 $ |
| SENIOR | 50 000 $ | 10% | 2% | 1% | 1% | 1% | 1 500 $ |
| LEAD | 100 000 $ | 12% | 2% | 1% | 1% | 1% | 2 500 $ |
| CHIEF | 250 000 $ | 15% | 3% | 2% | 1% | 1% | 7 500 $ |
| HEAD | 500 000 $ | 18% | 3% | 2% | 2% | 1% | 12 500 $ |
| VISIONARY | 1 000 000 $ | 20% | 4% | 3% | 2% | 1% | 25 000 $ |
| LEGEND | 2 500 000 $ | 22% | 5% | 3% | 2% | 2% | 75 000 $ |
The program offers a tiered commission structure with higher commissions and bonuses as users advance to higher partner ranks.
Users earn commissions based on the investment amount of their direct referrals (Level 1) and their indirect referrals (Levels 2-5).
The instant bonus is a one-time reward for reaching a specific partner rank.
Beware of False Certifications
In the course of my research, I discovered a major red flag regarding Leftcoins' claim of having an ISO 27001 certification.
This certification is a recognized standard for information security management, and it's a big deal because it shows that a company is serious about protecting its customers' information.
Leftcoins claimed that their wallet access technology had received this certification, which would mean that they had met certain standards for security.
However, when I contacted Certification Europe, the organization that supposedly issued the certificate, I received a clear and direct response: Leftcoins is not a client of Certification Europe, and the certificate they claim to have was not issued by them.
Here is the email if the image is too small
"Dear Michal,
Thank you for your query.
Unfortunately, this is not a Certification Europe Certificate.
Leftcoins Digital is not a client of Certification Europe , and the below certificate has not been issued by Certification Europe.
I hope this helps with your query,
Kind regards,
Susan"
This is a serious concern because it means that Leftcoins is making false claims about their security measures. It also raises questions about what other information they might be misrepresenting.
So, if you come across a company that claims to have certain certifications or accreditations, don't just take their word for it.
Make sure to verify that information directly with the organization that issues the certification.
It's a simple step that can save you from getting involved with a company that's not being honest.
Leftcoins Red Flags
Lack of Proper Communication
The company failed to respond adequately to queries through its chat system and provided a non-functional email address, indicating poor customer service and transparency.

Inconsistent Foundation Information
The discrepancy between LinkedIn's claimed foundation date and the website registration date suggests potential deception about the company's history.
Unrealistic Promised Returns
The platform's promise of daily returns between 2.5% and 4.7% is exceptionally high, raising concerns about the business model's sustainability.
Questionable CEO Identity
The CEO, Arnold Mitchell, appears to be a fabricated character, raising serious doubts about the legitimacy of the company's leadership.
Lack of Physical Presence
The company's claimed address in Melbourne, Australia, could not be verified in the building's directory, suggesting a lack of a physical presence and raising concerns about its authenticity.
False Certification Claim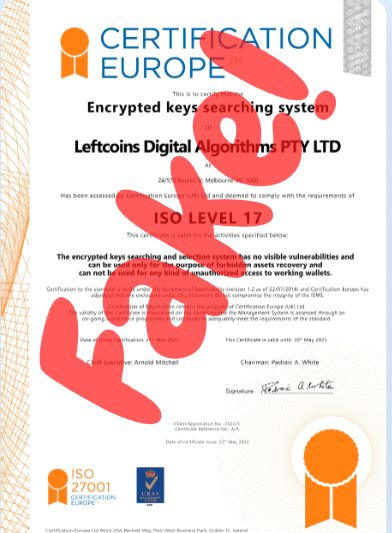 Leftcoins falsely claimed to have an ISO 27001 certification from Certification Europe, which was later confirmed to be untrue.
This deceptive practice raises serious concerns about the company's honesty and integrity.
Conclusion
Leftcoins says it can find lost cryptocurrency, but there are several big warning signs.
The idea of taking money from wallets that aren't being used doesn't sound right.
There are also issues with how they explain their business and technology.
It seems like they're focused on getting people to join and promise very high profits, which is dangerous and probably not true.
The person who is supposed to be in charge, "Arnold Mitchell", seems to be made up.
Given all these problems, it's smart to be extra careful.
Putting money into Leftcoins might not be safe and you could end up losing it.
Thanks for reading,
Mike.