You may also like:
Back in 2016, a webinar by John Crestani opened my eyes to the world of affiliate marketing and the potential of selling products on Amazon.
It got me thinking – could I not only sell products but also create my own brand through FBA?
Fast forward to today, are you considering a leap into this world without prior experience?
If yes, then you're in the right place!
You may be here for guidance, and most importantly, to find out if BJK University can fast-track your success.
This review will delve into the pros and cons, helping you form an objective opinion about BJK University and make an informed decision.
Note:
You can think of this review as a helpful guide that you can use when assessing different platforms that promise to help you make money online.
If you come across a platform or website that you want to learn more about, you have a couple of options:
– You can use the search button on my website to see if I've already reviewed it, or
– You can leave a comment, and I'll do my best to provide feedback within 24 hours.
Disclaimer
Please note, that I am not a member or an affiliate of BJK University.
This review is based on research and online information in the public domain.
Any recommendations and conclusions are only opinions and may not apply to all persons or situations.
BJK University Summary
Name: BJK University (BJK Institutions, Inc)
Website: bjkuniversity.com
Price to Join: $3,800 for lifetime access
Recommended: Yes
Embark on a journey of discovery with BJK University, a platform guiding you through the labyrinth of Amazon FBA. While the university shines with its comprehensive materials, hands-on coaching, and vibrant community, it also has its share of red flags to be aware of.
Dive into this review to uncover the truth about BJK University, where promises of financial freedom meet a course steeped in experience.
Uncover the pros and cons, user reviews, and ultimately, decide if BJK University is your ticket to becoming an Amazon selling maestro.
What is BJK University?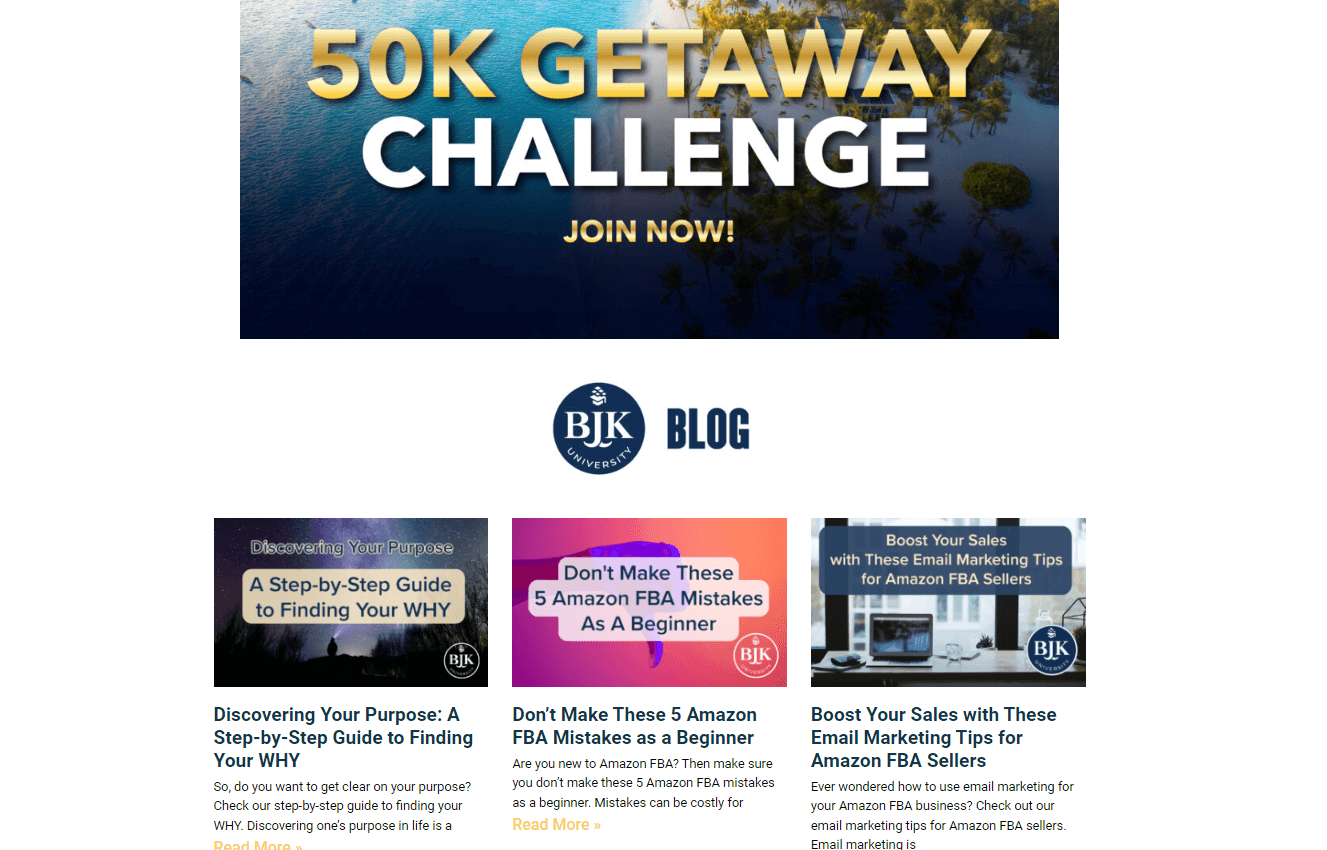 BJK University is an online training program by Bashar Kadumi, an experienced Amazon FBA seller. It's designed to teach people how to start and run their own Amazon FBA businesses.
In the program, you'll learn about product research, sourcing, marketing, and all the ins and outs of selling on Amazon. It's a bit on the pricey side, but it aims to give you the knowledge and tools to make money online through Amazon potentially.
Remember that it's not a "get-rich-quick" scheme; it takes time and effort to succeed.
What is Amazon FBA businesses?
An Amazon FBA (Fulfillment by Amazon) business is a way to sell products on Amazon's platform without worrying about storage, shipping, or customer service.
Here is how it works:
Source Products: You find or create products to sell, either by purchasing them in bulk from suppliers or creating your own unique items.
Send to Amazon: Instead of storing those products yourself, you ship them to Amazon's fulfillment centers. Amazon takes care of warehousing and shipping your products to customers.
List on Amazon: You create product listings on Amazon's website, describing your items, setting prices, and managing your inventory through your seller account.
Customer Orders: When customers order your products on Amazon, the company handles everything from payment processing to shipping.
Customer Service: Amazon also deals with customer inquiries, returns, and refunds, making your life easier.
Prime Eligibility: Many FBA products are eligible for Amazon Prime, which can boost sales because Prime members get fast, free shipping.
Scaling: As your business grows, Amazon takes care of scaling with you, handling increased sales and logistics.
In essence, an Amazon FBA business allows you to tap into Amazon's massive customer base and infrastructure, making it easier to sell products online.
However, it's not a guaranteed path to riches; it requires research, effort, and effective marketing to succeed.
BJK University Website Information
When assessing the legitimacy of bjkuniversity.com, certain data points can provide valuable insights.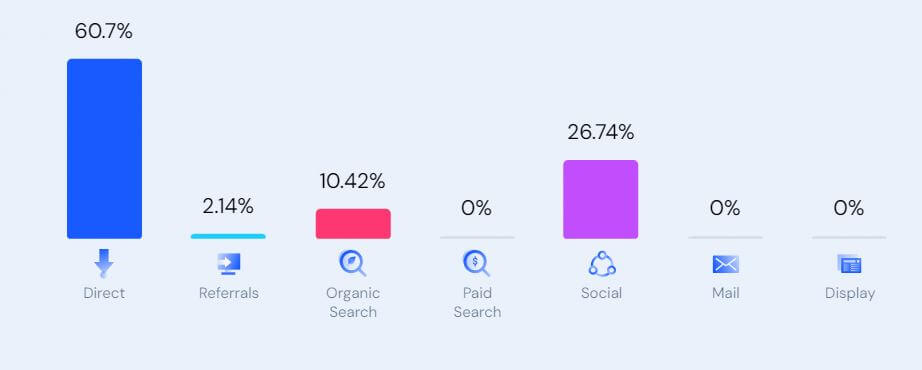 More than 25% of visitors to the website come from social media platforms, indicating a strong social presence. Additionally, the organic traffic to the site is slightly over 10%.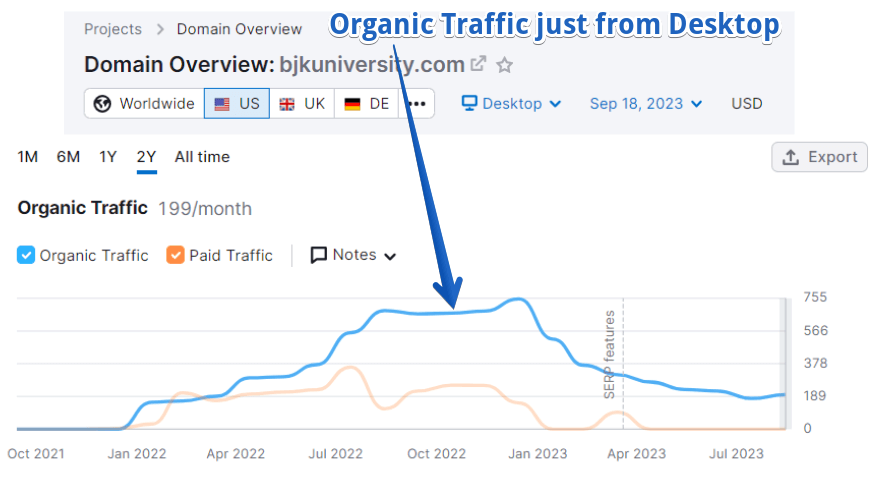 There have been no major fluctuations in organic traffic, which is generally a positive sign;
BJK University Website Registration Date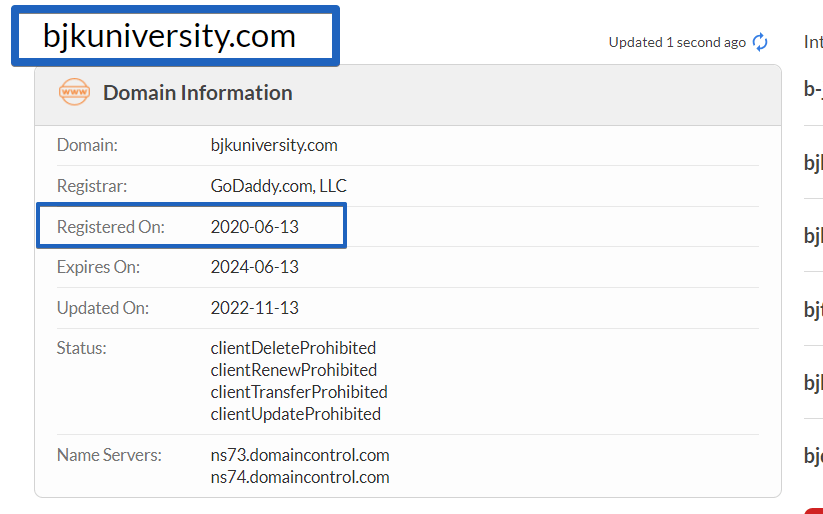 The website was registered in June 2020.
Overall, these data points suggest that bjkuniversity.com is a legitimate platform with a solid online presence.
Who is Behind the BJK University?
The founder of BJK University, Bashar J Katou, has an inspiring entrepreneurial journey that began back in 2015.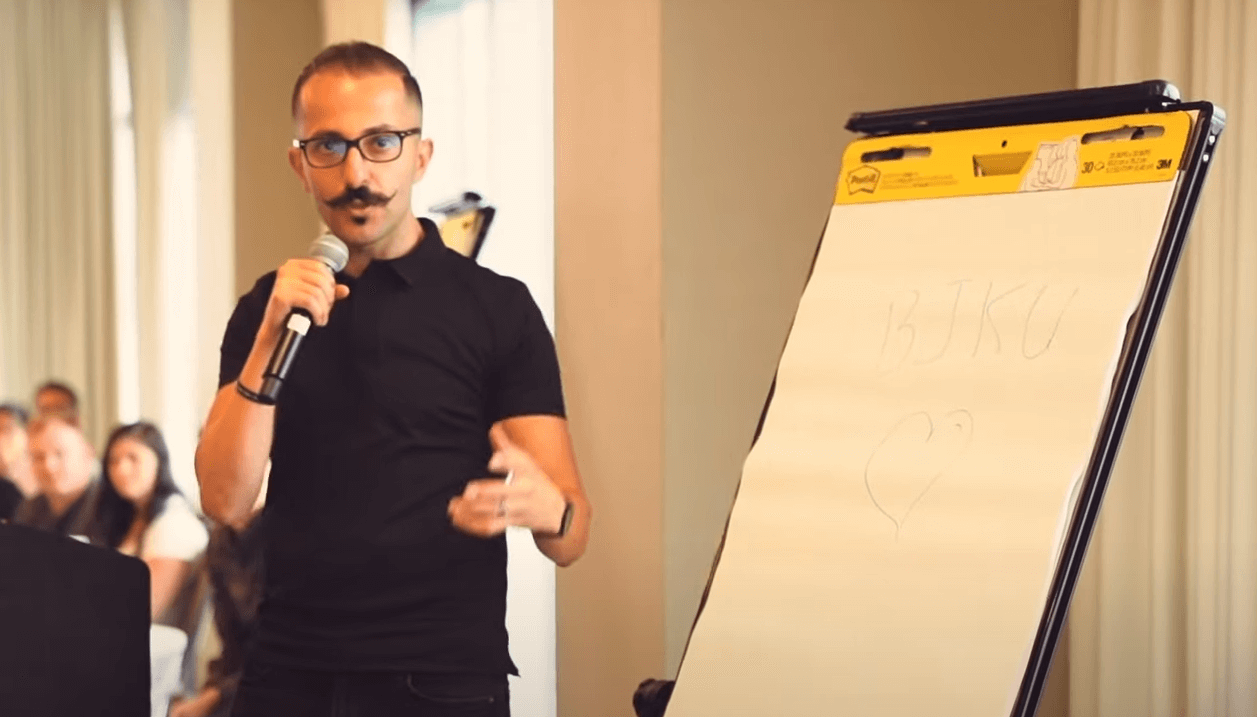 Originally from Iraq, he moved to the US in 2006, starting his journey in Detroit before relocating to California.
His entrepreneurial spirit ignited early, leading him to co-found an online business with his brother at just 19.
Despite facing a major setback in 2015 when his restaurant and bar burned down, leaving him in debt, Bashar found a transformative opportunity in the world of Amazon FBA.
In 2017, he began sharing his experiences and insights on YouTube, quickly amassing a substantial following.
By 2019, he launched BJK University, where he stands today as a seven-figure Amazon seller, sharing his expertise and marketing skills.
Aspiring entrepreneurs can glean valuable insights from his experiences, despite the challenge of joining his increasingly popular course.
Is Bashar J. Katou real or fake?
Bashar J. Katou is a real individual with a significant presence on social media platforms like Instagram, where he has a following that stretches into the millions.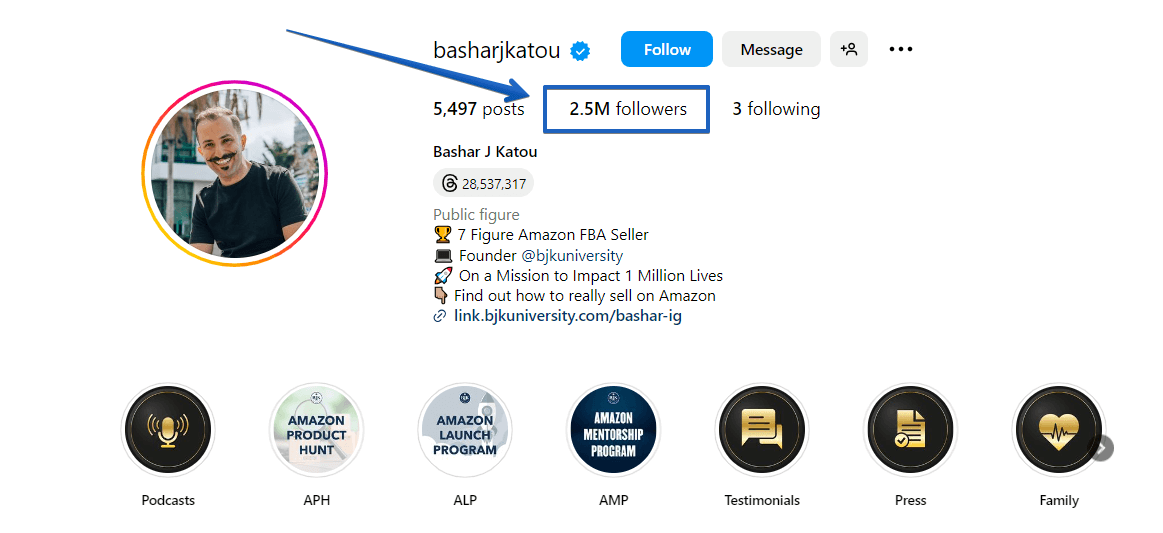 His credibility is further established through the content he produces, his success as a seven-figure Amazon seller, and the establishment of BJK University, a platform where he educates aspiring entrepreneurs.
While the question of "Is Bashar J. Katou real or fake?" may arise due to the common skepticism surrounding online figures, the evidence suggests that he is indeed a real person with a genuine success story.
BJK University Training Program
This comprehensive training program aims to equip participants with the knowledge and skills needed to start and grow a successful Amazon FBA business.
Let me briefly share with you what is inside the training program.
Duration of the training
Approximately six weeks (with ongoing learning).
Topics Covered
Mindset: Developing the right mindset for success in the Amazon FBA business.
Tools: Learning about essential tools for product research, monitoring listings, and analytics.
Strategies and Formulas: Understanding effective strategies and formulas for product selection and pricing.
Finding Profitable Products: Identifying products with high-profit potential.
Negotiation and Supplier Management: Building relationships with suppliers and negotiating favorable terms.
Purchasing, Shipping, Tariffs, Inventory Management: Managing the logistics of getting products to Amazon's fulfillment centers.
Branding, Private Labeling, UPC Codes: Creating and protecting your brand on Amazon.
Amazon FBA Fees: Understanding the costs associated with using Amazon FBA.
Product Listings, Descriptions, Titles, Optimization, Prime Club: Optimizing product listings for maximum visibility and sales.
Organic Reviews and Negative Reviews: Generating positive reviews and handling negative ones.
PPC Advertising, Sales Funnels, Incentives: Leveraging paid advertising and sales funnels to boost sales.
Additional Resources
Five Weekly Webinars: Participants have access to five weekly webinars where coaches share their expertise and strategies for success in Amazon FBA.
Q&A With Coaches: An opportunity to ask questions and receive guidance from experienced coaches.
Facebook Group: A supportive community where participants can share experiences, ask questions, and get advice.
Key Takeaways
Learn Theory and Concepts: Gain a solid understanding of how Amazon FBA works and how to make money through it.
Specific Formulas and Strategies: Learn specific strategies, such as buying products at a price that allows for a 4X markup, and ensuring Amazon's fees are no more than 25 percent of your revenue.
Product Selection Insights: Learn which products to avoid and which ones to focus on for maximum profitability.
Practical Tips: Receive practical advice on how to start, including product categories that are beginner-friendly and how to manage competitive products.
It seems like the training at BJK University could be valuable for aspiring Amazon FBA sellers.
The program appears to offer practical and realistic advice, emphasizing the importance of selecting products that people want to buy, selling convenience, and understanding the challenges of competing with top sellers on Amazon.
The course seems to take a strategic approach, advising against selling certain types of products that might be recommended by other courses and emphasizing the need to be on the first page of Amazon's search results.
It also highlights potential challenges, such as the difference between search engine optimization (SEO) for a website and product visibility on Amazon.
How much does it Cost?
If you're considering enrolling in BJK University to start your own Amazon FBA business, it's important to understand the associated costs.
The table below provides a comprehensive overview of the various expenses you may incur, including the cost of enrolling in BJK University, purchasing tools and inventory, and other optional costs.
| Cost | Amount |
| --- | --- |
| BJK University Enrollment | $3800 (Lifetime Access) |
| Tools (JungleScout/Helium10) | $29/month |
| Inventory | $1000+ |
| UPC Codes | $5 to $10 per code |
| Brand Logo | Free to $100 |
| Product Photos | Free to $100 |
| Amazon Seller's Account | $0.99/unit or $39.99/month |
| Amazon FBA Fees | 25% of total revenue |
| Optional Costs | |
| Product Sample | $100+ |
| FBA Inspection Service | $150 – $300 |
| Total Budget | $10,000 to $15,000 |
By clearly understanding these costs, you can better prepare your budget and set yourself up for success in the Amazon FBA space.
BJK University Red Flags
Despite its promises and offerings, BJK University does have some aspects that could raise concerns
Sales-Oriented Presentation
BJK University's marketing leans heavily towards showcasing an enviable lifestyle, with references to substantial returns on investments and mentions of five and six-figure months.
While the founder, Bashar, does temper these claims with more realistic expectations about Amazon FBA, incorporating luxury images like yachts and Ferraris may give off a "get-rich-quick" vibe.
Lack of Transparent Pricing
The absence of clear pricing information on BJK University's website can be off-putting.
Many educational institutions provide tuition calculators or upfront pricing details, but BJK University leaves potential students in the dark until they speak to an enrollment coach.
This lack of transparency might suggest a higher price point.
Emphasis on Sales, Not Profits
BJK University frequently highlights significant sales and revenue numbers.
However, these figures can be misleading without the context of associated costs, such as product expenses, shipping fees, Amazon FBA fees, and advertising costs.
Sales numbers alone don't paint a complete picture of a business's financial health.
BJK University Reviews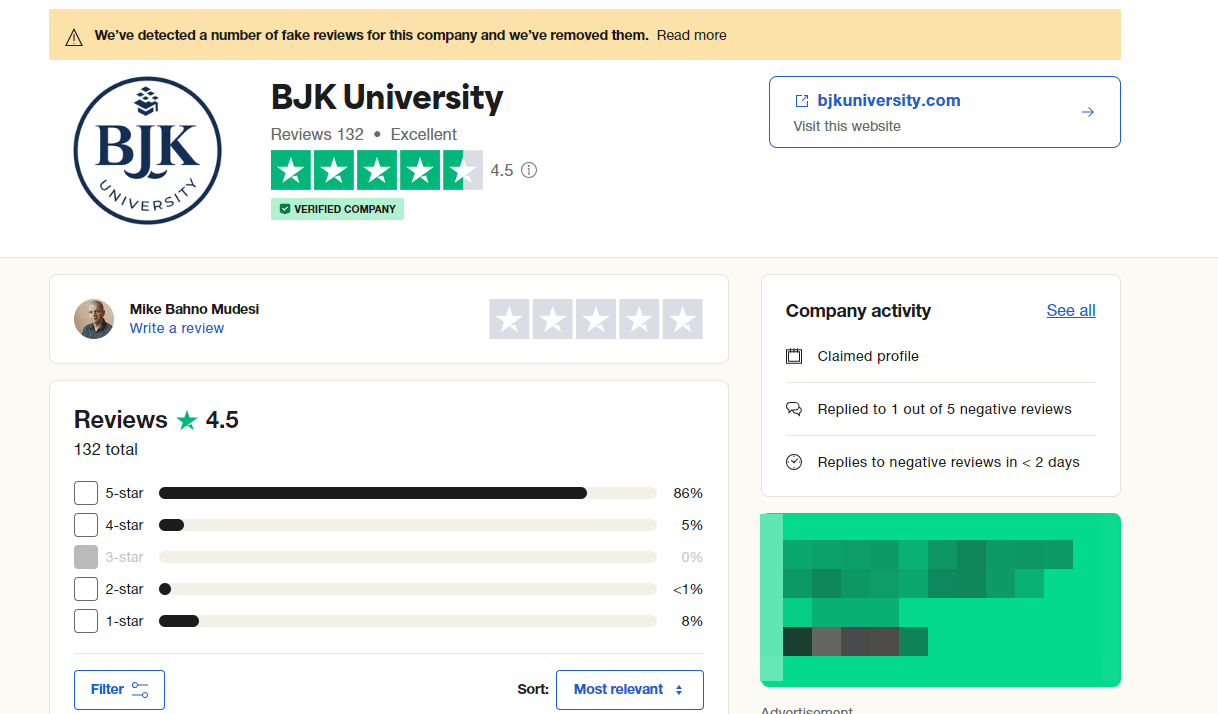 When considering any educational platform, hearing the experiences of past and current students can be incredibly valuable.
In this section, we'll explore user-generated reviews of BJK University from Trustpilot, providing you with a comprehensive summary of the opinions shared by users who have interacted with the platform.
This will offer you a more balanced perspective and aid in your decision-making process.
Positive Aspects of BJK University
Comprehensive course materials, up-to-date webinars, and excellent teacher support are frequently highlighted by users.
The platform is praised for its supportive community and coaches, as well as its engaging atmosphere.
Users mention successful product launches, expressing confidence in their Amazon FBA ventures after gaining experience and knowledge through the program.
Negative Aspects of BJK University
Some users felt there was an element of "lifestyle" selling, which felt like a get-rich-quick scheme despite assurances to the contrary.
Concerns were raised about showing sales without providing profit context, leading to potential misunderstandings about financial success.
There was criticism of course materials' quality and customer service responsiveness, with some users facing difficulties obtaining refunds.
Noteworthy
BJK University staff consistently respond to Trustpilot reviews, which suggests an attentive and responsible approach toward user feedback and is indicative of a legitimate platform.
Conclusion
In conclusion, BJK University presents itself as a comprehensive platform for those looking to delve into the Amazon FBA business.
The course boasts a wealth of resources, from detailed materials to live webinars and a supportive community. However, potential users should be mindful of the red flags raised by some, including concerns over sales transparency and customer service.
Overall, the consistent responses from BJK University staff on Trustpilot reflect a commitment to user satisfaction, reinforcing the legitimacy of the platform.
If you have any questions or need further clarification, feel free to drop a comment below. I'm here to help!
Thanks for reading,
Mike