This is going to be an updated review of the CB Cash Code.
As for the 30th of September 2019, I have found out that this product is not available on ClickBank anymore.
However, when I checked the sales page, the product is still active.
It is possible to find it on the website called ClickBetter.
I will include also the possible reasons why the product has been removed from ClickBank.
Before that let's do the CB Cash Code Review.
(BTW, despite this product has moved to ClickBetter it has not changed at all. It still has the same sales pitch including the fake testimonials and the same back office as before.)
I did a review of the product called CB Passive Income 5.0 from Patrick Chan.
Then I got questions regarding the name. People were asking me if there is any similarity between Patric's product and CB Cash Code since they both use the CB in their names and both mean ClickBank.
It is the only similarity in the names and these 2 products have nothing in common. Whereas CB Passive Income has some value, the CB Cash Code has little to zero value, and we are going to find out later.
You also may be asking whether this system is a scam or not. It depends on how you define scams.
To me, it is just a very poor product with hype sales videos offering a few PDF pages for 37 bucks.
Yes, the "training platform" is just 4 e-books or PDF files. Therefore this review will not take long as there is not much to say.
But I will do my best to reveal as much information as possible.
Name: CB Cash Code
Website: www.thecbcashcode.com
Price: Advertised Price $37
Owners: George Patterson
Product Overview
This system supposedly teaches how to make money online using affiliate marketing and ClickBank. You would basically promote products that are listed on ClickBank and if someone will buy it you get the commission.
I mean this is a legit way and there are tons of businesses and individuals doing great with Affiliate Marketing.
But no one would be able to earn a dime using the CB Cash Code and we are going to find out why:
The sales video has the same pattern as other similar products, such as Explode my Payday, or Million Dollar Replicator. They promise you huge earnings for almost no effort.
For testimonials, they use paid actors. You can tell by yourself:
As you see these are paid, actors.
I have just checked the first lady. If you go to the website Fiverr, you can find her offering to be your spokesperson.
The video continues with some story, how this George guy met up with his friend and they developed the system. It took them about 5 days and nights and came up with a " done for you" system because they want to help others as well.
I appreciate the intention of helping others, but in this case, I am sure they only help themselves. That is taking advantage of people like me and you.
The claims inside the sales video are unrealistic, especially for a beginner.
The Good & the Bad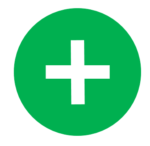 Money-Back guarantee (like in any other ClickBank Product)
n/a
n/a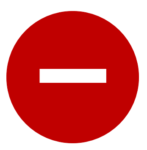 Unrealistic income claims
Upsells and Fake Testimonials
" Educational" material consists of few eBooks, only
Who is it For?
Such products are meant for everybody. For a total newbie with zero previous skills. Let me tell you that they are right – I am afraid that this is the right group of people they intent the product to sell to.
It is sad, that they take advantage of people who try to find an additional income online. I still do wonder how it is possible that such products are still out there. But apparently, they work.
And to be honest – when I watch such sales videos I still have few weak moments, and there is something back in my head, saying: "well this must work, right – it must be a way to make at least a few hundred". Fortunately, this fake thought lasts no more than 2 seconds. Well, call me (ex-)naive 🙂
Emotions aside.
This product simply can not work – you can't just invest 10 minutes a day and make money online.
CB Cash Code Tools & Training
We have seen in the first paragraph that this product has not much to offer. Few pages of PDF eBooks, with questionable quality. If you want to learn something about affiliate marketing, you can easily go to Amazon and buy a book for $3-$5.
Some Audible books are for free, I believe.
But let's take look at the platform inside just briefly.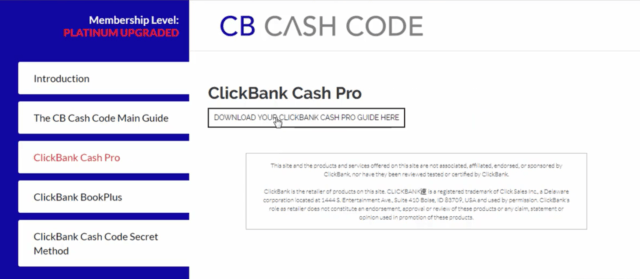 This is the screenshot from their introduction page. The menu on left only brings you to a link where you can download the eBooks. For example, the ClickBank Cash Pro has about 50 pages. Here is the content:
You will find also some screenshots inside, which are very hard to read. That means to me, that they did not put a lot of effort into the creation of these PDF files either.
Support
There is no support.
And actually, you do not need support for downloading some eBooks.
The only support you are going to need (in case you accidentally bought the product) is the ClickBank Customer Service where you will ask for a refund.
Recently CB Cash Code can be bought on ClickBetter. ClickBetter has the same policy as ClickBank. Meaning you can contact support, and within 5 business days, you have your refund back on your account/credit card.
CB Cash Code Price Structure
It is funny like they say that for that tiny price of $37, you can completely change your life.
The price of the product is $37.
Depending on your location, its total price may vary based on the VAT you might pay.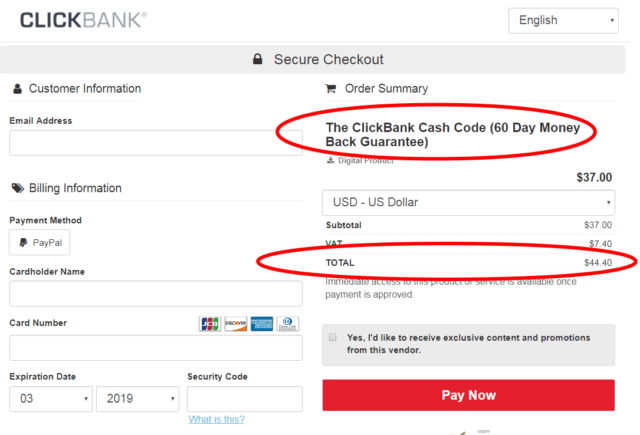 The price of CB Cash Code has not changed after it remains the same also if purchased from ClickBetter.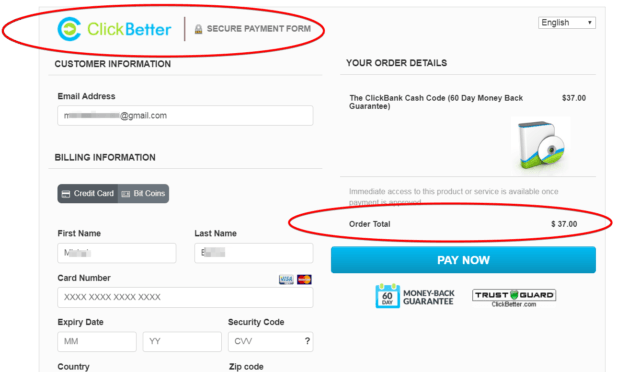 I am not sure if you had a chance to watch the entire sales video, but they do say that there are no hidden fees – no repeat costs.
It almost seems like there are no hidden fees, no upsells.
Well, there are.
I took a look at the screenshot from the ClickBank site from the section for affiliates. They always reveal how much you can make if you sell this product.
It says up to $240 per sale. That is the commission that is paid to you if you sell the full product.
How could someone sell a $37 product and gives you a commission of up to $240 per sale?
Something is not right here, right?
Here is the explanation:
There are upsells. In fact 2 of them.
One for $197 and the other one costs $147.
You are promised to get more traffic, but it does not say how there is literally no information about these "extra costs".
My Final Opinion of CB Cash Code?
"You only need an internet connection, 10 minutes of free time each day, and a desire to become extremely wealthy!" -> These are requirements for those who want to make money with this product. I believe that even an 8-year-old kid would not believe such a lie.
As we have seen with upsells one can easily spend up to $400! That is a lot of money for nothing.
Without having the money-back guarantee, this would be a 100% scam.
Why It is not Available on ClickBank Anymore?
In the last few months, I have noticed that many products have been removed from ClickBank Marketplace, including Affiliate Cash Club, Secret Profit Club, and many others.
I have contacted ClickBank support to find out why, and their feedback is that there might be several reasons.
For example, a high refund rate, guarantee problems, or other issues.
To me, it means, the ClickBank tries to keep only vendors who deliver the value to the customer. If the refund rate is high, it means the customers are not happy with what they purchased.
And that is exactly the case also with CB Cash Code.
Save your time and don't fall for it.
If you are looking for ways how to make money online I can help you with that as well.
But I must warn you. It will definitely require more than a few clicks and 10 minutes a day.
Building business online requires effort and without that, no one can succeed.
If are OK with, that then please go check my review about one educational platform. You can also take advantage of the Free trial starter membership. You only need an email to start.
Once you sign up you are inside the platform, you can check out the training and apply what you learn.
This free starter membership is for the entire week.
CB Cash Code at a Glance…
Name: CB Cash Code
Website: www.thecbcashcode.com
Price: Advertised Price $37
Owners: George Patterson
Overall Rank:

VERDICT:
Clickbank Cash Code is supposed to be a platform where you learn how to promote other ClickBank products. I believe you will find many tutorials on YouTube on how to promote CB products. For Free of course.
You do not have to purchase CB Cash Code. Find a way how to spend $37 more wisely.
Or go to check other products but just be careful, since there are so many similar scammy platforms. I understand that for someone this does not necessarily mean a scam. But you must admit that these particular E-books are really expensive, don't you think?
In case you have questions about CB Cash Code or affiliate marketing let me know in the comment section below.
I would like to hear other opinions as well.
Cheers, Mike
🙂
How to Get Started with Affiliate Marketing Business?
I have been a member of Wealthy Affiliate since late 2017 without a prior marketing experience.
Beginning of 2018 I have learned how to build a website that drives traffic and makes sales.
Since the summer of 2019, I am a full-time internet marketer and I work from anywhere I want, whenever I want.
Training within Wealthy Affiliate teaches how to generate a consistent income in the long run.