If you have come across Rain International, you are probably curious about this MLM company.
You want to find out more, whether it is something that you can make money with, or is this another pyramid scheme?
This article is intended to show you whether there is a chance to start your own business as an independent seller (distributor) for Rain International.
I am glad you do your due diligence. In this review, we are going to reveal all the information about the products, compensation plan, and most importantly whether you can earn some money with Rain International.
Disclaimer:
Please note, that I am not a member or an affiliate of Rain International.
This review is based on research and information available online in the public domain. Any recommendations and conclusions are only opinions and may not apply to all persons or situations.
Rain International Overview
Name: Rain International
Website: www.rainintl.com
Price to Join: $249 to $1,259
Recommended: No
What is the Rain International?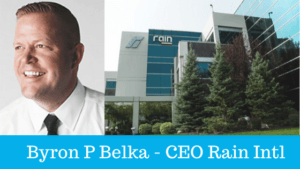 The company seems to be the world leader in seed nutrition. This is a very unique product especially when it comes to the market in the health and wellness field.
It is located in Utah like many other MLM companies (f.e. Tranont or 4Life). No wonder, Utah is "the unofficial world capital of multi-level marketing and direct sales companies." (source: KUTV)
There is lesser government interference, so that is why many network marketing (like MLMs) companies have their headquarters there.
Rain International has been founded in 2011. It has been around for almost a decade. For an MLM company, it is always a good sign.
Most such companies do not survive the 5th year (some of them even less).
There are several reasons. Sometimes they have very expensive products o sell, so they just can't compete. Others were shut down due to the FTC rule violation.
Rain International – Website Information
I wanted to quickly mention the website rainintl.com.
By looking at the traffic to their website, we can get an idea of how their business is doing. If there are fluctuations in traffic, it could indicate something is amiss.
And if there is a significant drop that doesn't bounce back, it could suggest an issue with their business model.
Let's examine the Rain International website's traffic from May 2021 to May 2023.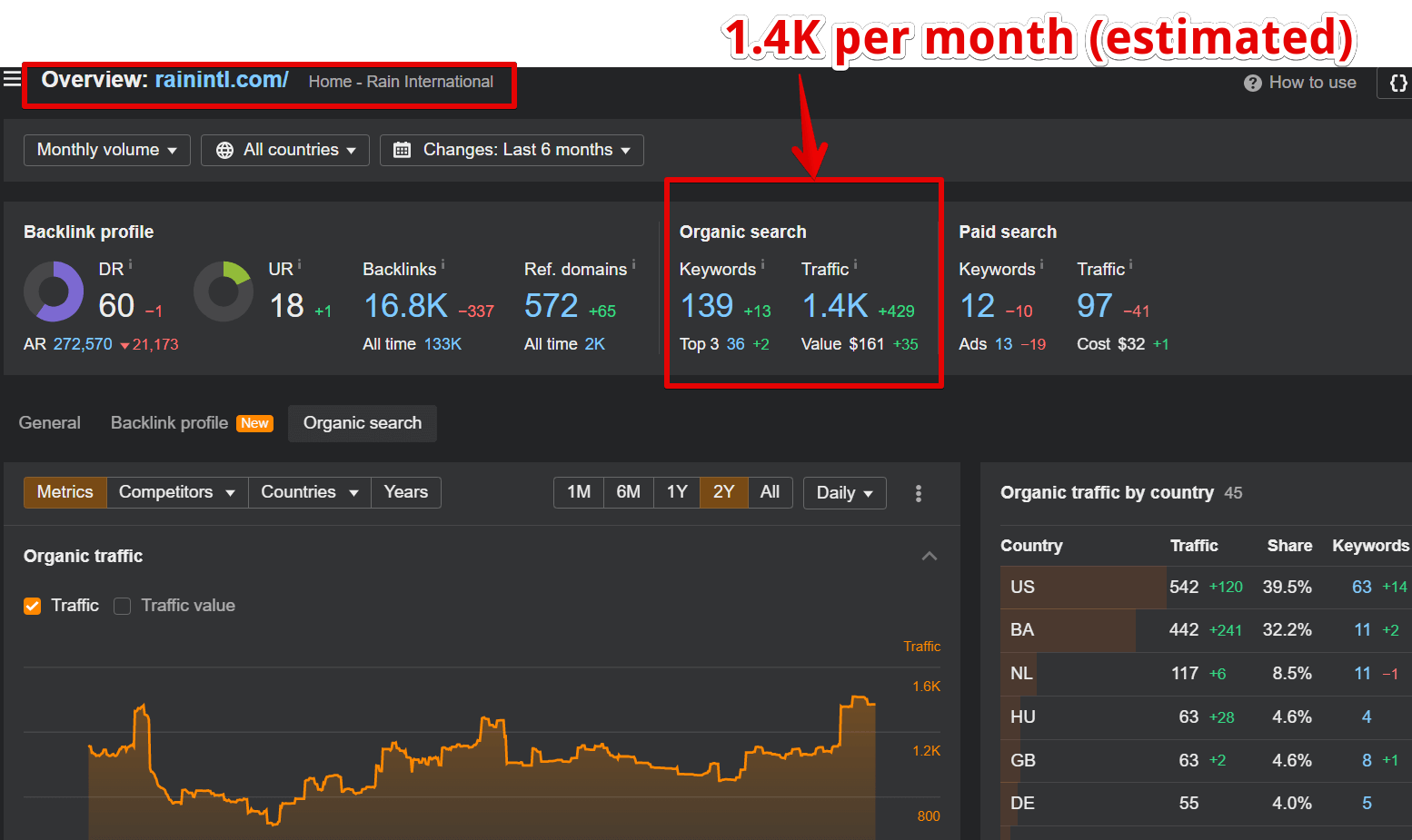 It appears to be consistent, with an average of 1,400 visitors per month.
No issues there 🙂
Who is the Founder of Rain International?
The founder is Byron Belka and he is also the CEO.
He has more than 10 years of experience in MLM businesses. Before Rain International, he was working for different MLM companies (eXfuze and NuSkin).
Apparently, he tried some seed-based products as well and found out that they have a positive effect on his body. After other people had the same experience, he decided to build his own MLM company.
It is said that each of the Rain International products is created from seeds. The seed is considered a source of health. According to the official page, the products distributed by Rain International, are seed-based supplements that cooperate with your body.
Here is a fancy video explaining why seeds are best for your body.
Basically, seeds have vitamins that strengthen your body and they are a source of nutrition.
I have stumbled upon some scandals as well.
One of them is that a former distributor revealed a lab test of one of the products. The results were that it contains sugar and colored water.
Rain International had also some issues with expired products being sold.
Is Rain International an MLM or Pyramide Scheme?
As we have mentioned above, many MLM companies had to close down their businesses due to activities that are not in compliance with the law. Many of them are just pyramid schemes in disguise.
Here is a short video, which shows the difference between these two models (direct selling vs Pyramid Scheme).
Based on that, we can say that technically Rain International is not a pyramid scheme. I wanted to bring this video up since many people use the term "pyramid scheme" loosely.
And I don't blame them, but I want to give you accurate information.
Rain International is a legit MLM company, but later we will see that there are some allegations regarding the outdated products being pushed over to Nigeria and being resold there.
Even if it is a legit MLM business, it does not mean that it is easy to make money with it.
The compensation plan is very difficult to comprehend (on purpose) and the company Income Report is not available.
What is the Price to Join?
Please note that in order to join Rain International you must be provided with the upline user ID (your sponsor ID).
There are several packs you can choose from.
Based on the pack you also pay a different price and you have different benefits/products.
(Please note the following list is valid as of May 2023).
Rain International's business starts with an Enrollment Kit.
The Kit includes products, tools, and Business Centers. Business Centers are the starting point to build your team.
You can choose from different Kits with 1 or 3 Business Centers. Having 3 Business Centers can help you build a bigger team and earn more. Just pick the Kit that best suits your needs.
To mention a few:
Super Elite Kit
Super Elite is a package offered by Rain International for those looking to establish their online business. For a one-time payment of $2,727.00, you'll receive a technology fee, referral site, and business intelligence software, among other things.
The package includes a wide range of products, such as
12 Soul,
8 Core,
4 Bend,
4 Red,
4 Pure and others
These products are designed to give you a variety of options to offer your customers.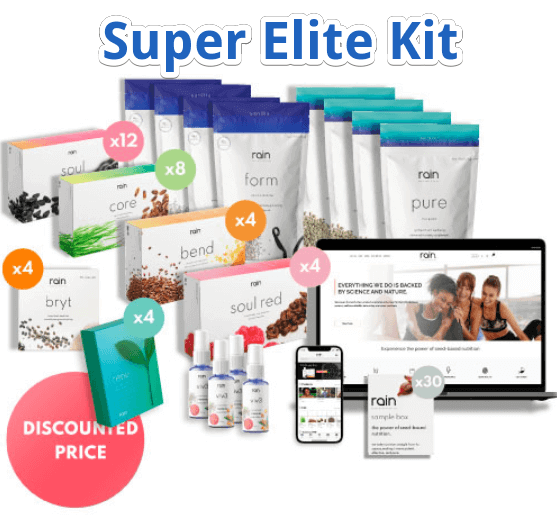 Moreover, Super Elite provides you with 1200QV, 1000CV, and 100 PV/CV for 5 months, and 3 business centers to help you grow your business.
Additionally, the package offers an extra 10% team commission payout for 180 days (for New Rain Partners only).
The Rain Connect App is included in the package, which helps you stay connected with your team and track your progress on the go.
Elite
Introducing Elite, a package that could take your online business to the next level.
For a one-time payment of $1,365.00, Elite provides you with the essential tools to set up your online business, including a technology fee, referral site, and business intelligence software.
You'll also receive 6 Soul, 4 Core, 2 Bend, 2 Red, 2 Pure, 2 Form, 2 Bryt, 2 Renu, and 2 viv3 products to offer your customers. With 600QV, 500CV, and 50 PV/CV for 5 months, you can jumpstart your business and take it to new heights.
With the Rain Connect App, you can keep track of your team and monitor your progress on the go.
Pro: FOCUS
Pro: FOCUS, the package that promises to give your online business the boost it needs.
For a one-time payment of $560.00, you'll get all the essentials to set up your online business including a Technology Fee, Referral Site, and Business Intelligence Software.
Pro: FOCUS also comes with 4 bryt, 4 red, 2 pure, 1 renu, and 5 Sample Credits.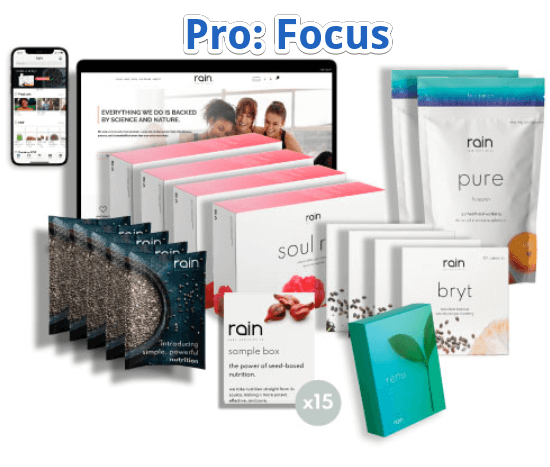 You'll also receive 3 Business Centers to help you grow your business. And to top it off, Pro: FOCUS includes an additional 5% team commission payout for 90 days (for New Rain Partners only).
With the Rain Mobile App, you'll be able to easily manage your business from anywhere. Pro: FOCUS offers 225CV / 300QV, which will help you to get started with Rain International.
The whole list you can check directly at the Rain Internation Enrollment page.
Please note that the joining price also differs on your location and VAT.
How Can You Make Money with Rain International?
The first thing that comes to my mind regarding the earning potential is the missing (or not available) income report.
MLM companies that have been around for such a long time should have accessible income reports – just like Tema National, or 4Life.
It is even against the law, not to have this document.
What is the reason for not revealing it? Is there something they don't want to show us?
Income reports should be issued every single year.
Let me share with you a video where it is explained how the Rain Int. compensation plan works:
(Don't worry if you don't get it after the 1st time watching. It is a very complicated plan and it is no coincidence that MLM companies do have such complicated plans.)
The more complicated plans, the more they can hide when recruiting. You can read the complete document as well.
It is a PDF 24 pages long.
The bottom line is that it is extremely difficult to make a decent living as the Rain Intl. distributor.
There are 11 levels within Rain International.
This is a very deep structure. It is very difficult to rank at the top levels. Also, can you imagine how hard must people at the bottom work to feed all the levels above up to the very peak?
Generally, most people within any MLM do not make any money, or make very little (a couple of hundred per year).
Usually, it does not even cover the required fees and/or membership.
From 80% to 99% of people joining the MLM lose money.
There are also some scandals regarding the re-selling of products in Nigeria that were already expired.
What do I like about the Rain International?

There is not that much to like about Rain International. The only positive thing I can think of is that it has been around since 2011. That means it is not a scam nor a pyramid scheme (otherwise it would have been closed down already).
But partnering up with Rain International will not help with your financial situation (it may worsen it)
What I don't like about Rain International?
As we have seen in the compensation plan it is very difficult to make a commission just from selling the products. Therefore the only way how to generate some income is from recruiting. Having said that, Rain Internationally practically borders companies that are classified as pyramid schemes
Reputation is damaged by the scandals concerning the real ingredients of their product (sugar and colored water) and pushing the distribution of expired products in Nigeria
Products are very expensive
Autoships – A person willing to buy 1 product is forced (by the system) for an auto-ship. Meaning that the system automatically sends you a new package each month.
Missing Income Disclosure – Every major company (including the MLMs) should have an accessible income disclosure document.
Rain Intl. has been on the market since 2011, so it is unacceptable that Rain Intl does not have one single income report for the last (or any of the previous) years.
Some Thoughts at the End
I don't have all the background and laboratory tests regarding the products, so I can't say much about that.
Maybe just a personal note: When it comes to health, it is important to eat a lot of vegetables, and eat smaller portions 4 or 5 times a day.
Most importantly one should not eat between these meals so the body has time to digest the food.
Another recommendation would be to have at least 2 hours of gap between the last meal and sleep time.
But I can certainly say that if you want to make some money, you don't want to do it as a Rain International Distributor.
Regardless of the company's history, this is not a good business model.
The company does not reveal the compensation plan and to me, it is a big red flag.
It seems like they want to hide something.
When we take a look at a different MLM company (for example IM Master Academy), we see that they have published their income report, despite the fact showing that only a few people really make a decent living.
I am not saying that Network marketing does not work.
In general, it works. But none of the MLM I am aware of focuses on proper training and education. It is mostly about recruiting and the products are just secondary because let's face it;
Recruiting is the only way how one can make money within the MLM.
If you prefer selling the products, good for you.
But again – As for the products, it is very limited in my opinion. You can't switch to a different product unless you completely change the company.
I have a friend who started his own company as an affiliate. He does not sell any products. He became a partner with Amazon, built up a website, and learned how to drive visitors to the website.
It took him about 6 months to get the 1st sale, but less than a year later he was generating $3,000+ per month (how fast you can make a sale depends also on the niche you choose). This is just one of many examples.
But I digress.
There are also complaints about Rain International, being a pyramid scheme or that the products are not FDA-approved. While I can't 100% agree with the former (even though Rain International has pyramid scheme signs), the latter is true.
It also happened that customers received a product that was 5 months after the expiration.
This person got sick, but apparently, nothing serious happened to him.
Other reviews contain neutral comments, some of them claim that it did not have any effect on the body.
How About Internet Marketing? Easier Way to Generate Income
Would you prefer to work from your home on something you actually like?
Or you are good at, passionate about?
Or how about this – you don't have to have a passion for a particular thing. You may be interested in buying a new bed and/or mattress.
Do you know that you can create a website, post valuable content for everyone interested in this topic, and actually make money?
Your question might be – how much?
Sure, first of all, it all requires work and also the application of specific knowledge (like SEO, or affiliate marketing). Let me give you a link where you can check out for free how much such training looks like.
Take a look and let me know what you think about that.
Would you prefer the MLM, focusing on one product only, or you would like to gain general knowledge and eventually start an online business in whatever field you like?
Thank You For Reading,
Mike.