Brko Banks is an interesting name – that was my first impression when I stumbled upon this person and his training.
Apparently, this guy is an internet marketer offering a course on affiliate marketing and he also teaches how to make money on YouTube.
Let's take a look at what he has to offer.
In this Brko Banks Review, we will go over his courses, to check what is it he has to offer, how deep he goes, and most importantly what is the price he asks.
From what I have seen so far, they are pretty expensive, so they better be good.
Disclaimer
Please note, I am not a member or an affiliate of the Brko Banks course. This review is based on research and information available online in the public domain.
Any recommendations and conclusions are only opinions and may not apply to all persons or situations.
Quick Overview
Name: Brko Banks Review
Website: www.brkobanksyoutube.teachable.com
Price to Join: $197 or $1,000 (Depends on what course you choose)
Recommended: Not really
Brko Banks Course Summary
Brko Banks is a person selling course where he teaches how to make money with affiliate marketing selling ClickBank products.
His other course teaches how to make money online on Youtube.
There are two major issues with his courses:
The information within the courses are basic (he does no go deep enough)
The price for both; His YouTube course is expensive and the course on Affiliate marketing even more expensive.
You can find a lot of this information available for free.
There is no need to spend several hundred dollars on this training.
Affiliate marketing is quite complex but with proper training, it can be learned in a few months.
There are many platforms teaching how to make money with affiliate marketing and some of them offer a free trial.
Here is the training I have taken and after the trial period, upgraded my membership to premium and now I earn 4 figures.
Sign up for Free and I will guide you through the platform.
No Credit Card Needed – Just your email.
What is this Brko Banks Course?
Brko Banks is the name of a person who offers two different courses (or three?)…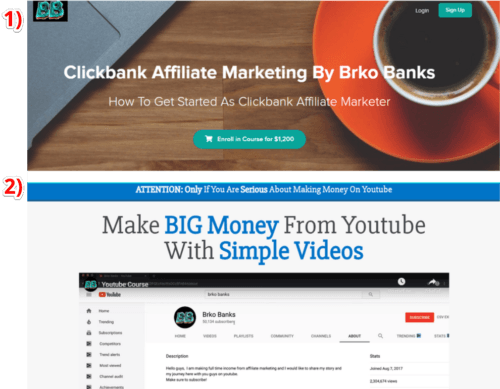 He does not have his own domain, but his course is to found at the teachable.com subdomain. Brko can be found on Youtube.
1) ClickBank Affiliate Marketing
I am sure you are familiar with ClickBank.
ClickBank is an affiliate network that works as an intermediary between merchants and publishers.
You can create an account with ClickBank, choose a specific product within your niche, and you can promote this product.
If someone buys it, you get a commission.
What is Brko teaching exactly?
We are going to cover that in a bit.
2) YouTube Course
This is the 2nd course that Brko has in its portfolio.
He teaches how to make money on Youtube without showing one's face. This sounds pretty hot and we all know that there are a lot of YouTube channels making thousands of dollars per week, or even per day.
[3]) Is there the 3rd Course?
Well, yes there is, but it is a little bit confusing.
First of all, there is no video that shows what the course is all about.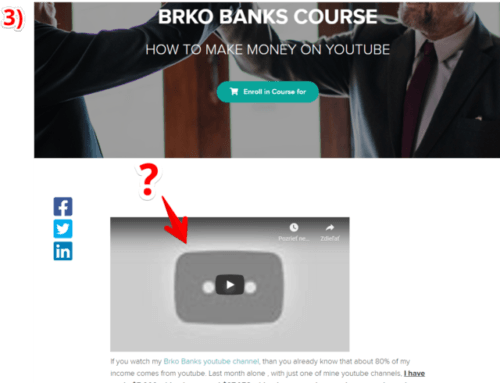 The price is the same as for the Youtube Course, but to me, these two are pretty similar and they both should be merged into 1 course.
Who is Bark Banks?
There is not a lot of information about who this person is.
He has his own YouTube channel since 2017, but it does not show where he is from.
It is not a big deal, but it would be nice if he reveals a bit of information about him.
According to my research, Brko started with the YouTube channel a couple of years ago. He has learned how to monetize the channel and on top of that how to make money with affiliate marketing.
No, he decided to create his own course and earn some money.
Brko seems to be a real person, even though there is no information about him.
Who is this for?
Brko's courses are supposed to be for everyone who wants to learn how to make money online. Both courses are for beginners.
At the same time, one must realize that they are pretty expensive and everyone who wants to learn how to make money online should do his or her own research.
My point is that there is a lot of information available for free.
So please do your own research and decide which way you want to go.
Is it going to be affiliate marketing?
Or do you want to learn how to make money on Youtube?
You can check Brko's Youtube channel to find out more.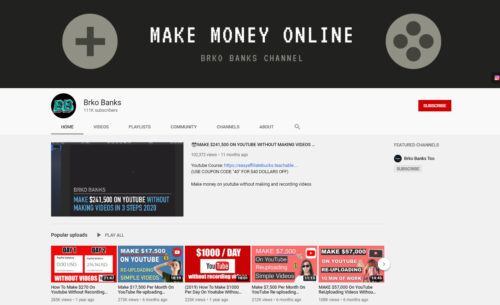 He is not the only one who offers such training.
Not a long time ago I stumbled upon this guy, called Matt Par.
He also runs a youtube channel and teaches basically the same thing.
He has also his own course called Tube Mastery and Monetization by Matt Par, but Matt has also a ton of materials on YouTube available for free.
With all the being said, my advice is, check the free material available online, compare it, take a deep breath, and then decide which way you want to go.
When it comes to the affiliate marketing course, there are a lot of platforms out there.
They all are different in quality and price.
One interesting fact is that there are not many platforms that offer a free trial (I mean a real free trial where one doesn't need the credit card).
This is going to be sound like a shameless plug, but I have also joined a platform that has 7 days of free training, and only after the testing I have decided to become a premium member.
How Does it work?
Let's take a look at the courses Brko sells.
1) ClickBank Affiliate Marketing by Brko Banks
This course should teach you how to get started as a ClickBank affiliate marketer.
Here is what is inside of this course:
What is ClickBank
How to find the product
How to promote the product (using affiliate links)
How to rank and get customers
How to create paid ads.
According to Brko, there are many more.
Let me tell you, that this is pretty basic knowledge and can be found for free. One doesn't have to pay hundreds of dollars to find out more about ClickBank and how to make money.
Brko's training is video training, divided into several sections.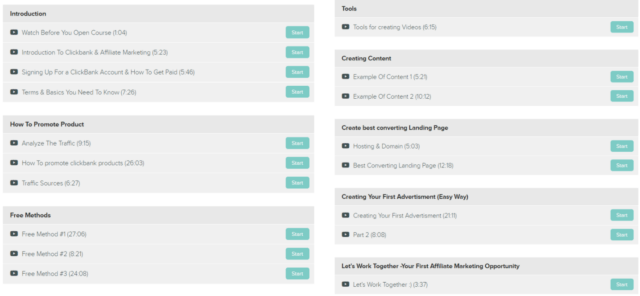 It lasts a little over 3 hours.
Now I know from my experience that a good webinar about researching a niche lasts at least 80 minutes.
And that is only a tiny portion of what needs to be learned.
There is no way that after watching 3 hours of videos about Affiliate Marketing, you can go online and start earning within a few days.
In order to make a first $1 online with affiliate marketing, one must put effort and time into it.
In this guide, it is explained how to do it.
2) Youtube Course
We have touched this already and there is not a lot more to say.
He says that he generates 6 figure income every single year. His channel has more than 50,000 subscribers and still growing.
I think this is a true statement.
In fact, If I had to choose which one of these two courses to take, I would go for Youtube training, because it is much cheaper.
But one thing I need to mention.
Even if you create a youtube channel in your favorite niche, you must realize that it will take at least 50 uploaded videos until you see some traction.
With that being said you have to be patient and be willing to wait from a couple of months to a year until your channel will be monetized.
What is the price of Brko's courses?
By now you know both are expensive, but the one teaching affiliate marketing is ridiculously exaggerated, considering the quality of the course.
1) ClickBank Affiliate Marketing by Brko Banks
The basic price for the course is exact $1,000 (before tax, but that depends on your location).
The payment can be done via PayPal or Credit Card.
2) Youtube Course
This course costs $197 before the tax.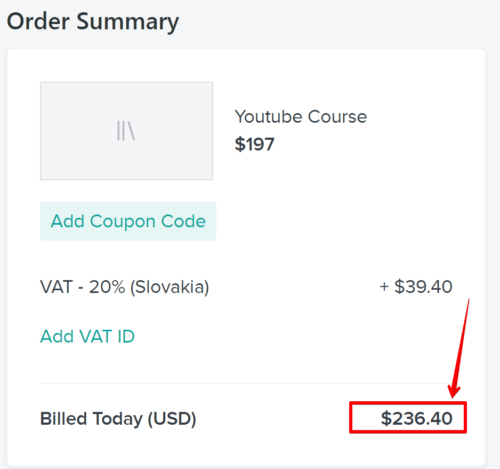 Depending on your location, you have to include the VAT. In my case, it is 20% so I would pay $236.40.
3) The third course…
The third course is not available.
At least as of this writing, it was not possible to enroll.
Money-back guarantee?
You can ask for your money back if you are not satisfied with the product. Although both have slightly different policies:
14-Day Money-Back Guarantee under the condition that you have viewed less than 20% of the Clickbank Affiliate Marketing course.
A 30-Day Money-Back Guarantee for the Youtube training, if you have viewed less than 30% of the course.
What I like

He offers some value in his course and teaches what works.
But at the same time, it is important to mention that the courses are vague.
What I don't like
Too expensive
Social media icons are not linked to his Social media profile. They are directed to promote his course (after clicking you are directed to your profile with an attached link to Brko's course)
Both training courses are very basic and are not worth the price.
Some Thoughts at the End
Bra Banks is a legit guy offering 2 courses on a subdomain called teachable.com.
This guy makes money on YouTube and now he teaches how you can make money the same way. His courses are overpriced and I am sure you can find a lot of stuff on Youtube as well, for free.
I am sure he is a nice guy but he should offer more value in his courses or make them cheaper.
Brko is one of the guys who want to earn his first $1,000,000 within 24 hours.
He does not realize that for that he needs a ton of traffic, be active on social media, not only on Youtube.
So that wraps up this review and now let me ask you a simple question;
What way do you prefer to make money online?
1 Affiliate marketing?
or
2) Monetizing your Youtube channel?
Let me know please which business model works for you in the comment section below.
Also if you have any other questions make sure to ask them and I will do my best to give you feedback within 24 hours.
Thank you for reading
Mike
How to Get Started with Affiliate Marketing Business?
I have been a member of Wealthy Affiliate since late 2017 without a prior marketing experience.
Beginning of 2018 I have learned how to build a website that drives traffic and makes sales.
Since the summer of 2019, I am a full-time internet marketer and I work from anywhere I want, whenever I want.
Training within Wealthy Affiliate teaches how to generate a consistent income in the long run.