I do reviews of digital products, MLM companies, companies within a trading niche, and so on.
I have received a comment on my other article asking me to do research on a company called PGI Global.
That person wanted to know whether it is legit, or if one should avoid PGI Global.
Well, Is PGI Global a Scam or not?
In the next few minutes, we are about to find out what is this company all about. How do they work, what are the Pros and Cons, and by the end of this article, you will know if this is something for you.
I might mention some alternative ways of making money online so hopefully, you will enjoy this review.
Disclaimer
Please note, that I am not a member or an affiliate of PGI Global. This review is based on research and information available online in the public domain.
Any recommendations and conclusions are only opinions and may not apply to all persons or situations.
Overview
Name: PGI Global
Website: www.pgiglobal.trade – Domain Is For SALE
Price to Join $100 to $500,000!
Recommended: No!
I recommend Affiliate Marketing. Check the Pros and Cons of both business models (Affiliate Marketing vs. MLM).
PGI Global Review – Quick Summary
PGI Global is a Crypto MLM company, that was registered in 2020. Their potential clients can invest in Bitcoin on the promise of an alleged 200% ROI.
Not only that these promises are ridiculously exaggerated, but also the fact the CEO of this company is a person who was already involved in several Ponzi Schemes.
This alone is a huge red flag and I don't recommend joining PGI Global.
PGI is just another MLM Ponzi Scheme that eventually will collapse, once the recruitment of new members stops.
As you know, Pyramid schemes are illegal almost in every country, so I strongly recommend, not joining PGI Global.
There are many legal ways how to generate consistent income.
If you are really interested in trading, I can show you a legitimate company that has plenty of educational materials, provides trading signals and members have direct access to mentors.
It is also great for beginners.
The name of the company is Forex Signals and you can find out more about this company at the link below. 
What is PGI Global?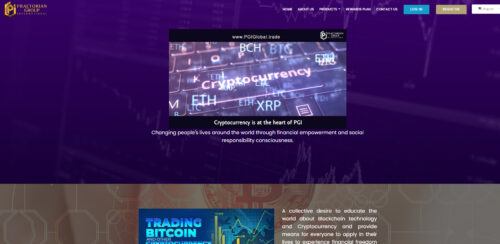 PGI Global or Praetorian Group International is an MLM company dealing with cryptocurrency. They promise to manage your Bitcoin on a single platform.
Apparently PGI Global is an authorized cryptocurrency trading company.
PGI Global offers also tangible products in a Health and Wellness niche, especially products related to traditional Chinese medicine.
Members can also earn money by recruiting others to join the system.
From my experience, I assume that this will be the main way how members make money.
But let's dig deeper.
The company's website was registered only recently (as of this writing), in April 2020.
So this is a new company and their website gets millions of visits.
The traffic comes mostly from the USA, UK, Peru, and Iraq.
Who Runs the PGI Global?
Ramil Ventura Palafox or also known as RV Palafox.
He is the founder and also CEO of PGI Global.
This person was also the president of the infamous AI Trade or also (called AI Trades Global).
AI Trade was an MLM cryptocurrency Ponzi scheme and its website has been down for some time.
The same with their social media accounts (LinkedIn, or Facebook).
Here it is obvious that the previous name of PGI was AItrades Global.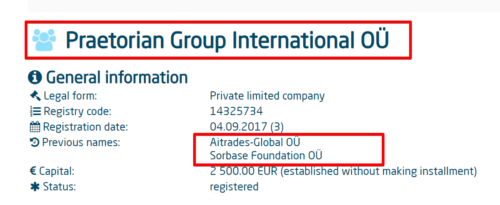 (BTW, there is some rumor outhere that the owners of AI Trades are on the run because they scammed people out of a lot of money. They are probably hiding in Panama).
PGI Global has exactly the same concept as AI Trades used to have. So it is just a rehashed company to lure new people into the scheme.
It is quite common that people behind new MLM cryptocurrency companies have a shady past.
(For example, people behind the Ascira are serial scammers).
Research shows that RV Palafox was also involved in several Crypto Currency-based companies, for example, BitClub Network, USI tech, and Trade Coin Club.
If you are a bit skeptical like me about these companies promising high returns, I am sure your scam radar is already on.
Is PGI Global Pyramid Scheme?
It does not seem like a pyramid scheme at first sight.
Simply because they also sell tangible products like:
Crypto ATM Machines
blockchain Education
Health and Fitness products
But does it mean that this is not a pyramid scheme?
Let's take a look at the warning signs of a Pyramid scheme, according to the FTC:
It says:
"Promoters make extravagant promises about your earning potential.
Promoters emphasize recruiting new distributors for your sales network as the real way to make money.
Promoters play on your emotions or use high-pressure sales tactics
Distributors buy more products than they want to use or can resell, just to stay active in the company"
PGI has added these products only recently; obviously to hide the fact that it is a pyramid scheme.
So even though PGI Global has some products, the main income people earn is from recruiting new people.
And if the main income company gets is coming from new and existing members, then it is an outright pyramid scheme.
Besides, there is absolutely no proof of an external source of income.
By now you understand that there is no point in joining PGI Global.
Nevertheless, just out of curiosity let's find out a little bit more about this company.
How to Register with PGI Global?
Without a sponsor, you can't register.
So I went to their Facebook profile and in the comment section you always find someone sharing his link, so it is possible to use that and you automatically have the sponsor assigned: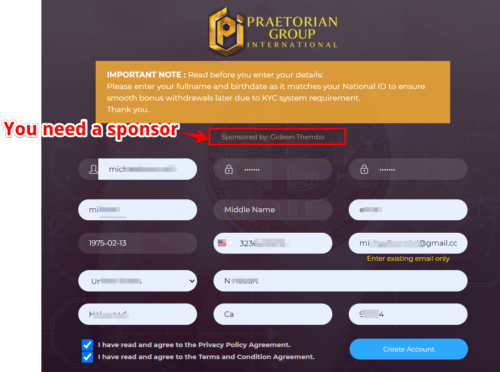 After you confirm your email, you can get into the PGI Dashboard.
You are also asked to provide them with an updated BTC address.
How Much to Join the PGI Global?
They have different packages you can buy.
It starts at $100 and in order to maintain the membership, there is a fee of $19 per year.
Here are the packages and the price tags:
Silver ranges from $100 to $600
Gold ranges from $1000 to $10,000
Platinum costs from $20,000 to $100,000
Titanium $500,000
The only way how to pay for the membership is in Bitcoin.
Compensation Plan
A compensation plan shows a variety of ways how a member can earn money. Most MLM companies have complex plans that are not easy to comprehend.
That is a common thing within most of MLM.
PGI Global is not an exception and I am going to cover their compensation plan just briefly.
The reason why it does not make sense to explain every detail is the fact that PGI Global is just another Ponzi scheme that is doomed to collapse.
Sure, people for the time being can make some money, but it is only temporary.
There are basically 3 ways how to make money:
Daily Trading Earnings
Referral commissions
Renewal bonus
Let's break it down a bit:
Daily Trading Earnings
Apparently, PGI pays daily earnings of 1.0% to 4% and members can withdraw the earnings once per week.
The minimum to withdraw is $50 and there is also a fee involved 8%.
The maximum withdrawal is 50% of the single largest investment value the investor has made.
Referral commission
Referral commission is divided into 3 separate categories:
Direct Referral Bonus – depending on the package you purchase you get a bonus from 6% for Silver Package to 12% for Titanium Package.
Binary Bonus – You as a member must have at least 2 direct referrals, 1 on the left side and one on the right side (There is no limit to how deep this structure can go. In other words it will grow until it collapses).
Boost-up Bonus – This is an increase of 2% on the regular's Direct Referral Bonus. In order to qualify for this bonus there are the following criteria:
– Your downline (one on the left and one on the right) must purchase a package equal to or higher than your current highest package
– at the same time this must be accomplished within 30 days of your registration with PGI
Renewal bonus
Every member's agreements end once the package reaches a 200% trading bonus.
The member has to purchase a new agreement within 30 days in order to stay active.
In the entire compensation plan, there is not a single word about making money from selling the products they have listed on their website.
That means, that the only way how to make money is from recruiting.
We know what that already means, right?
And there is more:
What Else About PGI Global?
Apparently, they have a number of branches throughout the world, but unfortunately, according to google maps, it does not seem that the addresses are real.
For example, they should have an office in Talin Estonia on "Peterburg Street".
There is no such street in Talin.
It seems that the company is registered as a Private Limited Company back in 2017. The previous names had Aitrades Global and Sorbase Foundation with a capital of 2,500€.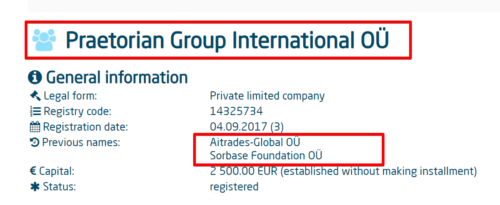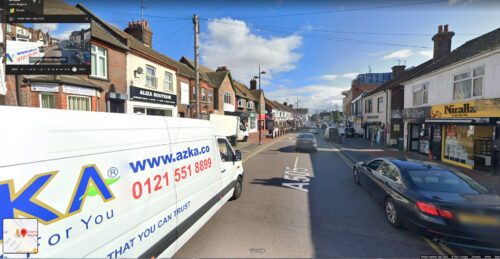 This is supposed to be the street where a British branch is based.

This street looks more like a residential area with small shops.
(The Google image is from September 2020).
And here is another red flag;
PGI Global is not registered with any securities authority.
That is another issue that should be considered before joining such a company.
Are you interested in forex trading?
Then check the following Article:
What Do I Like About PGI Global?

There is nothing I like about PGI
What I Don't Like about PGI Global?
The founder/CEO has a shady past. He was involved in several Ponzi schemes before
Unrealistic Income Claims
PGI Global is not registered with any securities authority
Fake addresses
Is PGI Global a Scam?
Simply, Yes.
PGI Global is just a new version of a company (Ponzi Scheme) that has already collapsed and does not exist anymore – AI Trades.
The founder of PGI is not a trustworthy individual.
I wouldn't "invest" a single penny in this "business model", and I believe that we have covered enough to convince every newbie that this is a big No-No.
It is quite possible that some of the members make money, but it is just for the time being. We know that PGI Global was registered only in 2020, therefore, it still looks like an OK company, without any legal issues.
Not Yet.
They have also added some products to their "portfolio" to fool potential investors.
But we have checked the company and there are too many red flags.
In case you have questions or concerns, please let us know in the comment section below.
Thank you for reading,
Mike
Interested in Trading?
Check Forex Signals as the biggest forex trading community teaching proven strategies from experienced mentors.
It is great for beginners and they also offer a Free 7-Day Trial.