Hello and welcome to my website.
You have stumbled upon Tanner Chidester talking about his course called Elite CEOs and you are not sure whether this is the right product for you.
In the following article, you are going to find out everything you need to know about this coaching business, how much it really costs, and what value Tanner offers.
So Is Elite CEOs legit or not?
Let's find out
Disclaimer
Please note, that I am not a member or an affiliate of Elite CEOs.
This review is based on research and information available online in the public domain.
Any recommendations and conclusions are only opinions and may not apply to all persons or situations.
Quick Overview
Name: Elite CEOs
Website: www.eliteceos.com
Price to Join: $37 + Upsells up to $10,000
Recommended: Not really
Elite CEOs Review – Summary
Elite CEOs is a program to help individuals and businesses to increase their sales using paid advertising.
The founder, Tanner Chidester is a successful digital marketer who (apparently) has made millions of dollars online.
Is he going to teach you how to make 7 digits online?
It is possible, but be prepared to spend/invest thousands of dollars before getting any results.
The problem is that his program does not cost just the advertised $37.
This is just an introduction to the sales funnel. In other words, you can be eventually charged more than $10,000 for one-on-one training, promising that you can get the investment back in a month.
This can't be further from the truth and the claims made by the Elite CEOs are misleading.
It is not necessary to spend that amount of money in order to learn how to be a full-time digital marketer.
If you are serious about generating a sustainable income online from home, check the link below.
(Please note, the educational platform is not for free, but you have access to the 1st 10 lessons for free.
Then the premium membership costs about $50 per month (although 1st month you get it for $19 only)
What Is Elite CEOs?
Elite CEOs is a consulting company that focuses on helping other businesses. Their clients are taught how to reach more people and eventually increase sales.
There are different packages that the company offers, from webinars to one-on-one coaching.
The company is headquartered in Friendswood, Texas.
Founder of Elite CEOs
I believe you already know that a founder is a person called Tanner Chidester.
He is an entrepreneur who founded Fit Warriors. This is an online fitness coaching business and it is a predecessor of Elite CEOs.
Apparently, he is a leader in the fitness industry but he also has learned how to dominate in the online world as well.
Tanner is also a member of an "8 Figure Club" from ClickFunnels. (We are going to mention ClickFunnels later once again).
He has made more than 13 million dollars in sales in less than 2 years, starting 2 businesses from scratch.
His Youtube channel has more than 7K subscribers and still growing.
Here is a short video:
There are no questions about his success and there are a lot of sources that back up his story.
The question is whether his program can help you to scale your business up.
Who Is Elite CEOs For?
Elite CEOs platform is best for people who own already a business, especially those who want to learn how to create a course and how to sell it.
So in case you are a newbie, his service might not be very helpful for you.
Mostly because of the paid traffic he recommends.
Paid traffic is something that never works for newbies and it is very often overestimated.
Paid traffic should be used on channels that already work, to boost existing channels or funnels, in other words, to scale the business up.
(My recommendation for newbies is the path to learn how to get free traffic and this specific platform will teach you that).
To put it simply, Elite CEOs is a coaching platform for high ticket business owners who give 1-to-1 support.
How Does the Elite CEOs Work?
This platform teaches their clients how to set up funnel, emails, and how to scale their business using paid ads.
As mentioned this course has different stages for different prices.
The very first one that costs $37 is not going to teach you enough.
It is just to get you on the board so to speak, so you will be more likely to spend more on further stages.
In other words, it is just a funnel, that will lead you to more expensive programs.
We are going to go over the prices in the next section.
Apparently, Elite CEOs has more than 40 members that work remotely and you can get in touch with one of these members to talk about what suits you the best.
On top of that you get the following training within the Elite CEOs:
Module 1 – Facebook Group Marketing
Module 2 – Organic Messaging 101
Module 3 – Messaging and Sales Calls
Module 4 – Intro to Facebook Ads
Module 5 – Setting Up Your Funnel
You also get access to the private Facebook community, so you can communicate with other members, ask questions, and so on.
How Much Does the Elite CEOs Cost?
By now you know that the course costs $37, that is the advertising price to get as many people as possible.
Once you spend the 37 bucks, you are led to a sales funnel where it is offered a premium coaching program.
Of course, at this point, you are still not aware of the full price.
Here is how much this platform can cost you;
Upsells?
Yes, there are upsells and that is the main way how Tanner makes his millions. I personally don't like the Upsell, but it is just me.
Obviously, it works for Tanner so he keeps doing that.
1st upsell – ClickFunnels
You may be aware of the ClickFunnels. It is software that helps you to build a landing page and follow up with potential (and existing) customers, using email, desktop notifications, or Facebook messenger.
Obviously, this service is not free and the cheapest plan costs $97 per month. Tanner is affiliated with click funnels and therefore he gets 50% commission on every customer that pays for it.
Not bad.
There are two more plans within the Click Funnel, one costs $297 and the most expensive $2,497.
(You can take a look here to find out what you get).
What else Elite CEOs:
There are 2 programs for $15 per month and $27 per month.
And this is the biggest one. It concerns one-on-one coaching with Tanner.
The cost?
$10,000 – Tanner certainly knows how to get paid for his time.
To be perfectly clear, I am sure this can be helpful for some folks, but certainly not for everyone.
What I find pretty annoying is that there is no free trial nor refund policy.
Most of the digital courses online do have a money-back guarantee, but this is not the case with Elite CEOs.
Is the Elite CEOs Legit?
Yes, it is but at the same time it is important to realize that his platform is not for everyone., especially not for guys who just starting in the online world/digital marketing.
Besides, I would take his claims with a grain of salt.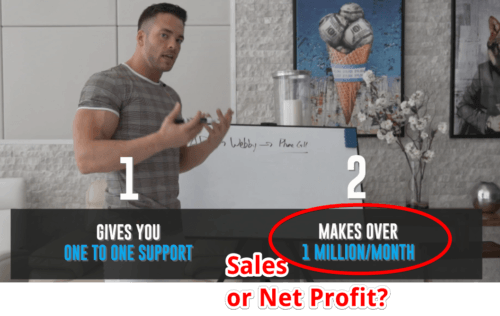 Is he really making $1M per month?
But is this sales – meaning he has to pay his affiliates and does not include the costs for the ads?
I doubt this is his take-home.
Most likely he has to pay his affiliates and if we subtract the cost for paid advertising, the net profit could be easily just $10,000 per month.
I mean that is a lot of money for most people, my point is that his claims are most likely misleading.
And you don't need to spend thousands of dollars in order to learn how to make 5 figures per month.
I know that affiliate marketing has a huge potential and Tanner is also an affiliated with Clickfunnels where he gets 50% commission.
This is an absolutely legitimate business but again, there are cheaper platforms teaching how to start an affiliate marketing business.
The method I have been using generates 4 figures for me (I admit not 5), but I am barely scratching the surface.
I did not have any experience with affiliate marketing but this specific platform has taught me how to become financially independent.
Of course, it did not happen overnight. It took effort and some failures as well, but thank the super helpful community of that platform I have gone through the emotional roller coaster as well.
It is important to be encouraged, to see other's people results. And I don't mean Gurus earning millions of dollars. These people have a different mindset already and it is far from the mindset of newbies.
A beginner needs to see a few steps ahead.
For example how to make 1st sale, or how to get his website on the 1st page of google, and so on.
At the end of this article, there is a link that directs to that platform. Everyone can get to test it out for free – there is a 7-day free trial, no credit card needed.
What I like about Elite CEOs

The owner is legit with years of experience in coaching online
His course might be helpful for some business owners
What I don't like about Elite CEOs
Upsells that reach thousands of dollars
No Refunds
Additional costs regarding paid traffic methods
Some Thoughts at the End
Tanner knows what he is doing and he has been doing it for years. No questions about his success and I believe he really made more than 10 million dollars.
That is the potential of digital marketing.
However, his platform is definitely not for people who just starting out with digital marketing. Unless you have thousands of dollars on advertising and the guts to go through tries and errors I don't recommend the Elite CEOs.
He reminds me of other online Gurus saying something in the following manner:
"Hey, I made millions of dollars online and now you can earn 7 figures as well, just check my $37 course. Actually, If you want more, you need to invest a bit more …"
and you end up paying thousands of dollars for information that can be bought elsewhere for fraction of that price.
In case you already have a business, think twice before buying his high ticket course.
With that being said, I don't recommend Elite CEOs.
What is your opinion about the Elite CEOs?
Would you spend $10,000 on 1-on-1 coaching?
Please let me know in the comment section below. I am sure a lot of readers will appreciate your thoughts, including myself.
Thank you for reading
Mike