You are searching for systems that can help you to make some extra money and you are not sure which one is legit, and which one is a scam.
Awesome.
I am glad you do your due diligence since there are lots of scams out there and misleading products.
In this review, we are going to check the website called Idle-Empire.
After reading this post you will be able to answer the question:
Is Idle-Empire Legit?
We are going to answer this question and also how much can you earn with Idle-Empire. In case you are curious about how to generate a consistent income online, I will mention that as well.
Disclaimer:
Please note, that I am not a member or an affiliate of Idle-Empire.
This review is based on research and information available online in the public domain. Any recommendations and conclusions are only opinions and may not apply to all persons or situations.
Idle-Empire Overview
Product Name: Idle-Empire
Price to Join: $0
Creator: Simon Ehrenreich & Yanik Pahl
Rating: 5/10
Do I recommend it? Not as a source of consistent income
Idle-Empire Review – Quick Summary
The Idle-Empire is a legit system that offers you to earn a few bucks. There are at least 6 different methods you can choose from.
Each method has a different earning potential. Once you reach a certain threshold you can cash out using Paypal, Bitcoin, or other methods.
The Earning potential is very low though, (probably $150 per month)
You can't build a sustainable business using a system like Idle-Empire. If you want to know where I have learned how to make money online I recommend an alternative for you.
For more information click on the offer below:
Idle-Empire Review
Idle-Empire is a GPT (Get-Paid-To) website where you can earn some money by taking surveys or doing paid offers. To be perfectly clear, you don't earn money right away. First, you earn points, and then these can be cashed out.
It is very easy to get in.
Just sign up using your name, email address, and password, and your Idle-Empire account is created.
They also have an option to sign up using Facebook, Google, or Twitter.
When you sign in, you are asked to verify your email address. So you go to your email box and click on the link – only after that your email address is verified.
The reason I mention that is to see the difference, between a legit GPT site and scams. These scams I have reviewed – you can't even contact them since the email address does not work.
But Idle-Empire is a legit website and a lot of players like it since they can earn skins and/or credits for many different games, like Counter-Strike: Global Offensive.
Actually, this was the main focus of the Idle-Empire a few years ago.
Today there are many ways how to earn these points with Idle-Empire and eventually cash them out.
If you feel that this sounds too easy – I must also inform you that the earning potential is very low. We are talking about $10 to $30 in 2 or 3 days.
Who Is Behind?
According to the About section, there are two guys named Simon Ehrenreich and Yanik Pahl.
They launched the Idle-Empire website back in September 2015.
They both are from Germany and they are located near Dortmund.
Now with this kind of website, one must be careful and it is recommended to double-check this information (the launch date).
So let's see what information we get by checking idle-empire.com on whois.com:
We see that the information about the foundation is correct.
Even the State corresponds with the company address (Dortmund is part of the North Rhine-Westphalia)
In March 2017, this website has reached a new milestone – The Idle-Empire Steam group had 100,000 members.
The traffic to the website continually goes up, which means that more and more people are interested in making some money online.

Even in 2022, the traffic to the website is still quite significant.
From what we have seen so far, the Idle-Empire seems like a legit system, even according to the consistent traffic the website gets.
Who is it For?
Idle-Empire is for people who want to make some money on the side.
It is important to realize that it is not possible to earn a full-time income with this system.
Not even close.
So if you are OK with the low earning potential right at the beginning, then I believe you won't be disappointed.
But don't expect to earn more than a few bucks per month (about $150).
The "secret" to making real money online is persistent content creation (or having a huge budget for ads).
It does not matter, whether you want to monetize your YouTube channel or you want to create a website, the bottom line is you need traffic, or thousands of views if you have a YouTube channel.
Regarding the YouTube channel, you have to have at least 1,000 subscribers and 4,000 hours of watch time in the past 12 months in order to monetize the channel.
Then expect the earnings of about $4-$8 per thousand views (depends on the location).
But I am not very into video creation, so I won't help you much there, but if you are curious about how to build a website that drives lots of free traffic (either SEO or Referral Traffic) and how to monetize the traffic I can help with this one.
Without further ado, you can check the system that has taught me how to generate revenue online.
If you are OK to earn a few bucks on the side with systems like Idle-Empire, by all means – go for it.
One Note:
Idle-Empire does not have an app for mobile phones. You can still go ahead and use your mobile phone but it is not that user-friendly. That is why I suggest youse a laptop or desktop.
How Can You Make Money?
There are many options within the Idle-Empire you can choose from. It does not mean that you will make a lot of money, though.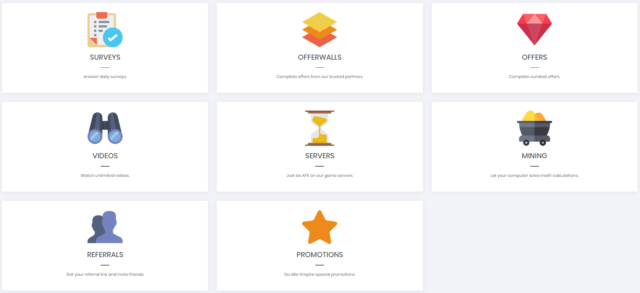 Let's go over the options:
1. Surveys
Before taking the survey, first, you have to answer a few questions. Based on the answers you will be given a specific survey that matches your profile.
You are not limited to one survey only. So even if you won't qualify for a certain survey just move on to another one.
2. Offerwalls
You will see a main menu with the offer walls. After choosing one you can then go to a specific task and earn points.
Each task different amount of points.
3. Offers
These are paid offers.
The thing is, you will have a kind of assignment and once you are finished you will get a certain amount of points.
You will see a different offers, some are easy some more difficult.
The earning potential depends on the offer. It can be from 100 points to more difficult "tasks" where you can earn more than 11,000 – by playing games.
4. Videos
You need an account on Hideout.tv. Then start watching the videos.
The earning potential – Get 9 Hideout points for every 3 advertisements. That equals to 80 Idle-Empire points
Depending on your location or country, it can happen that there are no videos available for you.
5. Mining
This is the closest option to passive income. But you would need a powerful PC otherwise the earning potential is close to zero.
Your computer will mine cryptocurrency. That is by solving different Mathematical operations. So it is highly recommended to have a powerful processor or a graphic card.
6. Referrals
Grab your link and earn a 20% commission.
So when your referrals go to the tasks and will earn from servers, mining and surveys you will get a 20% commission.
Here is how it works:
Your referral must be new to the Idle-Empire system
For every new referral, you get 50 points
When he sings in through your referral link, he gets 500 points.
7. Promotions
You have more options here.
For example, you can invite your friends to the Idle-Empire Steam group. Or you can earn by creating YouTube videos about this system (5,000 points).
Or you can create a forum post about Idle-Empire that has at least 50 words.
How to Cash Out?
Idle-Empire offers many methods via which you can withdraw your points and cash out.
For each method, there are different thresholds of points you need to reach.
In case you want to get Bitcoin the minimum amount is 1,000 points. That equals $0.1.
Do you use PayPal?
You need to have 30,000 points, which equals $3.
Is Idle-Empire Legit?
One must be careful when it comes to GPT websites. But I am glad to inform you that Idle-Empire is a legit system. It is free to join and from what I have found out your date is safe as well.
You can earn some money, but as I mentioned it is not something you can do full time.
Imagine being online, taking surveys, and making a couple of bucks – it is not worth it. To be precise, after spending a few days on surveys and making $20 – now what kind of earnings is that?
You can make that amount in a day on passive income.
What do I mean by that?
Well, first of all, you need a website and learn how to drive traffic.
You can make money by posting affiliate links and making commissions and on top of it you can have some ads on your websites that generate revenues for you – and you don't have to do anything.
The catch is – you need to come up with the content first.
But it is not difficult and anyone can learn how to do that. In 2017 I had no idea how to drive free (organic) traffic and since the summer of 2019, I am a full-time internet marketer.
This is a platform where I have learned how to have a sustainable income online.
Idle-Empire is not a bad system but only if you want to make some pocket money from time to time.
What I like

Solid GPT site that has been around since 2015
The website is user-friendly (easy to navigate through)
Good for CS GO players
What I don't like

Income potential is very low (You can spend several hours to earn thousands of points that correspond to a few bucks (1,000 points = $1)
How About An Alternative?
If you wanted to find a system that can make you a few bucks, there you go – you just found it.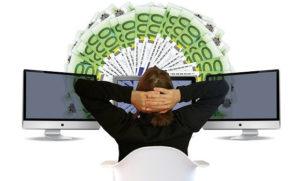 But if you want to learn what it takes to have a real and sustainable business online, I am afraid the Idle-Empire is not the answer you were looking for. In fact, you can't make a consistent income with any of the GPT sites.
These are good for pocket money.
It takes much more effort when it comes to generating revenue online – and I mean 4 or 5 digits per month. At that point, we can even talk about a passive income.
The good news is that with proper training even a total newbie can learn how to monetize the website and within 12 to 14 months he or she can make the 4 digits per month as I just mentioned.
Final Verdict
In my opinion, you can spend too much time with Idle-Empire and the result are not worth it.
But in case you just want to have fun and earn double bucks, this system is good enough.
If you have questions regarding the Idle-Empire or you want to find out more about the method I personally use, please leave your comment in the section below.
I will be more than happy to give you a hand.