Hello and welcome to the ZoanCash review.
I am sure you are looking for ways how to make some money online, from home. This trend is becoming more and more popular. Creators of different websites, courses, and systems are aware of this fact.
That gives room to many scammers as well and one must be careful and do research before signing up for a system or even more importantly – using a credit card.
I am glad you do your due diligence and want to find out more about ZoanCash.
Let's get right into the review.
We are going to check whether ZoanCash is legit or not and here are some points we will go through:
Who is behind the ZoanCash
How does it work
Who is it for
How you can make money (or maybe you can't)
What are the other ways how to make money online?
Disclaimer
Please note, I am not a member or an affiliate for ZoanCash. This review is based on research and information available online in the public domain. Any recommendations and conclusions are only opinions and may not apply to all persons or situations.
ZoanCash Overview
Product Name: ZoanCash
Price to Join: $0
Creator: N/A
Rating: 0/10
Do I recommend it? No!
ZoanCash Summary
ZoanCash is a system claiming you can make $300 per day. This is BS and none get paid.
First of all, they claim to deliver value since 2008.
The truth is though that this website was registered only in March 2020.
This is just another clone of other Scams.
ZoanCash is a data harvesting scam
My advice – Stay Away from ZoanCash
Making Money Online requires something more than just posting a referral (or affiliate) link.
If you want to learn more, check this link:
ZoanCash Review
ZoanCash is a platform where you can earn $300 daily. You just have to sign up and immediately you have $30 as a signup bonus.
Now if that sounds too good to be true, it is.
The question is – where this money is coming from? If thousands of people sign up today, are they really going to pay $300,000 today to these people? How these people behind the ZoanCash generate revenue?
There are no ads on their page, the access is for free and there is no evidence that they cooperate with any partners.
I don't want to spoil your day, but I must inform you that ZoanCash is just a clone of another already existing scam website, called NextCash.
In the next sections, we are going to prove that ZoanCash is a scam.
Who Is Behind
Whenever you see a system promising you easy cash and they even offer you a signup bonus, the first thing you want to check is the foundation date.
And not only the information that is on that website, in our case ZoanCash, but to use an official method for checking the information about the ownership of a domain name.
We can use whois.com and below you can watch a video that shows you how to do it.
It is very simple:
So let's check the ZoanCash registration date: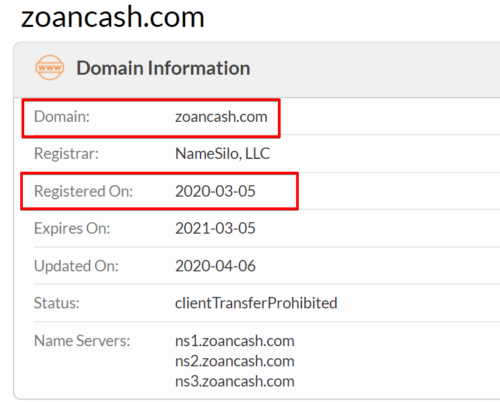 ZoanCash was registered at the beginning of March 2020.
So how come they claim to be around since 2008?
The answer?
They lie.
Same fake claims as with a bunch of other scams including, Money Genie, PaidLeaf, Tap2Earn, OGtask, or NextCash. I would say particularly NextCAsh is the exact clone of ZoanCash.
How to Contact the Creators of the ZoanCash?
My recommendation is when you are not sure whether the system is a scam or not – contact the founders of the people behind the system. Use the contact form they have on their website or the email address.
Of course, even scammers can give you feedback, but if you don't get any feedback at all, something is wrong.
Or even worse – when the email address does not work as it is the case with ZoanCash.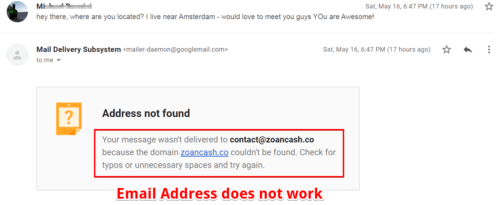 How they can pay you when their email address does not work?
This is a sign of a very sloppy scam.
Who is it For?
It is normal that people want to earn some money online.
There is a lot of systems that promise you to make several hundred or even thousands in a short period of time and these are mostly scams.
So I know that it is tempting but always pay attention to the website.
People behind ZoanCash want you to believe that this is for everyone and everyone can make money using their system. Nothing could be further from the truth.
If you want to know how a legitimate website looks like you can check my review of Inbox Dollars.
With this website, you can make some money – but again it is kind of easy way, so the earning is not that much.
I would say maybe $100 per month.
There are also some restrictions when it comes to inboxdollars.com:
Available on the US only
Need to perform a lot of tasks to make $100 (sometimes it can take a couple of weeks)
This is not a strategy for generating a consist of revenue that can be scalable.
If you want to learn how to make money online, here is a review of one platform where I have learned how to build a website and how to monetize the traffic. I am a full-time internet marketer since Autumn 2019, and pretty much everything I know about building a business online I have learned here.
How Does the ZoanCash Work?
There are three steps to follow and you are all set.
This is what they claim.
Sing up for ZoanCash and can even receive a bonus. -> That you won't be able to cashout
Get your link and share it all love social media -> Basically you can spam your friends, join different FB groups, and leave a comment on other people's posts (again spamming people)
Withdraw- it is said that ZoanCash allows you to cash out using CashApp, PayPal, Bitcoin or you can receive Mailed Check.
Let me tell you that 99.95% of people who signed up for ZoanCash and follow the procedures will never get paid.
As we had a chance to compare ZoanCash with other systems I am sure people will end up angry and will be asking questions "where is my money" or "did you get paid".
Here just a screenshot of a comment section of my post where I described RewardDollars – another scam: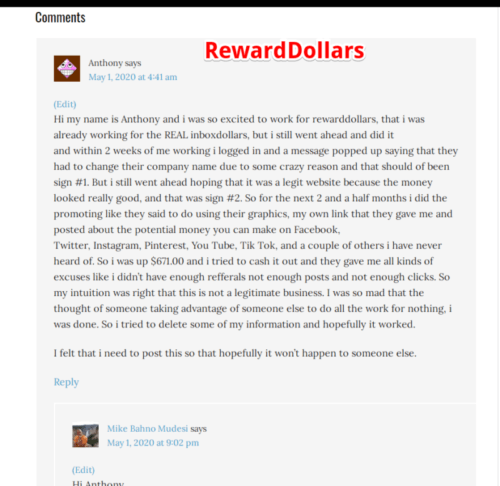 I am sure you are convinced by now that the ZoanCash is an outright scam that only goes after your personal data (email, credit card information, and so on).
If you have any questions regarding this scam, please use a comment section at the bottom of this post.
Let's Have a Look Inside the Members Area
The ZoanCash DashBoard of the members' area looks almost the same as the dashboard of other scams, I have mentioned.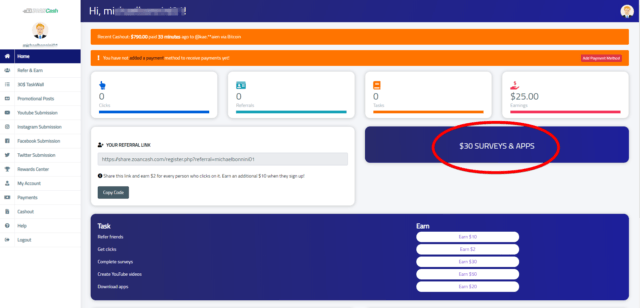 As you see after signing up you see that there is this bonus "$25 Earnings". That should give you something like proof that this is legit.
Don't fall for these false claims.
It may be not visible on the screenshot but right under the "referral link" there is this sentence, saying:
"Share this link and earn $2 for every person who clicks on it. Earn an additional $10 when they sign up!"
How can you get $2 for a click?
This is a BS.
You are supposed to earn also by taking some surveys and checking the Apps – $30 per survey or App.
Well, again another lie.
At the bottom, you see the tasks and alleged earnings.
If you scroll down, there are links to Social media including Google plus. As you are aware probably, Google+ was closed down more than a year ago.
And they also use the "Leaderboard" as some kind of social proof. All the earnings and users are fake.
The Claims vs Facts or List of Red Flags
1) Age of the system
If you see the statement on a website promising you to make easy money, and they claim to be on the market for several years, double-check the date of foundation. This simple method can save you a lot of time and eventually money.
Should you see a mismatch in the information, just avoid that system.
2) Fake payment Proofs
The payment proofs presented on ZoanCash are supposed to convince you that other people already made money.
But did you check the dates?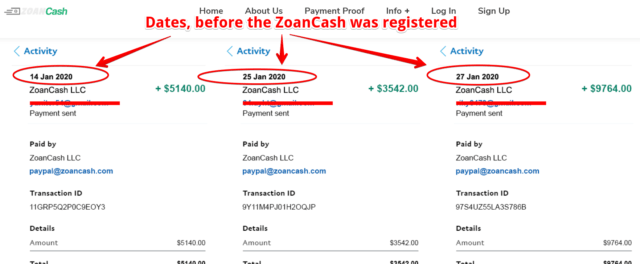 How could they earn money with a system that did not even exist at that time?
Another solid proof that ZoanCash is a scam.
3) No One Gets Paid
I already mentioned this.
You can check the clones of this scam and you see that they are in principle almost the same.
4) Contact information – Not working
If you can't get in touch with the creator, then you shouldn't trust them. And I don't mean that they don't write you back.
The email address simply does not work.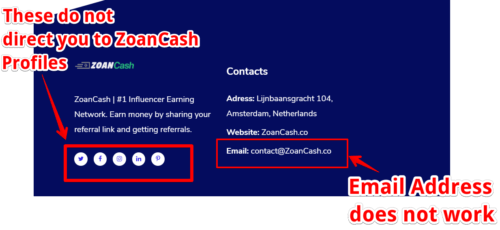 The social media icons also do not work properly either.
The link goes to the corresponding social media, but not to the ZoanCash profile.
And the Address – Again it is a fake address. You can use google maps to see where the ZoanCash is located.
5) Fake Testimonials
It is a common thing that many misleading systems use fake testimonials. Some use paid actors, others just download some photos and put some text next to these photos.

But such testimonials have no value at all.
What I like

Absolutely nothing
My Advice: Stay Away from ZoanCash
What I don't like

This system says that it was founded in 2008. The truth is that the registration date on March 5th, 2020
ZoanCash is a data harvesting scam
Email Address does not work
Payment proofs – fake screenshots
Testimonials are fake
Where to Go From Here?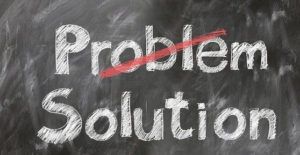 Is there an easy way how to earn money online?
Sure it is. Check the websites below.
These are legit Get-Paid-To websites. where you can earn some bucks on the side;
www.inboxdollars.com
www.swagbucks.com
www.surveyjunkie.com
What is the disadvantage?
Small earning potential. You can really make only some pocket money, my guess is something about $100 per month.
Is there a way how to have a consistent income online?
Sure it is. You must learn new stuff and then apply it. It is not rocket science, so anyone can take the course and apply the knowledge.
It does not take a week or month though.
You must realize that this platform teaches how to build a proper online business and that requires specialized knowledge and time.
Ideally, you can start earning within 6 to 8 months.
Why "so long"?
the thing is that this platform teaches you how to drive free traffic to your website. And that requires your effort and time.
If you want to know more, just use the link at the bottom.
You will receive a short message from me. You can test the platform for free – and I will be your guide if you want.
Conclusion
ZoanCash is an outright scam.
Stay away from it and do not sign up using your email address.
If you want to check the dashboards, you can even use some fake email – it does not matter, they "accept" even non-existing email addresses.
I hope you realized by now what does it take to make money online.
Yes, it may be not so easy as you thought before – but hey – that is progressing and you have learned something new.
I believe you have a better day already.
If you have any sort of questions regarding the ZoanCash scam or other left platform, please feel free to leave a comment in the section below.
I will be more than happy to price you with the answers.
Thank you for reading and wishing you an amazing day.
How to Get Started with Affiliate Marketing Business?
I have been a member of Wealthy Affiliate since late 2017 without prior marketing experience.
Beginning of 2018 I have learned how to build a website that drives traffic and makes sales.
Since the summer of 2019, I am a full-time internet marketer and I work from anywhere I want, whenever I want.
Training within Wealthy Affiliate teaches how to generate a consistent income in the long run.