Have you noticed recently that someone has offered you a "great opportunity" to make money?
All you have to do is just sign up and become part of the community – it is called AE Group Club (Alliance Economics).
Do you want to know more about the company called Alliance Economics?
Well, if you are looking for more information regarding the Alliance Econ Group using the website www.aegroup.club, you are at the right place.
In the following Alliance Econ Group Review, you are about to find out who runs the company, how much it costs to join, whether it is legit or no and if it is, how much can you make within the Alliance Econ Group.
Disclaimer
Please note, I am not a member or an affiliate of Alliance Econ Group. This review is based on research and information available online in the public domain.
Any recommendations and conclusions are only opinions and may not apply to all persons or situations.
Overview
Name: Alliance Econ Group
Website: www.aegroup.club
Price to Join: $50 to $5350
Recommended: No!
I recommend Affiliate Marketing. Check the Pros and Cons of both business models (Affiliate Marketing vs. MLM).
Alliance Econ Group Review
Alliance Econ Group is an illegal Gifting scam operating out of the USA. Members who want to be part of this community can join for free, however in order to be "part of the game" each new member has to pay $50 (at least).
This is called a gift.
Besides, one has to recruit at least 2 people within 72 hours.
Alliance Econ Group is still a new company (website registered only in October 2020) but the way it goes, it might collapse anytime soon.
The problem is that (despite the text in Terms and Conditions) this is just a matrix-based gifting scam.
Gifting schemes are illegal almost in every country, so I strongly recommend, not joining the Alliance Econ Group (www.aegroup.club)
There are many legal ways how to generate consistent income.
I personally prefer Affiliate Marketing, where I run one website that generates me 4 digits online.
Here is a link to the method I have been using since 2017.
Sign up for Free and I will guide you through the platform.
No Credit Card Needed – Just your email.
What is Alliance Econ Group?
Alliance Econo Group seems like a new company that works as a community of like-minded people. Every person who joins this community can "voluntarily" give a gift of at least $50.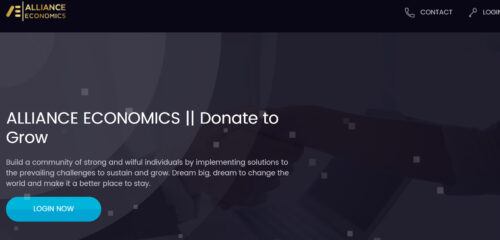 I deliberately used quotes when using the word voluntarily.
The reason being is that every member has to send the gift within a very short period of time. Besides he or she must recruit at least 2 members within 3 days.
Is this even legal?
Let's dig a bit deeper.
The website "aegroup.club" was created only in October 2020.
There is no information about who runs the website, no "About us" section whatsoever. Whoever runs this site (and we are about to find that out soon) used to have very similar sites before. None of them works anymore.
As far as I was able to do the research the predecessor was Alliance Economic 50 operated from domain allianceecongroup50.com.
Then he creates another website "alliacneecongroup.com" which is no longer in use either.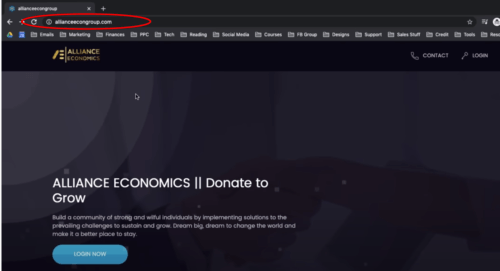 You can have a look at the short video where it is explained how it works:
The Logo, the layout, the theme (colors) looks exactly the same as the new website "aegroup.club".
Alliance Econ Group has a multilevel structure, meaning you have to have at least 2 people that have to pay $50 each.
Is there anything that these new members would purchase?
Nothing.
This company has no tangible nor digital products whatsoever. These members who are part of the community are able to offer the Alliance Econ Group membership.
Who Runs the Alliance Econ Group?
Research has revealed that Tommy Holt jr. is the one behind the scenes.
This is the person who runs the Alliance Econ Group, who hosts the webinars, and most importantly promotes this gifting scheme.
(He is also the one who was behind the predecessors of Alliance Econ Group).
How to Sign up
The membership is free, but for those who want to be part of this income opportunity, it is necessary to pay at least $50.
You have to fill out some personal data, including the telephone number and you are in.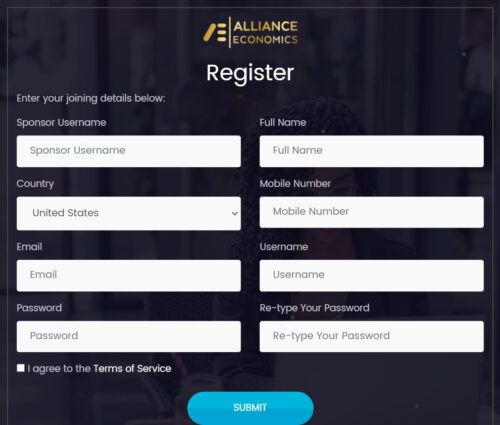 In order to become a member, you have to have a sponsor.
That is common within many MLM companies.
As you see it is quite easy to sign up, however that is not enough.
How Does It Work?
Based on the terminology used within the Alliance Econ Group Terms and Conditions, this is not a pyramid scheme.
Apparently, this community operates based on the generosity of its members giving a volunteered gift.
The minimum is to give $50 – and the "Voluntarity" is questionable.
Also, each member is "forced" to recruit 2 members within 3 days, otherwise, his account will be closed.
Let me share with you what Voluntarity means:
"The character of a human act that is free, i.e., performed with adequate knowledge of the circumstances and without necessitation from external forces."
Source: Encyklopedia.com
Aren't these necessities from external forces?:
Pay $50 within 60 minutes
Recruit at least 2 people within 72 hours
To me, this is already a big red flag, and I advise you not to join the Alliance Econ Group.
This gifting scheme has a structure of a typical pyramid scheme.

Once you are inside the dashboard, you are also asked to upgrade, in other words, to pay more – or as Tommy calls it to give more.
In his own words:
You need to upgrade to the next level to "be blessed in return".
To be blessed in return?
What a cheap trick.
How Much to Join the Alliance Econ Group
As already announced it is free, but what is the use of it?
In reality, you have to pay at least $50 to be part of this "opportunity".
To be able to take full advantage of Alliance Econ Group it is necessary to pay $5,350.
That is steep.
I find it unethical to force members of the system to pay in order to be part of the group.
Besides, having only 72 hours to find the other 2 persons is ridiculous. That only makes people being more aggressive in their approach.
This entire system is doomed to fail.
What I like about Alliance Econ Group

There is Nothing I Like about Alliance Econ Group
What I don't like about Alliance Econ Group
Illegal Gifting Scheme
Free to join, but in reality it costs min. $50
Members have to pay $50 within 60 minutes.
Alliance Econ Group – Final Conclusion
This is an illegal gifting scheme.
If we take into consideration the scarcity (meaning only an hour to send the money) and 72 hrs to find at least 2 people, this does not sound like a regular money-making system.
And we know that there is no product to sell.
Having said that, this is most likely an illegal gifting scheme where most people will lose money.
It is illegal (in most of the countries) and I strongly recommend not joining the Alliance Econ Group.
Created only in the 2nd half of 2020, I believe this site won't last more than a few more months.
As we have seen, Tommy has no problem starting a new site with a slightly different name, but with the same agenda – to get more money from new members.
If you have questions, or you have already experienced a similar scam, please let me know in the comment section below.
thank you for reading,
Mike
How to Get Started with Affiliate Marketing?
I have been a member of Wealthy Affiliate since late 2017 without prior marketing experience.
Beginning of 2018 I have learned how to build a website that drives traffic and makes sales.
Since the summer of 2019, I am a full-time internet marketer and I work from anywhere I want, whenever I want.
Training within Wealthy Affiliate teaches how to generate a consistent income in the long run.