If you've ventured into the world of SEO, you've likely come across the name Brian Dean.
He's the mastermind behind Backlinko, a platform that's become synonymous with SEO expertise.
In a significant move, Brian Dean sold Backlinko to Semrush in early 2022, sparking curiosity about the deal's details.
For nearly a decade, Backlinko had been Brian's brainchild, guiding countless businesses and SEO enthusiasts toward digital success.
So, what's the story behind Brian Dean and Backlinko?
And, of course, the burning question:
What's Brian Dean's net worth?
Jump to:
In the following article, we are going to answer all these questions and a little bit more.
Disclaimer
Please note, that I am not a member or an affiliate of Backlinko.
This review is based on research and information available online in the public domain.
Any recommendations and conclusions are only opinions and may not apply to all persons or situations.
Who Is Brian Dean?
Brian Dean is the founder of a website called Backlinko.
If you have ever done research about SEO or wanted to know how to rank well in Search Engines the chances are pretty high that you are familiar with the website.
For many people, Brian is an SEO Guru, but he doesn't feel that way.
And generally speaking, the term Guru is probably overrated.
But this article is not about the definition of a Guru…
The truth is though that Brian knows how to use SEO, and with his practical approach, he was able to get from the learning phase to the stage of becoming an SEO coach.
But how did it all start?
A bit of background
He is from Rhode Island where he got his master's degree in nutrition. The idea was to continue the studies and get a Ph.D.
(Fortunately) That did not happen, since as Brian says "he hated it".
He decided to get a job in NYC.
It was in 2008 and as he was driving to New York, he received a phone call from the company saying that they can't hire him, due to the ongoing financial crisis…
So life took another turn for Brian and he drove to his parent's house.
As he recalls, he was a bum for a while… but while "doing nothing" he started to read a book: The 4-Hour Workweek: Escape 9–5 by Tim Ferriss.
Brian realized that there was something else than the 9-5 and that he could become an entrepreneur.
Well, he did not hit the jackpot right away, and the beginning was difficult.
In fact, the first 5 of Brian's businesses failed.
Result?
-> These were just learning lessons.
Of course, it hurts when something fails, but it only means that it was not properly managed/created, or set up.
It doesn't mean that it can't work.
To be a little bit more specific, some of his websites did not do well in the long term, mostly due to the Google Algorithm update.
This was about 2010 when his website was hit by the Core update and the traffic tanked.
Although Brian was not aware of using the so-called Black Hat SEO techniques, he was back at stage 1.
Regarding the Google Core Update, let me digress a bit:
You probably know that Google does algorithm updates every single day and the core updates probably once or twice per year.
Here you can see, what it looks like when your website doesn't create rich content.
The traffic can drop by 70% (or even more) and it takes a lot of work to get it back on track.
That website is in the MMO (Make Money Online) niche, and that is considered one of the most saturated niches.
(Also because it is one of the most lucrative).
So in case, you want to get into this internet marketing game, or even affiliate marketing, which is considered the simplest way to start (earning online) you are welcome to do it.
But please do your diligence and spend a few days researching your best niche; Or even a micro-niche.
You might be interested in:
The more specific niche you choose the higher chances you have, to rank well in Search Engines.
I wasted almost a year until I finally decided on my niche.
Despite the fact that I was already a member of one educational platform that emphasizes the importance of a proper niche selection.
(Too bad for me, I was a bad student).
Sorry for the digress, but I guess this is a good example for anyone who wants to get into the internet marketing business (SEO) and thinks it is easy.
To be perfectly clear, if you want to create a website, and you want to see results within 6 to 10 months, don't start with the MMO niche.
Back to Brian.
Brian ended up working on a small project for Neil Patel.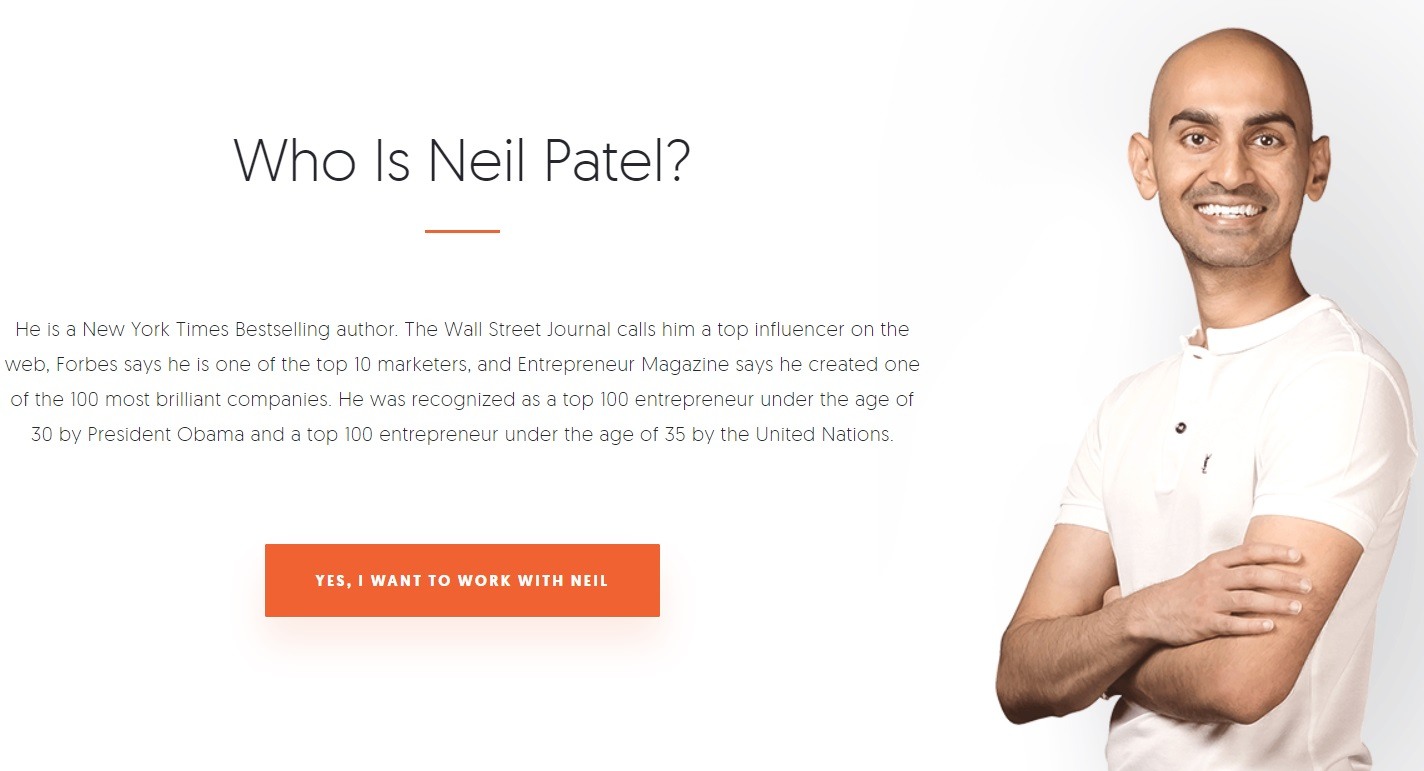 I am sure you have heard the name, Neil Patel.
My guess is you must have, and even Google Trends shows such a trend: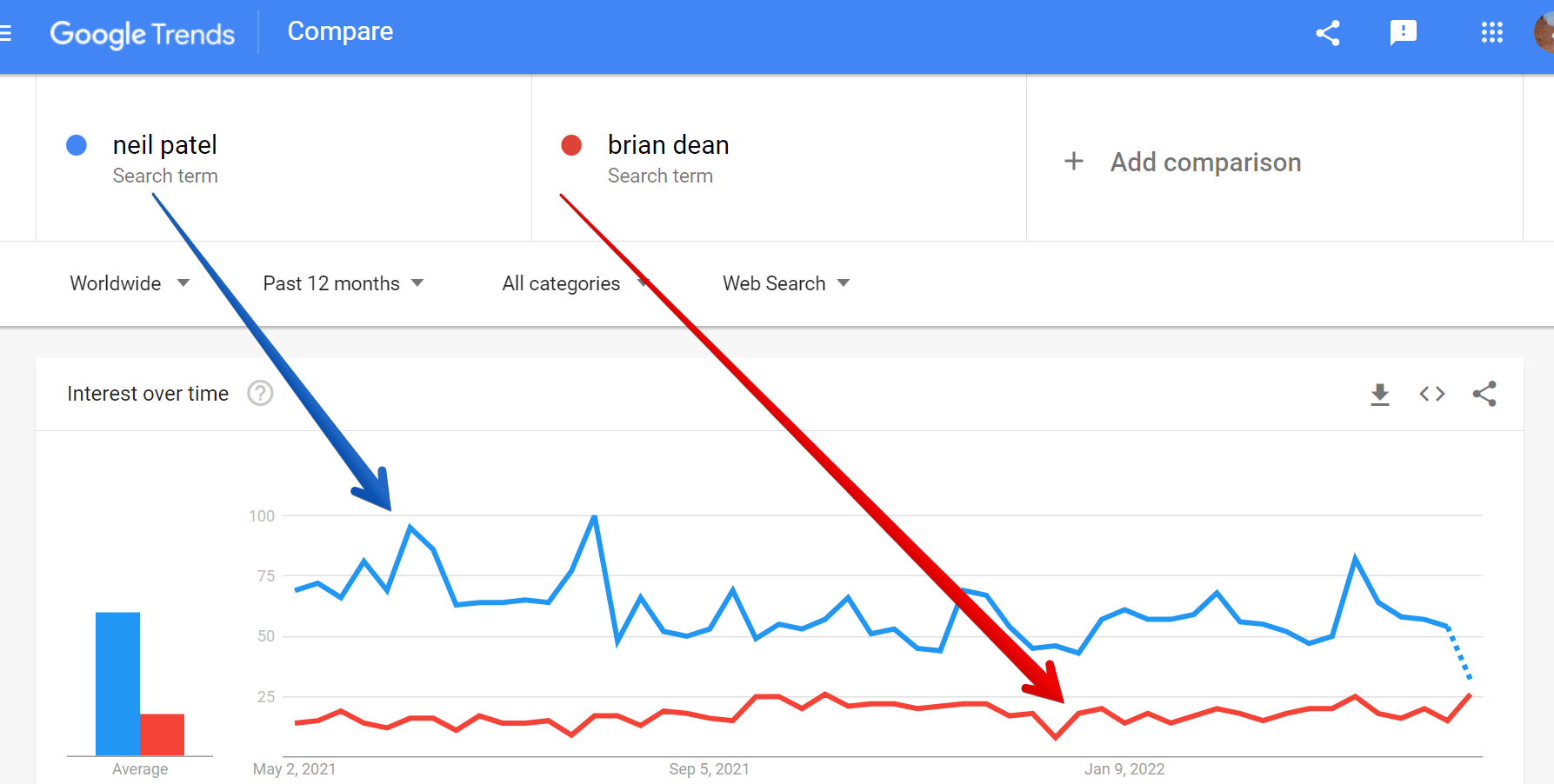 (We are going to mention Google Trends once again, later on).
How did that start with Neil?
Brian cold-emailed Neil and Neil replied.
According to Brian:
"Email everyone who you respect and you appreciate his work"
So, Neil assigned Brian some small work, something like editing videos. Although it was something he had never done before, he did learn a lot.
The lesson:
In the beginning, just do whatever it takes.
Brian is a very optimistic guy so did not give up and decided to learn more about SEO.
In 2012 he learned how to create great content;
Great content that shows other people what works and also what is not efficient.
All this information is still available in his blog called Backlinko.
This blog documents the practical aspects of the SEO stuff.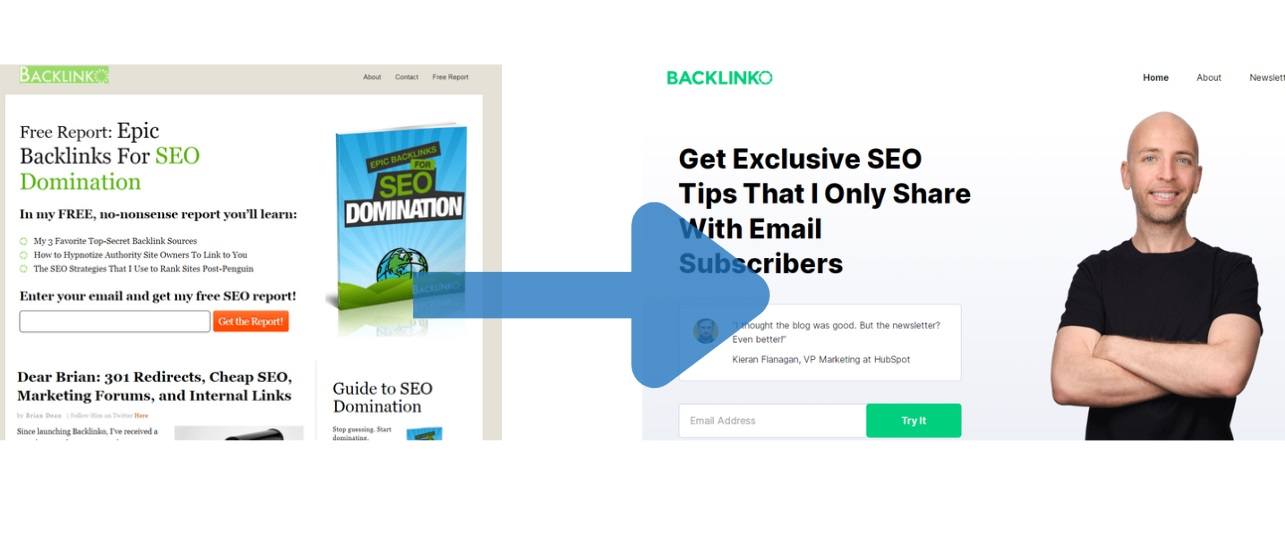 A Little Bit on Brian Dean's Personal Note
The internet lifestyle allowed Brian to travel a lot.
He went backpacking for about 2 years and visited Hong Kong Bangkok and other places in South East Asia.
He went to Europe and lived for a while in Berlin and eventually in 2019 ended up in Lisbon Portugal.
But he is not a famous internet marketer (like John Reese used to be, or still today Frank Kern is.)
If a person is not familiar with Backlinko, he or she probably doesn't know Brian.
This is a great thing, he can walk anywhere he wants without being bothered by someone.
(my personal note).
What Is Backlinko?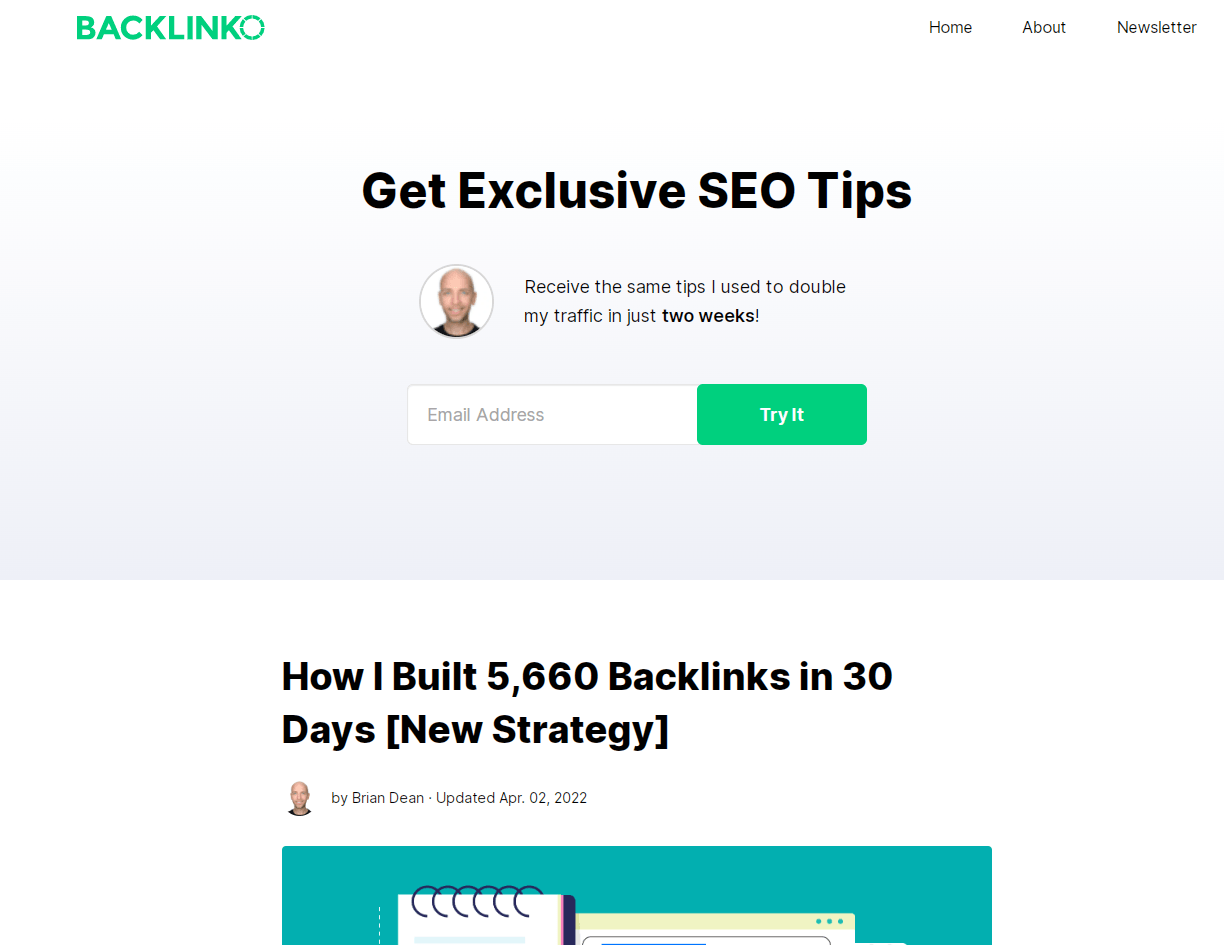 Backlinko is a website that Brian started in 2013.
He wanted to have a blog about SEO, probably not realizing that the market was saturated at that time already.
It was maybe a naive move, but because of that nativity, he was able to pull it off.
The information Brian shared on Backlinko was different what others offered.
He was able to share his losses and wins.
No one shared what didn't work – everyone pretty much was only showing off.
However, they did not want to share their strategies.
So Brian decided to fill that gap, by doing case studies;
What actual steps one should take in order to achieve X?
And what not to do to avoid the Y.
The audience loves the Backlinko website, and therefore it has reached a pretty high domain authority (or domain ranking).
On the 100-point scale, it reached over 90.
But How About Neil Patel?
At that time probably one Neil Patel was probably providing the real value of what works and what does not, in terms of free valuable SEO information.
Brian made sure to create a bit different content though, and thus Backlinko did stand out.
And I personally follow both, for some reason though, I prefer Brian's approach.
Even though the information on his website is so packed.
So packed that I need to go through the article at least twice to fully comprehend what it means there.
Maybe it is just me.
However it is obvious that there is a lot of work behind each piece of content. A lot of research had to be done behind;
…and probably even more effort to write it all down in a comprehensive way.
In other words, there is no fluff whatsoever on the Baclinko blog.
Who do you prefer?
Please note, that this is not a beauty contest 🙂
My question is, whose method do you find more valuable?
Please let me know in the comment section below.
Backlinko YouTube Channel
The channel is actually called Brian Dean.
It was created on Monday, January 14h, 2013.
A little bit on a side note:
…to give a perspective, what also happened on January 14th, 2013 🙂
At the 70th Golden Globe Awards, on 14 January 2013, Daniel Day-Lewis won his second Golden Globe Award for Best Actor.
Ok. Back to work.
Brian Dean's YouTube Channel has only 45 videos but almost 14 million views (that's more than 300K views per video on average).

The last uploaded video was on July 20, 2021, but the channel still gets on average 1,400 new subscribers, each week.
What Is Backlinko Used For? – Backlinko Strategies
Backlinko became so famous because it was useful to all people who wanted to learn about SEO.
It offers tremendous information from a real-life, including case studies.
One of the most known strategies is called the Skyscraper case study.
Another, very interesting and useful method how to get better results in terms of ranking and better position was the outreach to the 404 on other websites.
What is it?
Let me cite directly from his Broken Link Building post:
"Broken Link Building (also known as Dead Link Building) is the practice of building backlinks by replacing links to 404 pages with a working link to a target website."
So basically, you write content about coffee machines and while doing research you find a website with a list of the best coffee machines.
But inside the article, there is a link that doesn't work, a broken link (404).
You reach out to the content creator saying hey, there you have a broken link. Here is a piece of work I have done that might just be a great replacement.
The content creator puts your link on his website and you have a new genuine backlink to your website.
This is a bit of an oversimplification of the method and if you want to learn more about the strategies, you should check Brian's blog, Backlinko.
How Does Backlinko Make Money?
Brian used to have an agency but did not want to do that.
As building up the Backlinko he looked around and realized there was no real training on SEO.
So he decided to create one.
It was called SEO that Works and it became a flagship course for the whole time.
The course was upgraded and re-launched a few times.
Other than that there were other courses:
Digital PR
How to Create Courses
YouTube marketing
The cost for the courses ranges from $1,000 to $6,000.
Quite expensive, right?
But how much value do these courses have?
Think about it his way;
If there is tons of great stuff for free on Backlinko, imagine what one can get for the paid course.
Currently, Brian works on a new course, called SEO crash course for beginners, and as of this writing, it should be launched soon (I guess Summer 2022).
How Much Did He Make?
When it comes to earning potential, it is important to mention that the website's four-figure course (priced at $1,000), has played a significant role.
The website attracts about 500,000 unique visits per month, with a peak of 650K monthly visits.
Assuming that only 0.1% of visitors actually purchased the $1,000 course, the revenue generated would amount to approximately $0.5 million.
It is worth noting that the course was launched only a few times per year.
These impressive figures demonstrate the lucrative nature of the website, which ultimately led to Semrush's decision to acquire it.
Semrush Acquired Backlinko
Brian got an email "out of the blue" asking whether he wanted to sell it.
He was asked about that before but did not happen as it was his baby.
And it is a perfect business model – not stressful, at least in the earlier stage.
Not long ago, Brian was also working on another project, called Exploding Topics.
Managing both became stressful.
So the email (screenshot above) came pretty much at the right time.
How Much Did Semrush Pay?
It is confidential.
They are public companies so no inside info can be revealed.
But it will be known since the public company must show their number.
Assuming in 2023.
But it was most likely 7 figures.
Definitely, a number that made Brian happy and it is believed the figure was $4M.
Do you have other information?
Please let me know in the comment section at the end of this article.
What is Brian Dean's Net Worth?
The estimated Brian Dean's Net Worth is not really known.
And why it should be.
You find different figures, from $ 5 million to even $25 million.
As mentioned in the section above, the main income was from selling his course.
I am sure you have noticed that there are no ads, on his website, which is pretty cool.
That means (at least what I think) he really wants to deliver value, since based on the traffic Backlinko got, he could have easily earned $15,000 a month, just from the ads.
After the acquisition (which was 7 figures), it could be true that Brian Dean's Net worth is about $10 million.
Which is great.
He currently has slowed down but is still very active in his new project called Exploding Topics.
This new project is not as lucrative yet as Backlinko was, but there might be a bigger potential and the traffic still rises.
Any New Projects?
Exploding Topics – Brian and Joshua's New Project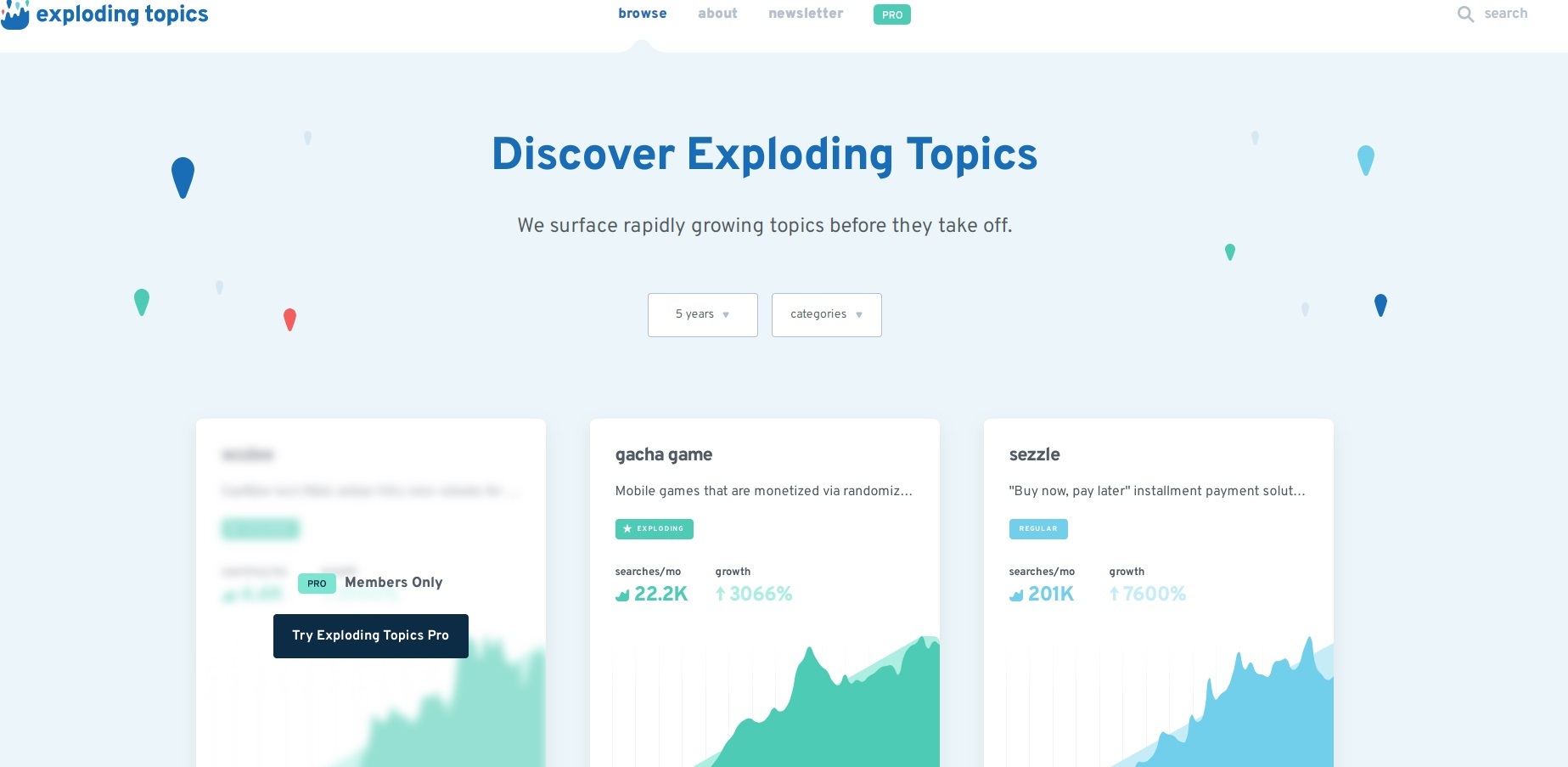 Brian and Joshua, the co-founders of Exploding Topics, have launched a unique project that aims to provide fresh and surprising ideas.
If you're familiar with Google Trends, you know it analyzes the popularity of the most searched queries on Google in different locations.
You may also like:
You input a specific query and receive results based on existing popularity.
Now, envision having a tool that not only shows you what's popular but also introduces you to new and unfamiliar ideas.
This is exactly what Exploding Topics does – it reveals data about topics you might not have known existed.
So, you explore the data and find yourself saying, "Hmm, I didn't know that existed."
Pretty cool, right?
But what's the practical use?
Investors can benefit by staying informed about general trends, especially those relevant to startups.
Additionally, content marketing professionals can leverage it to discover trending keywords that aren't highly competitive yet.
Conclusion
So there we go, that's Brian's story about how he started to learn about SEO to teach SEO, and finally did sell his "baby" to a huge company like SemRush.
The nice thing about it is, that both (Briand and SemRush representatives keep a good relationship and the idea is to cooperate with each other.
As you see, the website Backlinko is still up and it probably stays that way for some time.
How about you?
Would you like to become a successful internet marketer and learn SEO?
To start making consistent income online (using SEO) requires knowledge and experience.
But with a proper niche selection (or let me be specific – a micro-niche) and basic SEO skills, you can expect to have full-time income within 10 months.
And all that can be learned;
Just search for an educational platform that works and you are on your way to becoming financially independent.
Full-time revenue means net income that is more than you currently have. And eventually leaves the 9-5.
Are you interested in creating your own website and learning how to optimize it well?
Let me know in the comment section below, I might have something for you.
Thank You For Reading,
Mike.