I was checking ClickBank the other day and I have found that this product is on the market for a couple of months already.
And It seems to be quite popular according to the ClickBank site.
In fact, it is in the Top 10.
So I wanted to know if I can learn something new, so I can share it with you guys.
I went ahead and bought the product, went through the members' area, and also I've checked out the upsells.
To save your time, I can tell you right here that it does not worth it to pay for this "training".
There will be not much to say about the Explode My Payday (EMP) since there is not any educational platform whatsoever. At least what I have found out.
Besides the sales video with fake testimonials, there is only a section where you should sign up using your email. Apparently, you should be sending traffic (to " them" ) and make money automatically. 🙄
There is not such a system as an automated generator of income.
You probably have your doubts about EMP by now. Right, the entire product seems suspicious.
If you are still curious about this product then please bear with me. It might be fun…
Name: Explode My Payday
Website: www.explodemypayday.com (I am not associated with this product)
Price: Advertised Price $47 + Upsells
Owners: Meaghan Harper (allegedly)
Product Overview
When you watch the sales video, you might get the impression that this is an awesome product, and it will help you to reach $1,000 a week, maybe more. You can check it by yourself by clicking on the website above. You will see the following screen: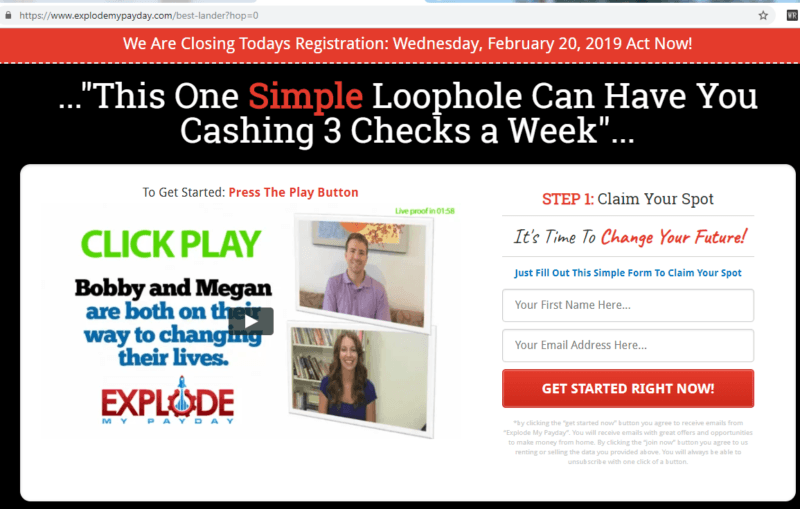 That particular impression fades away very soon, once you take a better look at their website.
Just look around the page and you see the "warning" at the top saying
"We are closing today's registration: day, month, year Act Now!"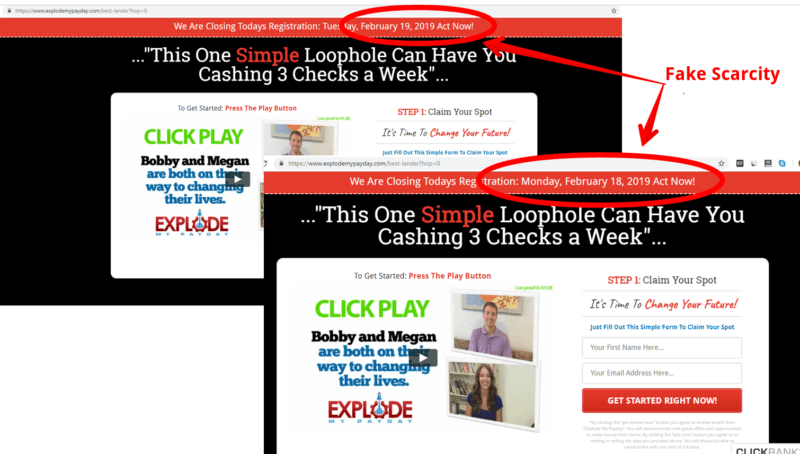 Well yeah of course. That date keeps changing. (check also the screenshot above)
I took the screenshots 2 days in a row.
As you see in the screenshot below, this offer is still on. Isn't that "funny"? 🙂
I bet when you click on the link above, it'll show you the same message, only the date will be the same as in your calendar.
The Good & the Bad
There are not really Pros to this product – not that I am aware of. But I will add some notes related to the product as general points.
As I discover just lately, they even offer you a discount, so the starting price is then something over 20 bucks.

In Testimonials, they show you that "User testimonials are not representative of average earnings"
Red flags are visible right after landing on their page
They offer a discount
Low-Quality Product
Too Many Red Flags (Fake Testimonials, Fake Scarcity)
Upsells up to $300
Impossible Income Claims
Who Is It For?
I believe this product is intended for beginners. But I would not recommend it to anybody. Please keep away from it.
There is no value in it.
And I would not recommend giving them your email either. If you take a closer look, you see that you agree to:
"you agree to us renting or selling the data you provided above."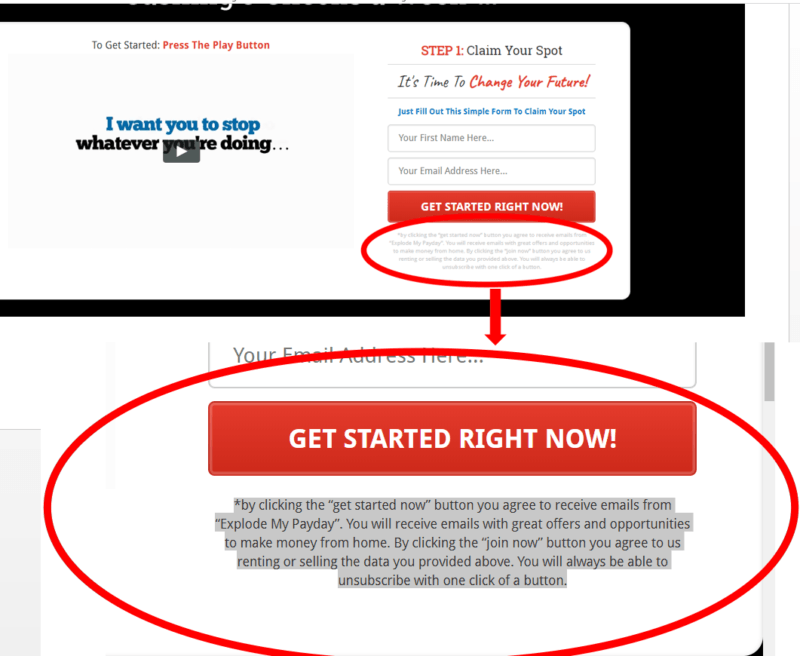 "Explode My Payday" Tools & Training
There is no training, no tools available for you where you can be taught something valuable.
But they promise you that you only need to work 15-20 minutes a day and you can earn hundreds if not thousands of dollars a week.
They also claim something in this manner: as soon as you put your name and email, we already created a website.
In fact, I have cut their sales videos, so you can watch the short version of it.
(full video available here)
I am not sure if you had a chance to check the 1st sales video with the testimonials. I have made a screenshot and uploaded the photo of one particular lady. You can then right-click on the image and then select "Search Google for image" – let's see what you get.
Is that her 1st video as she says?
I doubt it.
She appears in other videos as well, with the same dress in the same room. She is just a hired actress.
So why on earth would somebody who has a digital product to sell, use actors for testimonials?
And if you keep checking google, you soon find out that very similar product(s) are being sold – with a different name. They have a very similar pattern as for example Ecom Cash Crusher.
Support – There Is No Real Support
Once you paid for it, they declare that you will get support on a phone…
The reason why you would need support is to ask for your money back.
In that case, the best way is to contact ClickBank directly. There is a dedicated section on ClickBank. Just go to Order Support, you follow the instructions and within a few business days, you get your money back.
Price Structure of Explode My Payday
You see the front-end price right at the beginning. That is already mentioned above $47 (to be fair, as mentioned you can get a discount of $20 off)
Then there are 2 upsells. I have found out the sales funnel for you by checking on their affiliate offer. That is basically information for marketers who want to promote this misleading platform.
Based on the commission they might earn, I am going to calculate the upsell prices.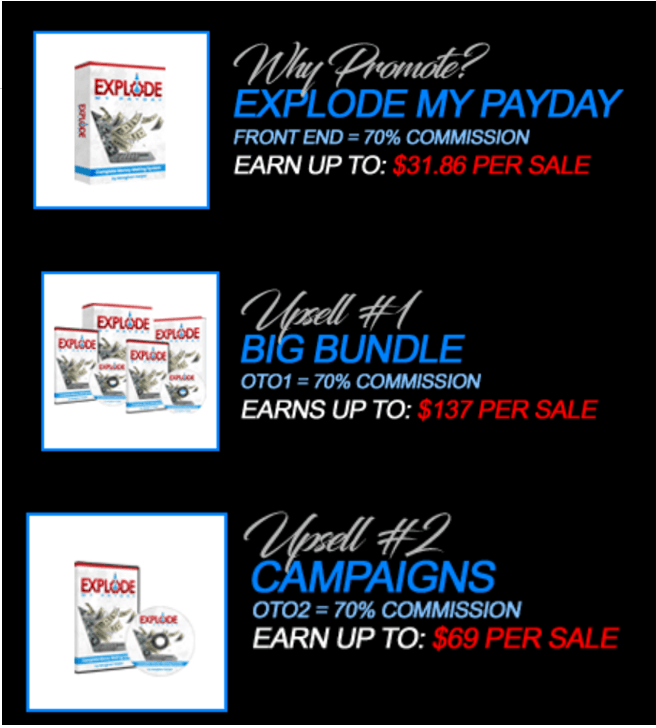 The first upsell is called Big Bundle. Their potential customer pays for this one-time offer close to $195.
Second, upsell they call Campaigns, and that costs close to $97.
My Final Opinion of This Explode My Payday
It is ridiculous what kind of products are available on ClickBank. It is not easy to find a legit program on ClickBank. One may ask if there is a way how to make money with ClickBank.
Well, choose a product which is valuable and people will benefit from it. That way you can be sure that this product will last much longer. You can then get closer to the dream of everyone which is a passive income.
They even claim that a person with no knowledge can earn $1,000 a day…
Knowing what the EMP is about combined with the unrealistic claim they make, there is only one thought in my mind: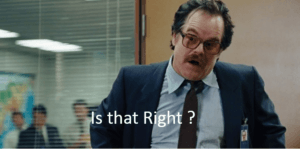 On top of everything – this product has been on the market for quite a time already. Only it had a different name.
And if you think about the sales video, it is very cheesy for the year 2019. It is like they have come out with this idea and they just keep promoting the same stuff over and over again.
It is funny, that they do not bother to put some effort into it, to make it more professional. But actually, that is a good thing 🙂 -> we can say right away that this is BS.
Do you think there are still people who buy such a thing? Let me know please in the comment section, I am really curious.
I Have an Alternative For You – The (Probably) Best Educational Platform
If you are looking for a way how to build a sustainable online business the first thing you need to have is a website. Your website is like a headquarter.
It is your office where you do all the planning, where you invite your customers (meaning visitors coming to your website), and help them.
Please stay with me – building a website these days is nothing comparing 10 years ago (or even 5 years ago)
Then you need to learn how to monetize your website. There are many courses also or tutorials, and videos material on how to start an online business. They are all in unanimous agreement, saying start as an affiliate marketer.
You may learn something here, something there, you also may purchase a $1,000 6 weeks course on how to set up your business.  And that is perfectly fine.
For those of us who need a little hint or a little bit more organized long-term training, there is one platform that is worthy of a try.
It is called Wealthy Affiliate and you can sign up for Free. Your starter account is valid for 7 days and you can explore the platform, and check how it works.
After these 7 days, you can still keep your starter account but your access will be limited.
But this week should be enough to decide whether to leave or to upgrade to a Premium Membership.
In case you have some questions, just drop me a line in a comment section (the best would be below the Wealthy affiliate review post) and I will answer you as soon as I can.
Explode My Payday at a Glance…
Name: Explode My Payday
Website: www.explodemypayday.com (I am not associated with this product)
Price: Advertised Price $47 + Upsells
Owners: Meaghan Harper (allegedly)
Overall Rank: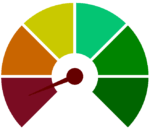 VERDICT:
Please stay away from "Explode my Payday".
Considering the fake scarcity at the very beginning and fake testimonials – these mere facts give us enough to consider this "training" a scam. Well maybe it is not technically a pure scam, but it certainly is not far from it.
If you truly want to know how to build an online business I recommend for you click on this link below. It is not commercial.
You can join this platform called Wealthy Affiliate for FREE. And to be perfectly honest with you, the Premium Membership costs $350 per year. To give you a bit different perspective it is less than $1 a day.
I understand that it might be quite a lot to pay for training. Therefore you have these 7 days where you can test it out and eventually decide whether you want to continue in your education or you want to find other ways how to make money online.
That is perfectly OK with me.
If you have any sort of questions, let me know in the comment section below.
Thank You For Reading,
Mike