Hello and welcome to my site.
Have you heard of affiliate marketing as one of the best ways how to earn money online?
There are many courses teaching affiliate marketing, but which one offers real value?
How about Affiliate Beast?
In the following Affiliate Beast review, I am going to walk you through this product to show you how it works, what is the price, and so on.
Let's get started.
After reading the Affiliate Beast Review you will know whether it is a good platform to invest in or not.
Disclaimer
Please note, I am not a member or an affiliate for Affiliate Beast. This review is based on research and information available online in the public domain.
Any recommendations and conclusions are only opinions and may not apply to all persons or situations.
Quick Overview
Name: Affiliate Beast
Website: www.affiliate-beast.teachable.com
Price to Join: $596.40 to $1,556.40
Recommended: It Depends
Affiliate Beast Summary
Affiliate Beast is an online course teaching how to make money with Affiliate Marketing. It concerns mostly digital ClickBank products that are promoted using Solo Ads and ClickFunnels.
In theory, this is not a bad course but there are some issues that I would like to point out.
First, of all it is expensive and on top of it, there are additional expenses with already mentioned Solo Ads.
The creator of this course wants you to believe that you can earn a commission even without your own website but this strategy does not work anymore.
When it comes to affiliate marketing it is necessary to have a website (or youtube channel)  and learn how to drive free (organic) traffic. There are certain steps that need to be followed.
Affiliate Beast does not teach anything about Keyword Research, SEO, how to choose a niche. These are very important skills that can be learned quite easily.
Below I leave a link where you can check out the platform that teaches this evergreen method.
Once some skills are learned, it is possible to promote anything. Also, there are many other ways how to make money and everything is explained in the platform that is only 2 clicks away:
Sign up for Free and I will guide you through the platform.
No Credit Card Needed – Just your email.
What is Affiliate Beast?
Affiliate Beast is an online course teaching how to make money with affiliate marketing.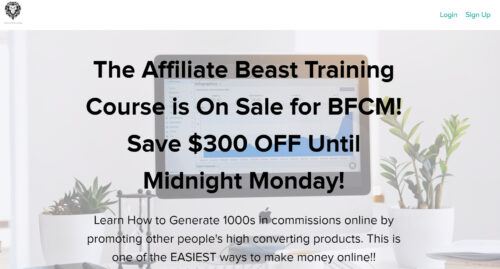 This is one of the best ways how to make money online since you don't have to deal with products, clients, suppliers… none of that and you can do it from any place you want.
In a nutshell, an affiliate marketer connects potential customers and the actual product/service and earns commissions if that service is purchased.
Depending on the traffic and experience the earning potential ranges from a few bucks to 5, 6, or even 7 digits per year.
This is why there are so many courses teaching affiliate marketing.
Affiliate Beast teaches how to promote ClickBank products.
To be honest I have some problems promoting ClickBank products, mostly digital products.
Don't get me wrong; ClickBank is legit but most of the products (especially in the E-Business category) are misleading (almost scammy) and generally speaking low quality.
As I mentioned in the article about ClickBank, it does not really make sense to promote such low-quality products. They all have a money-back guarantee which is at least 30 days.
That means that if the customer is not satisfied with the product he can ask for a refund and you as an affiliate don't earn any commission.
Affiliate Beast shows how to create a ClickBank account, but neglects other Affiliate Programs.
And there are hundreds of them that everyone can join.
Founder of Affiliate Beast
One of the first things you want to check when it comes to courses online is to check who the creator or founder is.
If there is no clear information about who runs the website or company, be aware that you might be dealing with a scammy site.
Affiliate Beast is created by a marketer named Deshayla Flowers.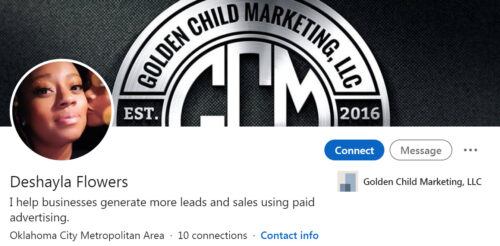 According to her Facebook profile, she is from Oklahoma City, OK.
She also has a LinkedIn profile where it says, she is the CEO of Golden Child Marketing since May 2016.
Deshayla has more than 5 years of experience in internet marketing and generated thousands of leads through free and paid sources.
Her Youtube channel was created in 2013 and as of this writing, there are 122 videos.
The channel is called CEO Deshayla and has more than 53,000 subscribers (and still growing).
The main point is that she is a real person.
Who is it for?
Obviously for people who want to learn how to make money online, or even how to do it full time.
But is this really going to help you to become financially independent?
Deshayla teaches how to promote ClickBank products, using Solo Ads.
Now let me tell you right now that this is not a good way how to offer the products (or services).
Solo Ads are sort of paid advertising and can cost you several hundreds of dollars, without getting any results.
Generally speaking, paid advertising is not good for beginners. There are several reasons for that, but bottom line is that paying for ads makes sense if
you already have a budget (ideally earned from the organic traffic)
you want to promote something that already works (again proven by organic traffic)
So anyone who is serious about building a business online, in the long run, should learn how to drive organic traffic.
Whether that concerns Youtube or a simple website (it is very easy to build a website these days).
How does it work?
By now we know that people purchasing Affiliate Beast will promote ClickBank (CB) digital products.
She is going to show you how to set up a CB account, how to choose a specific product, and how to promote it.
In the next step, you are going to learn how to create a landing page.
Landing pages will be created by using Clickfunnels, and this means additional costs.
The cheapest one starts at $97 per month.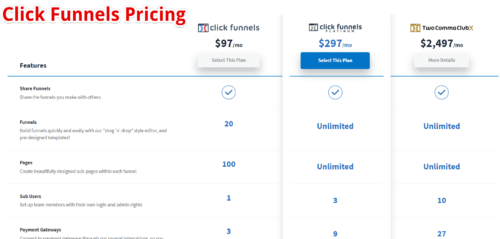 So on top of the price for the course, you have to pay for the click funnel membership.
Now that's not all.
You need to have traffic meaning people that would find your offer and click on that.
Deshayla shows how to buy traffic from Udemy, to be more specific, you should buy solo ads.
How?
You choose a vendor and ask for a number of emails.
Depending on the vendor the price can range from a couple of bucks to $120 for 10 to 350 email addresses.
Let's do simple math concerning the Solo Ads
In theory, let's say there are 350 people that receive your offer in their inbox.
What are the odds that someone will click on such an offer?
Let's say 10% will click on the offer. That would be 35 people.
(Please note this is a very optimistic assumption).
How many of these will actually purchase the product and keep it for more than 30 days?
10% would be a great conversion; that equals 3 to 4 persons.
Products on ClickBank usually pay $20 to $60 commission.
Meaning 3 person times $40 = you earn $120.
Now how much did you spend?
About the same, so this is not a very lucrative way how to make a profit.
That's is why it is much better to learn how to drive the free traffic and only then leverage the product/offer that works the best using the paid ads.
Let's take look inside the Affiliate Beast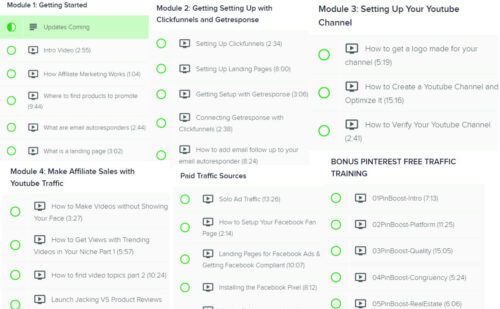 Module 1
The first module consists of an Introduction video and generally how affiliate marketing works. Where to find the product, what is the landing page and autoresponder?
Now in my opinion these are quite complex topics, but the entire first module lasts about 20 minutes.
How much knowledge can one get in 20 minutes?
Module 2
The second one is about how to set up clickfunnel and landing pages and how to add email follow to your email autoresponder.
The total length: about 25 minutes.
This is again too short.
Module 3
This is about setting up your Youtube channel.
How you can create your logo, and how to verify your Youtube channel.
I really believe that this kind of information can be found available for free.
Module 4
The last module is again about Youtube and it concerns:
how to make videos without showing your face
how to get views
how to find products to do reviews on
how to get approved to promote products
Module 4 is approximately 80 minutes long.
There is one more section within the training and it is about Paid Traffic Sources.
In this section, you find 7 videos (from 2 minutes to 14 minutes long) where you are shown how to set up a Facebook fan page, install the Facebook pixel, how to find the target audience, etc.
Again, I believe most of his information can be found for free, but I also understand that many people like to have it as one package, under one roof so to speak.
Here comes the interesting part, the price.
What is the Price?
The price is either $596.40 or if you want to have One one One Coaching you would pay $1,556.40.
This is too expensive in my opinion, considering the kind of training you get.
Not mentioning the additional costs for click funnels (another $100 per month.) and Solo Ads.
Is it really necessary to pay that much?
Here is the good news.
You don't have to spend more than $100 per month, to earn a couple of hundred per month.
Let me apologize but I feel like I need to share with you an alternative that costs $50 per month and you get thorough training on affiliate marketing.
I am not going to bother you with all the details, but this platform offers much better training, and the best part – It is possible to test it out for free.
The first 10 lessons are available for free, you only need an email to check it out.
Being part of this specific platform costs about $50 and you have access to step-by-step training where you are going to learn how to get the free traffic and most importantly how to monetize this traffic.
On top of that, there are hundreds of hours of webinars concerning a lot of different topics within affiliate marketing.
Issues that I find – Red Flags
Why she doesn't have her own site where she offers her course?
This is strange since everyone who wants to start with affiliate marketing must have a website.
It is so easy to build a website these days, so even a one-page site
I would assume that she as a successful internet marketer would have a lot of followers, on Facebook or other social media.
It is not the case though.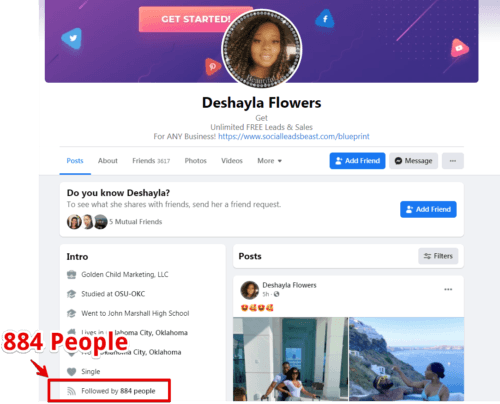 This is not an outright red flag, but being in business for 5 years, one would assume a lot more followers.
Training is too short (does not reflect the price)
It shows only basic stuff and does not go deep enough.
We have seen that she spends only a few minutes on a topic that is actually quite complex.
Let me digress for a while;
The platform where I am a member, has plenty of step-by-step training that is very well organized and it teaches the evergreen method and that is how to get organic traffic to your website.
I admit, this method takes a bit longer but once you have certain skills you can promote anything.
On top of the training, every member has access to weekly webinars (that are recorded and can be watched over and over again).
By now there are more than 300 webinars and one lasts not less than 55 minutes.
Just to give you an example, a webinar about research and finding an evergreen niche is almost 90 minutes long, including the Q&A.
Just wanted to give a small comparison and now back to the Affiliate Beast.
Promoting low-quality CB products
It is just maybe me, but I wouldn't promote a product that does not deliver.
And specifically, if you watched her videos, you know that she uses 12 Minute Affiliate as an example. I mean, it is possible to make money promoting these low-quality products, but building a business online is also about a relationship with your audience.
12-minute affiliate is, in my opinion, a bit of a scammy or at least misleading course where at the beginning you are told that the price is $47 and eventually you might end up pay hundreds of dollars.
Besides, you are not going to learn a lot, and you end up promoting the same product – 12 Minute Affiliate.
This is not how affiliate marketing should be taught.
These are not huge Red Flags, but I wanted to share with you the thoughts that would make me not buy her course.
What I like about Affiliate Beast

Explains How to Make Money With Clickbank
Some information that is valuable regarding Facebook Ads and how to set up a Youtube channel
What I don't like about the Affiliate Beast
Too Expensive (considering that a lot of information are available for free)
Too short (The videos are too short and do not cover the topic as they should)
Some Thoughts at the End
She probably knows what she is doing but being in the online business for 5 years and offer courses that cost more than a thousand dollars?
In my experience, it is a little bit too early. In other words, she might teach you something, but most likely she is only one lesson ahead of her clients, so to speak.
I know a person who started a youtube channel more than 5 years ago He started to make $50,000 plus per month and only after that started to teach others, solely for the money and he admits it.
Checking her Youtube profile, I don't think she has that kind of result.
Her Youtube channel CEO Deshayla makes about $500 per month from the advertising.
Anyways, here is the bottom line:
Do I recommend it?
Well, not really.
I personally would Not buy her course.
When it comes to content creation (meaning building a website) down below is a link to the method I have been using and in my opinion, it is the best educational platform regarding affiliate marketing today.
If you have questions about the Affiliate Beast, or you are interested in affiliate marketing, please use the comment section below.
Thank you for reading
Mike
How to Get Started with Affiliate Marketing?
I have been a member of Wealthy Affiliate since late 2017 without a prior marketing experience.
Beginning of 2018 I have learned how to build a website that drives traffic and makes sales.
Since the summer of 2019, I am a full-time internet marketer and I work from anywhere I want, whenever I want.
Training within Wealthy Affiliate teaches how to generate a consistent income in the long run.