I spotted a new item in the Top 10 popular products on ClickBank.
It is called a 1K a Day Fast Track.
I take it as you have stumbled upon this product as well, probably on a ClickBank too, and you are wondering whether it is worth investing in this system.
I am glad you do your due diligence since it is a high-ticket product with a price tag of close to $1,000.
But is this going to be the final price for 1K a Day Fast Track (1KaDFT)?
Are there any additional fees?
We are going to look at this product deeper; who is behind it, whether it is a real person, how much money can you make with this system, and by the end of this review, you will be able to decide whether to invest in it or not.
Let's do the 1K a Day Fast Track review together.
Disclaimer
Disclaimer Please note I am not a member or an affiliate for 1K a Day Fast Track.
This review is based on research and information available online in the public domain.
Any recommendations and conclusions are only opinions and may not apply to all persons or situations.
1K a Day Fast Track Overview
Product Name: 1K a Day Fast Track
Price to Join: $997
Creator: Merlin Holmes
Rating: 4/10
Do I recommend it? Yes and No. Keep Reading.

1K a Day Fast Track Review – Summary
Merlin Holmes, the founder of 1K a Day Fast Track, offers a comprehensive 6-week training course on affiliate marketing. The focus of the course is promoting ClickBank products through effective email marketing strategies.
As a potential student, you will learn how to set up a captivating 2-page website featuring online polls to pique visitors' curiosity.
By enticing visitors to leave their email addresses in exchange for more information, you can effectively build an email list and promote various products to them.
However, it's important to note that this system may not be suitable for beginners, despite claims suggesting otherwise. It's worth mentioning that to start generating income, the primary focus is on promoting 1K a Day Fast Track, where Merlin offers a generous 50% commission.
It's important to recognize that driving substantial traffic is essential for promoting any product effectively. Merlin's approach doesn't revolve around Google Ads or Facebook Ads; instead, he teaches how to leverage Revcontent as a marketing channel.
Learn how to create and monetize your own website:
What Is The 1K a Day Fast Track?
This is a 6-week course teaching you affiliate marketing.
To be more specific, Merlin focuses mostly on email marketing ad the evergreen method on how to make money online.
Merlin is the name of a person who has developed this system called 1K a Day Fast Track. We will get back to Merlin later on.
He promises that he is going to teach you how he makes more than $14,000 in sales and commissions every day.
You are invited to join his free "live" webinar, where he explains his method.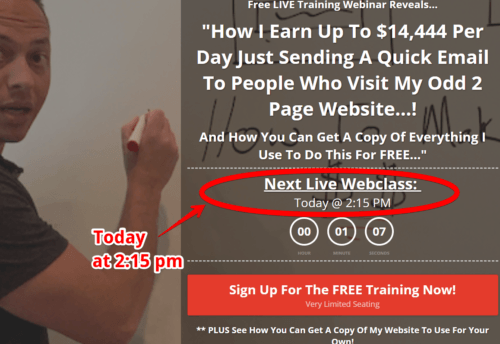 This is supposed to be a live web class, but the truth is, it is just recorded and replayed.
I think nothing wrong with that, but everyone should be informed that the webinar is not live.
The webinar lasts more than 2 hours and if you don't have time to watch it let me break it down for you.
Well, first of all, I would like to point out that the entire webinar could have been done in 40 minutes.
This is not the first time that I have attended a webinar that took needlessly long.
For example, Vick Strizheus's webinar, the creator of the 4 Percent Challenge, takes more than 3 hours. And in my opinion, that is too long.
A person can't be focused for 3 straight hours.
But I digress.
The webinar starts with Merlin's story about how he started, how he got into internet marketing, and in about 40 minutes he gets to the point – his method of how he generates the income.
According to the information in the webinar, there are 3 big secrets to making thousands per day with simple emails (that is at least how Merlin calls these 3 steps):
Secret #1 – Easy List Building. How to build a large email list without creating content or product
Secret #2 – Get Paid. How to get paid to build the email list and then get paid for years after?
Secret #3 – Hidden Traffic Goldmines. How to get 500 to 1,000+ subscribers per day without paying ads on Facebook and/or Google
In my experience, there is no secret when it comes to building up an email list. Email Marketing is, of course, a great way how to generate income, but the only way how to do it is by providing value to your visitor.
Merlin wants you to believe that
He provides you with the Ads – You just copy and paste them. Now Image that hundreds of people do the same. There are the same ads everywhere. It does not make sense.
Then, you have this 2-page website with an online poll. Apparently, visitors coming to the page will answer the polls and leave their email (regardless of how they answer you still get their email)
After that, they land on a thank you page
Then they are redirected to the sales page.
If they make a purchase – you get paid.
Well, this is basically a regular funnel.
The only problem is that Merlin wants you to believe that more than 50% of a visitor clicking on the Ads will convert and make a sale.
Reality is different.
Let's just take a look at the 1st point – The Ads.
The good thing is that you don't pay google nor Facebook for the Ads, where a click can cost you from $1 to $2.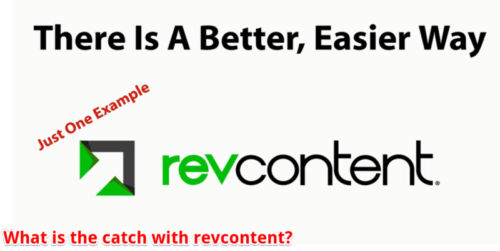 You can get much cheaper traffic, and that should be provided by a company called RevContent.
Now, how about this – Did you know that you can use the RevContent service only when you have at least 50,000 visitors per month?
Otherwise, you just can't use the paid traffic provided by this company.
And let me tell you, having 50K visitors per month on my website – I don't need to pay for the traffic unless I want to leverage a certain campaign.
There is a lot of misleading information in the 1K a Day Fast Track Webinar.
Anyways, here is the schedule of the 6 weeks training course:
1st Week – 5 Day marketing masters degree + Quick $400 Commissions
2nd Week – Setting up more commission Accounts, Finding the right product, and getting everything in place.
3rd Week – Fast development and deployment of your 1st poll
4th Week – Creating an automated selling system
5th Week – Creating your 1st money-making Ads
6th Week – Panning out your future stream and secret offer sources.
Besides the training, in the webinar, it is said that 1st 15 people will get also Bonuses.
Just a note:
As we have seen this webinar runs every 15 minutes, so what is the point of this fake marketing technique?
The bottom line is that everyone gets the Bonus.
All of them:
Proven Landing Page Templates
Secret Thank you page cash generator script
Full email templates
Titan of the traffic training system
Phone consultation for the first 5 (again, this is just a marketing trick, since the webinar can be replayed 4x per hour)
Ad Pack, Partner support
Free 2nd login for your partner
Secret Package FedEx to your door.
There are 8 Bonuses one will get.
Inside the webinar, when he was talking about these bonuses, I found it very annoying to mention them at least 10x.
He introduces Bonus #1, explains what is all about, and then moves to Bonus #2.
Then he sums it up.
He mentions briefly Bonus #1 and #2.
It goes like this until he gets to the last Bonus.
This part alone took at least 30 minutes.
Who Is 1K A Day Fast Track For?
This course is intended for people who have not succeeded in the online world, but mostly for beginners. There are several groups of people who might be interested in building a business online.
For example:
Employees who are tired of commuting to the office and spending at least 8 hours of their day working
New Entrepreneurs, just getting started who are looking for a simple way to start a business with very little risk
Homemakers – who want to earn an extra income working from home with a little risk
Retirees – who want to increase their monthly income
Or just people, who want to earn side income working only a few hours per week.
Sounds tempting.
According to Merlin, there is no experience required to succeed with the 1K a Day Fast Track.
Let me just mention, that there is no such thing as easy extra income with a little risk. Merlin makes it sound like there is no hustle involved and a few hours per week is enough to generate an income online.
Only an experienced marketer who already outsources the work can afford to work a few hours a week. Everyone who just starts needs to put enough effort into the building business to get the ball rolling.
But, he correctly points out that his results (making $14,000 per day) are not typical. Of course, he has been doing this for 14 years, so no newbie can compare his outcome with Merlin's.
Who Is Behind 1K A Day Fast Track?
We have already touched on who is behind the 1K a Day Fast Track.
His name is Merlin Holmes.
There is not much information about Merlin. It seems that he was not a guy building up personal branding.
We can assume though that Merlin is a real person.
Although based on his income reports (screenshots from ClickBank) one would assume that he is supposed to be on the CB leaderboard, just like Robby Blanchard (with his Commission Hero) is.
He is a college dropout; he did not like the idea of paying for college, getting more and more into debt. He realized that this is not a path for him.
Then he tried network marketing/MLM company, but that did not work out for him either.
Finally, he started creating simple systems to do the work for him and as a result, he made the 1st simple website.
Within 90 days this site was generating over $20,000 per month.
Today, based on the information in the webinar, Merlin runs several businesses, each generating about $300,000 a month.
He shares a screenshot of the total revenue for 1st half of 2019.
He doesn't reveal what kind of business are these, nor websites so we may take a look. Just a few screenshots from the ClickBank account.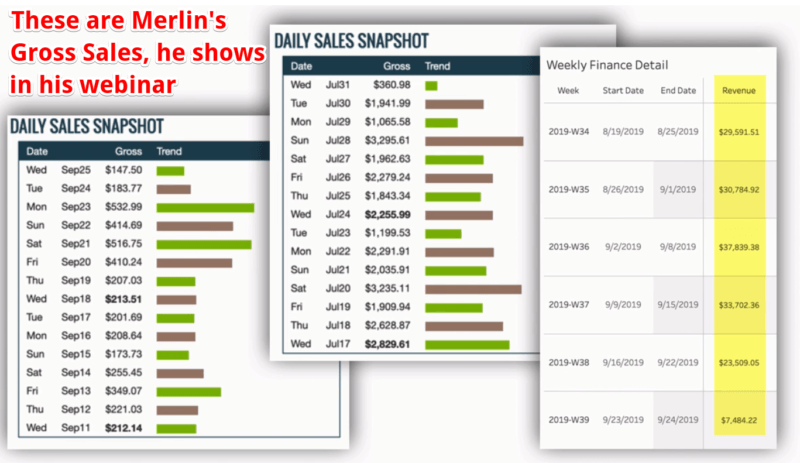 Merlin's income claims seem to be very impressive. He looks like one of the best sellers on ClickBank. I am just wondering, how come he is not at the Leaderboard, yet?
There should be soon an update on the leaderboard, so let's wait a bit.
1K A Day Fast Track – The Claims vs Facts
I think we have covered also the red flags above, but let me briefly sum it up:
1) A live webinar is not live
It was probably live in the middle of September, and since then it is replayed over and over again. I am not against replayed webinars, but in my opinion, Merlin should be transparent and say that it is recorded.
Or why he does not create a new webinar, let's say once per week?
It should not be a problem for such a great marketer with 10+ years of experience.
2) Unrealistic Income Claims
A newbie can't make $400 in his first 24 hours.
Unless he already knows how to drive traffic and he happens to sell the very same product.
3) Cheap Traffic by RevContent
Again, this is not that straightforward.
First of all, one needs to have 50K monthly visitors to buy the traffic from RevContent.
Second, even though this is cheaper than Google or Facebook; the click still costs about $0.2. To have 50 clicks (=visitors) per day on your website, you need $10 per day.
That is an additional $300 per month.
4) Fake Scarcity
We have touched on this already.
During the replayed webinar he keeps talking about the bonuses, and that only the first 5 people will get it.
It is just a fake scarcity since we know that the same webinar can be played over and over again.
Also, towards the end of the webinar, there are notifications, that this person just bought the 1K a Day Fast Track.
There are at least 25 such notifications.
We know that these might have been real, only and only when the 1st webinar was live.
What I like

Email Marketing is an effective way to make  money (assuming you know what you are doing)
6 weeks of training providing you with some information
What I don't like
The price is too high (not to mention additional costs for advertising)
The copy and Paste system can't work for everyone. Imagine hundreds or thousands of people using the same ads
Income claims. A beginner can't just make hundreds of dollars per day. Unless he promotes this very same product and by luck someone purchases it. (Merlin pays 50% commission)
Fake marketing tricks (fake scarcity, like Bonus, is available only for the first 5 persons – as we have seen this webinar is available 4x per hour = 96 times per day)
Additional costs for the Ads. Even though these are allegedly not expensive Google ads or FB ads, you still need an additional budget of about $300 per month to get a traffic
How About An Alternative?
I think what bothers you most is the price of this product.
Almost $1,000 just for a 6 weeks course is a lot of money.
Merlin says over and over again that it is nothing compared to what you can make, but we have seen that it is not that easy. The easiest path how to generate a few hundred per day is to start promoting his system the 1K a Day Fast Track.
But again, you need a significant amount of traffic to your website.
This system with polls probably used to work 10 years ago.
I know you are asking, but Mike is there a legit way how to build a sustainable online business?
Yes, there is.
Just like any other business, it takes time and effort.
It is easier today with the internet to establish a brand or a business, but no one earns 4 digits in his 1st 2 months. It is undoubtedly easier than 40 or 50 years ago. Starbucks' idea was turned down 47 times. Look where is Starbucks today.
With the internet, you can be successful faster. For example, it took 1,000 days for Airbnb to establish a brand as we know it today.
In 2017 (9 years after the foundation) the revenue was $2.6 billion.
I am not saying that you should be generating billions, but how long do you think you can start generating 4 digits a month?
My guess is, with proper guidelines, within a year or 16 months.
If this is your mindset, and you are ready to go on this path, then I chttps://setaffiliatebusiness.com/wealthy-affiliate-review/an help you out even if you currently have no experience.
Without further ado, let me show you the Wealthy Affiliate platform where I have learned everything from scratch.
The founders of WA want everyone to have access to their training platform therefore there is a 7 days free starter membership. No credit card is required.
I signed up for a starter membership and within 2 days I liked the training. It was exactly what I was looking for.
Here is an overview of both systems:
Final Verdict
In the training, you should learn how to create a simple business that only takes a few hours to run, and yet you can create thousands in profit.
Well, unfortunately, it does not work that way.
Not for beginners.
The 1K a Day Fast Track is not what I thought it was.
To me, it is just another product teaching you how to promote the 1K-a-Day Fast Track.
Otherwise, it will be very difficult to make money using the "system" described in the 6-week training.
I do not recommend this product.
If you want to watch the webinar, by all means, find yourself 2.5 hours and form your own opinion.
If you have any questions, let me know in the comment section below. I'll be more than happy to answer all of your questions.