This is going to be a review of a JVZoo product called YouTube Secrets.
When I first saw this product, I thought it is just a rehashed Viral Cash Application. The main reason was that both products promise you to make money with YouTube, without any recording or marketing. I was wondering how then can one make money.
YouTube Secrets has nothing to do with the Viral Cash Application, although I can tell you right from the bat that the promise of making $3,000 a month is pretty unrealistic.
So what is the Youtube Secrets?
Let's start with YouTube Secrets Review looking at the general overview, then we are going to check the Pros and Cons, how the training looks like, and whether they offer support or not.
At the end of this review, you will be closer to the idea of making money online.
We will check who is behind this platform and most importantly how much they ask you and what they can offer to the customer.
Name: YouTube Secrets
Website: www.youtubesecrets.com
Price: Advertised Price $1 + Monthly payment $27 (starting a week after signup)
Owners: Mike Williams (Most likely a Fake person)
What is YouTube Secrets?
First of all, do not confuse this product with a book that was available on Amazon called YouTube Secrets.
YouTube Secrets is a JVZoo product and it has been around since the beginning of 2016. At least the website was created in January 2016.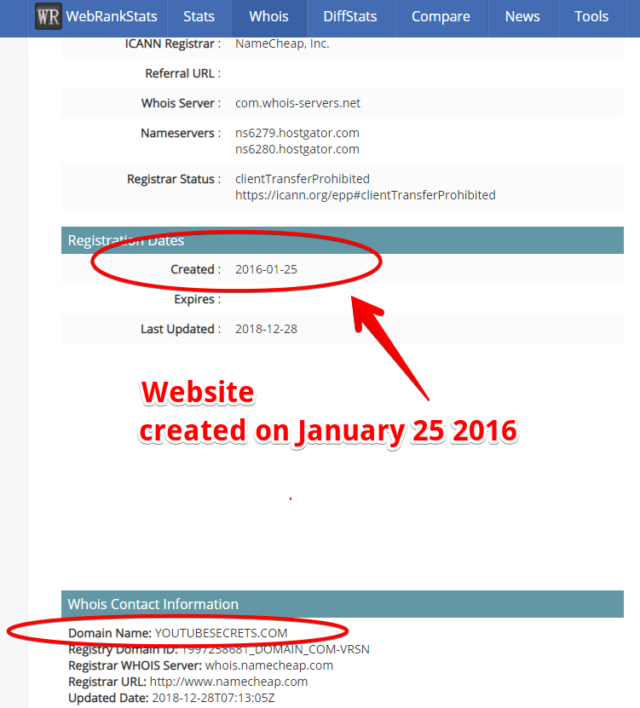 The entire idea is to make money from YouTube without any marketing, no website, and apparently, you don't even need to create videos. Mike Williams says, that you can choose from millions of already-done videos and make them yours.
Let's stop for a minute right here.
I have done some research and according to the photo on the sales page, Mike Williams is most likely just made up name.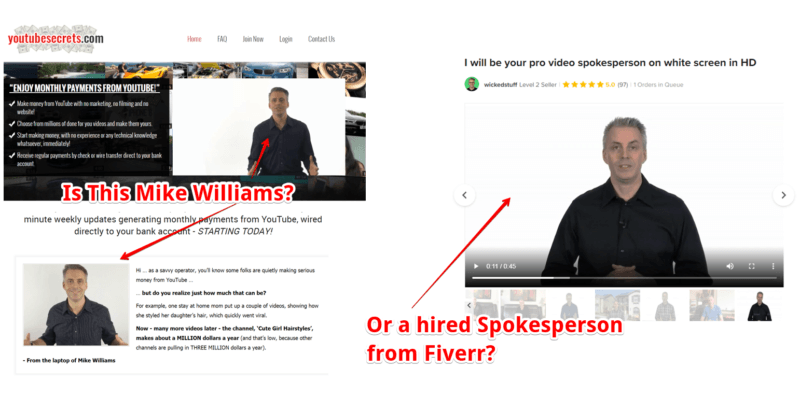 The person is a hired actor from Fiverr.
This is the first red flag we see. If the real owner or creator of the YouTube channel does not reveal his identity, that means that he is hiding something.
Also the statement, about using other videos…To me, this sounds a bit fishy. How come I can make money out of somebody else's video?
Basically, you would just take the video with millions of views make it yours (part of your YouTube channel), and have Ads on them.
The thing is though, that in order to make money from the Ads which are on youtube, you need to have at least 1,000 subscribers to your channel.
That obviously does not happen overnight.
Not mentioning the ethical aspect of "stealing" someone's video.
YouTube Secrets Update
YouTube Secrets, previously listed on ClickBank, was removed from ClickBank due to a violation of their terms of service. This highlights the questionable nature of the product, suggesting it may be misleading or even scammy one.
YouTube Secrets Pros & Cons

Price $1 – Just note that 7 days after the purchase you are charged $27
Some Training Material
Money-Back Guarantee
Some Material is already outdated
$27 Fee recurring – for no particular reason, whatsoever
No training on how to generate traffic
Who is YouTube Secrets For?
According to the alleged owner, this system is intended for anybody with no experience or any technical knowledge. Actually, if you enjoy doing YouTube videos, ironically this might be not for you.
As strange as it sounds, with this system apparently you don't need to have any experience whatsoever and yet you can make money "with no filming"!
Mike supposedly knows a smart way how to make money from other people's videos.
He has this silly example about a mom putting up a couple of videos, showing how she styled her daughter's hair and this video went viral.
And then videos like these make million dollars a year.
That might be the truth, but somebody put a lot of effort and time to make such videos worth that much.
YouTube Secrets Tools & Training
The member's area is simple and it does not overwhelm you. We will check what you can find in each section.
Step-by-step video tutorials
– Here you have a bunch of lectures about making money on YouTube. How to edit video, advanced YouTube settings. There are altogether 31 videos.
YouTube Earning Calculator
– This calculator should show you an estimation of much money you might earn.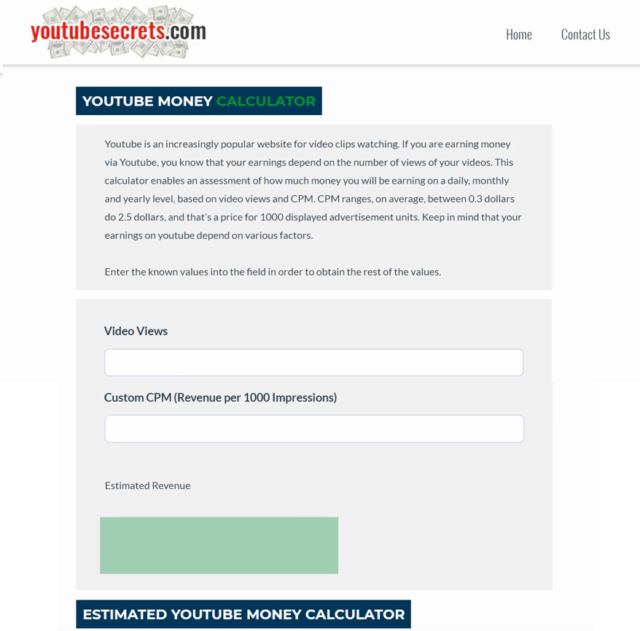 Ebooks and Resources
– Bunch of ebooks such as
3 Keys to YouTube Audience Success
Viral YouTube Traffic
Success in 10 Steps
Success Attitude
Niche Marketing Words and Phrases That Sell Like Crazy
Niche Finder Mechanic
Social Media Secrets Tutorials
– There are more videos in this section about
Introduction and Opportunity Overview
7 steps to successfully duplicating my social media profit process
36 Ways to Fain on Social Media
The content you Create
Easy upsells for hundreds more
etc
There are exactly 23 Lectures.
YouTube Secrets Ebook
– Just one book: "How To Make 1000 Dollars Per Day With YouTube"
Tools and Resources
– You get here TubeChop. Which BTW has not been working for a while. You can check the alternatives
The list of resources continues with:
DragonTape – For the creation of remixes of YouTube videos
iDesktop.tv – This should be an interface for browsing YouTube videos
YouTube captions – Official tool which adds captions
Turn off the lights – Chrome extension, which allows putting the focus on video rather than comments
TubeMogul – this apparently gives stats to help target the right audience
etc
Tips and Tricks
Here you can find more information on how to grow a successful YouTube channel
Support
In the sales video, you are promised by Mike that he will be your coach and will support you. This I am not entirely sure about.
Also, they do have this section with a link for support, but I was checking a similar review where the lady said, that it took ages to get feedback from the support.
If you by any chance purchased this product and you want to get your money back, please do not use this section within the YouTube Secret platform. You might have a hard time getting the money back.
The best way is to go directly through the JVZoo refund policy to learn more.
YouTube Secrets Price Structure
Like with many digital products also with YouTube secrets, you have this "unique"  chance to get the free trial for 1$ only. I mean it is OK to have such an (almost free) trial.
But you have to provide them with your credit card information, right?
Just make sure that you read also the text below the price tag since they will automatically charge you $27 bucks.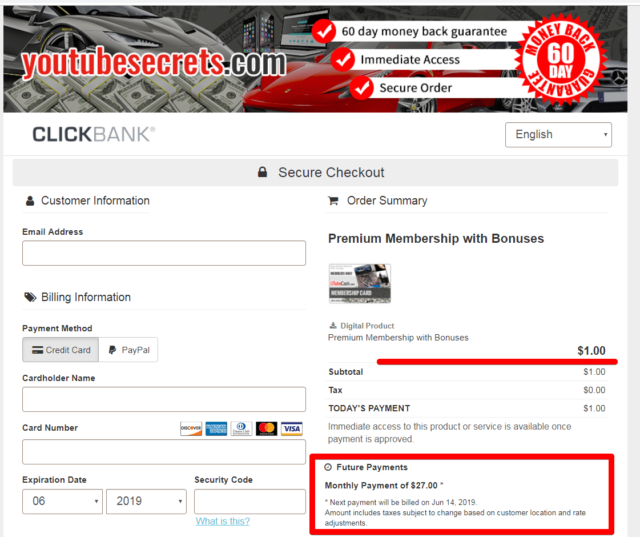 Also what I find very strange – this fee of $27 is recurring each month. I just do not understand what the customer pays for since there is no more training, no additional material, no webinar – nothing.
As mentioned, YouTube Secrets is not available on ClickBank anymore.
It is possible to purchase it from a different affiliate network, called JVZoo.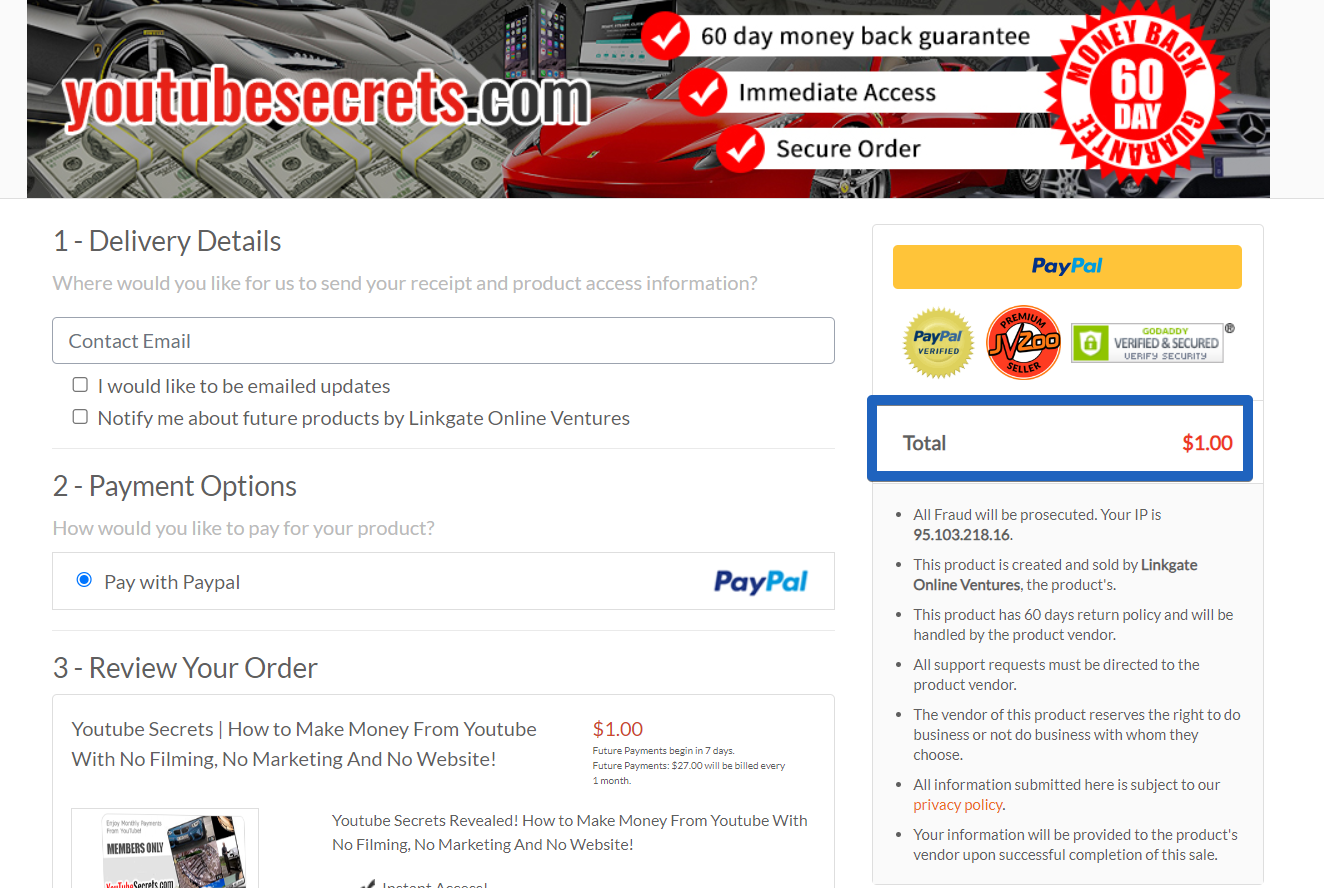 When it comes to the payments, always read it carefully;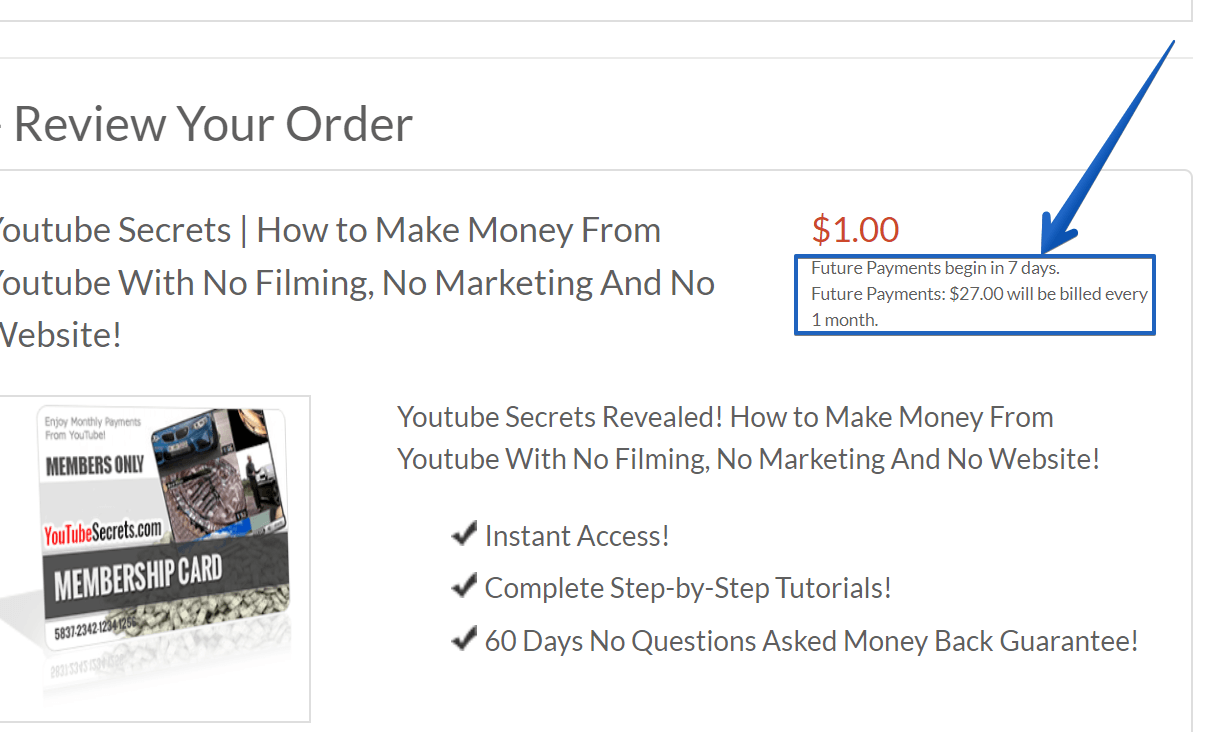 It says:
Future Payments begin in 7 days.
Future Payments: $27.00 will be billed every
1 month.
My Final Opinion of YouTube Secrets
There is certainly training inside the platform. If you are interested, you can go through it. Just make sure, after you are done with the training you unsubscribe from the product so they stop charging you on a monthly basis.
I also think you can make it through the material within the 1st week.
But as I already mentioned. The material is outdated so it does not really make any sense in 2019.
Conclusion
I don't think that the training inside YouTube Secrets will give you enough knowledge so you start to earn money.
I have mentioned that the entire idea sounds fishy, and I am wondering how come this product is not yet shut down.
On the other hand for $1 you can learn to get some overview, but that is pretty much it.
If you are interested in making videos on YouTube, I am sure you will find tons of materials for free directly on YouTube, right? 🙂
If you feel like you prefer some guidance or material training, I may suggest you join the platform where I am a member as well. Here I just made a quick screenshot to see how much material there is regarding YouTube
You can sign up for free as a Starter.
This Startup membership lasts 7 days.
After this week you can make full advantage of the Wealthy Affiliate by joining the Premium Membership. The price structure and other details about the training you can find in my other post where I talk about Wealthy Affiliate.
If you have any questions, regarding this product that just went through or you are interested in the alternative, please let me know in the comment section below.
I'd be more than happy to help you.
Cheers, Mike.