You are probably looking for ways how to make money online. My guess is that you already stumbled upon this digital product and you are wondering if you can make money with this system.
This product used to be available on ClickBank, but as of today (September 22nd, 2019), I can't find the product on ClickBank anymore. Does it mean that ClickBank removed this system from their list?
Does it mean something?
Is Affiliate Cash Club a Scam?
We will find out.
First of all, I would like you to let me know where did you find the Affiliate Cash Club (ACC)? Was it on ClickBetter or did you receive an email with a link to ACC?
I would appreciate it if you can drop a few words down in the comment section.
I personally have found this product available on ClickBetter. The website affiliatecashclub.co is new. It has been created in February 2019.
Name: Affiliate Cash Club
Website: www.affiliatecashclub.co Product Does NOT Exist Anymore
Price: Advertised Price $37 + Upsells
Owners: Jordan Mathews
Update
Affiliate Cash Club does not exist anymore. The product has been taken down.
Affiliate Cash Club Overview
This is a typical product from ClickBetter. I was gonna write ClickBank, but as I already mentioned it is not available on ClickBank anymore. I am not sure what the reason is, but there are other products that have moved from ClickBank, for example, the Easy Retired Millionaire or the Secret Profit Club.
Affiliate Cash Club is a system where you should be learning how to start making money online as an Affiliate Marketer.
It starts with the sales video where the spokesperson talks about how this system helps many ordinary people and made them millionaires. This system is apparently easy to use and even you can make up to $35,000 a month.
I must say, that these claims are pretty exaggerated. I believe that is kind of a marketing strategy, to cause you some kind of a positive shock, right at the beginning of the sales pitch.
The spokesperson backs up these claims with some stories with screenshots, from the ClickBank account and the testimonials as well.
Let me just show you a few testimonials.
As you see these are hired spokespersons from a website called Fiverr.
This gentleman right here did a testimonial for different products as well. Just take a look at the AZ Formula Review or the Million Dollar Replicator.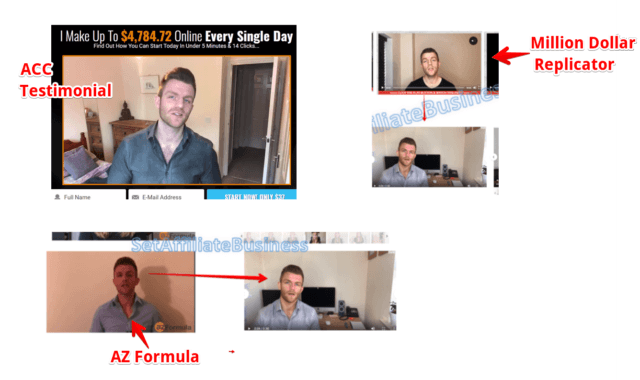 The ACC has been around for 6 months, so by now (Sept 22nd) they have to have some really happy customers, I would guess.
The sales pitch continues with some more explanation.
Creators of ACC want to make it clear to their potential customers, that this system has nothing to do with bitcoins stocks or any sketchy investment opportunity.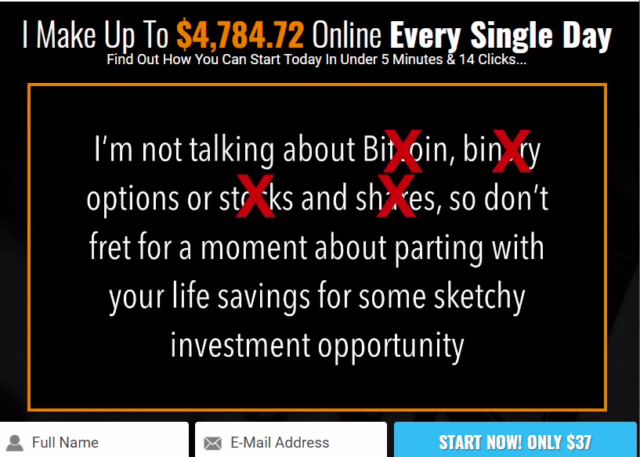 The entire system is by the book and the guy who talks (probably Jordan Mathews) says, he made over $2 million in the last 4 years with ACC.
This is strange since we have seen that the website has been created this year.
Does it mean that they had a different website using the same system?
Or is somebody just overlooked something?
The entire sales pitch sounds just to good to be true. Also, they use methods to make you believe how the system works and how people like it.
I must say though, that Affiliate Marketing is really a great way how to start a business online.
The drawback is, that you have to create lots of content in order to be found in search engines.
10 minutes daily on your laptop is simply not enough.
The Pros

Lots of material to go through
Money-Back Guarantee
N/A
The Cons
Fake Testimonials and the owner/creator are made up
Hidden Costs – Upsells
Unrealistic income claims, especially concerning newbies (since ACC is intended for newbies)
Who is it For?
As I already outlined it is said that anyone can start using the ACC. there is no previous knowledge required or experience. And yet you are promised that you can start making money online today – It is meant the same day as you find this system.
That is not the truth. There is not such a system that can make you money the first day you apply that.
Let me rephrase:
It is highly improbable that you are going to make a significant amount of money (meaning $100 and more) within 24 hours after you sign up for ACC.
The only way that can happen is:
Create an Amazon Affiliate Account
Choose a product and get your affiliate link
Post this link on Social Media like Facebook, Twitter, Instagram
If someone from your friends/followers clicks on that link and decide to buy that product, then yes you can make some money.
I am not sure if you are familiar with the Amazon Affiliate Commission structure, but your commission would be 10% max. I am not saying that it is not possible to make money as Amazon Affiliates.
I am saying that is very unlikely to make money on the first day (even week).
Wherever you decide to promote Amazon products, you need to have there (website, FB, IG, etc…) a significant amount of traffic. That requires experience and a few trials and errors.
But guys behind the ACC want you to believe that as soon as you have a laptop, and connect to the internet you are good to go.
ACC is apparently a "foolproof system for people who are just getting started with affiliate marketing".
Obviously, there are some educational platforms with great training, support, video tutorials, and a supportive community, but I would not call it foolproof at all. There is not such a thing as a perfect system and everything has its Pros and Cons.
Affiliate Cash Club Tools & Training
The back office of ACC (or the members' area) is really simple.
On the left-hand side, you see 3 different steps you shall follow. Actually, before you get to the 1st Step, you can watch the Welcome video.
Step 1)
As you see below, that is an invitation to join a totally different product called Super Affiliate System.
Now a theoretical question:
Why would I, as a course creator, would want you to sign up for a different course?
The answer is clear. John as an owner of the Supper Affiliate System pays 50% commission out of his almost $1,000 dollar course.
Don't get me wrong. There is technically nothing wrong with that.
My point is that in the sales video they lure you into buying a product names Affiliate Cash Club, and the first thing you see (OK second thing) is the invitation to join a totally different course.
That is like I convince you to come to my honda dealership, saying that I have this great brand new honda hybrid for you, 100,000-mile guarantee, 5 years warranty, and blah blah.
You come to my store, you pay the deposit for Honda and I say – "you know what, there is no honda, but here I have a BMW 5 series for you because you are my VIP client and you need to have a great car"
… I mean Duh…
Let me show you what else is inside this platform (actually no more surprise of that kind 🙂 )
Step 2)
This step is related to the Affiliate Cash Club (well sort of).
It actually says, that you have been upgraded to the Affiliate Cash Club Elite Club and there are a video and link to get started.
It gets you to a different website with a bunch of courses.
If you go to the first course you find there dozens of videos about the ClickFunnels.
From Registration to templates, to Value Ladder, explaining what a sales funnel is, a theory of sales funnel,  getting sales, how to recruit affiliates, google AdWords, YouTube AdWords, Facebook Ads, and Social Media Automation.
There are really lots of stuff to go through.
Here is just an example of what you will see when you click on whatever section above. There are like half a dozen sections and each has 4 to 8 videos.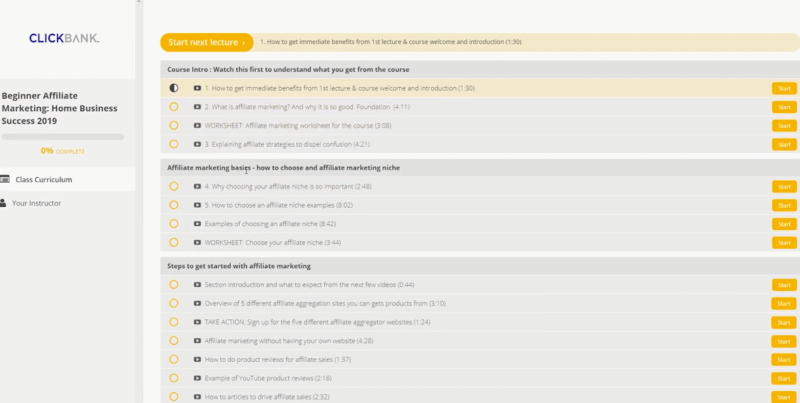 The thing is though, that it seems like it is taken from a different website or different course. It somehow does not look like part of the ACC. Also, the person who provides you with the videos is somebody else.
I have my doubts about the origin of these courses. Here is what is on my mind.
In many of these videos, you see a guy named Alex Genadinik. Now If you google this guy you see that he has lots of training on Udemy.
Why would he sell his training material to some platform called ACC? In other words how come you can get many of Alex's training material for less than it is offered on Udimi?
I can't prove anything since I have not been in touch with Alex, yet but it looks suspicious.
Support
I have not found any support, other than the email. Which in my opinion is not enough.
In my opinion lack of support undermines the credibility of the system. And it applies to any system or product.
As a beginner, if I was about to start with ACC and for some reason I get stuck, I want to have some online chat or telephone number where I can address my issues.
Better products or platforms have a dedicated page within their back office where you can raise your question/issues.
The following screenshot is not related to the ACC system.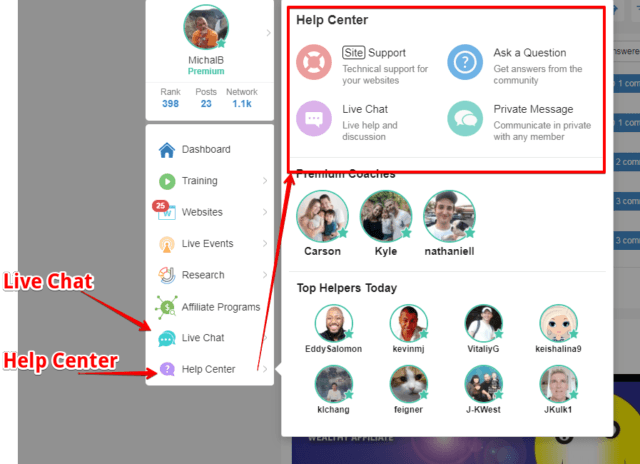 I just wanted to show you, what the support should look like.
You see there is a different feature for Live chat and also for Help Center. From the help center, you can get to the live chat as well and you have a link to dedicated persons working 24/7.
Affiliate Cash Club Price Structure
The ACC front-end price is not bad. It is something below $40, which is an average price, compared to other similar products.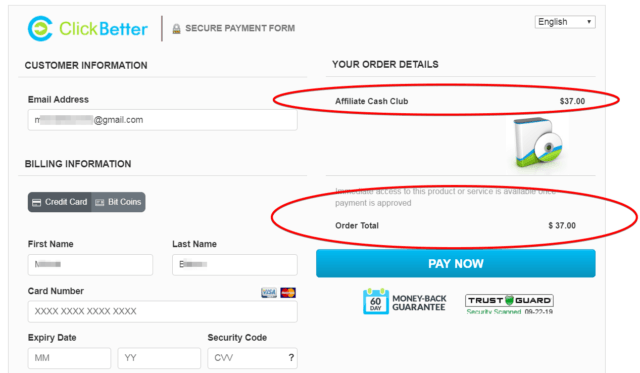 But also as other similar products have upsells, also ACC has 2 upsells.
Both are for $197 (or I believe the 2nd upsells is for $196). But most likely they will not improve your sales.
My Final Opinion of Affiliate Cash Club
This is a "standard" ClickBank type of product. Or I should say ClickBetter. The point is that the quality of training does not live up to the sales page.
Even though there are tons of videos available for you, it is not enough to start generating the promised income. Let alone "today" as the spokesperson in the sales video says.
Besides the range of topics inside the training area is very wide and it does not say which one you should follow or at least to advise you that you should choose one path only.
Another thing I don't like is that most likely these are video training of somebody else. I personally doubt that the creator of ACC does have permission from the originator.
The bottom line is that you are not going to make huge money using the ACC.
And they even say so in the disclaimer.
It says:
"The typical purchaser does not make any money using this system"
What is the point?
It is simple;
They want you to buy the product by saying that you can make $1,000 a day just by working 10 minutes a day.
You become a member for $37
You don't see results so you are thinking about the upgrade.
They will convince you to buy even the 2nd upsell, but your results are the same as at the beginning.
Unfortunately, this is the way how most of these products work.
Affiliate Cash Club at a Glance…
Name: Affiliate Cash Club
Website: www.affiliatecashclub.co – Product Does NOT Exist Anymore
Price: Advertised Price $37 + Upsells
Owners: Jordan Mathews
Overall Rank:

VERDICT:
Incoming claims on the sales page are just lies. There is no way that a beginner would be able to earn thousands of dollars in a single day, using the Affiliate Cash Club.
I must also point out that the idea of Affiliate Marketing is legit and that is a great way how to make money online.
Regarding the ranking of this course, I would have given a better score but I have my doubts that the training is not original.
Or is this the reason why ACC is not on ClickBank available?
What do you think?
Let me know what is your opinion. Also if you are interested in how to make money as an affiliate marketer let me know in the section below.