If you already have had a chance to review some ClickBank products, you probably noticed that in few cases one product somehow came to the end, and another – very similar to the 1st one appears as a brand new one. But if you take a closer look you see that besides the new look (like colors or logo) it is the very same product.
This is the case with Smart Profit App vs. Smart Cash App.
Here you find the Smart Cash App Review, which is an older version. There is no point in doing the review of the newer version called Smart Profit App since nothing has been added.
You see that right from the bat there is something fishy about this product. One would expect updated training or added new educational material, like for example in case of CB Passive Income version 5.0 where with each version Patric tries to make his product better. But it is not the case with the Smart Cash App.
We will take a look at what is inside the Smart Cash App member's area as well as the pricing structure, as there are some upsells expected.
UPDATE OCTOBER 2019
The website nor the product is available anymore.
You can continue to read the review but in my opinion, there is no point in doing it.
If you are interested in how to make money online, you can read my review about Wealthy Affiliate.
This is a legit platform where you can learn a lot about websites, SEO, there are more than 300 hours of video training, not to mention the best helpful community in the world.
Just check it out and form your own opinion.
Name: Smart Cash App
Website: www.smartcashapp.net
Price: Advertised Price $37
Owners: Robert Fisher
Product Overview
The amount of visitors to the original website has dropped significantly in the last 4 months. Maybe people were coming to the conclusion that it was not that hot product.
The owner or whoever is behind the curtain just rehashed and created Smart Profit App. Sales videos are available on YouTube. You can watch them and try to find 3 differences.
In fact here is the video to the supposedly new product which is Smart Profit App. If you pay attention, you will hear the guy saying Smart Cash App, instead of Smart Profit app (that is in 0:11 minutes of the video)
You don't have to watch the entire video, as it is waste of time. But of course, if you want to see how they try to manipulate people in, by all means, go ahead and have fun 🙂
The sales video was pretty hyped up, just like many other ClickBank products. Again here you are told that you can make up to $1,500 a day with this system. This guy says, that he will tell you everything you need to know in just 3 minutes and 35 seconds.
This video (I mean both) is available on YouTube and "it is an exclusive invitation just for you". How this can be if it is available worldwide on YouTube? Again, cheap marketing trick, nothing else.
I wasn't quite able to understand what the product is all about until I had a look into the member's area.
Then I found out that the product should teach you how to become an Amazon Affiliate.
The Good & the Bad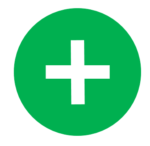 Basic price $37
Amount of material
Money-back guaranteed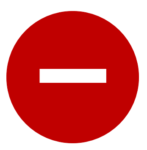 Totally Unrealistic Earning Claims
Sales Video too Hyped-up
Upsells with no explanation
Who is it For?
Like any other product, even the Smart Cash App, is supposed to be for people with no experience. Of course, this is the easiest group to target with such a product. On the other hand, they say that one must be qualified for this product.
And how does one get qualified? -> Just by watching the sales video, available on YouTube.
But even people with no experience with digital marketing would not believe these hyped-up claims. I showed it to my girlfriend and I asked her after 45 seconds of watching the video: "Would you trust the guys?" she says of course not.
To be honest I don't know why they have to make it sound so hype? Does it really work in some areas?
Please share your opinion with me below in the comment section.
The Smart Cash App Tools & Training
Here we go with the platform.
Let's have a look at what we can find inside. On the left-hand side, we see the main menu. Under each section, there is some material we will briefly describe.
The 1st part Smart Cash App Method 1.0 has several lessons inside.
Lesson 1: Smart Cash App Method 1.0 is an e-Book called Smart Money Methods and it says, it is revealing "secret tricks" for making 6 figures with amazon. It has 49 pages and here is the selection of the content:
How do you make money with Amazon as an affiliate
Picking a Hot Amazon Niche

*

Selecting some hot products to promote
Creating an amazon affiliate website
Linking your Amazon affiliate links
Promoting your amazon affiliate website
Other amazon affiliate marketing strategies to consider
* Regarding the niche selection, you can also check this video.
Lesson 2: is called Smart Cash App Cheat Sheet
Lesson 3: Smart Cash app Mind Map
Lesson 4: Smart Cash App Resource Report
Lesson 5: Sales Page & Thank You Page
Lesson 6: Smart Cash App Sales Video
Lesson 7: Smart Cash App Legal Pages
Lesson 8: Smart Cash App Graphics
Lesson 9: Smart Cash App Banners
Lesson 10: Smart Cash App Email Templates
Lesson 11: Smart Cash App e-Covers
Lesson 12: Smart Cash App Social media Pack
2nd Part is Smart Cash CPA and it is still as part of the first section Smart Cash App.
This second method contains a bunch of PDFs teaching you about the CPA – Cost per action. There are 2 lessons inside.
Smart Cash App 2.0
You will find videos inside this section. I have made a screenshot of 6 videos, to give you an overview. There are 15 of them total inside this 2nd section.
Then you have the Smart Cash Instagram and YouTube. There are 4 videos on how to market on Instagram and 4 videos on YouTube.
So at the end pretty decent amount of information. It makes me a little bit confused since the sales video does not mention anything about the training inside, which to me is odd.
Support
They do have email support inside the platform. Also, I must appreciate that they want you to go through the entire training and then raise questions. That makes sense to me.
I have not tried email support, so I do not know how long does takes them to give you feedback.
One Tip though; if you decide to purchase this product and then for whatever reason you want your money back, just go directly through the ClickBank website or Click-better support side (whenever you purchased it)
The Smart Cash App Price Structure
The price is $37. Also, they want you to believe that you are getting a discount.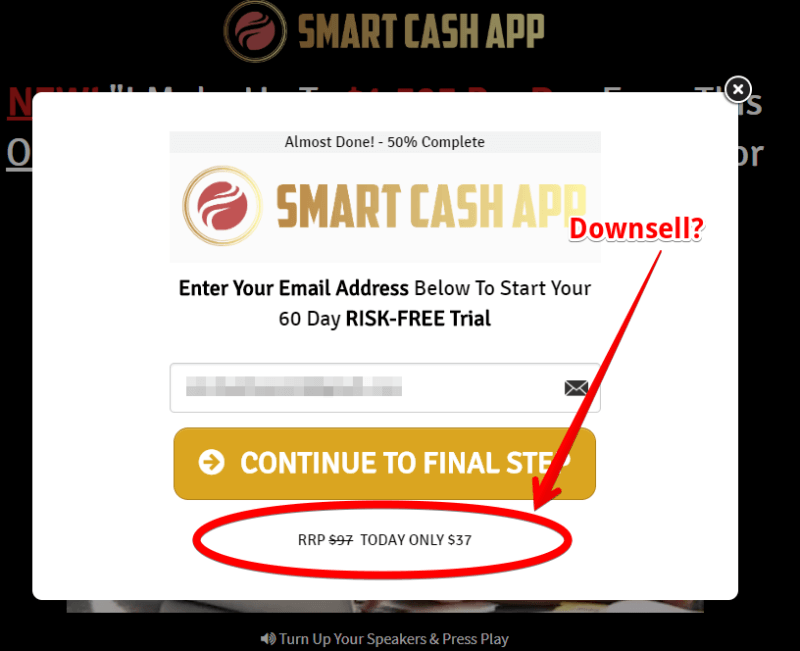 There is no downsell, and whatever you do, this product (I mean the basic version of it) is for $37. And I say basic product since inside there are 3 upsells.
Upsell is called Smart Profit App 2.0. The cost is $197 – apparently, you can boost your income with this (not sure about that)
Upsell is Smart Profit Pro for $177 – does not say what kind of improvement you get, but they promise you to make up to $10,000 a day
Upsell is Smart Profit Social $97 – does not say what is it, either but the promise here is the earning potential up to $100,000 a day
These are pretty unrealistic claims. When I first saw it I thought they were typos. I think these are not worth the additional costs. It is just additional stuff with a price tag to look like it is lucrative material. But lucrative only for the owners and affiliates who promote this product.
Actually, affiliates who decide to promote this product can earn up to 75% commission. Pretty decent if they get to sell it.
That is the screenshot of the price structure from the Smart cash app affiliate page to show you the upsell structure.
My Final Opinion of The Smart Cash App
The sales video is very misleading since there is nothing mentioned about how to become an Amazon Associates. It seems that the sales video and actual product are not related.
There is quite a lot of material inside the member's area. If you can grasp all that information for $37, it may not be such a bad deal.
If I may relate to the sales video, I just would like to warn you that you can't just earn thousands of dollars within few days. Even to become a successful Amazon Affiliate marketer, you need to create some content, put effort into it. You for sure need traffic. Whether you want to drive free (organic) traffic, or you want to pay for ads you need to learn how to do that.
So for sure, there will be a learning curve until you get some profits.
The Smart Cash App at a Glance…
Name: Smart Cash App
Website: www.smartcashapp.net
Price: Advertised Price $37
Owners: Robert Fisher
Overall Rank: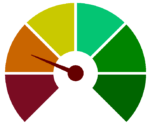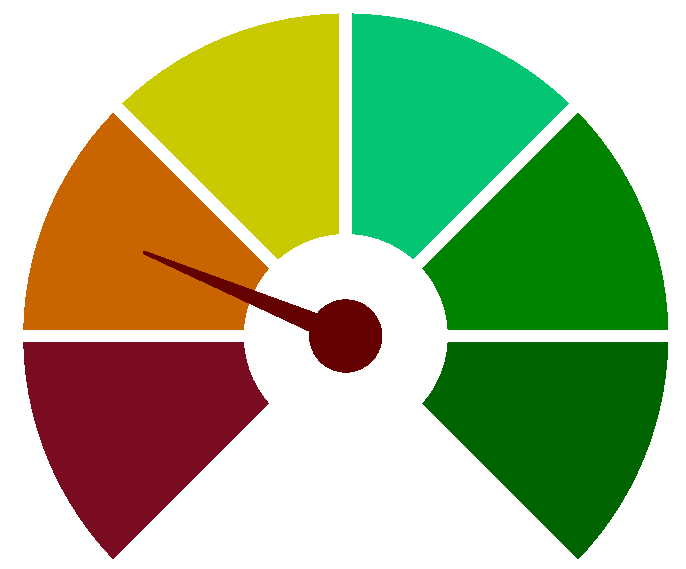 VERDICT:
It is unfortunate how they made the sales video since there is a lot of materials you can go through when you are interested in becoming an Amazon affiliate partner.
That leads me to a question for you:
What would you rather see:
Hyped Sales video with unrealistic income like we have seen at the beginning?
Then what you get is a regular training program
OR
Sales video which is actually related to the product, where a real guy would briefly explain what this platform is all about
Then what you get is the same training program as in 1st case
To me, I would go for the 2nd option, but we all are just regular people with different opinions so I would like to open a discussion about that.
Also if you have other concerns, issues please let me know.
How to Get Started with Affiliate Marketing Business?
I have been a member of Wealthy Affiliate since late 2017 without a prior marketing experience.
Beginning of 2018 I have learned how to build a website that drives traffic and makes sales.
Since the summer of 2019, I am a full-time internet marketer and I work from anywhere I want, whenever I want.
Training within Wealthy Affiliate teaches how to generate a consistent income in the long run.