I have found an interesting product in the ClickBank Business/Investing category. It is called Wood Profits. This one is not related to the make money online niche.
Well, it is an online guideline where you can learn how to create any wood crafts and make a profit by selling such products. What caught my attention is their claims that you can make $90,000 – $150,000 a year using this guideline.
To me it is a very audacious claim, so that is why I decided to do a review of this product;
Let's check out, whether it is possible to make money with this Jim Morgan product or if it is just another low-quality product.
So What is the Wood Profits?
Name: Wood Profits
Website: www.woodprofits.com
Price: Advertised Price $37 – Downsell to $27. Few Upsells as well
Owners: Jim Morgan
Product Overview
Apparently, with the Wood Profits, you should be able to launch your own woodworking business for an investment of less than $1,000. The owner of the product says that then, you will be able to make $90,000 to $150,000 a year.
First of all, in order to find out the trustworthiness of any product, I would take a look at the owner and the testimonials.
In this case, the owner of the product is called Jim Morgan. We can check his image by googling it and seeing the result.
As you see, this very same photo you can purchase online from the website https://www.istockphoto.com/.
If this guy is the owner of such a lucrative business, why would he have to want to sell his own image?
Also, let's check one of the testimonials:
Again – the picture from shutterstock.com  
We can elaborate more about the product, but to me, this is already a deal-breaker. They have not built their trustworthiness at all.
I have put together all the red flags about this system in my dedicated Wood Profits product review, so you can go ahead and check that out as well (I have also included a business opportunity in that post which in my opinion is the best way how to start an online business).
Let's go on with the review anyway.
The Good & the Bad
Both Audio and Video format
Money-Back Guarantee
n/a
Unrealistic earning claims
Fake Testimonials, Fake Owner
Upsells
Who is it For?
This particular product has nothing to do the computer skills or affiliate marketing.
It is recommended for anyone who is interested in the creation of wood crafts. Apparently, you do not have to have any experience in this field either. But in my opinion, at least a minimum of experience with woodwork is beneficial.
Nevertheless, Jim Morgan goes on saying, that for you (or for the potential customer) there are 3 most important things to remember:
what items are the most profitable,
who you should sell the stuff to and
where you should sell it from.
As mentioned earlier, you don't have to be an expert in the woodworking business. You don't need to own a large shop (a small one would be enough) and what surprised me, is you can do this only part-time only.
Can you imagine a person who does not have any expertise within a certain field, decides to buy literature related to this field or an audiobook (or both) and apply that knowledge just part-time and a few weeks later, he starts to generate thousands of dollars per month…
I think it does not work like that.
Wood Profits Tools & Training
It is an e-book with 53 pages, including audio. If you prefer a hard copy version, that should be available for you as well. You can ask for it once you purchased the online member access. It comes with a physical book and CD Edition.
Apparently, they ship worldwide for free…
Well, they also claim that there are no hidden charges or extra payments.
-> Have a look at the Price Structure section where I have revealed all the upsells.
As part of the document, you will find plans for wooden toys, clocks, boxes, and other projects as well. There is also a list of 100+ blueprints of popular woodworking projects and how to create profitable crafts.
Again let me ask you a question.
How in the world can a person with no experience with blueprints and technical documentation, read such documents or drawings? I mean, we are not talking here about IKEA assembly instructions.
What else is inside this eBook?
For example some tips on how to outsource your work.
How to get a discount from a supplier
Advice on licensing and taxes
How to get commercial contracts
How to get into the craft fairs – which I personally find useful information.
That seems like there is a huge portion of information squeezed into 53 pages. I do not want to underestimate the quality of the information but I guess such a wild range of information needs a bit more space if they are properly written.
Otherwise, I am afraid you are facing here only partial data.
Support
They have built the FAQ site where you can find some answers. You can even raise a ticket by filling up the WoodProfits Help Desk page. I did not have a chance to check how fast they respond.
This is what their support page looks like in case you want to open a ticket.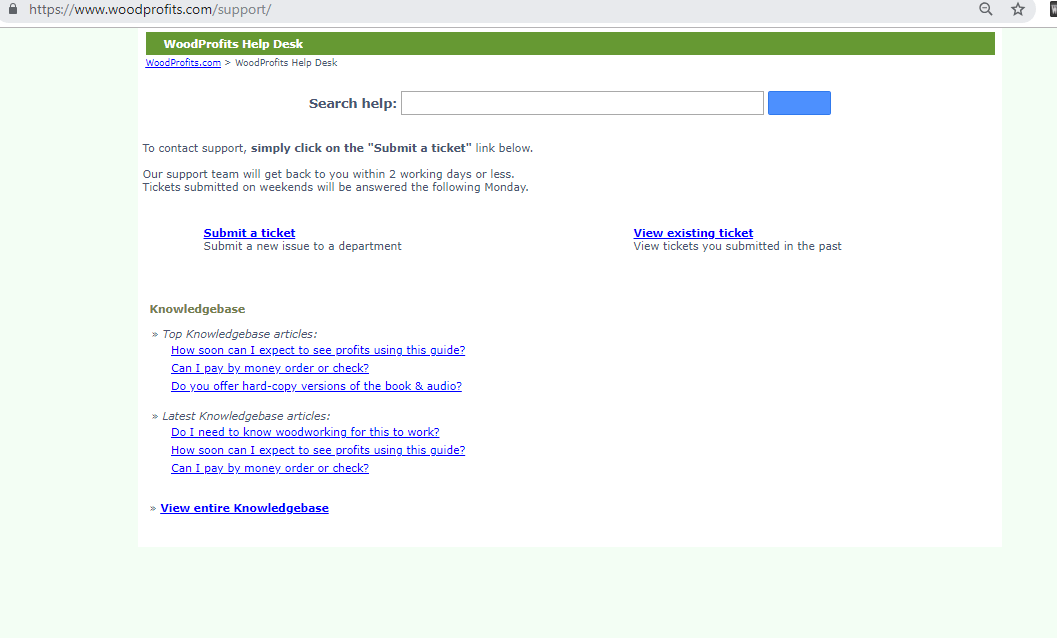 Wood Profits Price Structure
The price for the product is $37, you can easily get $10 off when you are about to leave the page. You will have the pop-up window, where you enter your email address.
After that, you get this product for$27.
Depending on your location the Total may vary – in my case, the total is $32.40.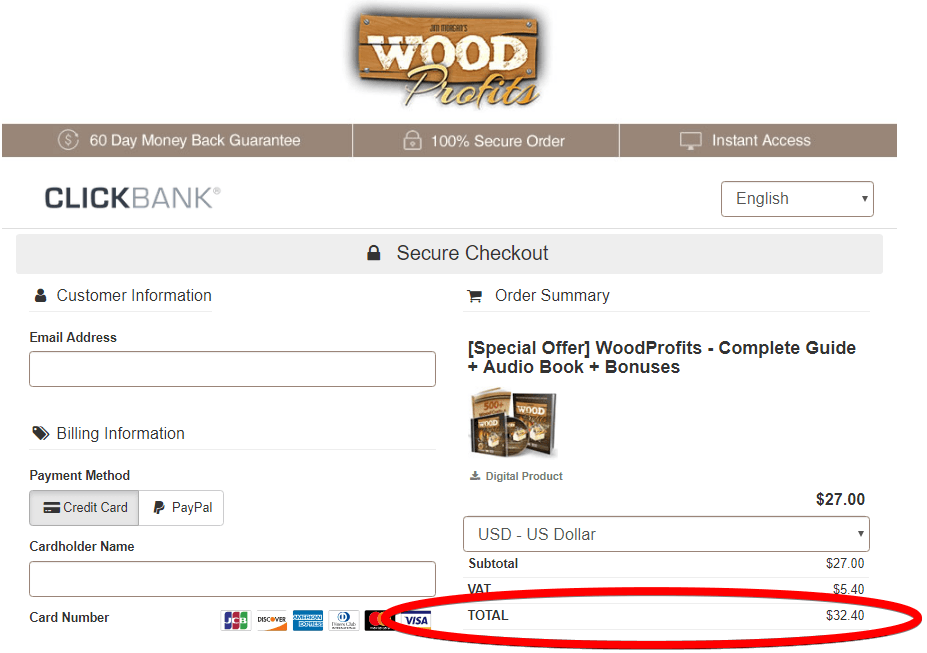 Here come the upsells, and let's count what might be the final price.
1st Upsell costs $29.97
2nd Upsell is $39. There is a downsell to it – you can get it for $29
3rd upsell cost $49.97. Again with a downsell, it is $39.97
With all the down sells you still end up paying $125,94.
My Final Opinion of Wood Profits
In my opinion, you are able to make that kind of money, but that requires time and also some skills you need to develop. Not to mention that you need to find customers who will buy from you.
If you have a passion for woodworking I am sure you already have also some experience. Do you think that one guideline for about $40 will turn your passion into a profitable business?
In order to generate some income, you need to let people know, what you are working on, and what it is that you create from wood. They need to see the products, first as an image and eventually, they would pay a visit to your garage/shop.
That being said, you need a website, first. No worries, these days it is very easily done.
In the case of the woodworking business, I would visit some exhibitions related to this niche, somewhere in your area, and start from there.
If you want to grab some literature, one of the best places to get it online is Amazon. There you can read reviews about certain items, so you know what you are buying.
Wood Profits at a Glance…
Name: Wood Profits
Website: www.woodprofits.com
Price: Advertised Price $37 – Downsell to $27. Few Upsells as well
Owners: Jim Morgan
Overall Rank:

Conclusion
I am not very thrilled about the Wood Profits product.
I would not call it a scam though. Maybe just an expensive eBook. As I have mentioned above, you can go to Amazon and check the books related to woodworking.
I am sure you can find tons of videos on YouTube as well. There is no need to buy such an eBook.
All that fluff about the income of about $100,000 is just hyped up. It seems that they want you to get inside their platform and as it is with many ClickBank products, you will see many invitations to join other ClickBank products. Which might be pretty annoying.
I hope that this review has helped you to gain an overview. Should you have any comments or questions please share them in the section below.