Hello and welcome to the Tasks4cash Review.
You may have seen that someone posted it on Facebook, saying how wonderful this system is and how easy it is to make a few hundred bucks.
Well, is this real?
Is it possible to make such an amount of money using Task4Cash?
In the following review, we are going to check
Who is behind it
How it works
Testimonials (whether they real or fake)
Payment Proofs (to double-check whether they are fake or real)
In a few minutes, you will know everything you need to know about Task4Cash.
UPDATE:
The website doesn't exist anymore.
However there are many similiar scams, so I recommend to check the article to learn how these scams operate.
Disclaimer
Please note, I am not a member or an affiliate for Tasks4cash. This review is based on research and information available online in the public domain.
Any recommendation and conclusions are only opinions and may not apply to all persons or situations.
Quick Overview
Name: Task4Cash
Website: www.Task4Cash.com
Price to Join: $0
Recommended: Absolutely Not!
Tasks4cash Overview
Task4Cash is a website that pretends to be a legit GPT site, meaning that you should be able to earn some money by taking surveys, completing some tasks, and refer other people.
The problem is that Task4Cash does not pay out at all.
This is a data harvesting scam that collects personal data.
Read the full review to learn how such scams work. The thing is that there are dozens of them and they all have pretty much the same pattern.
With that being said once you know what to look for, the chances of getting scammed are lower.
Do you really want to know what it takes to make money online?
First of all, it is important to realize that there is no such thing as easy money. No one can make hundreds of dollars per day on autopilot.
In order to make a consistent income online, one must put effort into it, and also it is important to learn a few new skills.
I was fortunate to find one particular educational platform where I have learned the evergreen method. Currently, I make 4 figures per month and just warming up.
Here is a link where one can check what is all about.
Sign up for Free and I will guide you through the platform.
No Credit Card Needed – Just your email.
What is Task4Cash?
Task4Cash is supposed to be a Get-Paid-To site where their members should make money by completing simple tasks, referring others to join the Task4Cash, and so on.
This is a legitimate business model and I am going to mention a few sites where you can actually make a few bucks.
Let me get one thing straight:
It is not possible to earn $500 to $1,000 per day with these GPT sites.
It is not even possible to earn $50 per day.
The realistic earning potential is probably $100 per month.
And not $500 to $1,000 as it is claimed on the Task4Cash site.
Task4Cash only pretends to be a legitimate site and we are about to learn that there are many red flags on their website.
We are going to prove that they lie about their credibility.
Founder of Task4Cash
First of all, whenever you see a site that promises you to make quick money with little effort, be careful.
Go explore the site and try to find out who runs it or who is behind.
If there is no information about who the founder is, you are most likely dealing with a scam.
That is the case of Task4Cash as well.
In their "About Us" section there is some general stuff that means nothing.
They say that they let people make money through Twitter, Facebook Instagram… The fact is that they don't even have a profile on any of these social media.
Even the links do not work.
How can we trust such a website?
How does it work?

It is very easy and the entire principle can be explained in 3 following steps:
Sign Up – Apparently, you get a $35 Bonus
Share and Earn – For a referral you are supposed to make $15 and for every click $2 extra (this is probably the biggest nonsense within the Task4Cash)
Get Paid and Cash-out – They claim that you can cash out your earnings instantly and there are many ways how to get paid (PayPal, CashApp, Bitcoin, or even mailed checks).
Here is How It Really Works
After signing up you really see that the earning shows $35 in the dashboard.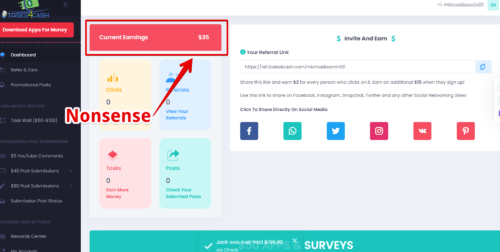 That is just an illusion.
The earning isn't real.
Here is how it works in reality:
They collect the information you gave them, meaning your name, email, and probably password too.
A person who decides to go ahead follow the tasks will see that the earnings go up.
Once a certain threshold is reached he or she decides to cash out.
And this is the "interesting part"
He requests to cash out
Despite the claim that you get your earnings instantly, your request is set on hold, for some reason.
After a while, this person gets a message that has used fake referrals, and therefore the balance becomes $0, and finally, the account is closed
This is how all these scams work.
Who is it for?
I am sure you already know the answer to this question.
Who would like to join a scam named Task4Cash?
If you believe that these guys are legit, let me know in the comment section below.
We must talk :).
If you are interested in such sites (where you can earn a few bucks by completing tasks, doing surveys, and so on), here is a list of a few of them, that is legit.
www.swagbucks.com
www.inboxdollars.com
or even www.surveyjunkie.com
This is not available in the EU (the site is not accessible).
If you want to learn more about the InboxDollars check the review. 
Is There a Better Solution?
As already mentioned, these sites have a low earning potential.
It is possible to make $100 per month but that would require hours and hours daily in front of surveys, questionnaires, clicking on the ads, and whatnot.
Out of these sites, my favorite one would be the Squadhelp.
They pay every day and it is also possible to make $100 to $300 per day. Of course not every day, the reality is probably once a month.
Check the Squadhelp review, to learn more.
But none of these systems are scalable. In other words, these systems are good for pocket money, but if someone is interested in a real business online then it is important to change the mindset a bit.
First of all, one must invest in education and it requires time and effort.
And I am talking about specific stuff – like for example how to rank well on google.
How did you find this post?
Did you search for information at google (or maybe Bing or Yahoo)?
Well, I have learned how to create content that Google and other search engines like, and you know what?
You can learn it too.
Is Wealthy Affiliate a Scam? Or Is It a Legitimate Platform?
I don't want to bother you with all the details, but if you check the link at the bottom of this post you are going to learn a lot more.
Well, let's wrap up this Task4Cash review by listing some of the major red flags.
List of the Red Flags
Here is a list of the Cash Monster red flags.
1) Age of the system
If you check their Terms and Conditions, there is a certain date saying when it was last time updated.
Well, that is strange.
The truth is that at that time, this website did not even exist.
Task4Cash was registered only in September 2020.
2) Fake Payment Proofs
Let's keep that date from above in the mind.
How legit are these "payment proofs" posted on their website?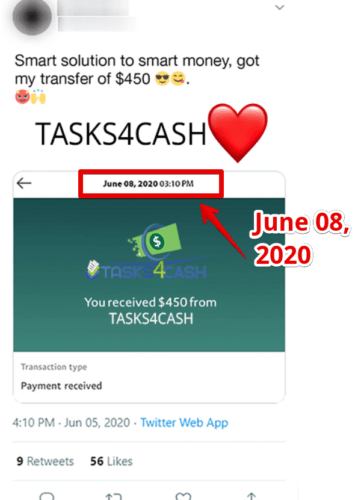 And this one is from January 2020: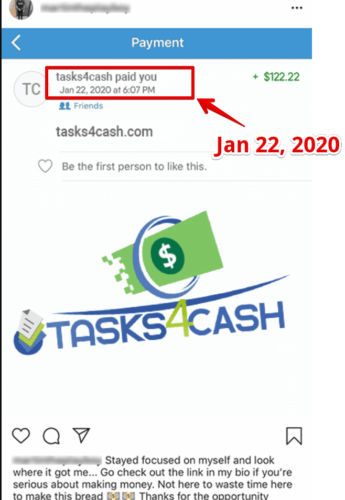 This is proof that the entire system is fake and a scam.
3) No One Gets Paid
This is common amongst all these scams.
We have covered how it really works and that no one gets paid.
4) Fake Testimonials
Here are 4 testimonials to convince you that Task4Cash  is legitimate.
I have checked the first guy and guess what?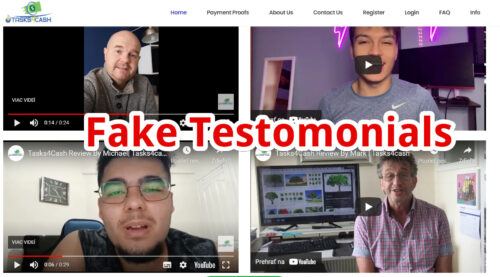 He is an actor from Fiverr.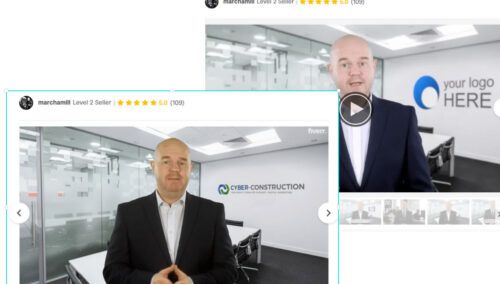 Don't get me wrong. There is nothing with being an actor.
The problem is that Task4Cash uses actors instead of real people.
And we all know the reason.
There is not one single person that actually made money with Task4Cash.
They claim to have more than 300,000 members. I believe at least 4 out of 300,000 would agree on making the testimonial.
5) Email does not work (or does not exist)
This is another common thing among these scams.

Well, in most of the cases they have an email address, but none of them work.
In the Task4Cash case, they decide to make it "protected".
Another BS.
6) Social Media
Their social media buttons don't work.
This is a major red flag, especially when they claim that. "Task4Cash has caused an uproar on all social media!"
Just click on those icons, and you only get to the Task4Cash home page.
I believe we have covered enough.
There is no point in going further. This is an outright scam.
What I like about

What I don't like
Fake Testimonials
Impossible to cash out
Social media buttons do not work
Fake Payment Proofs
Unknown creator
This is only one of many scams out there that are most likely created by the same group of people
Conclusion
My final words are, Stay Away from Task4Cash.
If you are really curious about it and do you feel like checking it out by yourself, please make sure to use some fake email address.
This way you don't risk being scammed (or spammed).
The thing is that whoever is behind this system sells the email address and collects money from it.
That would be the small damage.
Depending on the task you want to take (within the Task4Cash dashboard) it is quite possible that you will be asked for additional data, like your credit card information.
This is the part when it begins to be dangerous and you can lose a lot of money.
So again, stay away from it, and if you are curious how to really make money online let me know in the comment section below.
You can also try it yourself, by clicking at the link at the bottom of this post.
Thank you for reading
Mike
How to Get Started with Affiliate Marketing?
I have been a member of Wealthy Affiliate since late 2017 without a prior marketing experience.
Beginning of 2018 I have learned how to build a website that drives traffic and makes sales.
Since the summer of 2019, I am a full-time internet marketer and I work from anywhere I want, whenever I want.
Training within Wealthy Affiliate teaches how to generate a consistent income in the long run.