Hello and welcome the Embassy Review – the Glynn Kosky digital product.
I believe you have already seen the sales video where they talk about their ultimate traffic solution…
This is supposed to be a new 100% "Done For You" affiliate system that generates hundreds of dollars per day!
Is it even realistic?
Or is it just hype?
In the following Embassy Review, we are going to check how it works, what is inside, how much does it cost, and whether it is possible to make that amount of money or not.
Let's get started
Disclaimer
Please note, I am not a member or an affiliate of the Embassy. This review is based on research and information available online in the public domain.
Any recommendation and conclusions are only opinions and may not apply to all persons or situations.
Quick Overview
Name: Embassy
Website: www.grabembassy.com
Price to Join: $17.64 + Upsells
Recommended: Not Really
Embassy Overview
The Embassy is a cloud-based app that supposed to be generating revenue on autopilot.
No Experience required, no website, … They want you to make to believe that with the Embassy App you can make hundreds of dollars per day, using affiliate marketing.
This entire system costs less than $20.
If you feel skeptical about those claims, then great.
You are absolutely right and there is not such a thing as a push-button system that just generates free traffic.
The embassy is one of many systems that come from the same founder called Glynn Kosky.
The problem with Embassy is that it won't start to generate the promised free traffic.
You end up with a landing page that nobody knows about and thus no traffic.
Or you can pay for the Solo Ads, meaning the offer you try to promote will get to people that are not interested in them.
On top of it, you will be promised that in order to multiply the result you need to "upgrade" the membership, 7 times.
Ideally, you may earn a few bucks back, but only when you decide to promote this very same product.
Building business online requires a bit more effort than just a few clicks.
Affiliate marketing is one of the easiest ways how to make a consistent income online, but there are some strategies that need to be followed.
Sign up for Free and I will guide you through the platform.
No Credit Card Needed – Just your email.
What is Embassy (EMBASSY – Automated Affiliate System)
First of all, let me assure you that this has nothing to do with the Embassy as a diplomatic mission :).
The Embassy is a new name of a website or a system that shows how to make easy money online. (Actually, this system is not so new, and we are about to find that out).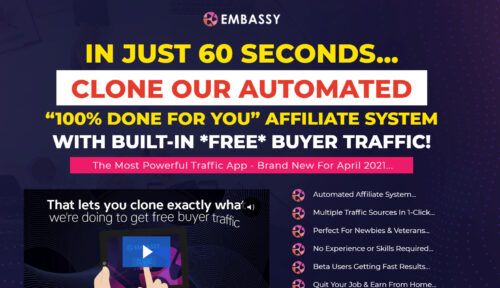 To be more precise it is a cloud-based software that is supposed to get you free buyer traffic and eventually can make money as an affiliate marketer.
That means you can offer other's people products to people that are interesting in these kinds of products.
Basically, you as an affiliate marketer connect people and products/services.
This is a legitimate and probably the best way how to generate consistent income online.
That is why you can find tons of digital products teaching affiliate marketing.
According to the Embassy sales page, this is 100% new, unique, and ready for April 2021.
The best part?
It is a Done-For-You system, meaning that anyone can start making money with a few clicks only.
But let's stop here for a moment.
Does this sound realistic to you?
Well let me digress for a second here, and let's take a look at these 2 platforms:
Basically, these are predecessors of the so-called Embassy or just previous versions of this exactly the same system.
(Just colors inside the dashboards are different).
In the next section, we are going to cover the creator of the Embassy (and the other systems too).
My question is why does he have to keep creating these new systems?
The first one also claims that you get unlimited traffic and that the "done-for-you" system generates hundreds of dollars per day.
What was wrong with the 1st one, the 1K Daily Profits?
And the 2nd one, New Years Profit.
There are more of these products and they are all the same.
Founder of Embassy
It is always important to check who is behind the website, or who runs the business.
Generally speaking, if there is no information about who the creator is, be even more skeptical. Scammers don't reveal their identity, so they can close the current website and move one.
Is this the case with the Embassy?
No, I don't think so.
The guy who created this system is called Glynn Kosky.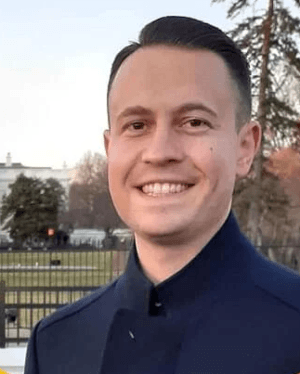 There is not a lot of information about his guy.
But he has his own website, with links to social media.
What I find strange, the link to Facebook doesn't work.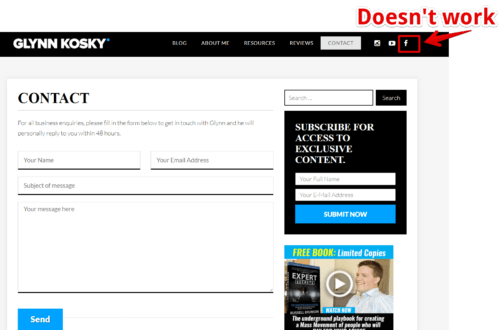 On Youtube, there are no videos, no information whatsoever.
And Instagram?
I mean, a person that claims that he can provide you with a system that gets you "Free Buyer Traffic from a 30 million per day visitor traffic source", he sure should be able to have more followers, don't you think?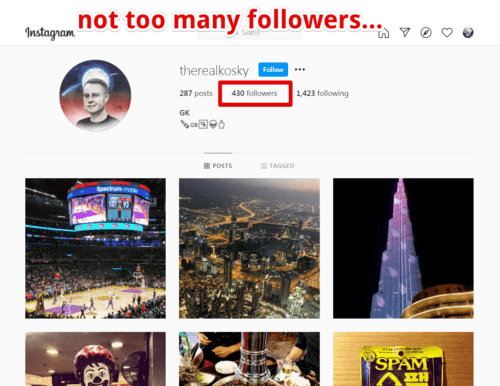 His IG profile was created in 2012 (at least the last photo on his profile is added in March 2012).
Besides his own website should have tens of thousands of visits per day (if not millions).
Something just doesn't add up.
And there are a couple of other issues that I think are worth mentioning.
Who is it for?
It is said that this is for complete newbies and no previous technical skills needed.
And it also works for affiliate marketers or other business owners working in eCommerce.
I totally understand that is so easy to fall for such a scammy system.
And there have been thousands of them, even in the past.
I have been there as well, but somehow common sense did not allow me to spend more than the initial price.
So please, be skeptical when it comes to such digital products and when something seems too good to be true, then it sure is.
According to the Embassy sales page, this system is perfect for beginners.
No need to have experience
There is no learning curve
and you can use this from any location in the world.
And there is more:
Apparently, you don't have to create any content, you don't have to have any website, you don't have to create any videos.
You don't have to do anything and still, you can make $400+ per day!
Do you still believe such a statement?
The Embassy is just a copy of other systems that did not work either.
The bottom line is, I don't recommend the Embassy to anyone.
It is waste of time, energy, and money.
Easy Money with EMBASSY? Forget About That!
If you are looking for a way how to make easy money and fast – then forget about that right away.
I don't mean to be rude or anything like that, but I know what it takes to generate consistent income online.
First of all, one needs to have either a website or a Youtube channel.
Ideally both.
There is no way around it.
The best method is to create your own website and learn how to drive free traffic to it.
This process takes effort, since there are so many websites out there, that Google and other search engines (Bing, Yahoo, and so on) don't know which website to rank at the top.
That is why you need to learn some skills in order to rank well.
You will find many educational platforms and courses that teach SEO (Search Engine Optimization) and other methods how to monetize the traffic.
Many of them cost thousands of dollars.
It took me a while until I found the one that has a plethora of training and does not wipe out the credit card.
I have learned how to create a website that "google likes", in other words, most of my articles show up on the 1st page of google (up to 10th position).
"This is the average position of this site in search results, bases on its highest position whenever it appeared in a search. "
Again, there is not such a thing as an automated system that generates traffic on autopilot.
It does not exist.
Anyways, let's take a look at what is inside the Embassy system.
How does the Embassy work?
This entire system looks very easy and there are only these 3 steps to follow:
Click the buy button
Login and enter your details into the system
Activate the traffic button to enjoy Free Traffic
Really?
Free Traffic?
The only way how to get free traffic is from:
Search Engines (Google, Bing Yahoo)
Social Media (assuming that you have a lot of followers)
Email List (your email list that you have created by exchanging some information with your prospects. This is called email marketing)
Your Youtube channel (again assuming you have thousands of subscribers)
Then there is a paid traffic and that is what you will be shown within the Embassy Dashboard.
To be more precise you are shown how to get traffic using Solo Ads.
https://setaffiliatebusiness.com/what-is-a-solo-ads/
Inside the Dashboard we see some tutorials showing how to use this system.
You have also access to campaigns and how to create new campaigns.
The truth is that it is easy to create these campaigns. It really takes only a few clicks and your landing page is ready.
The problem is that no one will see it.
In order to make a few bucks, you must have visitors. People who will click on your landing page and eventually make a purchase.
The most realistic way within the Embassy system is using already mentioned Solo Ads.
The problem with these solo ads is that you don't have any idea whether these people are interested in any of the products you offer.
These people within that list are getting tons of emails, just like yours.
So how many people will click on your offer, let alone how many of those will actually purchase the product(s) or service?
In reality, the conversion rate is extremely low.
Campaigns Read to Go
You can find also some products that are ready to promote.
Most of them are ClickBank products.
And almost all of them (just like 12-minute Affiliate) are scammy or misleading.
All of these products have a money-back guarantee, so if the prospect asks for a refund you won't earn any commission.
Here is an example of products that are within the Embassy Campaign section.
I don't want to bother you with more details, so let's check the price, I mean the real price.
What is the Price?
They use a marketing trick where you are shown the real value of this product. That would be thousands of dollars.
But – You should be surprised that you can get it today for a few bucks only!
On top of it, you get a bunch of bonuses.
Sounds really tempting.
This is the front-end price and you can get a $5 discount on it as well.
(The price is shown without discount).
Is that all?
Not at all;
Let's go briefly through the updates or One-Time-Offers as they like to call them:
The offer is called Unlimited Version and the price is $67 (with a downsell of $37)
The second Offer is 100% Done-For-You for a $97 (down to $67)
This is an interesting one – it is called Unlimited Traffic and it costs $147 (down to $47)
The fourth one is called automation and the price is $67 (with a downsell to $47)
This is called "ATM" and it costs $197 (down to $47)
One Time Offer #6 is called Ultimate and the price is again $197 (down to $47)
And finally, you can purchase the License Rights for $67 (down to $37)
I thought I was gonna get free traffic – so why do I need to buy some more stuff?
This is very misleading and to me, this is another red flag.
The only positive thing I have found is the money-back guarantee.
You have 180 days.
Issues with Embassy
The screenshots that are supposed to prove that this system really works are not taken from the Embassy system.
And it is easy to find that out.
Just check the dates.
At that time the website did not even exist.
The Embassy website was registered on the first Spring day of 2021 (March 21st:
Why can't he show us real results?
I have no doubts that Glynn knows how to make money online. Most likely by selling this product (and the clones of it) to other people who will end up selling this very same product…
…because that would be the only way how one can make money with the Embassy.
It is some sort of vicious loop that does not have real value.
No one learns anything and there is no value in it.
Unfortunately, there are many digital products that operate this way.
This is not how affiliate marketing works. This is not something that is sustainable in the long run.
The best way is to learn the proper way.
At the end of this post, there is a link that leads to an evergreen method, where I have learned how to make 4 figures per month online.
If someone is serious about building an online business, this is the best method, at least what I have found so far.
How to get Free Traffic?
Just shortly to explain how you can get a free (or also known as organic traffic).
You go to Google (or other search engines) and you type a keyword in the search bar, for example:
"the best coffee machines for home use"
And you get a bunch of results.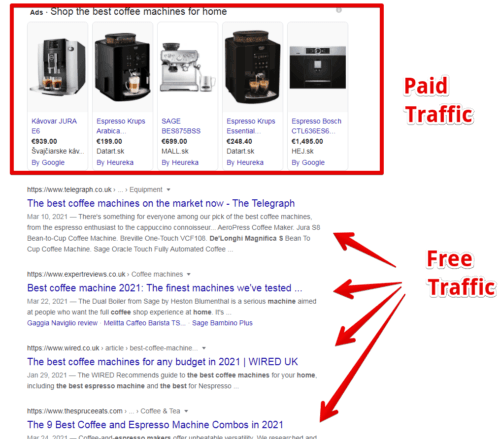 All of those guys (individuals or companies) that own those sites below the ad, get visitors for free.
Let me rephrase:
They have put effort and time into content creation and they know how to do that on a regular basis.
Now, it is actually not that difficult to learn that and with proper education, everyone can learn how to get to the 1st page of google.
Of course, it depends on a niche, but in principle, there is this opportunity.
And you can imagine that the more article your site has, the higher-earning potential there is.
What I like about New Year Profits

Money-Back Guarantee
Some Basic stuff about the Landing page and how to create a campaign
What I don't like New Year Profits
Glyn Kosky keeps creating new systems that just don't work.
He is known as a scam artist
Unrealistic Income Claims
A lot of upsells (up to more than $700, with no real value)
Conclusion 
Is Embassy a scam?
Well, I wouldn't call it that way, but it is not far from it.
One thing for sure – it is extremely misleading where on one side they promise you to get free traffic and then you are told to purchase the Solo Ads.
It does not make sense.
Besides, there are more Cons than Pros and I don't recommend purchasing the Embassy.
Affiliate marketing is a legit way how to make money online but nobody will learn it using this system.
I believe you find this review valuable, in case you have questions let me know in the comment section below.
Thank you for reading
Mike
How to Get Started with Affiliate Marketing?
I have been a member of Wealthy Affiliate since late 2017 without a prior marketing experience.
Beginning of 2018 I have learned how to build a website that drives traffic and makes sales.
Since the summer of 2019, I am a full-time internet marketer and I work from anywhere I want, whenever I want.
Training within Wealthy Affiliate teaches how to generate a consistent income in the long run.