In the past five years, numerous survey sites have emerged, promising you the opportunity to make money with them.
While some of these sites are reliable, others can be misleading or even scams. So, what about Surveyeah?
Will this system truly assist you with your current financial situation? How much can you potentially earn with Surveyeah? Let's delve into the details.
In this comprehensive Surveyeah review, we will explore the site's advantages and disadvantages, how it operates, and the potential earnings it offers.
Disclaimer
Please note, I am not a member or an affiliate of Surveyeah. This review is based on research and information available online in the public domain.
Any recommendations and conclusions are only opinions and may not apply to all persons or situations.
Quick Overview
Name: Surveyeah
Website: www.surveyeah.com
Price to Join: $0
Recommended: Yes, but not as a primary source of income
Surveyeah Overview
Surveyeah is a legitimate paid survey site where you can participate in various surveys based on your location and receive compensation for your time.
The site was founded in 2013 and currently boasts over 2 million users.
How much can you earn? This may be a concern for many individuals seeking a reliable income.
Participants who complete surveys on Surveyeah receive an approximate payment of 0.85€ per survey, with each survey lasting around 30 minutes.
I understand that the earnings might not be substantial, so allow me to shamelessly present an alternative method for making money online:
I have been utilizing the following method since 2018, and it has proven to be significantly more effective. As a full-time internet marketer, I have the flexibility to work from anywhere and at my convenience.
What is Surveyeah?
As the name of the site suggests Surveyah is a website where one can do surveys and get paid for them. Right off the bat let me share with you that this is a legit site, meaning the members are actually get paid.
It is available worldwide and the type of surveys, as well as the threshold of cash out, depends on your location.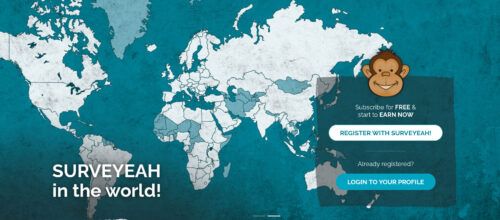 On the other hand, it is important to reveal that the earning potential is not so big and we will get to that shortly.
Surveyah is free to sign up and the only limitation is the age. You have to be at least 18 years old.
Also, keep in mind that you can do only surveys that are available in your country. Or to be precise, in your current location.
Founder of Surveyeah
This system was founded in 2013 and a founder is a person named Nicolò Fisogni.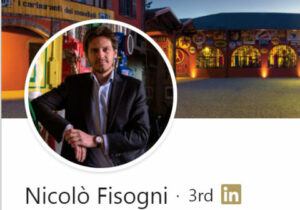 It is always good to know who is behind the system. And whenever you stumble upon a system that promises you to make money, make sure to check who is behind.
Nicolo is also a current CEO. The company is based in the Milan area, Italy.
In 2018 the Surveyeah Review had more than 500,000 members in more than 50 countries.
Currently (as of this writing, October 2020), the number of registered users is more than 2 million and they are from 123 countries worldwide.
The majority of visitors are coming from Italy.
But these data do change over time.
The number of visitors per month is about 400K to 500K and this has been since the end of April of 2020. 
Why do I mention this? 

When you see consistent traffic, it is also a sign the system is legit.
Who is it for?
Anyone who wants to earn some pocket money and the reason why I say pocket money is that the learning potential is low – we are talking here about pennies for a good half an hour of work.
Is it worth it?
I mean, it could work for you. The thing is I don't know what are your priorities or how much time you have to do such surveys. 
Because people who gain special knowledge can earn much more than just pocket money, in the long run. 
I have learned how to create a website ( which is actually pretty easy) and how to get free traffic.
And the best part is, I know how to monetize the traffic.
But back to the Surveyeah Review
How to Join?
It is pretty easy to join.
First of all, you will see that you can select your country.
This will be chosen based on your IP address, though. 
It does not allow you to change the country. 
Once your location is chosen, you provide them with your name and email. Then you need to confirm the registration by clicking on the link you get in your inbox.
Once you confirm your account, you will be sent to the dashboard with a bunch of surveys in many different niches.
You see that even the menu and questions are in the language based on your location.
How does it work?
There are basically 2 major ways how to earn money with Surveyeah. 
1) Paid Surveys
With paid surveys you earn points and you see on the panel right away how long it will take.
Before any survey, you will go through a questionnaire. Based on your answers you will get access to the surveys matching your profile, so to speak.
You will see a bunch of surveys you can choose from – at least it looks like at the beginning.
It can happen that you won't be able to start with a specific survey, but the system will automatically find the one that is for you.
In my experience I wanted to choose one that pays $1 for about 15 minutes… but I did not qualify and I got another survey paying just $0.70 for 25 minutes.
It is safe to assume that, the more surveys you do, the more options you have.
2) Paid Offers
This is the other way how to make money.
These are tasks that usually take more than a day. Some of them might take even weeks.
That could be a game, that you need to download and play for 15 minutes, or a different game that needs to be played for 14 days.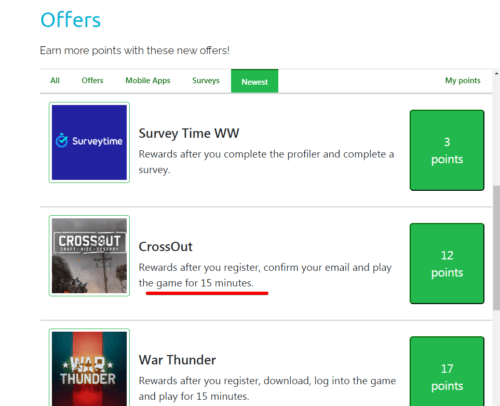 Again the list of offers depends on your location. 
How Much Can One Earn?
First of all, when doing surveys you don't earn money, but points. These points can be converted later into cash or Amazon cards.
Here is an overview of how many points you need in order to get the gift card.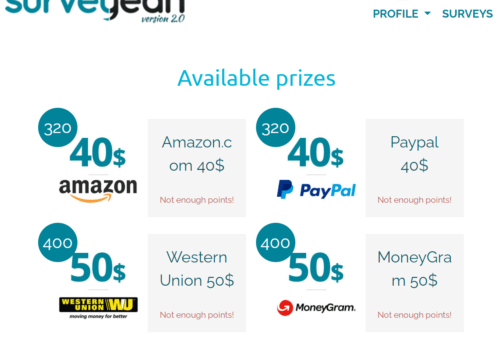 Once you reach 320 points, you can convert them to $40 cash or to an Amazon gift card worth $40.
When it comes to surveys here is an actual estimation of how much can one earn for a specific period of time.
I did click on the middle one where it says that I can earn 1.10€ per 28 minutes. Unfortunately, I was not accepted and they offer me an alternative with lower earning potential, it was 0.70€ per 25 minutes.
How to get paid?
You have to reach a certain threshold in order to get paid.
And it does not matter whether you choose the Amazon gift card or the cash, the threshold must be met.
How much is it?
It again depends on your location and on the Surveyeah website is a nice overview of the threshold associated with the specific country.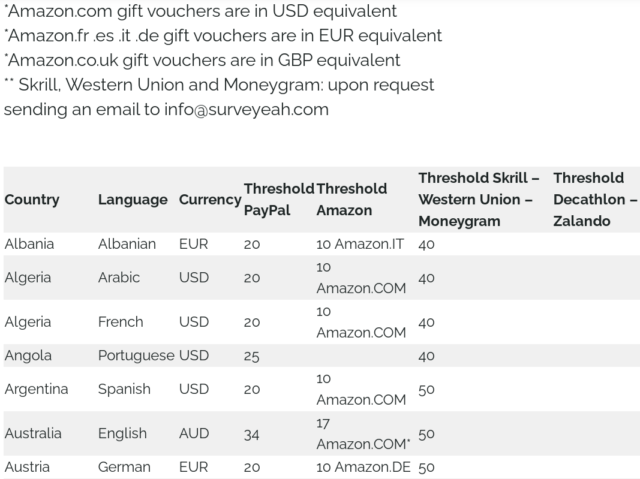 Of course, the list goes on and there are more than 120 countries.
Are you tired of worthless survey sites?
I can imagine that there are people who want to find out how to make a consistent income and not just a few bucks.
These survey sites are probably not good enough for you. It takes too long to make 2 dollars.
Usually, people don't make more than $30 per month.
Many of them are not patient and they don't even reach the threshold.
Then they complain about the Surveyeah, that it is just a waste of time.
I get it.
I believe there are better systems with much higher earning potential. Only recently I did a review of another system called SquadHelp.
It is possible to make money by typing…
Can you believe that?
Of course, there is a bit more work involved, and here are more details about Squadhelp.
Is There Something More Sophisticated?
Sure thing.
I am glad you ask 🙂
In order to generate consistent revenue online, one must gain specific knowledge.
The good news is that it is not that hard to learn and with a bit of patience and effort, it is possible to create a website that earns $2,000 per month within 10 to 14 months. 
It also depends on the niche. But regardless of that, this is a kind of business that can be scalable.
What I like about the Surveyeah

A legit survey site that actually pays its members.
Well-established with more than 2 million members
It is free to join so there is absolutely no risk
What I don't like about the Surveyeah
A very low earning potential (average $1 per hour)
Not enough surveys (but this depends on your location)
Not scalable way of how to make money online
Conclusion
We have gone through Surveyeah and learned that this is a legitimate paid survey site. 
However one can't rely on the Surveyeah as a primary source of income.
In case this is something you were looking for, please realize that in order to have a consistent income online one must apply a certain knowledge.
When it comes to Surveyeah, the average earnings are about $30 to $40 per month. 
Let me know how you like Surveyeah, or maybe you have already experience with this paid site. It would be great if you can share with us how did it work out for you. 
Please use the comment section below. 
Also in case, you have other questions concerning making money online let me know as well.
Thank you for reading
Mike.