I assume you are looking for ways how to start making money online.
At the same time, you realize that it would go easier with some kind of guidance or mentor.
Or maybe you have already decided to invest a couple of bucks into education.
But which platform to choose? What is the best digital marketing course that does not wipe out your credit card?
Is Spark By ClickBank the one?
In the following Spark By ClickBank Review we are going to check how this platform work, what is the cost, and whether you should buy it or not.
Let's get right into that.
Disclaimer
Please note, that I am not a member or an affiliate for Spark By ClickBank. This review is based on research and information available online in the public domain.
Any recommendations and conclusions are only opinions and may not apply to all persons or situations.
Quick Overview
Name: Spark By ClickBank
Website: www.sparkbyclickbank.com
Price to Join: $37 a month
Recommended: It depends
Spark By ClickBank Review [Summary]
Spark By ClickBank is a pretty new educational platform that teaches newbies how to make money with affiliate marketing.
This is a legitimate course that was made by a group of experienced internet marketers.
Have you heard of ClickBank University?
Well, this is its successor so to speak, but it is done by an entirely different team.
However, even Spark By ClickBank does not go deep enough and unfortunately, it requires more investment than just the price for the course.
The reason being is that a person needs additional funds for paid advertisement.
If you are a beginner, I don't recommend paying for the traffic.
(I explain more in the article).
The evergreen method is to learn how to get free traffic.
It requires more skills, but once learned properly, there is no limit in terms of revenue; of course in the long run.
Below I show an opportunity where I have learned this evergreen method.
It is a step-by-step training and the first 10 lessons are absolutely free.
Sign up for Free and I will guide you through the platform.
No Credit Card Needed – Just your email.
[The 1st Month Of Premium Membership You Get 50%+ Discount]
What Is Spark By ClickBank?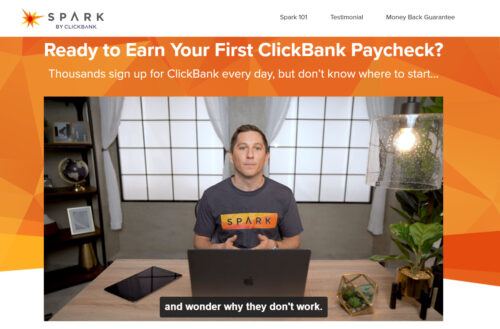 Spark By Clickbank is an educational platform produced by ClickBank teaching different aspects of affiliate marketing.
Clickbank a few years ago launched its first educational platform called ClickBank University.
In case you are interested in affiliate marketing you have probably heard about this platform.
I did a review of the CBU back in January 2019 and it turned out that it had more Cons than Pros.
How about this Clickbank newest platform?
Is it better?
At first sight, it seems that they have done a better job.
The platform was first registered in May 2020 and at the beginning of this year, its website had more than 200,000 monthly visits.
So people really want to learn how to generate consistent income online.
Let's dig a bit more to find out how good the training within Spark By Clickbank is.
How Does Spark By ClickBank Work?
As it says in the introduction video, you will be taken by hand with 60 videos and 17 courses to guide you to make your first sale within weeks.
You should also learn how to scale your earnings, by outsourcing.
It really seems that this is going to be pretty intensive training with a lot of tips.
The entire training is made by people who are experienced in affiliate marketing and earn a full-time income.
So let's see what they can teach us.
Spark is divided into 17 different courses and let's briefly go through them.
Course 1 to 3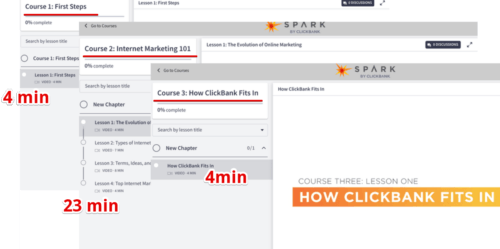 The first lesson or course is an introduction.
They show how to navigate through the platform and how to get the most of the Spark.
It contains an overview of Content Marketing, where it is explained what affiliate marketing is.
The creators of Spark intended this course for beginners and therefore they have included an extra part where they explain what some terms mean, or terminology if you will.
That includes an explanation of:
PPC or pay per click
Paid search
Organic search
Click-through rates (also known as CTR)
and other terminology related to affiliate marketing.
Towards the 3rd course, you are going to learn how Clickbank fits in.
This is a 4-minute video showing how to find products in the Clickbank marketplace.
You can choose your category and choose a product you want to promote.
To be honest, I was expecting more thorough training, not to mention that a lot of this information can be found for free.
Course 4 to 6
By now you know that an affiliate marketer does not sell his own product.
He or she creates content and the purpose of this content is to connect people (potential customers) with products or services available within a specific niche. (What is a niche and how to choose one)
Again there are 3 videos here within the Spark platform, explaining how to can you sell products that you own.
Affiliate Marketing
The 5th Course explains what affiliate marketing is and how you can start making money using this business method.
You are also shown what you should do and what you shouldn't be doing.
Unfortunately, all the points above are explained in less than 10 minutes videos, so it is disappointing.
My point is that affiliate marketing is a bit more complex and the videos should last much longer.
I have briefly explained in another article how to start an affiliate marketing business, where I also explain what is affiliate marketing.
Considering that Spark by ClickBank is done together by a group of professionals, I would say they did a sloppy job.
Course 7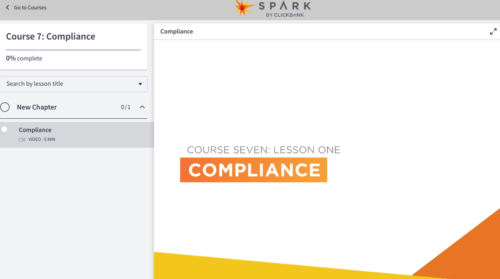 Here you get a "crash course" about what compliance is.
In about 5 minutes video, it is explained what is necessary to do in order to comply with rules;
In other words, what to do so you won't get into any troubles with global law agencies, example in the US, Federal Trade Commission, known as FTC.
Course 8 – 9
Course 8 it s explained the Direct Response Funnel.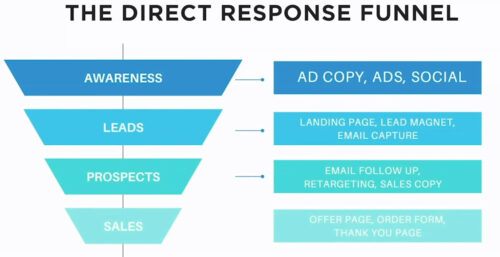 It also concerns an Ad and Ad copy, the Dos and the Don'ts.
You will be shown how to create your landing page and also how to re-engage with a customer that did not buy the product in the first place.
The 8th course is the longest one containing 10 videos.
These are again short in my opinion (from 2 to 4 minutes).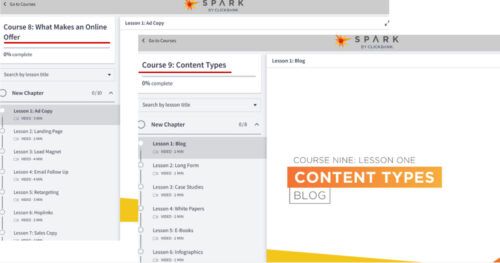 In the 9th course, you are guided through blog posts, ebooks, white papers, content, case studies, and template checklists.
Course 10 – 12
Here you are shown specialized tools regarding affiliate marketing.
How to actually create a specific landing page.
In this section, they also teach what can you outsource.
However, outsourcing is for more advanced marketers, so I don't know why they included it here…
Anyways here you also find information about email service providers, to be more specific – the Aweber.
Aweber is considered one of the best Autoresponders on market.
Course 13 – 14
Here you are shown how to become a ClickBank affiliate and how to navigate through the categories.
Additionally, you get a few tips on:
– how to pick a niche
– how to choose a specific product that you want to promote (or you can even choose more products)
– how to get traffic (including g free traffic tips)
Again you will see some information about the email lists, email responders, and some basic information about free traffic.
As you have noticed this was already covered in previous Courses.
I am not sure why they have to repeat the same stuff over and over again.
Course 15
This course is about your first ad and how to choose your audience.
It is said that by the end of this course "you feel confident in your abilities to create ads from scratch".
In theory, this might work.
But the reality is you will feel comfortable and confident only after seeing the results. Meaning only after you figure out which ads work and which do not.
And that requires additional budget and time because the most effective ads will be optimized after trials and errors.
Especially for beginners.
Course 16 – 17
Here you find 3 videos that talk about the power of digital products.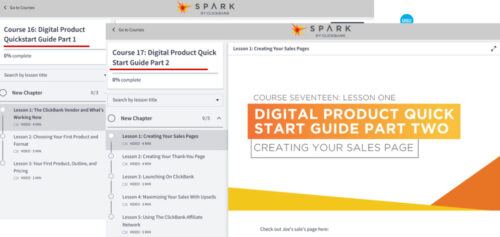 In about 10 minutes you are shown how to create your own product and how to maximize your profit with upsells and connecting with other affiliates.
It also shows you how to use the Clickbank marketplace.
Again? Well, yes it was already mentioned at the beginning of Course 13.
Who Is Spark By ClickBank For?
Spark By ClickBank is supposed to be for people who just starting out with digital marketing.
Spark covers the basics of affiliate marketing and informs you about several ways how to get traffic.
That includes paid traffic though and as mentioned already, paid traffic should be used only as a boost of what already works.
Generally speaking, Spark does not deliver enough information for beginners who wants to start from scratch.
It does not show you step-by-step how to do things.
How Much Does Spark By ClickBank Cost?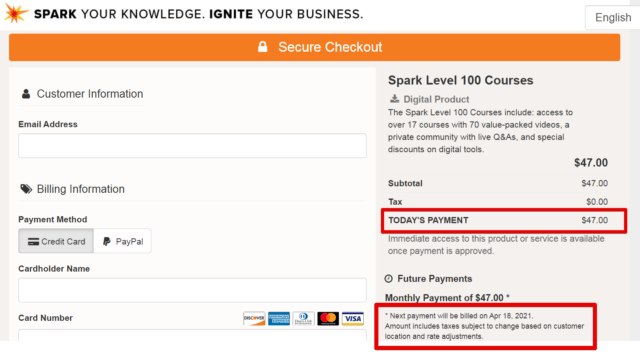 It costs $47 per month.
Now that is not a lot, but honestly, I am a bit disappointed with the training and I have mentioned my reasons above.
I would expect a lot more especially when this training was created by a group of successful full-time internet marketers.
However, it is better than its predecessor, the ClickBank University, but I wouldn't pay $47 per month for this educational platform.
Not mentioning the additional costs for advertising (Google Ads and Facebook Ads).
Spark By ClickBank Issues
Let me just summarize the issues.
It focuses on paid traffic and not enough on organic or free traffic.
Paid advertisement means additional costs (at least $100 per month) and from my experience, paying for traffic never works for beginners.
Having a few ads and observing what works and what does not resemble gambling.
This might sound harsh, but when I look back at what I used to do, it was pretty close to gambling and relying on "hope marketing".
It costs a lot of money.
It is much better to learn how to get free traffic, and how to monetize the traffic.
Once you have a certain income you can then "invest" the money for paid advertisement.
Still, it is not guaranteed that you will get your "investment" back, but it is the beginning and safe way how to start with the ads.
What I like about The Spark By ClickBank

Money-Back Guarantee (Since it is part of Clickbank)
It teaches the basics of affiliate marketing
What I don't like about Spark By ClickBank
Too much focus on paid traffic and therefore additional costs (on top of the $47 per month)
Short videos that do not go deep enough
Some parts of the course are mentioned twice
Spark By ClickBank – Conclusion
I must admit…
First I was excited about the course.
I mean the introduction video sounded promising and I was glad that I was going to recommend a new course that gives value to people.
Unfortunately, it is not the case.
Now when I look at the course as a whole, I must say that it is sort of misleading.
On top of that, a lot of information that covers the course can be also found for free. I don't see the reason why anyone should pay $37 per month.
Additionally, Spark By Clickbank does not teach how to create content on your website that will rank on google.
In my opinion, this is essential.
Once you learn how to rank well on Google, you can start promoting anything.
I am glad I have found a different platform that teaches step by step how to create a website and how to get free traffic.
Don't get me wrong, getting free traffic requires some skills but with proper education, anyone reading this post can learn that.
There is no magic when it comes to SEO and that is explained in that particular platform.
In case you have questions regarding Spark by Clickbank, or you want to know more about affiliate marketing, organic traffic, and so on please let me know in the comment section below.
I will do my best to provide you with feedback within 24 hours.
Thank you for reading
Mike