Making some extra cash on the side is something a lot of folks look into, and with all the options online, it's important to be wary of misleading stuff or even scams.
So, it's great that you're doing your homework and questioning whether Getsidehustles is legit.
I've got a nifty little trick to help you figure out if something's fishy without going down a rabbit hole. Just take a peek at the Getsidehustles.com web address, and you might spot a big fat fib they're telling right there on their site.
Note:
You can think of this review as a helpful guide that you can use when assessing different platforms that promise to help you make money online.
If you come across a platform or website that you want to learn more about, you have a couple of options:
– You can use the search button on my website to see if I've already reviewed it, or
– You can leave a comment, and I'll do my best to provide feedback within 24 hours.
Jump to:
Getsidehustles quick overview
Getsidehustles presents itself as an online income platform, supposedly allowing users to earn money by performing uncomplicated social media tasks.
They claim these online tasks can yield earnings anywhere between $100 and $1,000.
However, there are a number of evident red flags that seriously question the reliability of this platform.
For instance, the promise of extraordinarily high earnings is difficult to believe.
Furthermore, Getsidehustles has asserted its existence since 2020, yet the domain registration date for Getsidehustles.com is documented as 2022.
This inconsistency in timing raises significant doubts about the platform's overall credibility.
If you're seeking a platform to earn some quick pocket money, Freecash could be a viable option.
What is Getsidehustles?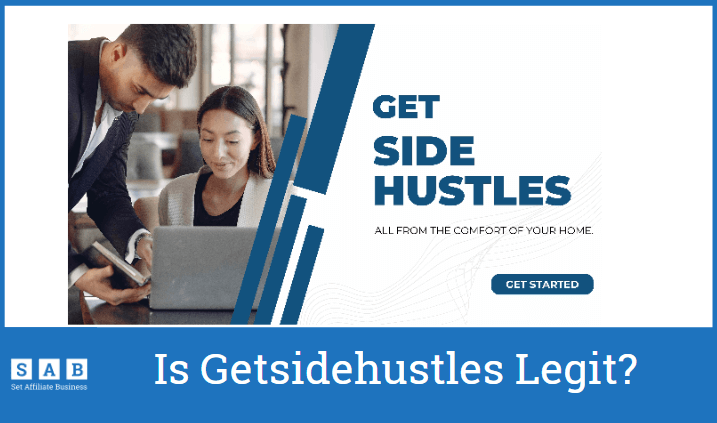 Getsidehustles com, comes across as a place where you can make some money by doing everyday things you'd usually do on social media.
For example:
watching videos,
browsing the web,
playing games,
and even shopping online
They claim they'll reward you with cashback or gift cards for getting these tasks done. It's quite an interesting arrangement.
Getsidehustles Website Information
Despite their assertion of being operational since 2020, the actual traffic to their platform didn't commence until late 2022.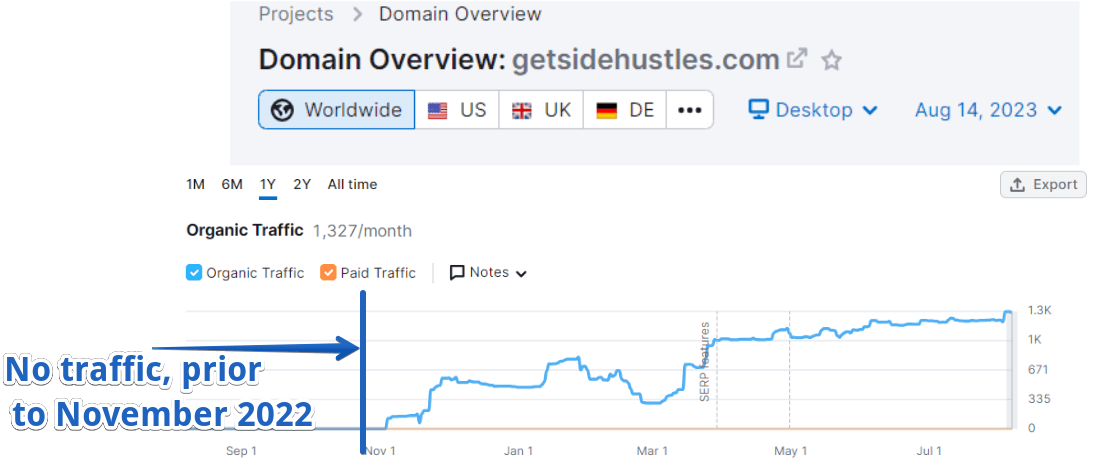 The screenshot above is sourced from Semrush, and you can run a check on any domain for free.
As we see, Getsidehustles.com isn't experiencing a high volume of visitors.
While this may not always be a definitive factor, especially in certain contexts, it's worth pondering.
When an online platform isn't attracting significant traffic, there's likely an underlying reason to consider.
Onewiex Website Registraion Date
And here's where things get intriguing.
Just by taking a quick peek at whois.com, you can easily dig up the actual domain registration date: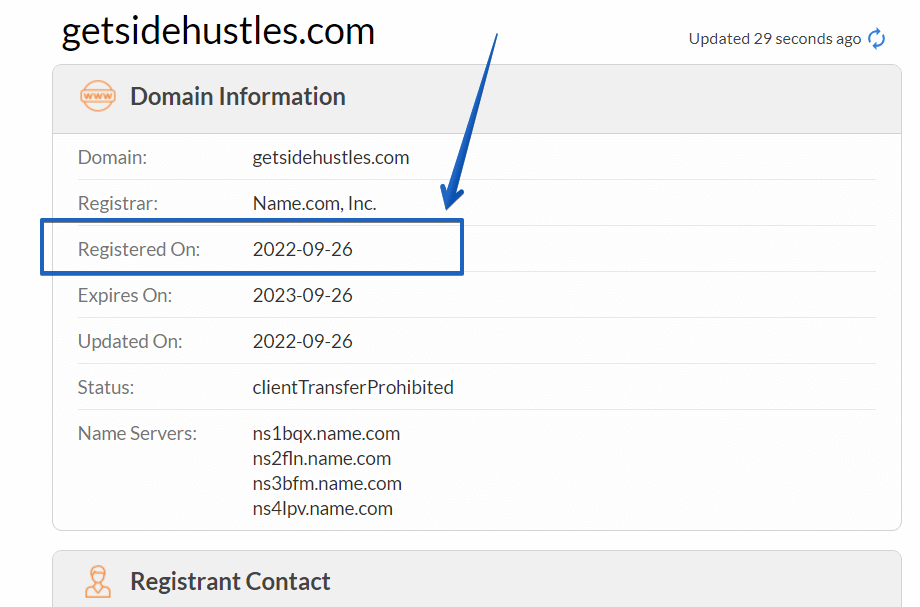 This explains why there was no traffic before November 2022.
Now, let's match that up with what they're saying.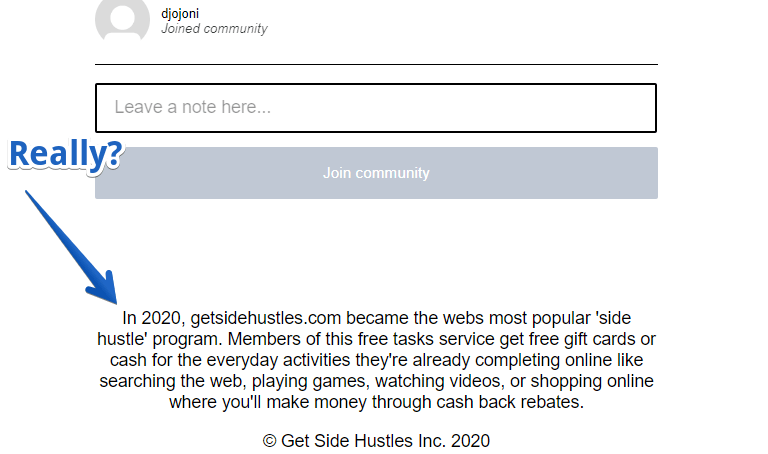 Clearly, something's fishy.
Even if you're not an expert at this kind of research, it's quite clear that they're not being truthful.
To be honest, this raises a major red flag for me. Personally, I wouldn't want to invest any more time in the Getsidehustles platform.
How Does Getsidehustles com Work?
Understanding the inner workings of Getsidehustles might require a closer look.
Upon signing up for free, users are encouraged to dive into completing tasks to earn money.
These earnings are contingent on the specific tasks undertaken and whether they're available in the user's country.
A range of tasks, including Amazon Side Hustle tasks and voting tasks, are on offer, each boasting different earning potentials – or so they claim.
Getsidehustles Referral program
Another aspect to consider is Getsidehustles.com's referral program.
Users are provided with a unique referral link, which they can distribute to friends.
Supposedly, when acquaintances join using this link, internet users receive commissions.
This referral structure is marketed as a supplementary income opportunity, yet its actual impact remains a matter of debate.
How to Sign up with Getsidehustles?
As mentioned earlier, signing up is a breeze – just your name and email address will do the trick.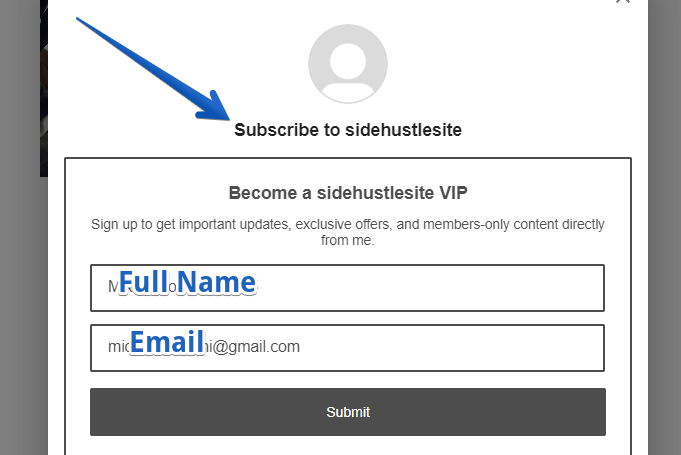 What catches my attention, however, is the lack of any email for confirming the signup process or even provide instructions.
It's rather surprising, considering that most reputable platforms send confirmation emails to verify your identity.
This absence of confirmation is yet another red flag to consider when evaluating Getsidehustles.
How to make money with Getsidehustles?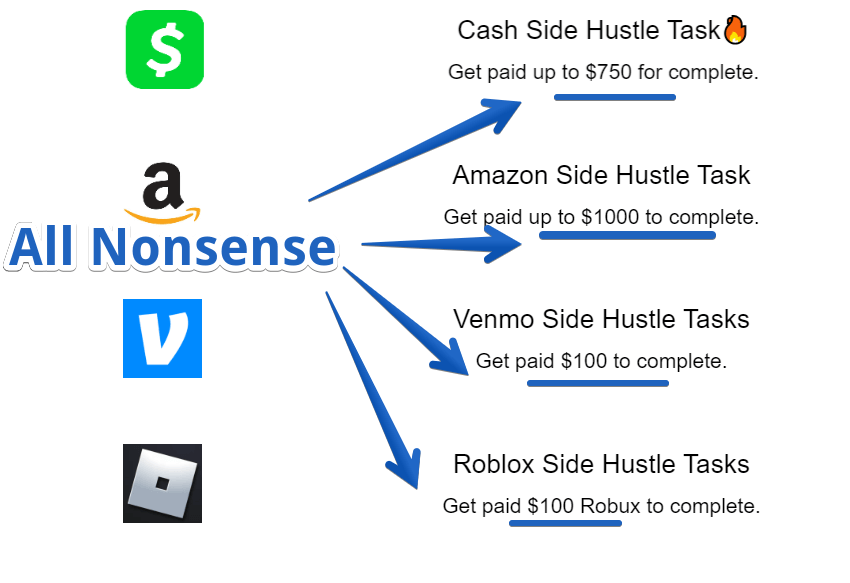 Let's talk about the avenue to earn some bucks through Getsidehustles.
They present opportunities like the Amazon Side Hustle task, with the potential to earn a cool $1,000 for completing it.
Sounds tempting, right?
But here's the twist – when I clicked on one of these tasks, it took me to a site that's using HTTP instead of the safer HTTPS. To me, that's waving a major red flag.

To add to that, the site didn't even load properly when I tried accessing it.
It's like something's amiss, and the task isn't up and running as expected. These issues cast doubt on the reliability and functionality of the tasks they're promoting.
How to Withdraw your earnings on Getsidehustles?
By now, it's becoming increasingly evident that making any money on this platform is quite unlikely. However, there's a slim chance that in certain regions, some opportunities might surface.
From the research, it seems that theoretically, there is a path to withdraw funds.
Supposedly, once you accumulate a specific sum, you're eligible to kickstart the withdrawal process.
Cool, right?
And they've even given you choices on how you want to get that money. You can go with the classic PayPal, explore Bitcoin, or even choose a direct bank transfer.
But again;
Given the concerns about Getsidehustles' credibility, there's a high chance that not many folks have actually pocketed a single dime from the platform.
So while I'm explaining the process all neatly, the reality might be a bit different.
It's like the withdrawal process is the theory, but the practical side is kind of uncertain.
Social Presence of Getsidehustles
Here's the scoop on social media with Getsidehustles.com.
You won't find any links to social networks on their website.
Kind of odd, right?
Most legit online stores use social media to connect with customers. When a site doesn't have those social links, it raises a few suspicion flags.
Getsidehustles Red Flags
Domain Registration Discrepancy
When examining the domain registration date, a significant discrepancy emerges.
Despite claims of being around since 2020, the actual traffic to their platform only began in late 2022.
This disparity raises concerns about the platform's honesty and transparency.
Over-the-Top Earnings Promises
Getsidehustles makes alluring promises of substantial income for simple tasks like the Amazon Side Hustle, with potential earnings reaching up to 4-figures.
Such extravagant claims raise skepticism, as they deviate from the norms of realistic online earning opportunities.
Unsecure Website Redirects
Clicking on tasks like the Amazon Side Hustle takes you to unsecured websites that only use HTTP instead of the more secure HTTPS.
This poses a significant security risk to users' personal and financial information, indicating a lack of proper precautions on the platform.
Absence of Post-Signup Communication
After signing up, the platform doesn't provide any feedback, confirmation, or instructions.
This lack of post-registration communication is unusual for legitimate platforms, leaving users in the dark about their account status and how to proceed, thereby contributing to doubts about the platform's reliability.
Lack of Payment Proofs
As of September 2023, there have not been any payment proofs provided by Getsidehustles.
Given that the platform has been operational since 2022, the absence of testimonials or evidence of successful payments raises doubts about its legitimacy and reliability.
Getsidehustles.com Reviews
Now, let's cross-reference the information we've gathered so far with the experiences of other Getsidehustles users.
Take Trustpilot, for instance (the trust score seems average):
It's a goldmine of valuable insights.
Interestingly, there isn't a single 5-star rating to be found.
The absence of even a single top-rated review speaks volumes – it's clear that people aren't satisfied with their experiences on Getsidehustles.
Conclusion
Although the platform's name might sound promising, Getsidehustles.com turns out to be just another dubious digital venture that won't do you any favors.
By simply recognizing the red flags, it becomes evident that making any substantial money is unlikely. Therefore, my recommendation is to avoid wasting time with Getsidehustles.
Now that you're familiar with how to spot such scams, it's worth noting that there are more sophisticated platforms out there that aren't as easy to identify.
If you've had experiences with similar scam platforms promising money-making opportunities, feel free to share in the section below.
I'm here to help; I'll gladly look into it and get back to you within 24 hours.
Thanks for reading, Mike