I was doing some research on how websites can rank without relying on backlinks and discovered that targeting low-competition keywords is one effective strategy.
During my search for such keywords, I came across a platform called Testerup and realized it could potentially be easy to rank for.
Intrigued by this, I decided to conduct a comprehensive review of Testerup and share my honest opinion with you, especially since many people search for terms like "Is Testerup Legit?"
Now, I must admit from the beginning that I wasn't able to sign in and personally test the platform. TesterUp is available only in the US (and Canada).
However, I managed to find a German version of the same app, allowing me to complete the TesterUp review.
I dedicated several hours to thoroughly researching the internet to provide you with an unbiased opinion and in-depth information.
Jump to:
TesterUp Quick Overview
TesterUp is a German-based online platform that rewards users in North America for testing new apps and games.
(It is only available in the United States of America and Canada).
Apparently, they have over three million registered testers and offer potential earnings as high as $120. there are other red flags, such as no feedback requirements, recent name changes, and complaints about customer service.
Despite these concerns, TesterUp is considered legitimate as they do pay users for playing games and completing missions.
Overall, Testerup may not be the best use of your time. One major concern is its high payout threshold, which could be seen as a significant drawback.
What is Testerup?
TesterUp is an online platform where you can earn rewards by testing new apps and games. It's a German-based platform that started in 2022.
(The name has changed from Testery to Testerup).
They claim to have over three million registered testers, so they've made quite a name for themselves in the online testing world.
I am personally doubtful about the numbers and in the next section, I explain why in the section regarding the traffic;
Testerup offers opportunities for surveys and testing cosmetics, although those specific offers are not always available.
You can earn up to $120 per test, which is pretty neat.
On their website, they mention 50 offers worth a total of $800.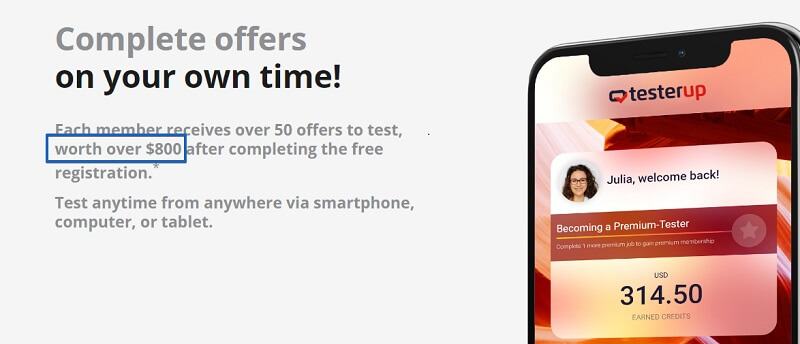 But remember that the actual number of offers in your dashboard might be different.
Also, be cautious of how they word things:

Testerup website information
When it comes to sites/platforms promising you to make easy money online, I always check basic information about the website.
First of all the website date registration, using the Whois.com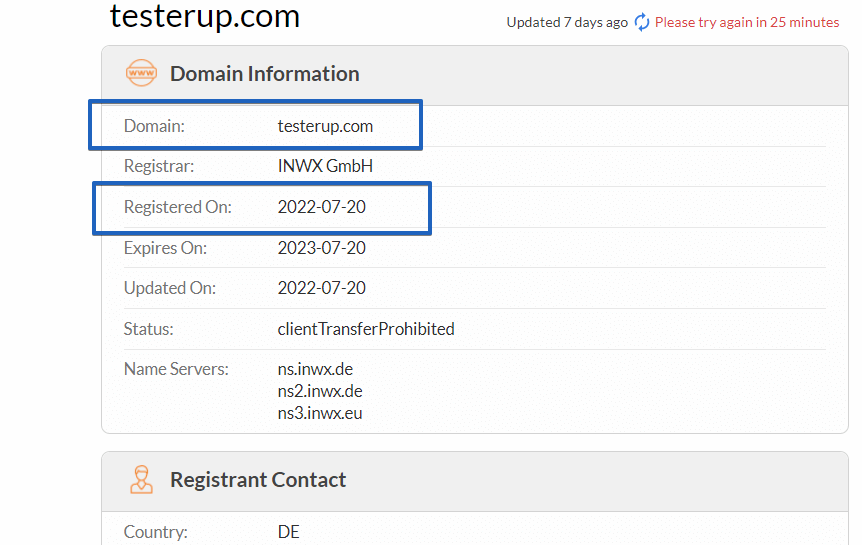 Then, I proceed to compare the data I gather with the information presented on their website. If there are no discrepancies, I continue with my investigation.
However, if I come across a clear mismatch, considering the entire system as misleading, I raise a red flag and proceed with caution.
In the case of Testerup, it appears that they are truthful about their history.
However, things start to get interesting when we consider their claim of having over 3 million registered testers. It's quite puzzling how they managed to accumulate such a large number of testers, especially when we analyze their website traffic using Ahrefs.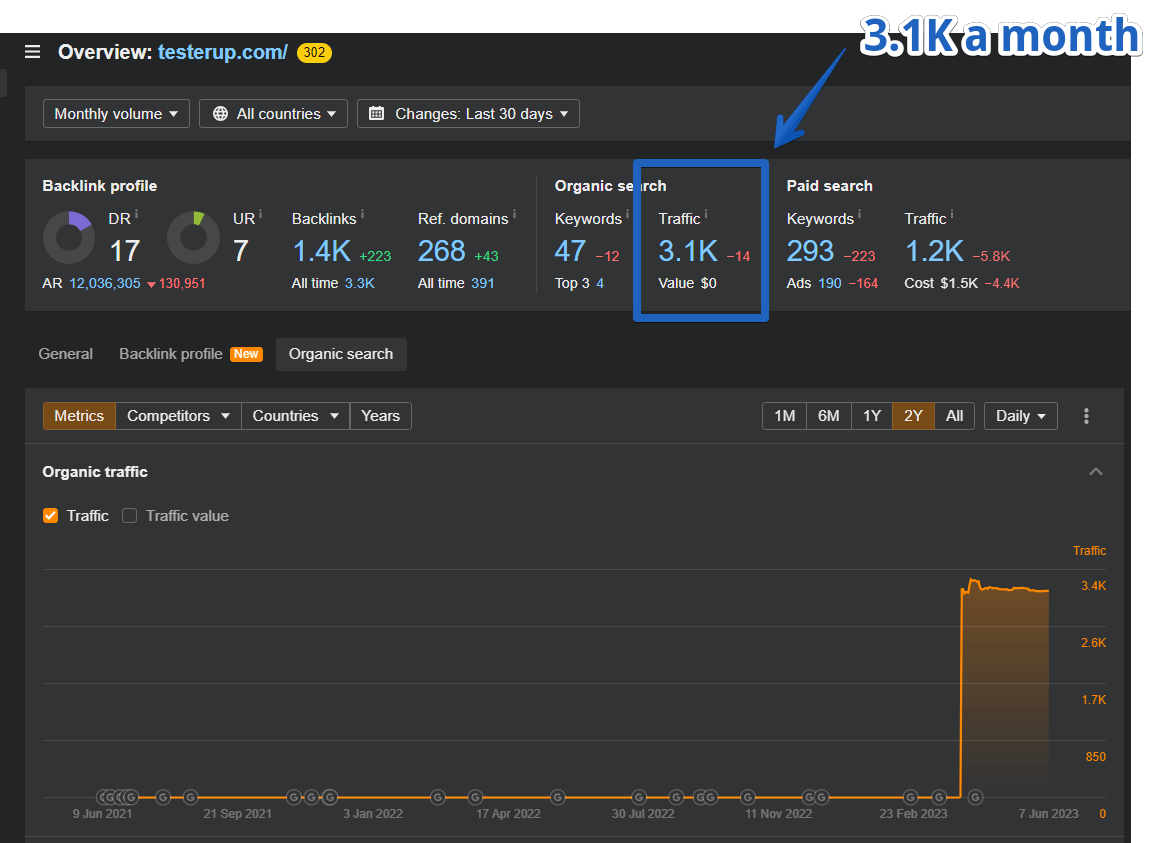 According to Ahrefs, their website receives only a few thousand users per month.
This leads me to believe that they might be exaggerating their numbers to make themselves appear more impressive than they actually are.
I consider this practice to be misleading and a part of their marketing strategy.
How to join the Testerup?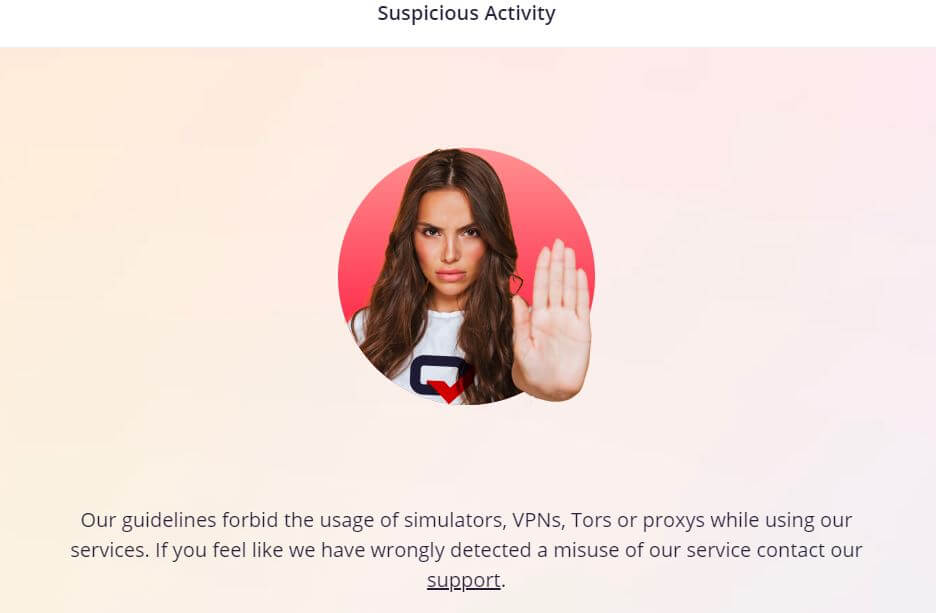 First off, you'll need to be 18 years old or older to register. It's a pretty standard requirement for most online platforms, especially when there are financial transactions involved.
Now, TesterUp is currently only available to users in the U.S. and Canada. So if you're outside these countries, you might have to be patient until TesterUp expands its services to your region.
Once you meet these requirements, signing up is a breeze. You have a couple of options: you can use your Facebook or Google account to register, or simply create your own login credentials.
Once you've completed the sign-up form, you'll be good to go and can log in to TesterUp right away.
Account suspended?
If you're not from the US or Canada, here's what might happen:
When you try to sign up, you may encounter difficulties accessing the platform. It seems that your account might be suspended, and honestly, it could be for no apparent reason.
In such a situation, you can reach out to the support team for assistance. Here's what they typically respond if you're not from the US:
In case you have problems reading the text from the screenshot, here is the original text:
Hi Mikemudesi,

Thank you for bringing this issue to our attention. We can understand how important it is for you to be able to test our games and earn some monetary rewards, especially after your registration, and we apologize for any inconvenience this may have caused you.
Allow us to provide some clarification regarding this matter.

Our team has investigated the matter and found that your account was suspended because you did not meet the requirements outlined in our Terms of Service.

It is important to note that we strictly prohibit using any restricted systems, including VPNs and third-party software. Currently, TesterUp is only available in the United States of America.

However, we are working hard to expand our business into other parts of the world in the future. You can find additional information on this matter by visiting the article in our Help Center.

Please let us know if you need further clarification regarding this matter. Thank you for your understanding.

Have a good day and stay healthy!
Best regards,
your testerup.com-Team
A German version of TesterUp (?)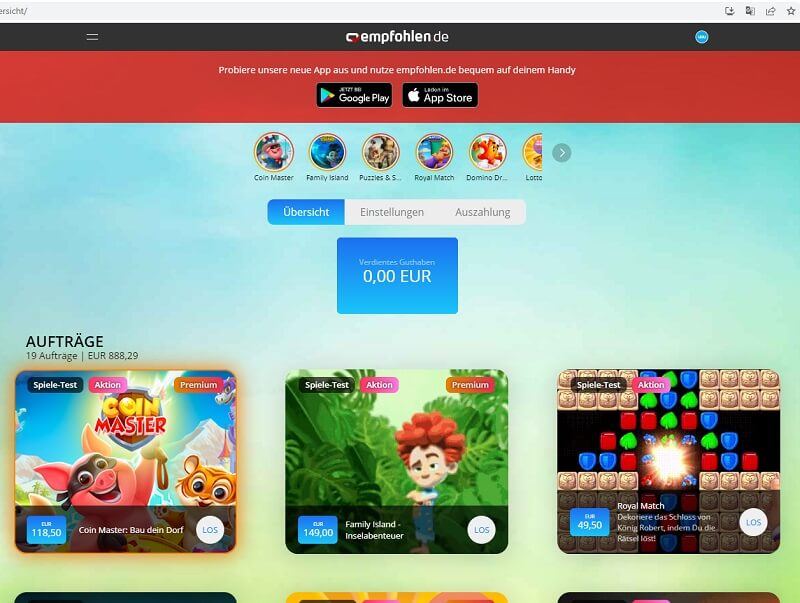 Throughout the Google app page, I was able to find their German version of the TesterUp.
It is called Empfohlen and it exactly the same thing, but it seems to be available for people from the EU as well.
How to Make Money On TesterUp?
There are 3 ways how to make money with TesterUp.
Test offers
This involves testing offers and mobile apps, and completing tasks. While it can be fun, there are challenges such as time investment and limited completion days.
Another issue I find is that the money you spend on purchasing items or upgrades within the app can reduce the amount of money you earn from using TesterUp.
Playing Mobile Games
The popular method of earning money on TesterUp is playing mobile games and completing missions.
Choose games you're genuinely interested in, but be aware of potential upgrade requirements for premium content.
It's not a quick way to make money, and the cost of upgrades can vary.
Referral Program
TesterUp used to have a referral program, but its availability may vary.
If accessible, referring others can boost your earnings, depending on the activity and success of your referrals.
Recruiting new members may not be as easy as it sounds.
How Much Can You Make with TesterUp?
The earning potential with Testerup is a crucial factor in determining its worth. According to Testerup, users have the potential to earn up to $120 per test, and there are even some offers with potential payouts higher than that.
It's important to note that the maximum total potential payout mentioned is $800, but it's worth mentioning that offers and earnings can vary over time. Depending on when you join, the amount you can earn may be higher or lower.
However, it's essential to understand that the $800 maximum earning is the gross profit, not the net profit. You need to subtract the cost of in-app purchases from the gross profit to determine the net profit.
If you're aiming for higher earning potential, becoming a Premium Tester can be beneficial. By completing five premium offers, you can unlock additional earning opportunities.
It's worth noting that tasks that require minimal time investment or don't involve spending money typically earn around $0.10 to $1 at most. This means it may take several months before reaching the payout threshold.
Ultimately, the earning potential with Testerup depends on various factors such as:
the offers available,
your level of participation,
and the timing of your involvement.
TesterUp Users Reviews and Opinions
I went through a lot of review experiences and checked what people think of TesterUp. This includes Trustpilot, and so far most people have had an okay experience.
Here is a summary of both the pros and cons (not just from Trustpilot).
The Pros
Shocked to receive payment from the app.
Excited about the deals and options available.
Testerup is as advertised, unlike other convoluted websites.
Appreciates the payout chart to track earnings.
New to Testerup but finds it okay, with potential for compensation.
The Cons
Wasted time playing games as the app didn't credit the last levels completed.
Support ticket unanswered and account locked without explanation.
Frustration with objectives not being checked off and games not being recognized.
Difficulties with registering and encountering errors.
App works inconsistently and lacks reliable support.
TesterUp Red Flags
Let me shortly sum up the Red Flags.
Time and Money Commitment
To earn significant rewards, users may need to invest a substantial amount of time and money, which can be a concern for many.
Lack of Actual Testing
TesterUp's name is misleading as users are not truly testing anything. Instead, they play games and reach specified levels without providing feedback or performing in-depth testing.
The games already have a large player base, making additional "testing" unnecessary.
Exaggerated Promises
The claims of earning up to $120 per test seem exaggerated. It's unclear how TesterUp can afford such high payouts, especially for simply downloading and playing games.
The money likely comes from affiliate programs and in-app purchases, potentially resulting in significant expenses for users.
High Withdrawal Threshold
The $70 payout threshold may require significant effort without immediate rewards.
Consider other survey sites with lower thresholds for quicker payouts or explore online business opportunities for a full-time income.
Is TesterUp Legit?
TesterUp can be considered a legitimate platform for earning money.
However, it is important to note that the high payout threshold poses a significant challenge for many users. While the platform offers potential earnings, the difficulty in reaching the minimum cash-out requirement often leads to frustration and discouragement.
As a result, many individuals end up abandoning their earnings and leaving them unclaimed.
If you are willing to invest the time and effort required to accumulate a substantial amount, TesterUp can provide a way to earn extra income.
However, it is essential to approach the platform with realistic expectations and be prepared for the challenges associated with reaching the payout threshold.
FAQs
Is Testerup safe and legit?
Testerup is generally considered safe to use. However, its legitimacy raises some concerns.
The platform claims high earnings of $100+ per test, but in reality, users often have to invest their own money to attempt to earn money.
Does Testerup pay well?
The earning potential offered by Testerup is quite limited, requiring several months of testing apps and sites to reach the payout threshold.
Is Testerup real?
Testerup is indeed a real app, but its legitimacy is questionable due to misleading advertisements. Although they claim you can earn a significant amount of real money, the actual earning potential is extremely low in reality.