We will be looking at certain steps regarding the ranking of your site. Everybody wants to know how to rank my website on google or other search engines as well.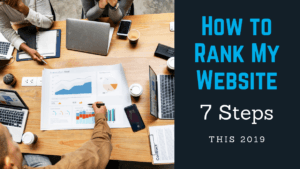 SEO is crucial and in the past there used to be techniques, which if you applied you could easily trick the google algorithms and your site would get on top of the search results.
That algorithm has been evolving, and mostly the reason is to avoid these "smart guys" to over rank those who try to create a real value.
So if you intend to bring a value to people, you follow the steps below and you should get your site on 1st pages pretty soon.
First of all lets take a look, why some sites are ranking faster.
What Makes Other Sites Rank Faster
Very important factor is the age of the site. The thing is that you can't compete with website which is already 3 or 5 years old.
If you just set up you site recently and you have only few posts on your site, you are not going to rank in a day. It will take time and of course more content.
I hope it make sense.
Think about it. Google does not have a clue about you and that is why you are not going to rank quickly.
You may feel frustrated. But the thing is that you gotta keep on working at your website. This is the secret to success.
It is very easy to write 5 posts and then watch how it ranks. Watching and hoping does not get you anywhere. That also makes difference between those who succeed and those who failed. And I don't mean ultimate failure – quite the opposite -> You should take is as a learning experience.
You can always get back on the track. Once you do, just be consistent with your content.
Google will recognize you between all the sites out there and will eventually rank your site as well.
Simple formula is:
Write Post -> Do 7 Steps -> Rinse and Repeat
You should be focusing on content creation. From time to time you can check how your site is ranking – but do not get distracted by that. Check it once per week. It does not make sense to do it more often.
When you see that your site is already at 1st page of google it – WAW – and Congratulations!
But Do not rest on your laurels! 
The journey has just begun.
In other words, that should motivate you to keep on working.
Here is What you Should Do
Trust flow
To simple put it is how google trust to your site. And since there are tons of sites out there, you want to make sure that you comply with factors which google takes into consideration.
That means:
consistent content creation
internal link
engagement meaning comments under your posts and your feedback to those comments
sharing social
These factors build the trust to your site.
It is like with a person you like but she/he does not really show interest at the beginning. You gotta find the way to make that person to like you. But you do not want to use any kind of technique to scare her/him off, right?
Again we are talking about relationship with google. We want to show him, that we mean it. That we really want to deliver the content for a reader and we are able to deliver fresh content lets say once per week.
Now I do not have to ask you, who do you think google will rank faster – the one who creates content frequently (twice per week) or the one with one post per 6 weeks?
You get the picture, right?
That is also an important factor. Bottom line is that each of your posts should have about 1,000 words or more (to give you a clue, right now this is about 620 words).
What is idea behind?
You are reading a 1,000 words post. To finish such post takes about 7-9 minutes, depending on how fast you read. Google notices that a visitor stays on that post so he tends to give a credit to the site. (whether the visitor read it or talks to a friend while the page is opened, that is another question. That is why it is only one of the factors).
If you are blogger, or you have read some blogs, you know that there is always a section for comments under the article. The same principle we want to apply in our posts.
That is why, it is always important to create quality content and on top of it to ask the reader about the opinion or comment or a question.
It extends our content, and by engaging the comments , we show to google that our site is "alive", thus has a value for readers.
Some Tips you Want to Avoid
You do not want to try to cheat google, in another words do not use any "cool" ranking software.
Also Do not use any automation tools.
Do not buy any back links.
7 Simple Steps To Follow – Where to Use Your Keyword
1. Keyword in Meta Title
Meta Title is the first line, or a custom title that shows up in the title tag for the page. You want to use the keyword in the Meta Title. See screenshot below – it shows to reader what he is looking for.
2. Keyword in Meta Description
This is text underneath the Meta Title. You want to use your keyword in this section as well. Pretty much for the same reason like we just have seen in the section above.
It is recommended to fill it up by yourself otherwise, the description might be auto-generated.
One Note:
There is an ongoing discussion, whether to do it or not.  Some may say you don't need that.
I believe, there is no harm to fill that up.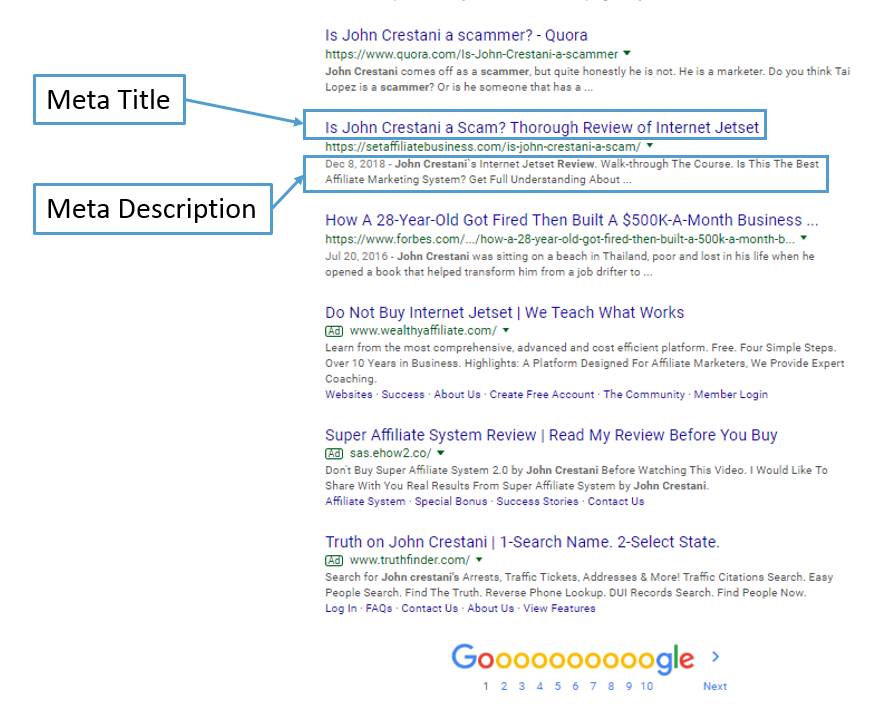 3. Keyword inside the Content – Ideally in the first Paragraph.
It think is clear. A question may raise, how many keywords do I have to include in the content.
One is Enough.
Google does not like keyword stuffing (showing too many SEO keywords in your article – more regarding keyword stuffing at following link).
4. Image with Alt Tag – You Keyword Inside the Alt Text
It is always great to use an image at your post. Check newspapers, magazines – you see that it makes reading the post much easier. What you want to do is to include an Alt Tag or Alt Text with your keyword.
In WordPress back office, when you adding an image into the post, you have some option or Attachment Details. There you find a place for your specific keyword.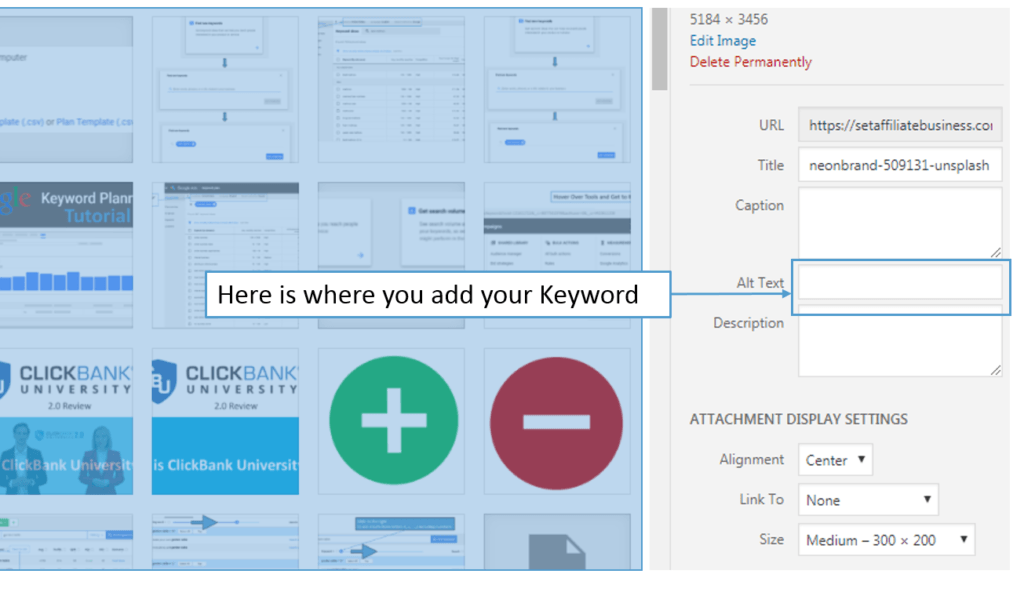 When somebody searches in google in the "Images" Tab, your picture, connected to your website, will show up.
5. Internal Links
Internal linking is the link from one page to another within your site. As you click at this internal link, you see that you are still at my site.
You remember, we were talking about the time visitor stays on your page? Well internal linking extends the time since he does not leave the your site.
6. External link
External links are also important.
On one hand we want visitor to stay on our page, but on the other hand we want to show to google, that we are not afraid to send the visitor to some authoritative site to provide him with additional value.
7. Embedded Video
Go find any video on YouTube, related to your topic. Check if it is shareable, and if so copy the code and embed in in your post. Do not worry if you are not an author of the video.
Once you are able to copy the code – that means that video is not protected. You just provide the author of the video with another source of viewers.
You both are happy 🙂
Try it by yourself. Go to any YouTube video and follow instructions: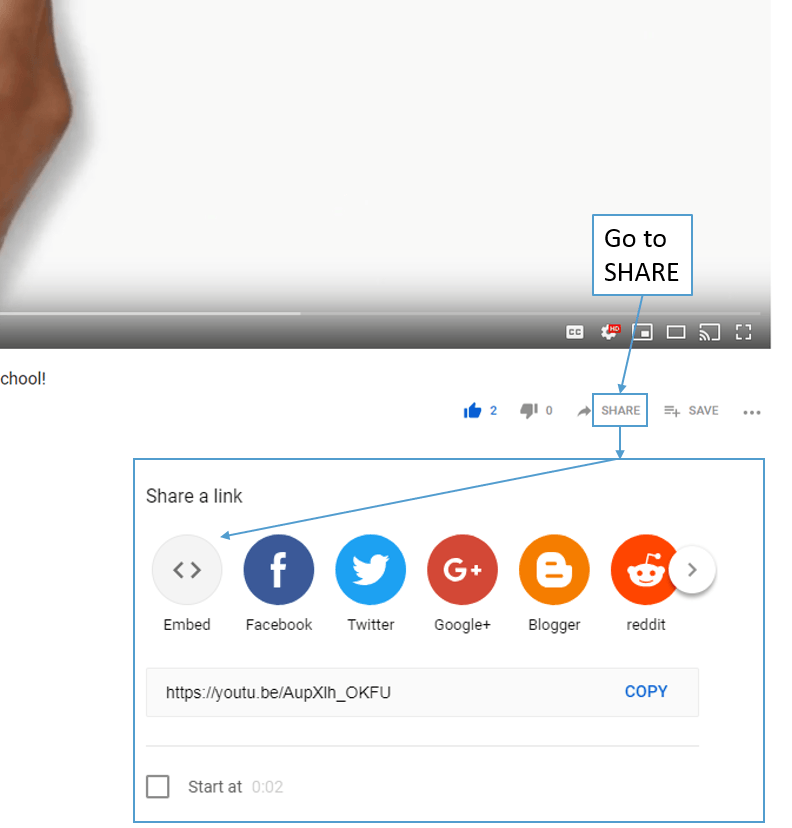 If you can edit the text  you can use the code and add it in your post.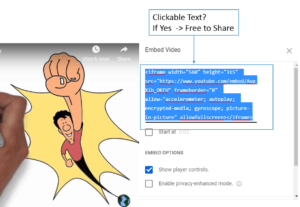 TIP:
Make sure you have a google account. Then sign in google search console.
Then at the left side, find the URL Inspection. Insert your url of your new post and add in the pop up window. After that click on the Request Indexing. Your URL is now waiting for google indexing. Previously known as crawling in Google Webmaster.
This request speeds up the ranking process.
Are you Ranking Yet?  🙂
If you follow all these steps, and your site is about 10-14 months old, how long you think does it take for google to rank your post?
It can be done easily within 30 minutes.
So lets say, you constantly deliver the content for those 10 months. You have about 30-40 posts/pages on your site. You are on your way to become an authority (of course it also depends on the niche you are involved in).
So in order to follow what I have just written, I am asking you to leave the comment or ask any question related to this post.
I'd be happy to give you a feedback 🙂
Please follow and like us: