You are probably doing some research about this WarriorPlus product called Viperr, (with double "r" at the end).
Well, it says that you can make more than $70 per hour and you don't need to have any experience.
Is it really possible?
In the following Viperr Review, you are going to learn how it really works, how much you can make (if anything), and what is the final price for this digital product.
I will do my best to keep this review short but concise.
At the end of this post, there is a comment section and I would like to ask you to leave a comment, answering my question:
How did you find out about this specific product called Viperr?
Thanks in advance and now let's get started with the review.
Disclaimer:
Please note, I am not a member or an affiliate of the Viperr.
This review is based on research and information available online in the public domain. Any recommendations and conclusions are only opinions and may not apply to all persons or situations.
Viperr Overview
Name: Viperr
Website: www.viperr.net/viperr-live2
Price to Join: $8.8 + Upsells
Recommended: No
Viperr Summary
Viperr is software that allows you to create videos. Apparently, you don't need to create your own videos. just simply type any website your want and Viperr is going to create a video – slide show based on the website.
It is also possible to use already existing videos from Youtube, edit them and upload them as yours.
There are a couple of issues with Viperr, and the main is that these videos won't get any traction.
Even if it does, Youtube can easily notice that these videos created within Viperr are just re-used content and your channel can be banned.
Viperr sales page is extremely misleading and it is basically a re-hashed old product. It is basically impossible to make a dime, just by using the Viperr.
If you really want to know how to make money with a simple blog, check the link below for more details.
What Is Viperr?
Viperr is a product that promises you to make $70 per hour just by driving free traffic from a top-quality source.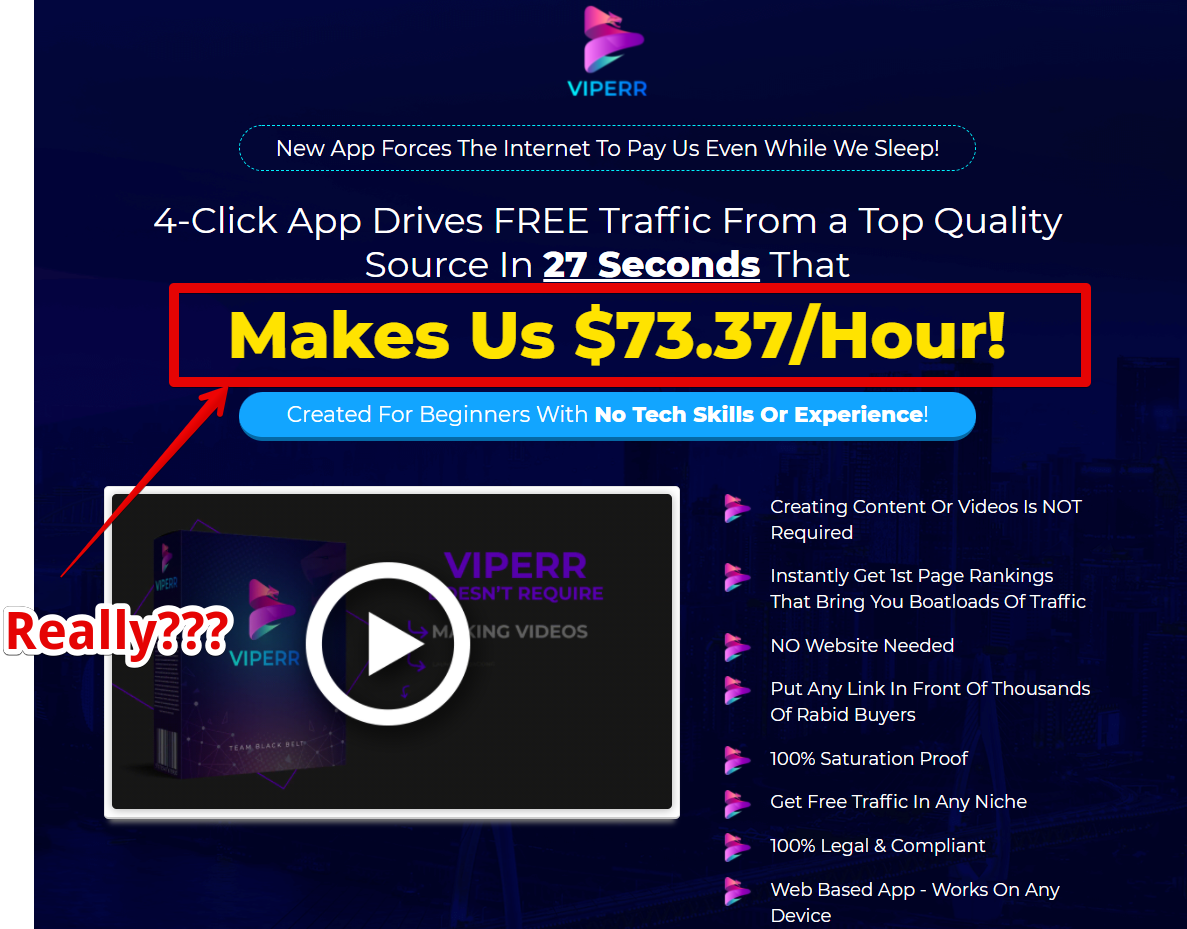 Apparently, you don't need to have a website you don't even need to create your content or videos and it is supposed to be 100% legit and compliant.
With just 4 clicks you can start earning money:
Login to the software
Enter any website link
Convert the link to the video
Upload it to Youtube
That's it.
Sounds easy and effective, right?
Well, let's check this product a bit deeper to find out that this is not what it looks like.
Who is Behind Viperr?
Apparently, there is a team of 3 people that created this product.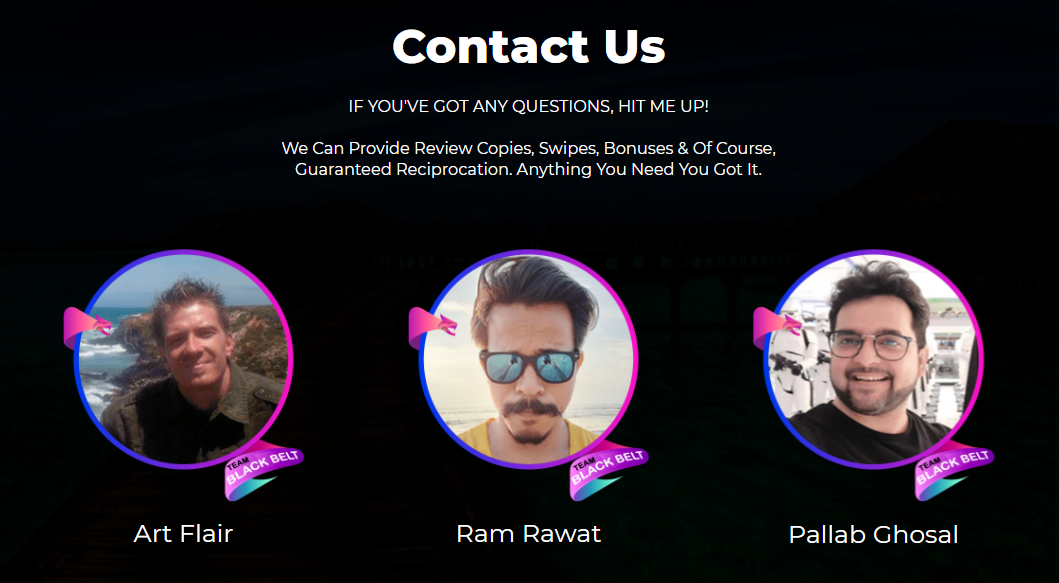 According to the WarriorPlus site, there is this person, who is the official Vendor.
There is not a lot of information about him.
One thing is for sure though
Ha has created more than 30 products on WarriorPlus.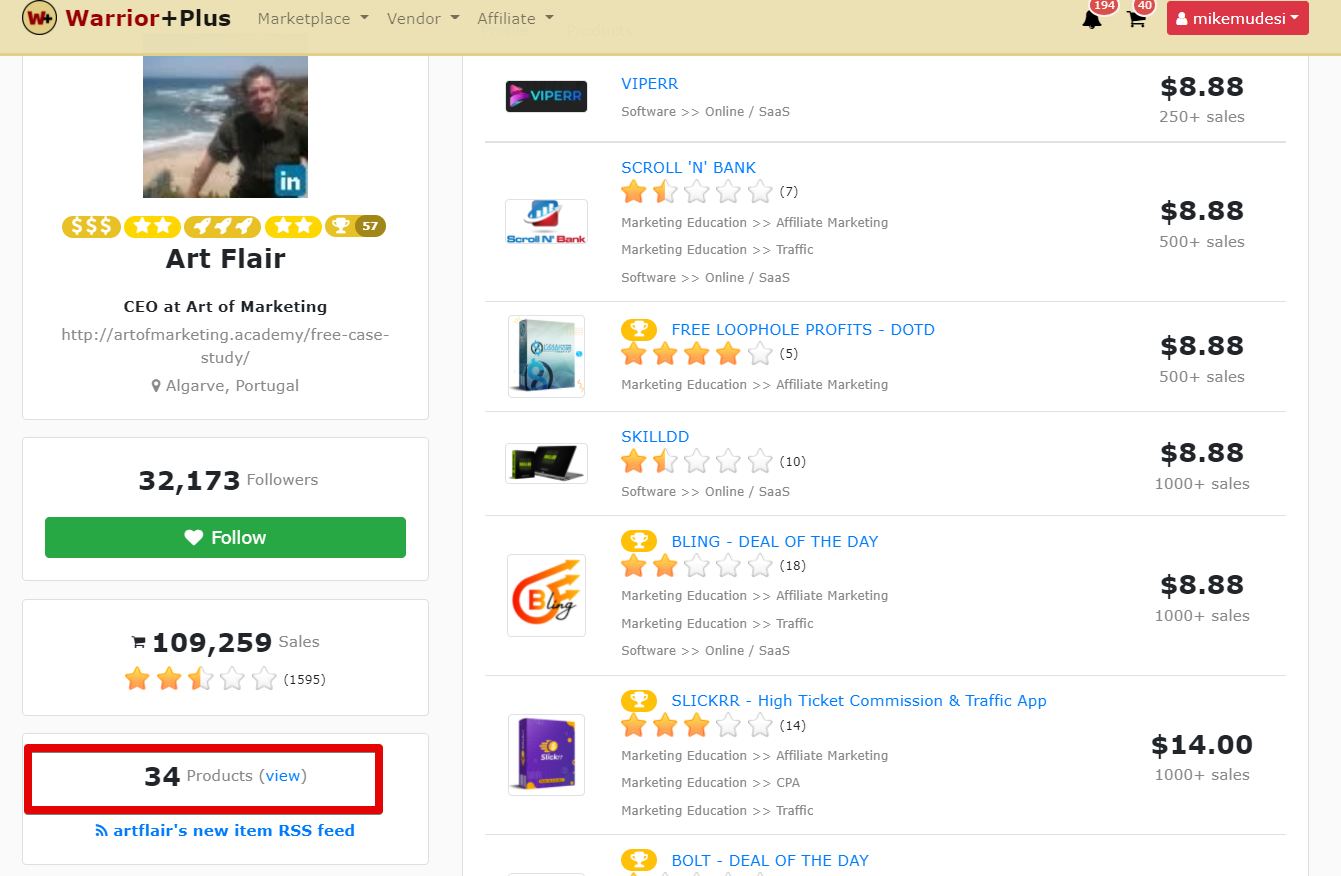 This is never a good sign.
Why he can't create one legit product that brings value to people?
Well, it seems that guys like Art Flair (if that is his real name) have a different perspective when it comes to internet marketing.
Their goal is to keep creating such products/apps on a regular basis… actually, these are not new ones, but just re-used ones.
That's right and I dare to say that the majority of his products over promise and underdeliver.
The front-end price is very low, but then he makes money on a bunch of upsells.
The bottom line is that the end customer only loses money. He doesn't earn anything, he doesn't learn anything.
How Does Viperr Work?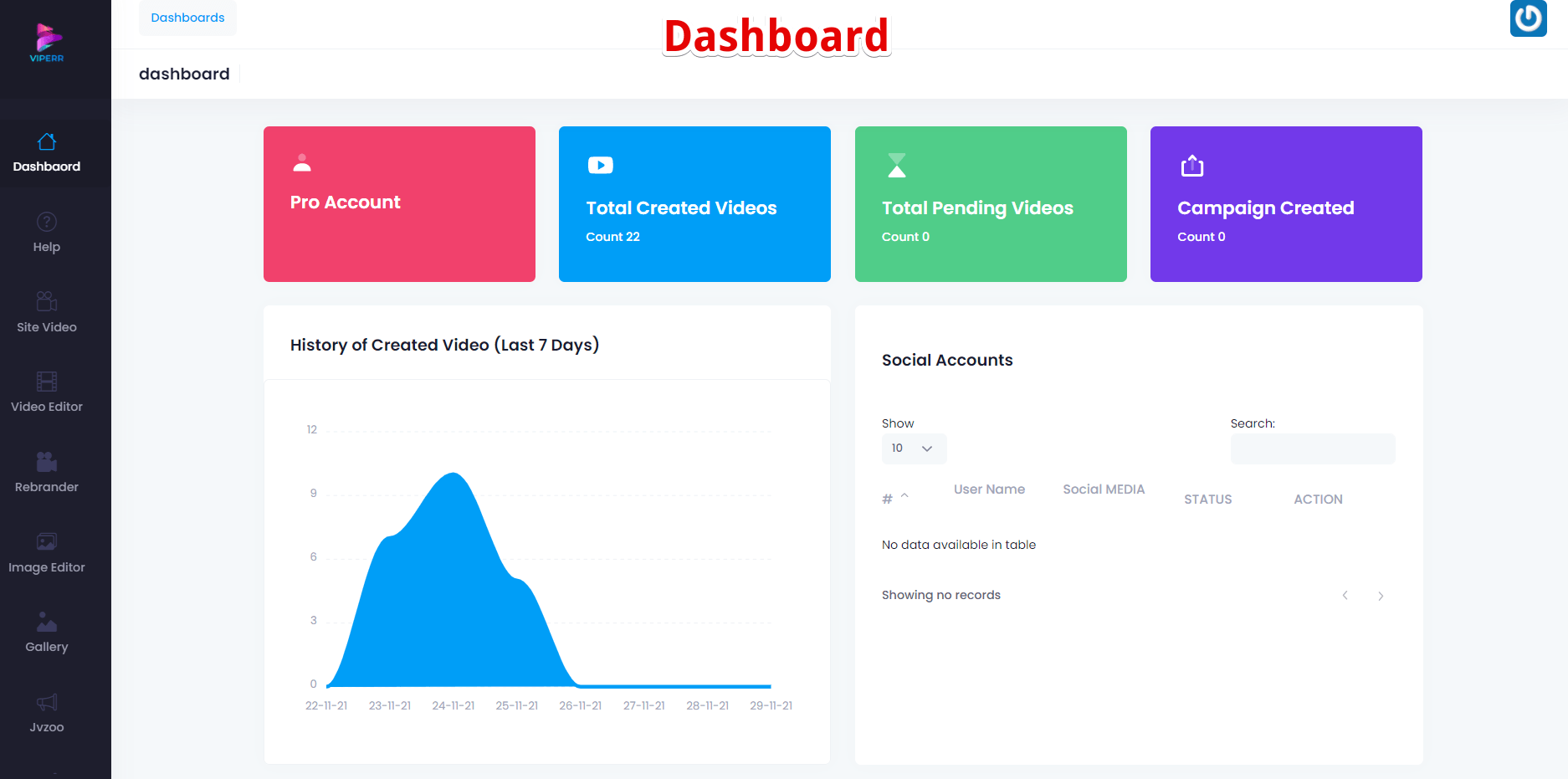 In the Dashboard, you can go to "Site Video" where you post a link to any website.
This software downloads the screenshots of the website and creates a slide show.
That is the video.
It is also possible to put a link to a certain YouTube video that will be downloaded.
In the Viperr menu, there is a section where you can edit the video.
Actually what it really does, is only add the Intro and Outro.
You can't really edit the video.
That's pretty much it.
It is a very simple tool for getting videos from YouTube or websites and making slideshows.
But does it make sense?
No, in reality, this doesn't work.
First of all, the slideshow of the website – is not what people want to see when they came to Youtube.
That means, that videos created within Viperr won't have any views.
How about existing videos?
Uploading a video that already exists, is not a good idea.
You can get in trouble like your channel might be banned. Ideally not but still, your video won't be monetized.
It is considered reused content and here is a screenshot from YouTube Studios explaining what can and can't be done: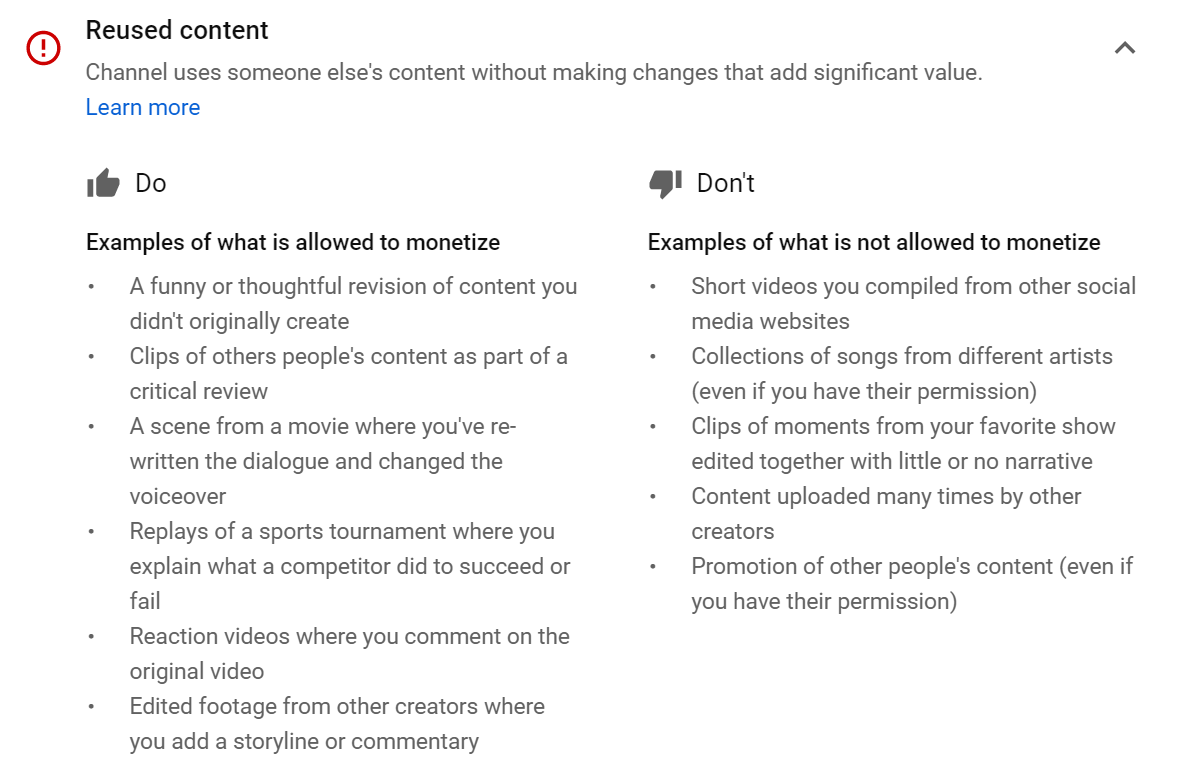 How about other Viperr features?
JVZoo, WarrorPlus, ClickBank
You can actually check current offers on different affiliate programs, such as ClickBank, WarriorPlus, or JVZoo.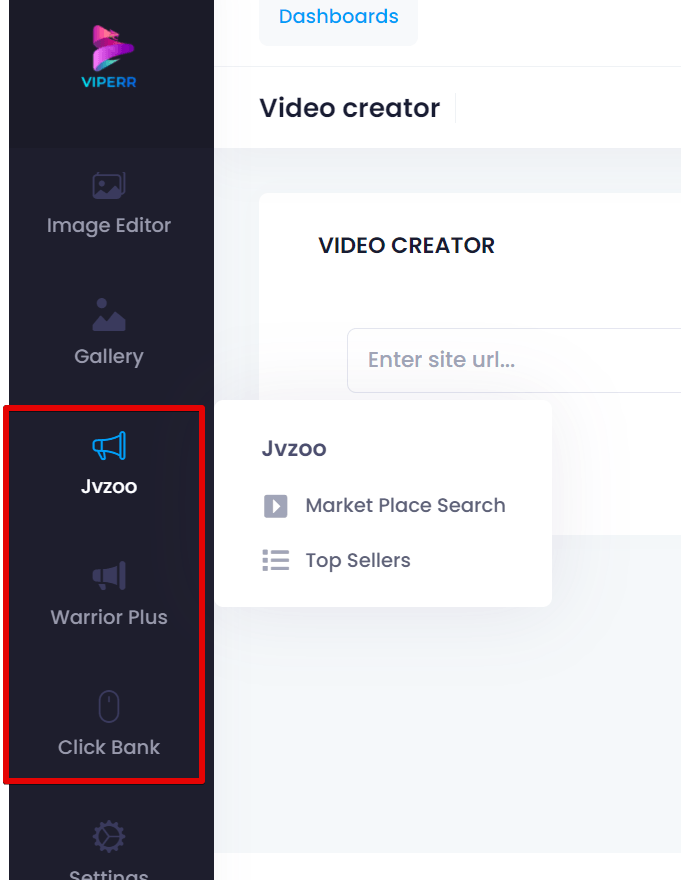 But again what's the point?
You can look at the products directly at those sites.
What is the Price of Viperr?
It is really cheap.
First of all, there is not a lot you can expect for $9 bucks.
There are upgrades that one can get, but believe these upgrades won't be working either.
The bottom line is that this system uses other people's videos and this "easy" path leads to nowhere.
Look at the upsells structure.
Also please note, that these upgrades pop up right after you pay for the basic product.
Sometimes it is really difficult to skip them and it happens that people instead of $8 spend a couple of hundred bucks.

Each upgrade has its discount but again, this product just doesn't work as it is presented.
Any Red Flags?
1) Training
If we go to check the training within the Viperr dashboard area, it goes to the member's area of a different product called VidViper.
Research shows that this is exactly the same product as VidViper.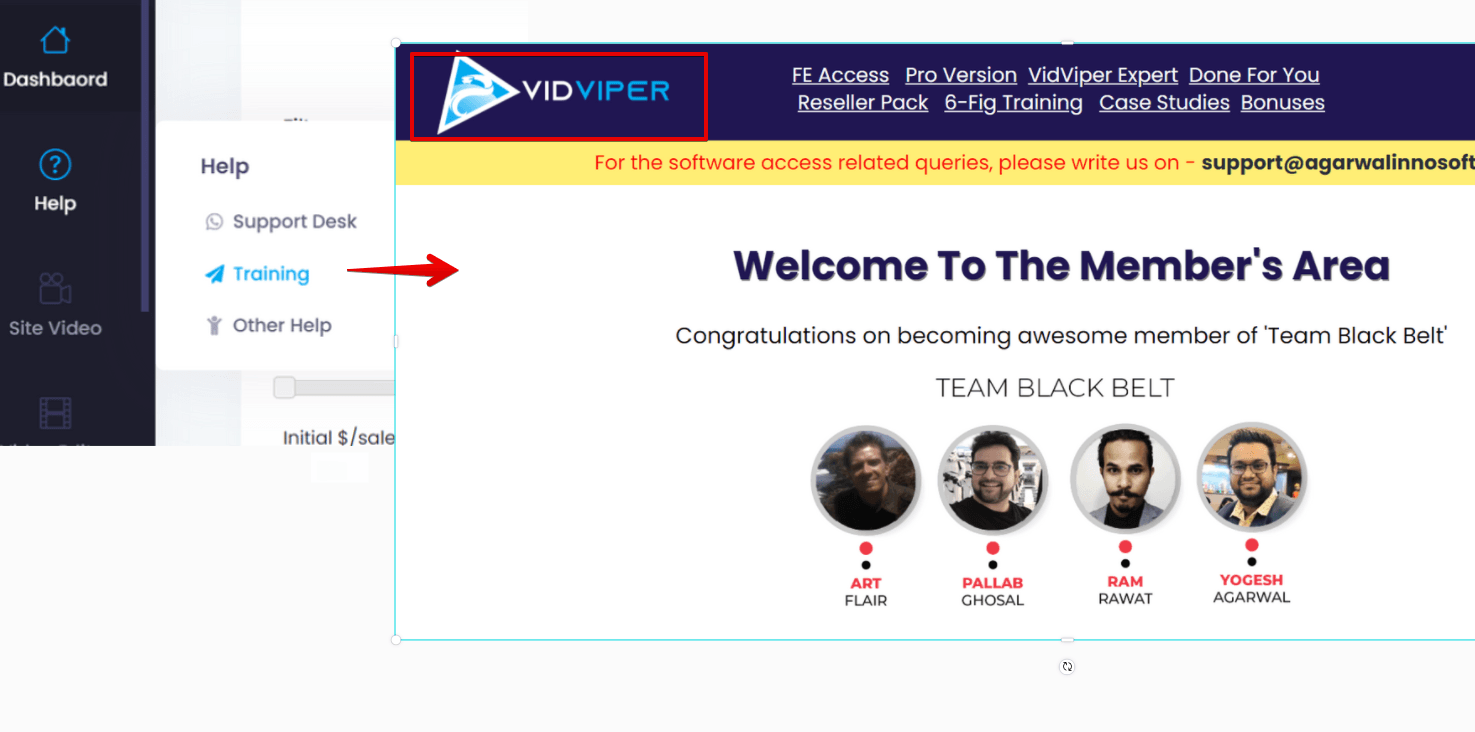 That means that Viperr is just re-hashed old products and the only purpose is to get new customers.
It is very common along with these WarriorPlus products that the vendors keep creating "new" products on a regular basis.
The reason is simple – none of them work, so they need to lure in new customers over and over again.
2) Youtube Video
As we already explained above, Youtube can easily recognize that it is not your video.
In other words, it is a re-used video.
In the best-case scenario, the videos will still be on, but you won't be able to monetize the video.
3) No Privacy Policy, No Term, and Conditions…
Also, I find it very strange that there are no links to the Terms & Conditions or Privacy Policy.
These are a must, especially when it comes to a website promising you to make money.
How to Really Make Money Online?
There are many ways how to make money online, and I want to share with you the 2 most common ways.
1. Create a YouTube channel
To be honest I am still a beginner when it comes to Youtube.
One thing I know is that you don't have to be on videos to make money with youtube. As soon as you can create your own content (following the rules above), you will be fine.
That means, you can take from Youtube let's say a video about the top 10 basketball players, create your voiceovers – like comments or notes, and you can upload this video.
You can even hire people to create videos for you.
But as I said I am still at the beginning of this process so I can't really give advice.
2. Create your own Website
These days, every business has a website.
The good news is that you don't need to have business in order to create websites.
The website will become your business as soon as you follow certain rules.
And I would like to emphasize that these days, it is very easy to create a website, a blog.
In order to make money there are 4 basic steps you have to keep in mind:
Choose your Niche, your Interest
Build a Website
Attract Visitors – Get free traffic to your website
Generate revenue – affiliate marketing, displaying ads, etc.
If you want to find out more, click here, where you get more information and you can even take a course. There are 10 lessons available for you so you know what to expect.
Whatever path you choose there is one thing in common and that is consistency. You must keep coming up with new content so your channel or website will grow.
Viperr Pros

Money-Back Guarantee
Please Note, that WarriorPlus is not responsible for the refund. You have to contact the Vendor, directly and sometimes it takes too long to get the money back.
Viperr Cons
Sales Page Hyped Up

Software that allows stealing other people's videos from YouTube

Chances to earn a dollar with Viperr are close to Zero (let alone the promised $73 an hour)
Conclusion
Viperr is not worth it.
If you scroll down to the Conclusion without reading the entire post, I understand. You have found out that this is not worth your money.
I have mentioned above other ways how to make money online, If you are interested, you can check the section above, or also you can leave a comment below.
Thank you for reading
Mike