You are already aware that there are many misleading digital products that just trying to rip you off.
I have been doing digital product reviews for more than 2 years now and sometimes it is not easy to distinguish between a valuable product and a scammy one.
How about GooglyPay?
Let's find out, but right off the bat, I can tell you that it is almost impossible to make money with GooglyPay.
Jump to:
Let's get started;
Disclaimer:
Please note, I am not a member or an affiliate of GooglyPay.
This review is based on research and information available online in the public domain.
Any recommendations and conclusions are only opinions and may not apply to all persons or situations.
Quick Overview
Name: GooglyPay
Website: www.googlypay.com/special-deal
Price to Join: $19 + Upsells
Recommended: No
GooglyPay Review – Summary
GooglyPay is a "new" tool, launched on WarriorPlus on Saturday, October 16th, 2021.
It claims that with just 3 simple steps, you can start making hundreds of dollars per day. And all that by doing searches on Google.
First of all, the product is not what it claims to be.
After purchasing the product, and skipping all the annoying upsell offers, you get access to the dashboard that looks like a search engine.
This is not a search engine though. It doesn't give any results and you certainly won't get paid.
GooglyPay has some simple features, such as an email campaign creator, or you can use it to post something on Facebook.
You can also check current offers on the following platforms:
JVZoo
WarriorPlus
ClickBank
The training within the GooglyPay dashboard doesn't exist, so no one knows how to use these tools.
Besides, they are useless, as you can access the platform directly, and you also don't need GooglyPay to post on Social Media.
The bottom line is that GooglyPay is just another useless product, offered by Branson Tay.
It doesn't teach you anything. Looking at the upsells it is just a new money-making tool for Branson.
Please stay away from GooglyPay.
I understand that everyone wants to make quick and easy money, but I am here to tell you it doesn't work that way.
If you want to keep searching for similar get-rich-quick schemes as GooglyPay is, you are welcome to do so. But it'll be wasting of time.
Don't waste your time and make a little investment in yourself.
Invest some time and effort and allow yourself to learn new skills.
What Is GooglyPay?
Did you have a chance to watch their sales video on the GooglyPay home page?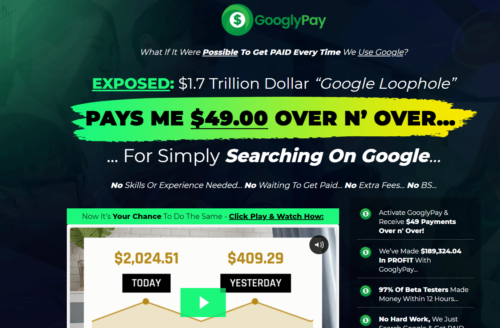 It says, that it is possible to make money just from doing research on Google.
And thus the name of the product…
Allegedly, you can receive $49 every time you do a search on Google.
This really sounds like a dream job and apparently, it can be done in just 3 steps:
1. Acces this program, click the "buy-button"
2. Activate the "Paid2Search" technology inside the Dashboard (we're going to check in a bit what really is inside the dashboard)
3. Search and you should get $49 every time you search on Google
Does this sound too good to be true?
Or do you still believe that this thing is real?
Well, keep on reading and you'll learn what it takes to make money online; The real way.
Who Is The Founder of GooglyPay?
His name is Branson Tay.
It is quite possible that you have come across one of his products.
He is very active in terms of product creation.
Most of his products are pretty much the same and do not deliver quality.
Branson does not have a very good rating on the WarriorPlus site, as seen from the screenshot above.
Who Is GooglyPay For?
This is intended for complete newbies.
And it makes sense.
Don't get me wrong; I am here to help especially people that are just learning how to make money online.
But people like Branson take advantage of these people – newbies in internet marketing. To me, it is a very unethical approach.
I understand that the idea of earning easy money is very tempting.
This review should help people to make the right decision.
I want to show people what is and what is not possible.
In case you have been doing some research I am sure you already have some doubts about the GooglyPay.
The sales page is too hyped-up.
In fact, it presents itself as a typical Get-Rich-Quick Scheme.
But it doesn't teach anything and from my experience, in order to make money online, there are certain skills that need to be learned.
Just briefly here are three of them:
how to create a website
how to drive free traffic
how to monetize the traffic
There are some platforms teaching this evergreen method, but many of them are also expensive.
My personal recommended platform offers a great balance between price and training.
Back to the GooglyPay.
How Does GooglyPay Work?
One would assume that after checking out there is this "magic" button that activates the earnings.
Well, nothing can be further from the truth.
The Dashboard looks like a search engine, but it doesn't work that way.
Whatever keyword you type in, the results are just a bunch of emails.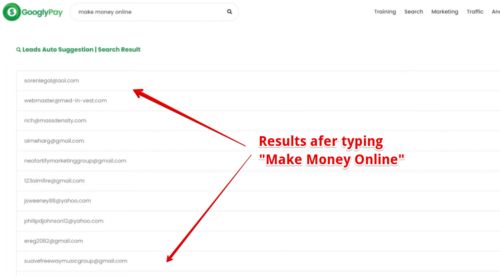 There are other features within the dashboard, so let's briefly mention some of them.
Training
Under the Training section, there is no training whatsoever.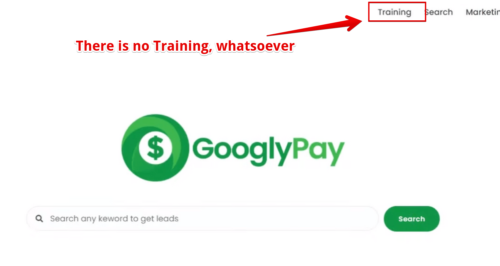 Search
Under the Search Tool, there are no results.
The only results I have seen were under the "Search Images"
But again, these images are useless, with poor quality.
Besides, there are platforms where you can download good-quality images for free.
For example Pixabay or Unsplash.
Marketing
In this section you should be able to find some deals, that are available on the following platforms:
Without elaborating on this too much, you can go ahead and access the offers within the platforms directly.
There is absolutely no need to go through the GooglyPay
Email Campaign
There is also a section where you can create an email campaign.
But what kind of campaign you can create without having any email addresses?
Email marketing works in a simple way:
You have your website and you offer something for free to your visitors.
In exchange, you get his or her email address.
Now if you have 100+ subscribers, you can create a campaign and offer something.
But GooglyPay doesn't teach any of that.
Again, it just shows that GooglyPay is a useless tool.
To Sum It Up
The majority of tools within the GooglyPay dashboard, either don't work or are useless.
How About Other GooglyPay Reviews?
There are other reviews that you may have already seen. Many of them have very different opinions about GooglyPay, and one can wonder why is it so.
The answer is simple.
A 50% commission is paid to anyone who promotes the GooglyPay and successfully sells the product.
Let me tell you, that this is not the ethical way how affiliate marketing works.
Yes, it is possible to make money, but for how long?
How long does it take, that the customer finds out?
Imagine a person who wants to buy a car online.
He can see images of how clean and spotless this car is.
He can even watch a video where it is shown the performance of the car.
And the best part? It costs only a few hundred bucks.
So he makes a purchase and the car is delivered.
Unfortunately, the car is not what he was shown.
It is an older model, with rust, and oil leaking from underneath, the transmission doesn't work properly…
Wouldn't you call it a rip-off?
I would certainly call it that way.
The very same thing with GooglyPay and every other product he sells on WarriorPlus.
That's why I don't recommend it.
How Much Does GooglyPay Cost?
Is it really $297 per month? Oh no – of course, you can get it for less than 20 bucks.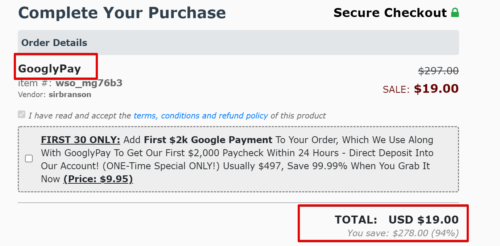 But is that so? This is a typical WarrioPlus product with a cheap Front End price and a bunch of upsells. And this is how the creator of GooglyPay makes money. See the funnel below?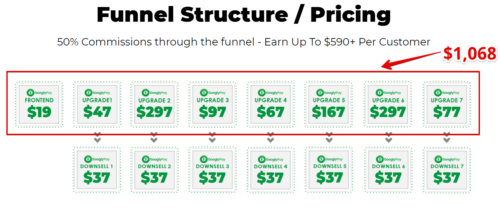 There are 7 upsells, that one must go through, after purchasing the basic product.
If not careful, it is possible to spend more than $1,000 on GooglyPay.
That is a lot of money considering how lousy this product is.
And be careful.
As mentioned there are many reviews promoting this product and the reason is obvious…
What are Others' Opinions About GooglyPay?
I have checked one of the most reliable sources of reviews and that is Trustpilot.
Unfortunately, there are only 2 reviews on both extremes.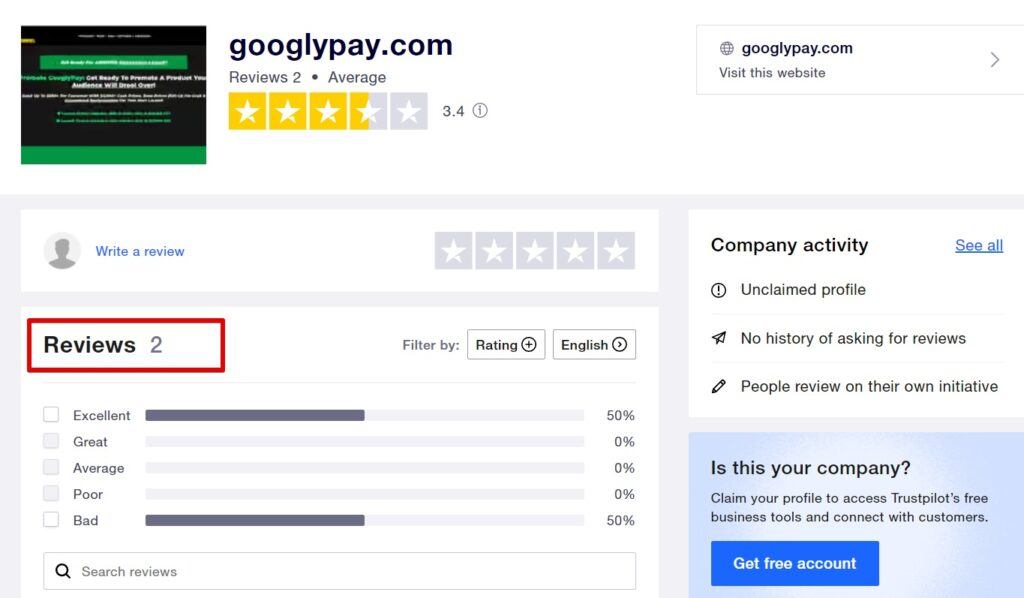 I personally would lean toward the negative one as it matches my experience.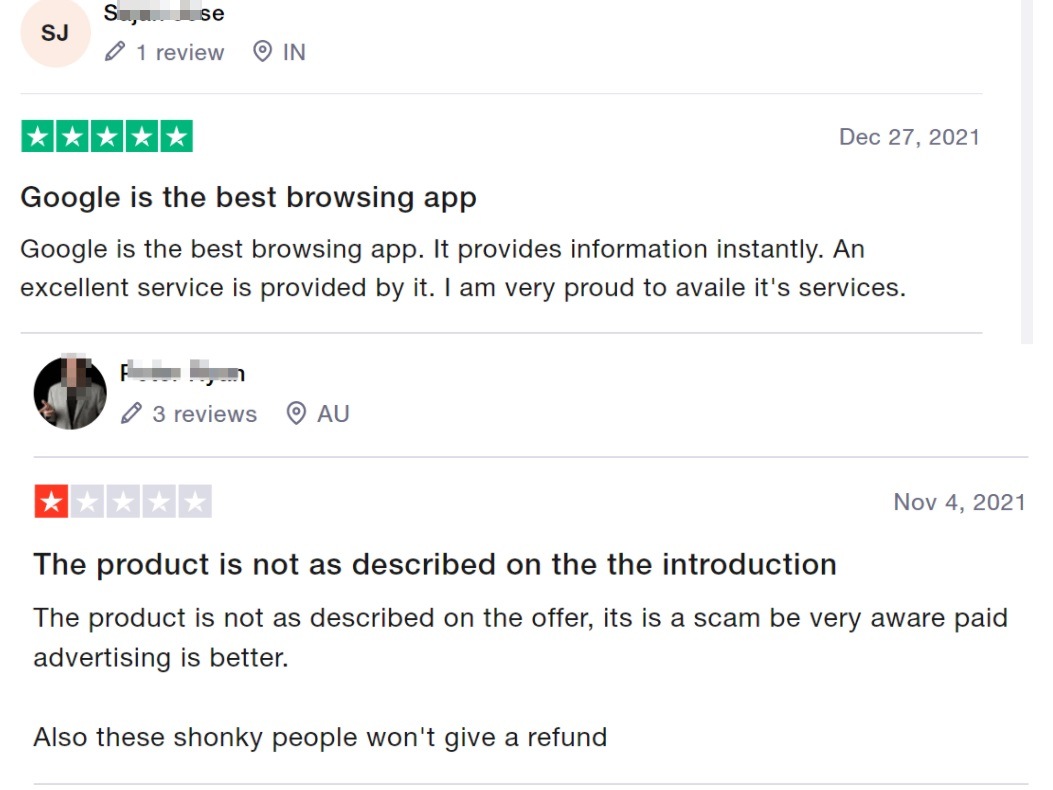 Also, I have found on Quora one persona was complaining about Branons Tay, saying that he was scammed by this person.
And even I would say, it is not an outright scam it is not far from it.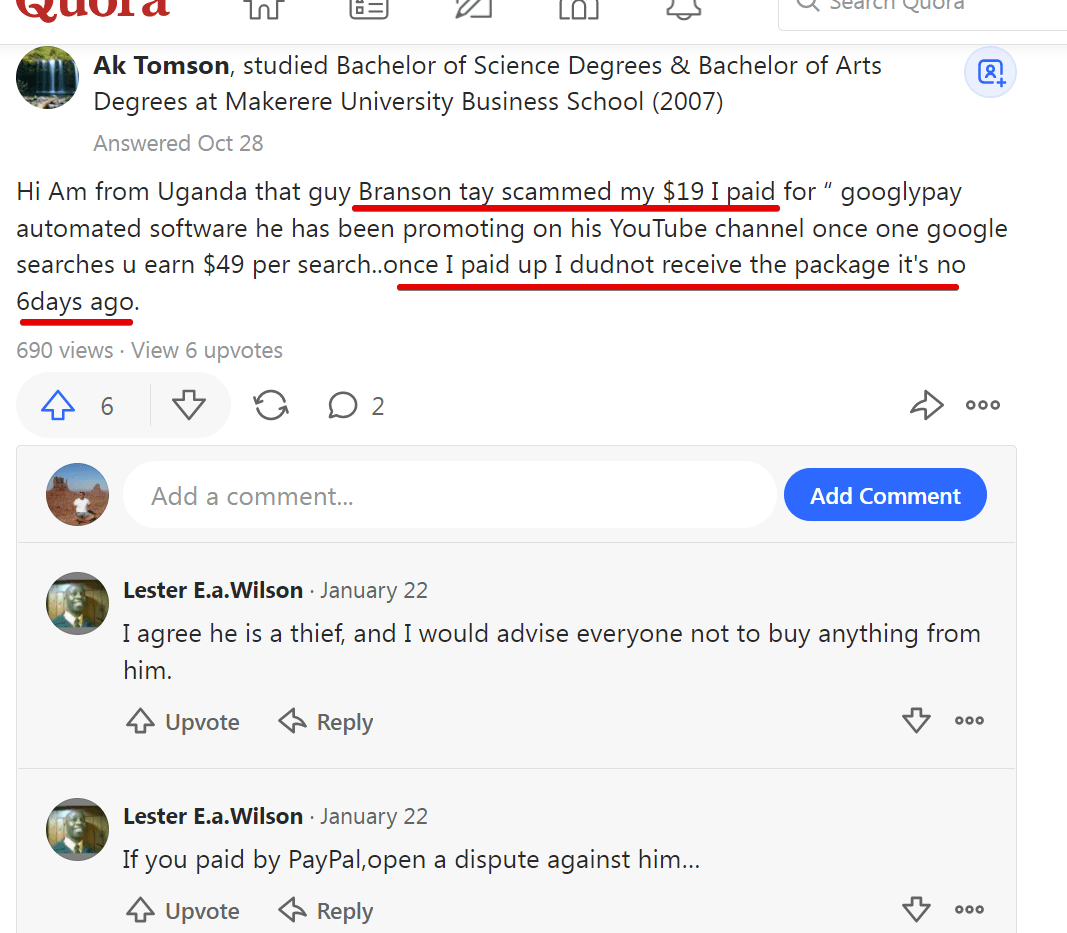 The bottom line is, that GooglyPay is very misleading and if you are not careful you can lose hundreds of dollars for a product that doesn't work.
What Do I Like About GooglyPay?

Money-Back Guarantee (Although you have to contact Branson, and it is difficult to get in touch with him, especially when asking for a refund).
What I Don't Like About GooglyPay?
Fake Scarcity
Misleading Sales Page (about how it works, about the price…)
Get-Rich-Quick Scheme
Unrealistic Earning Claims
Same Product over and over again from the same author
Is GooglyPay A Scam? Conclusion
We have proven that GooglyPay is just another scammy product that doesn't deliver as promised.
It wants you to believe that this is a revolutionary get-rich-quick method, generating money on autopilot.
The truth is, GooglyPay is just a useless tool that has no value; it doesn't teach anything, it doesn't work.
I believe you have found some value in the review.
I would love to hear from you as well.
Do you have experience with a similar product?
Or if you have any other questions concerning the make money online niche, let me know in the comment section below.
Thank You For Reading!
Mike
PS;
Please share this post with your friends.
How to make money online?
First thing first;
There is no such thing as a push-button system that generates money on autopilot!
Making money online requires some effort and depending on the business model, specific skills as well.
Through the process of elimination, I have learned that the simplest business online model is Affiliate Marketing.
All you need is:
Choose a niche (specific interest)
Create a simple website
Learn how to drive traffic to your website
Monetize the website
This is not a get-rich scheme and therefore it might take a couple of months until you see some results.
That's the truth.
In case you want to make quick money, feel free to leave this website and try to find such a method. Then please come back to me and let me know about the method.
I have tried a lot of things, and have learned that first it is necessary to provide value and then you can generate revenue.
Learn new skills, be helpful and at the same time learn how to generate consistent income.
Are you on the same page as me?
Then check out the platform, called Wealthy Affiliate which teaches the evergreen method I have described in the 4 bullet points above.