You have noticed probably that Cindy Donovan has launched a new product called DFY Hero.
In the following DFY Hero Review, you are going to learn how it works, what is the real price and whether there are alternatives.
DFY Hero is a "done for you" system, and it is available on several retail websites such as ClickBank, JVZoo, and Warrior plus.
You may be curious whether her system will help you in building your business, or you just decided to have a good-looking website and by now you are not sure which system to use.
Cindy Donovan is quite famous for launching new products.
I have had a chance to go through her earlier programs, called Traffic Ivy. I did a review about that as well l and it is not a bad SaaS either.
But let's have a look at her most current system called DFY Hero.
Name: DFY Hero
Website: www.getdfyhero.com Product Not Available Anymore
Price: Advertised Price $47 or $97 + Upsells
Owners: Cindy Donovan
DFY Hero Review – Product Overview
DFY Hero is a SaaS platform with more than 100 completely done for your websites. That includes sales eCom stores, squeeze pages, sales pages, and blogs as well. Members of DFY Hero can simply import, edit and also sell to their clients or just use it for themselves.
You purchase the product and you get access to the dashboard the entire process can be summarized into 3 following steps:
1) Pick Your Site
– There are more than 100 completely (assuming you choose the $97 package) build-out websites. They can be activated with a single click. They can be preloaded with free images, written content, contact pages, about pages, buy buttons order buttons, or opt-in forms.
2) Customize Your Site
– The customization of the sites is very easily done. Just drag and drop easy to use editor. You can add images, content, logo, or a Google Maps page.
It is viewable in real-time.
3) Your Site is Live
– According to the creators of DFY Hero, there is no need to get hosting. You don't need a domain name.
You can just push the button to make the site live and it is there ready for everybody to see.
The nice thing is that all the sites are nicely organized. Templates are organized into categories and more are coming. Just a brief overview of the categories:
Local Business | Medical | Blog | Sales PAge | Education | Local Services, etc…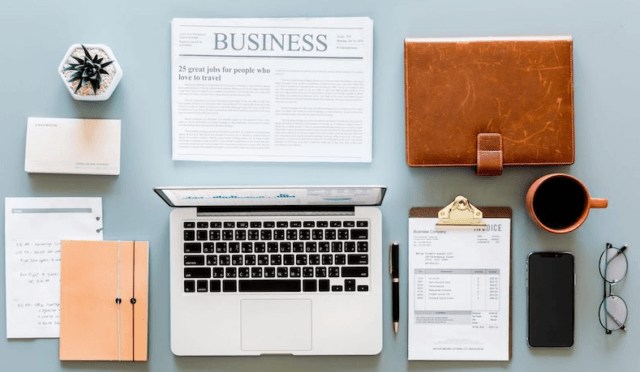 Besides the categories above you can also choose from:
Corporate, Portfolio, Creative, Squeeze Pages, eCommerce.
So if you are interested in one of the mentioned niches, you can use the proper template.
All pages are designed by designers, in consultation with marketers.
The Pros And Cons

You can purchase nice professional look-alike websites
Money-Back Guarantee (30 days)
Lead pages, Blogs, and eCom stores are included
With a minor technical background, it is possible to get the very same results for Free
You are not an owner of your website (hosting)
Still kind of a new system, so there are still better alternatives
Who Is It For?
Anyone who is not sure how to build his website or thinks that can't come up with a nice design can use the DFY Hero to his advantage.
That means starting entrepreneurs or local business owners who don't have time for design development.
Based on the different templates DFY Hero provides, this system might fit almost anyone interested in internet marketing, blogging, affiliate marketing, or just would like to be a consultant.
In my opinion, this kind of business model is perfect for small business owners.
What Is in The Backoffice of DFY Hero?
This is an easy-to-use one-touch website installer. Once you are in the back office you can use the pre-built templates to produce websites, sales pages,s and a lot more in minutes.
Let's take a look inside the DFY Hero dashboard. It probably looks familiar to you, especially when you already have used WordPress.
On the left-hand side, you see the dashboard along with some menus.
Underneath the Home, you see My Sites. As you first start this will be empty since you have not created any site.
That would be probably the first thing you want to start.
So when you click on the "Add New Site" button you come to the templates section where you can choose your favorite template.
You have chosen your website and now you are going to set the Site Address (URL), Site Title, and Site Language.
Now, you can go to view your site and you can start to customize it according to your wishes or your client's request.
At this point, I would like to highlight, that most likely clients would like to have their website. If they are serious about their business, there is a big chance that they don't want to rely on external hosting companies.
Just something you should keep in mind in case you would like to do this as a consultant or a freelancer.
Again, I can't help myself but I want to let you know that the environment of the members' area of DFY Hero is very similar to the back office of WordPress.
Inside WordPress, you can choose tons of themes. You can even filter them out by your preferences.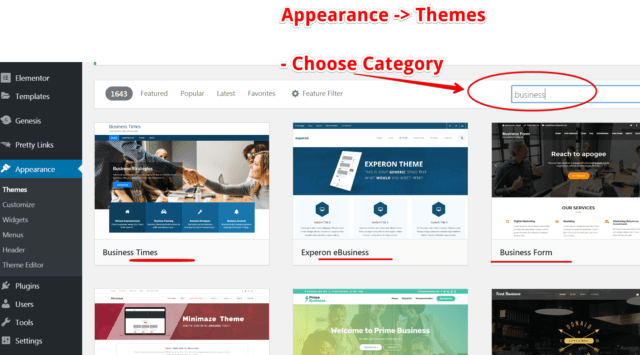 Within the DFY Hero, you can choose the pre-built templates which can't be done just by using WordPress alone.
But if you install the drag-and-drop page builder called Elementor you can get pretty much the same results.
There are two offers. You can have Elementor Free or the Pro version.
Even the free version offers lots of design possibilities so unless you have a budget the Free version is good enough.
Support
Every decent product has its support dedicated page.
DFY Here has a link where you can check some general questions, or you can raise your own.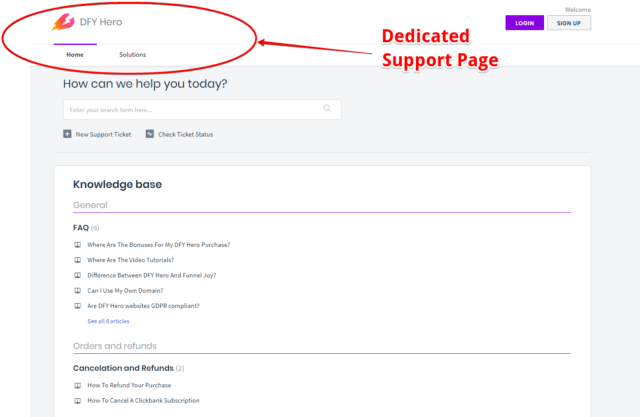 And also a Facebook Group page. Although at this moment (mid of September 2019) it seems that there are not yet that many members. But it is nice to have this option as well.
DFY Hero Price Structure
You can choose from 2 different memberships. There is a standard account and then a deluxe account.
Standard Account – The price is $47 and you get 20 Done-For-You Website Templates.
Deluxe Account – The price is $97 and you get 100+ Done-For-You Website Templates.
In both cases, you are provided with bonuses as well.
Video training showing how to make money with these sites
Weekly Live Online Training
Supportive Facebook Community Access
Create as many of these websites as many times as you like
And some Extremely useful Bonuses
This is just Fron End Price.
On top of them, you have 3 upsells or "One Time Offers" (OTOs).
OTO1 – $47 – DFY Hero Agency License and Monetization Training & Agency Startup Kit.
Includes rights to create sub-accounts. Training to show the best way to monetize the DFY website and pages.
OTO2 -$17/month – Template Club – You can get additional 10 templates every month and ad them inside your DFY Hero Template Library
OTO3 – $97-$297 – Reseller License – You have a right to sell the DFY Hero as your product and keep all the money. No need to contribute to the development costs and no need to worry about providing support to your customers too.
The basic offer should be good enough for you and you don't need an update.
However, if a person is not happy, he will get his money back. There is a 30-day money-back guarantee.
My Final Opinion of DFY Hero
The website or templates you can purchase are very good-looking. You can use them for your local business, especially when you don't have time to develop your own website.
But it also depends on your niche.
If you have a blog where you mostly add lots of content, and that is your main purpose, you don't need a fancy site.
On the other hand, when you have let's say a hair dress studio the design of your website plays an important role.
What I don't like though is that your website is not entirely yours. They host the site for you.
Besides, I do believe that if you ever touched WordPress, you would be able to create a stunning website without DFY Hero. Probably there are many systems for free that can help you with a nice design. I stumbled upon Elementor and I think it works great.
There is also a paid version, but I am sure you will be doing just all right with the Free version.
DFY Hero at a Glance…
Name: DFY Hero
Website: www.getdfyhero.com – Product Not Available Anymore
Price: Advertised Price $47 or $97 + Upsells
Owners: Cindy Donovan
Overall Rank:

VERDICT
The DFY Hero is not a bad product.
It certainly can save you some time while building up your website.
But if you have the time, go to YouTube and spend some time learning how to work with WordPress. And if you want to make it easier, check the Elementor and that will just do the job for you.
What also disturbs me a bit is the fact the DFY Hero is a quite new system. And I know products which are on the market for more than 10 years. They certainly have more experience.
I know that DFY Hero looks nice and you can certainly try that out.
If you have time I would recommend you to go check Wealthy Affiliate as well.
Within Wealthy Affiliate, you probably don't get such nicely wrapped products, but it certainly delivers value.
You will learn how to set up a website within a minute.
Then you will find a plethora of training there and you can get started for Free.
Regarding DFY Hero – if you have an extra budget by all means – you can purchase access to DFY Hero (I am not in partnership with DFY Hero not affiliated with this system).
Let me know in case you have questions regarding the DFY Hero, or maybe you want to find out more about other ways how to earn money on the internet.
I will be more than happy to answer you back.
In the meanwhile, here at the end, you find an invitation to the already mentioned platform – Wealthy Affiliate: