Do you want to earn money online but you are not sure whether the CloutShout is a legit site?
Welcome to my site.
In this CloutShout review, you are about to find out everything you need to know about this website.
Is CloutShout legit or is it a scam and if you can really make some money?
Let's jump right into it.
Disclaimer
Please note, I am not a member or an affiliate for CloutShout. This review is based on research and information available online in the public domain. Any recommendations and conclusions are only opinions and may not apply to all persons or situations.
CloutShout Overview
Product Name: CloutShout
Price to Join: $0
Creator: N/A
Rating: 0/10
Do I recommend it? No! This is a Scam!
CloutShout Summary
CloutShout is a site where you supposedly can earn up to $40 per hour!
They promise you to earn money if you take simple surveys, download apps, and refer others to join the CloutShout.
This is not true and the main problem with CloutShout is that they don't pay out.
Apparently, they started in March 2015, but the website was registered only in February 2020! There are many red flags and my recommendation is:
Do NOT join the CloutShout!
It is a data harvesting system. Do not sign up and most importantly do not provide them with your credit card info!
In this post, I also have a shortlist of platforms where it is possible to make money, although only one offers decent earning potential.
When it comes to making money online in the long run, here is the "Secret":
Making money online takes time and especially your effort.
So if you are not willing to work on your business online you may also check other systems with empty promises.
If you want to know what does it take to make consistent revenue online check the link below.
What is CloutShout?
CloutShout is supposed to be a GPT site, where you can earn money by taking surveys, downloading some apps, and performing easy tasks online. You are told that you can earn $20 to $40 per hour.
It is possible to earn $100 to $200 a month if you sign up for a legitimate GPT site, which I will mention later.
If you see such unrealistic earning claims, you can be sure that it is a scam.
We are about to learn that CloutShout is just a scammy site and it does not pay out.
Just think about the claim they make on their website.
For example, according to the site, they have more than 700,000 members who earned more than $158 million! That is a lot of money.
But since when?
In the next section, we will prove that the CloutShout only exists since February 2020!
$158,000,000 paid out in 7 months? How about CloutShout income?
The revenue must be even higher, right?
Wrong, these numbers are all fake and there are more signs that CloutShout is a scam than you can realize.
Who Is Behind?
Right off the bat, I can tell you that it is not easy to find out who is behind the CloutShout.
The information in the About Us section is not trustworthy.
It is said that CloutShout has started back in 2015.

Do you know how to double-check such information?
Just watch the short video below:
So go to the website whois.com, type the domain name and you find out that the domain CloutShout.co was registered only this year.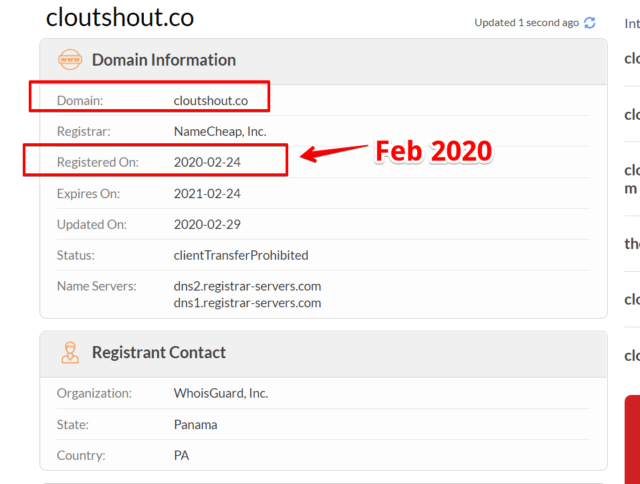 With that being said, there is no way that they started in 2015!
Such a statement should fool you, to make them look like a well-established system.
Actually, they are probably well established, considering that the people behind the CloutShout are the same people who created these scams.
There are at least 30 of them and new to be released.
Who is it For?
I don't recommend the CloutShout for anybody.
Please stay away from this scam.

In the best-case scenario, you will only waste your time, in the worst-case scenario they can save your credit card information and you know what does it mean.
If you are looking for ways how to earn quick money here are some platform you can check out:
www.swagbucks.com
www.inboxdollars.com
or www.surveyjunkie.com
As I mentioned earlier, the earning potential is low and we are talking here about pocket money only. Maybe $50 a month, probably $150 top.
Actually, I have found a great platform where it is possible to make $300 within a week.
It is called Squadhelp and people make money by writing. It is easy to sign up for Squadhelp and here is a review of this platform that includes an important trick, how to be more efficient.
How to make a consistent income?
When it comes to real money online, you must realize that there is no such thing as a push-button system or some kind of software that will generate revenue for you.
In my opinion, the easiest way is to learn how to make money with affiliate marketing.
You are basically selling other people's products and based on the niche, you make a commission (5% or 75%).
But first of all, there are 2 key aspects you need to take into consideration:
It is important to be consistent (creating content on a regular basis)
It takes at on average 6 months to make the first sale
Are you OK with these points above?
Great – there is one particular educational platform where I have learned how to earn 4 figures online.
But let's go back to the CloutShout.
How Does the CloutShout Work?
In theory, after signing up you enter the CloutShout dashboard.
There you can choose what task you take and based on that you can earn from $10 to $50.
Here is how the DashBoard looks like: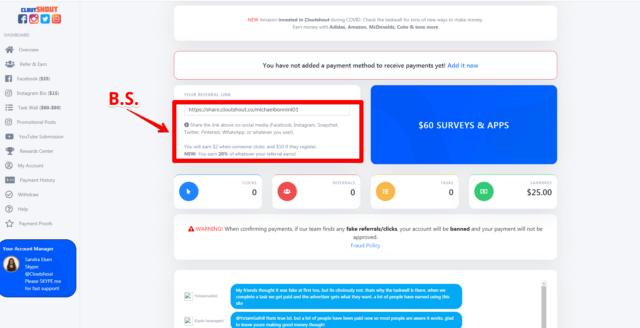 In the screenshot above I have highlighted one ridiculous claim saying:
"You will earn $2 when someone clicks, and $10 if they register."
It is absolutely not possible to earn just from clicks!
If you think otherwise, please let me know in the comment section at the end of this post.
And here are the different tasks and their earning potential: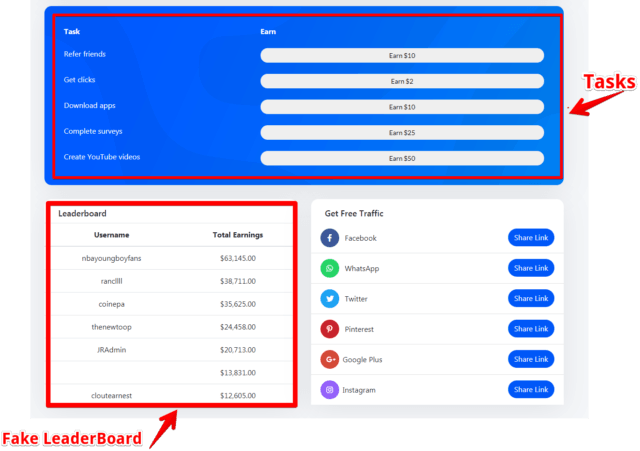 Refer friends – Earn $10
Get clicks – Earn $2
Download apps – Earn $10
Complete surveys – Earn $25
Create YouTube videos – Earn $50
Regarding the last task;
It is not possible to earn $50 just for 1 YouTube video.
You can monetize your YT channel once you reach at least 1,000 subscribers and have 4,000 watch hours.
Here is how it really works
There are people who did try this CloutShout and they regret it.
What can happen is that once you start performing the tasks, and taking surveys you will be asked to reveal more personal information.
For example your telephone number and credit card information.
Also, when you are about to withdraw your "earnings" the system may ask you for your credit card information.
At this point, you should get out of the site immediately.
List of the Red Flags
Let's briefly mention some of the red flags.
1) Age of the system
This one is pretty obvious and we know how to check the domain registration date.
2) Fake Payment Proofs
Once we know that the domain CloutShout dot co was registered in February 2020, it makes sense that the payment proofs must be created after this date.
Right?
Well, I am really shocked by how these guys behind the CloutShout operate.
Just take a look at these "proofs"
These payments are from 2019. How is it possible
Easy, these are all Fakes!
3) No One Gets Paid
This system does not pay out.
That's it.
Once a person reaches the threshold and wants to withdraw the earnings, he or she will be accused of using fake referrals and clicks. The account will be closed as a result of that.
4) No Video Testimonials
There are no video testimonials on their site.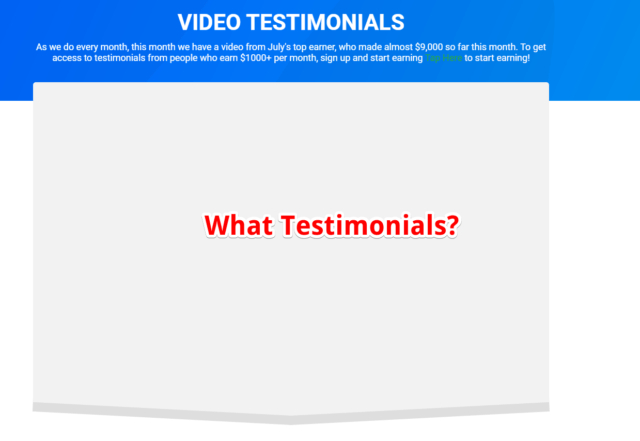 Sometimes, the other CloutShout clones use actors who make short videos for them saying how perfect the system is.
5) Terms and Conditions
What would you say that you are not allowed to use the CloutShout unless you are at least 99 years old?
This is exactly what the CloutShout Terms and Conditions page says:
Is it a typo, or just copied and pasted text from the other clones?
6) Clone of other systems
Let's take a look for example at the Use2Earn site
Even though it may look a bit different, the bottom line is that is exactly the same scam as CloutShout!
They use the same fake address, somewhere in China town New York:
7) Fake Contact Information
The same thing for the contact information.
The contact form does not work.
I was able to find an email, contact@cloutshout .co, but that does not work either.
Here is the feedback I get:
If you can't contact the site owner, you better stay away from that site.
What do I like About CloutShout?

There is absolutely nothing that can be liked about the CloutShout!
What I don't like About CloutShout?

Fake payment proofs
Fake Contact information or not working
Clone of other scams
Data Harvesting Scam
Where to Go From Here?
It is definitely frustrating to find out how many scams and fake sites are out there.
The legitimate question is, is there something that really teaches how to make some money on the internet?
Is it even possible?
Of course, it is and more and more people trying to find out how to get started.
They don't want to invest money and time though and most of these people realize that they spend 1 year searching for "another" shining object.
What is my advice?
Choose one way and stick with it.
Are you Ok in front of the camera?
Start a YouTube channel.
Do you want to learn how to make passive income?
Do you want to have a website that ranks on the 1st page of google and makes money?
It is actually not that difficult a with proper education you can be a full-time marketer within a year.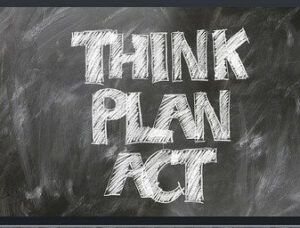 Why so long?
Building a website that drives free traffic takes time.
Sure you can run ads, but that would be additional costs and I believe you don't have a budget for ads.
If you do, then I would be careful with that as well. In many instances running ads resembles gambling and I know what I am talking about.
I did spend several thousand on google ads and Facebook ads – hoping that soon I get it back.
So wrong.
From my experience, it is much better to learn how to get free traffic, and only after that leverage what works with paid ads.
Is CloutShout a Scam?
Absolutely.
CloutShout is an outright scam!
We have seen how many red flags this site has. I know that it may be tempting to sign up and hope to earn a few bucks on the site.
The truth is though that CloutShout does not pay out and depending on a task/survey one takes, it can harvest even credit card information and there are cases that people have been scammed and lost money.
That is why, please always do your research. It does not take too much.
Just type in google, "is… a scam" and in a few minutes you will know the answer.
If you have questions regarding the CloutShout or any other topic, please let me know in the comment section below.
I will be more than happy to provide you with feedback., hopefully within 24 hours:)
Thank you for reading
Mike
How to Get Started with Affiliate Marketing?
I have been a member of Wealthy Affiliate since late 2017 without a prior marketing experience.
Beginning of 2018 I have learned how to build a website that drives traffic and makes sales.
Since the summer of 2019, I am a full-time internet marketer and I work from anywhere I want, whenever I want.
Training within Wealthy Affiliate teaches how to generate a consistent income in the long run.