Looking to make money online but unsure about the right product? I understand; it took me over a year to find the right method and platform with step-by-step training.
Have you heard of Buildapreneur?
In this review, we'll explore Buildapreneur, its products, and whether it can help you generate a sustainable online income.
Remember, no matter the method or course you choose, gaining skills and experience is crucial for consistent income.
Beware of claims promising thousands of dollars per week starting immediately. Short research shows that's not the case with Buildapreneur.
Let's take a closer look at the platform.
Disclaimer:
Please note, that the following post might contain affiliate links.
That means if you click on them and purchase the product, I will receive an affiliate commission at no extra cost to you. This review is based on research and information available online in the public domain.
Any recommendations and conclusions are only opinions and may not apply to all persons or situations.
Buildapreneur Review – Short Summary
Buildapreneur, founded by Spencer Kelly Mecham, is a website run by a successful affiliate marketer who earned $1 million in ClickFunnels commission.
Spencer shares his vast experience in various business models, teaching people like you and me how to make money through affiliate marketing.
While there is plenty of free content on his website and YouTube channel, the most valuable information comes with a cost, as it's part of the courses.
Investing in education is essential for those with a vision and a desire to learn what the majority doesn't know. In my experience, it's a worthwhile investment.
Feel free to explore his website and gain valuable insights.
What Is Buildapreneur?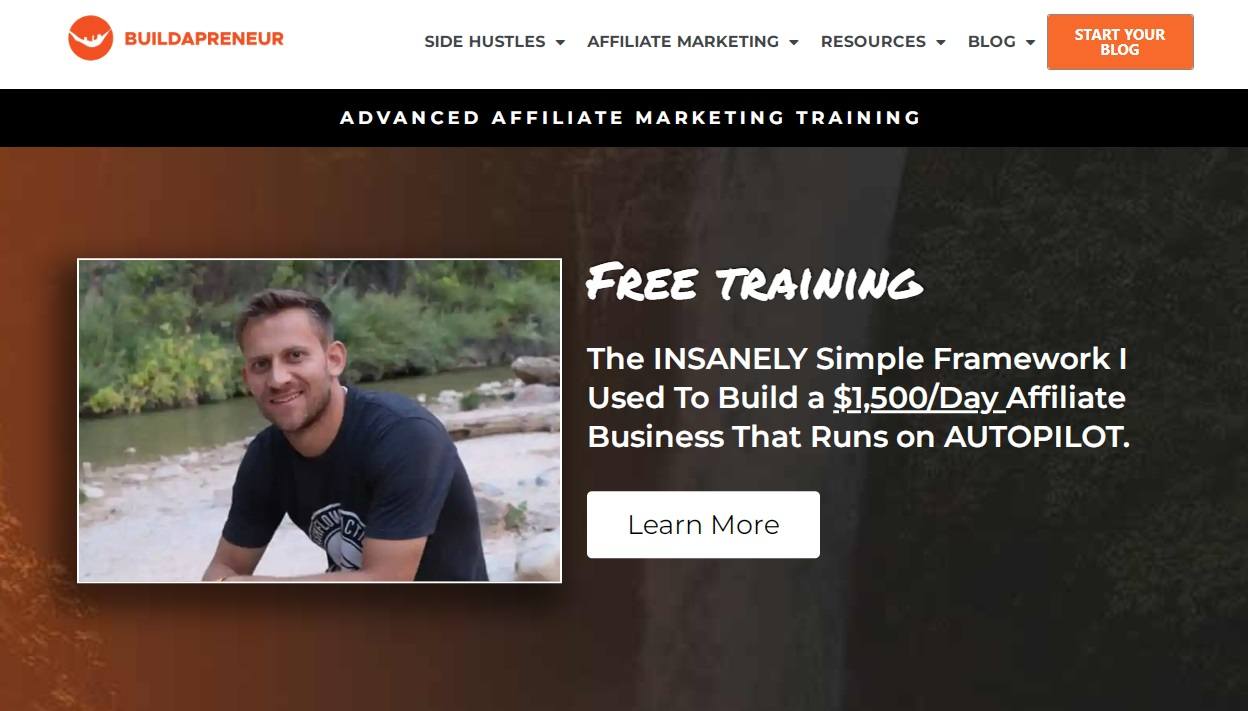 Buildapreneur is a website offering courses to help you make money online. It's a valuable resource for both beginners and intermediate marketers.
While some courses are free, the most important information is part of the paid training. This makes sense as creating valuable training takes effort.
What sets Buildapreneur apart is the availability of free content. Unlike many platforms in this niche, they offer helpful free resources.
My goal is to protect readers from online scams and misleading schemes. Having reviewed various platforms, I understand the frustration of searching for legitimacy.
After researching Spencer, the founder, he appears to be a genuine person with a compelling story. Now, let's take a look at his YouTube channel.
Buildapreneur Youtube Channel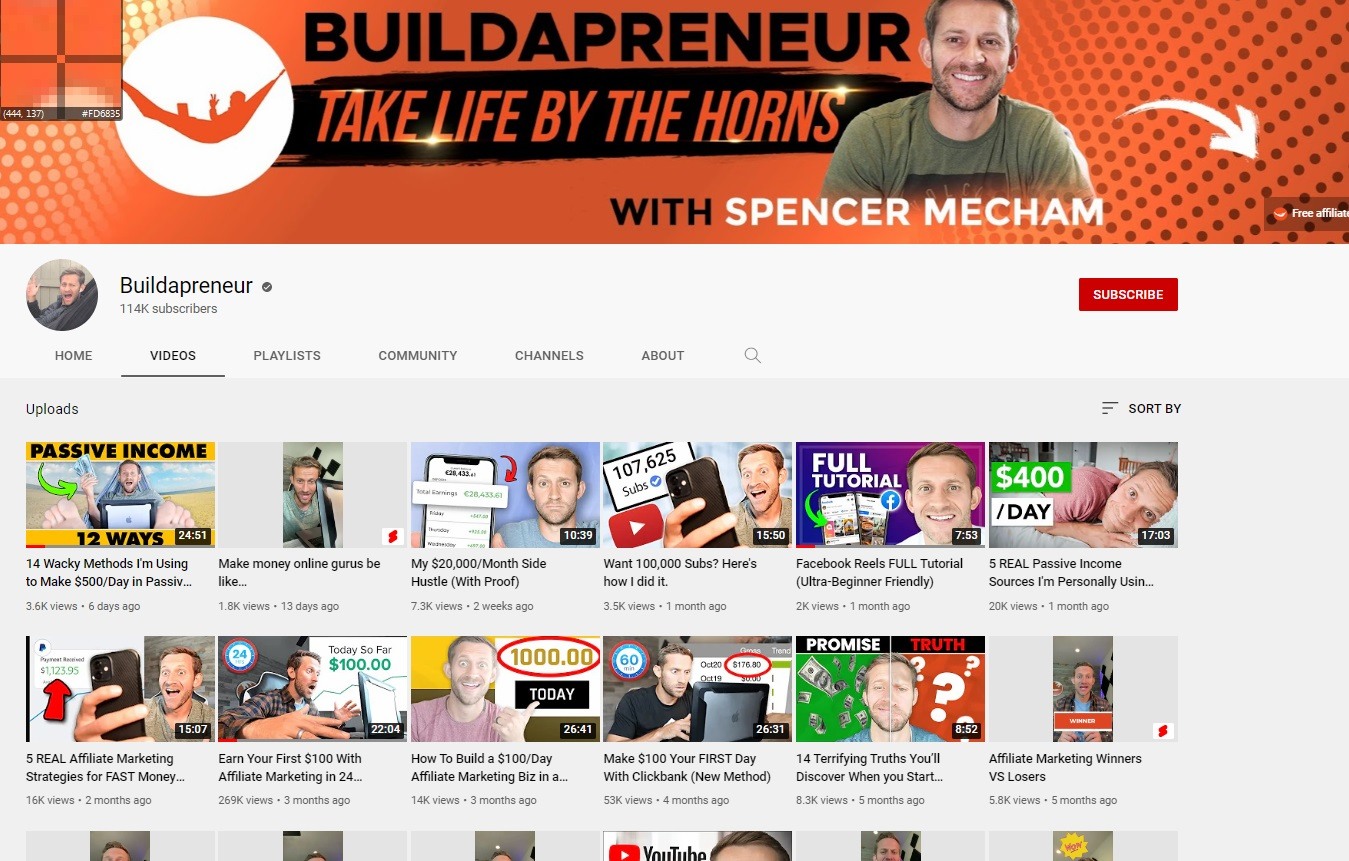 You may have seen some of his videos already and you know that there is a lot of valuable stuff.
In fact, his Youtube channel has about 230 videos with almost 4 million views.
Each week about 1,000 people subscribe to his channel, as of the date of publishing this post, it has almost 115 thousand subscribers.
That is a good sign.
his channel is also monetized Meaning he gets revenue from the ads.
According to the Social Blade website, he makes a couple of hundred per month.
So nothing significant.
Who is the Founder of Buildapreneur?
As mentioned the person who found the website is called Spencer Kelly Mecham.
In 2017 he founded the Buildapreneur and teaches companies how to make profits, and mentors other entrepreneurs.
Spencer also has his own online courses teaching how to make online sales and how to automate marketing.
click funnels affiliate that made a million in a commission
#1 click funnel guy
Let's find out more about the guy;
Who is Spencer Mecham?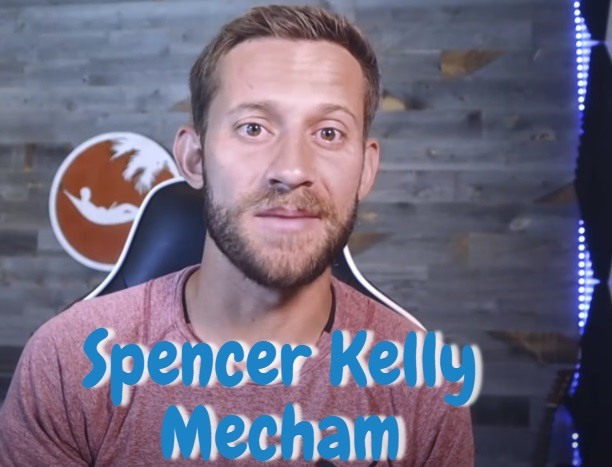 His career started as the best Western hotel night manager.
This is not a job that a young person can hold for a long time. After 4 months quit.
In the spring of 2012, he became a sales representative at a company called Vivint. A half year later he understood that the proper path to learning new skills is not to learn something about SEO
That's why he learned different aspects of SEO and around the same time, he was an agency sales marketing director, in Utah.
His resume is long and to mention a few positions:
Substitute teacher in Hawaii
A news reporter in Utah
Research Associate
He also worked as a PR specialist and director of marketing at Dark Energy LLC
So quite an impressive resume, don't you think?
It shows that he knows what he is talking about and I am sure he has gone through a lot of struggles as well.
What Does Buildapreneur Offer?
Let's go over the courses that are available on his website. As of this writing, there are 6 of them and if appropriate I will offer you my 2 cents on them
Affiliate Marketing
Let's go over the main course Spencer offers. It is called Affiliate Secrets 3.0.
On his website, he offers a packed version of the entire course. It is about an hour-long webinar where he explains what you will learn.
I really like that Spencer is genuine and explains that this is not a get-rich-quick scheme.
He backs it up with stories, that are closely related to building an online business.
Blogging (did not work)
In the beginning, Spencer had a blog about stock trading. After about a year of work, he made less than $20 a month (yeast that's right, twenty dollars per month).
Being fed up and exhausted he decided to quit blogging and moved to Instagram.
Instagram (worked for a while)
He tried to trick the algorithm and used a robot, that would start following a bunch of people.
Then Bot sent the message and sent the affiliate link.
It worked for a few months but then guess what happened?
You are right, His account shut down.
YouTube (worked, but…)
Again, he started from scratch and uploaded 3 videos. This was back in 2017 and 2018.
One of his videos did take off after about 3 months.
That video did 800 views a day and more than 300 thousand views. That was enough traffic to earn more than $30,000. Not bad, right?
On top of it, he made another $2,000 off of the ads.
BUT.
One single day that video stopped being viewed. That means earnings went back to zero. Again…
He realized that any channel account can be closed from day to day.
What Does Really Works?
Spencer is not a guy that would quit.
He looked around – and saw that everyone collects email lists.
What is great about that?
Such assets can't be taken away.
The secret is to give something for free. And then you get your prospects' email addresses
In other words, this is access to a large audience. These are essentially passive leads.
In his training, he explains what to avoid, and how it should be done because very often people do not know how to properly set up email campaigns.
Traffic
That is where people struggle the most and in the course, students learn what are the best sources of free (also called organic) traffic.
For example, he talks about TikTok.
He went from a couple of thousand to 2.5M views on his 3rd video. He learned what kind of video to make so Tiktok likes it.
As a result, the number of followers was 10x-ed in 6 months.
It doesn't have to be TikTok.
Pick one of the platforms and focus on that one.
Here is a recommendation, when it comes to social media vs. search engines:
Search engines – content can be a year or 2 years old and still be viable
Social media sites – It works only for a short period of time (what is hot now, today)
The bottom line – is you can't make money out of FB posts in 2 months… it is too old and no one sees it.
Whereas on Google/Bing – a post that is 2 years old can be still on page 1.
In fact – let's take a look at this post;
It has been about 2 years and still ranks in the Top 3.
Affiliate Secret 3.0 – Think in the Long Run
Think about it as digital real estate.
Over time the value grows (in some cases exponentially to a certain point.
When it comes to starting an online business here is a realistic estimation:
In 1 to 2 years it is possible to quit your current job and work half as much.
In about 3 years you can make 3 or 4 times as you did at your 9-5 working spending still half of your time working
Affiliate Secrets 3.0 is the newest product and it has all the tools one needs to become a successful online entrepreneur.
As Spences says, every student gets templates where he or she implements info from the actual niche.
What I also like about his course is, He goes really deep into every source of traffic.
This is not just shallow info.
Besides, every member gets Bonuses as well, which I won't go through in this review.
Some of his courses are active, some are coming soon.
Email Marketing
Build Your Blog
Sales Funnels
Copywriting Secrets
Create an Online Course
So basically all his free courses are funnels to get the prospect to the paid course.
Affiliate Secrets 3.0 Price
This is probably the most important piece of information you are looking for.
Yes, it costs more than thousands of bucks, but in this industry (make money online niche) is actually a regular price.
The thing is that students will be able to earn it back within a couple of months.
Not all of them, because let's be clear – the majority of people that buys a product, barely use it. And that applied to any walk of life.
So it is not actually the fault of the product, but we people are a very interesting species and behave in many different ways. You agree that this is not the room to break down human personality.
Just wanted to mention that even the majority of students who graduated from the best universities won't be successful. And that is not because of the university.
(Sure, in many cases that is the reason, but even if we take into consideration the best-case scenario, people have their excuses and the reason why not to follow through).
If are still not sure whether it is worth the investment, I can recommend checking his free training. He explains the framework you need to adapt to start making money.
Buildapreneur FAQs
1) Does affiliate marketing work?
Yes, Affiliate Marketing works. It is the simplest business model, so once you have the proper skills you can start earning money within a year.
Besides, you don't need any investment other than a few hundred for a proper education. Oh, and you need time as well.
There are a lot of questions regarding Affiliate Marketing, but the bottom line is that it works.
Once you know how to drive free traffic, you can leverage the traffic with your affiliate links. And there is more.
You can even have a secondary stream or revenue, by displaying ads on your website.
If you like videos, you can start affiliate marketing on Youtube as well.
2) Who is Spencer Mecham?
Spencer Mecham is an internet marketer who teaches people like you and me who are interested in making money online.
He has gone through a lot of different occupations and learned that Internet marketing is the right thing for him. Now he teaches others and unlike many other gurus, he knows what he talks about.
3) How do I get started in affiliate marketing?
First of all, you need to start creating content. whether it is a website or YouTube channel you need to have some sort of headquarters where you keep creating the content.
It is even possible to start with affiliate marketing with Instagram. Make sure to have enough followers and eventually someone will make a purchase using your affiliate link.
With Instagram though there are limitations about where you can put a clickable link.
See, sometimes the easy way is not the best one. and therefore it is recommended to have your own website. and that applies if your primary content is videos.
Once you get enough traffic/views, you can post the link and when someone purchases using your link you get a commission.
This is how you can start with affiliate marketing.
4) Is affiliate marketing still worth it in 2022?
Yes, it is worth it.
More and more people make purchases online and the number of people connected to the internet grows as well.
It is necessary to master some skills though, but affiliate marketing still remains the simplest business model there is.
5) Which company is best for affiliate marketing?
This is an open question since it depends on what angle you looking at it.
If you are looking for a company that you want to associate with and make a commission then Amazon would be probably the easiest one to start with.
But the best company for affiliate marketing is the one that pays the highest commission, on a regular basis (recurring commission) and is relevant to your niche.
If you are interested in this business model, I can recommend you take a look at the platform where I have learned how to make money with affiliate marketing:
What do I like about Buildapreneur?

Spense offers a lot of Free stuff
Realistic estimations
Thorough training
Spences has a lot of experience and a great reputation
What I don't like about Buildapreneur?
It might be pricey for somebody
Conclusion
Buildapreneur is a great source of information that offers both, free and paid training.
Not many platforms think this niche offer free training so it is always a good thing to see such a legit platform. Well, I might agree that the price is a bit steep, but from what I have reached in the last 4 years, I know it is not a lot of money.
Especially if you think about the potential that affiliate marketing has. That's why it has such a price tag.
Have you tried already a specific platform teaching affiliate marketing? Which one it was?
Let me know in the comment section below.
Also, feel free to drop a few lines about what you think of the Buildapreneur. I'd really like to learn more about different opinions.
Besides, by leaving comments below, you help others to gain some perspective.
Thank You For Reading,
Mike