In the following review, I am going to answer the question of whether IM Mastery Academy is a scam or not.
IM Mastery Academy has been around since the middle of September 2019.
It may seem that it is a new company but make no mistake.
IM Mastery Academy is just a copy of an older version called iMarketsLive, or IML Academy.
Is it something wrong with it?
Do they keep changing the name because of something fishy going on behind the curtains?
Is IM Mastery Academy a Scam?
Well, the answer is not that straightforward and we are going to explain why this change has happened and what is going on with this new-ish company called IM Mastery Academy.
Jump to:
We are going to check also the Income Disclosure, so you get an idea of how much people make within IMMA.
Disclaimer:
Please note, that I am not a member or an affiliate of IM Mastery Academy. This review is based on research and information available online in the public domain.
Any recommendations and conclusions are only opinions and may not apply to all persons or situations.
Although, the following post might contain affiliate links.
That means if you click on them and purchase the product, I will receive an affiliate commission at no extra cost to you.
IM Mastery Academy Full Overview
Name: IM Mastery Academy
Website: www.im.academy (or www.imarketslive.com)
Price to Join: Enrollment Fee $184.95 + $174.95 per month
Recommended: Not Really (They offer a 7-day money-back guarantee, so feel free to try)
WARNING:
The IM Mastery Academy is just a new name of the International Market Live LTD, which has had no authority to offer Financial Services and Products.
The official page of the Financial Services and Markets Authority in Belgium "strongly advises against responding to any offers made by International Markets Live".
IM Mastery Academy is an MLM company that is supposed to provide its students with information about the foreign exchange market (Forex).
Although the educational material might be decent, the main focus is on recruiting.
The prospects are told that the recruiting is optional, but the truth is that real money is in recruiting.
Therefore I don't recommend joining the IM Mastery Academy.
Making a consistent income online takes some effort. With proper education, it is actually not that difficult.
The secret is to choose a proper business model. And it has been proven over and over again that Affiliate Marketing is the simple business model there is.
It is Free to get started.
(Plus the 1st Month of Premium Membership you can get more than a 50% discount)
What Is IM Mastery Academy?
IM Mastery Academy is an MLM company teaching about the foreign exchange market (Forex).
They provide courses and tools that help develop trading strategies, show real-time trade ideas, and can get more information regarding the Forex market.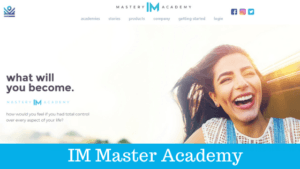 Forex is a trading business concerning the relative value of one currency vs. another.
IMMA provides tools and training that becoming a trader easier than ever.
This is at least how it is presented on their website.
Now, let's take a look at who is behind the IMMA.
Christopher Terry as the current IMMA CEO started in the construction business.
He realizes that this is not the way he wants to go, so he gets into Forex.
After 3 years he finally can leave the construction company for good and start as a full-time trader.
In 2013 he founded iMarketsLive.
This was officially an MLM company, but the only way to make money was through recruiting.
So it was an outright pyramid scheme.
To avoid a lawsuit, he changes the name of the company and changes the strategy as well.
He adds products the to company portfolio so people involved within the IMMA must sell these products.
These products are courses on how to trade with currencies – Forex.
The trading courses are the core of their business now.
That is the main difference between now and before.
For example, an IMMA representative has to have more than 50% of the sales/commission from the product retail before he can recruit.
This gives a legitimate aspect to the IMMA.
Is IM Mastery Academy Pyramid Scheme?
Pyramid schemes are illegal in most countries.
Regarding the IM Mastery Academy, we see above that it is no anymore a pyramid scheme.
Having a product within its portfolio, IM Mastery Academy is a legit MLM company.
If the question would concern the predecessor (iMarketsLive), then yes – we have to say that yes. The iMarketsLive was solely focusing on recruiting.
With a new name, the IM Mastery Academy also introduced a new "game plan" where now they focus on selling the products as well.
The recruiting part still plays a big role when it comes to making money with IMMA.
To avoid any confusion though, here is a short explanation of how to spot a pyramid scheme:
Someone has twitted me an interesting letter regarding the International Markets Live LTD which is a predecessor of IM Mastery Academy (basically they both are the same company).
I have also done a bit of research and found out that the FSMA which is Financial Services and Markets Authority has issued a document back in January 2018 regarding the International Markets Live LTD.
Here is the screenshot of the document:
You can check the article at the official FSMA site.
We know by now that The IM Mastery Academy is exactly the same company as International Markets Live LTD, they just changed the name in 2019.
The reason for changing the name is obvious from the information above.
So Why There is an MLM aspect within the IM Mastey Academy?
The answer is simple.
If they can't provide good leads within the Forex Market, the only way how their students can make money is to recruit other people, who will recruit others, and so on…
Think about it.
If a company knows how the Forex market works and they have a good mentor with a real experience they do not need to become an MLM company. right?
Clients of a legit Forex Company can make money by trading.
That's it.
It is not the case with IM MAstery ACademy, though.
What Is the Price to join IM Mastery Academy?
IM Mastery Academy has several bundles, you can choose from.
Before choosing the bundle you are required to pay the so-called enrollment fee.
1) ECX Academy
Enrollment $184.95 + $174.95 monthly
This training is created for those interested in the eCommerce market.
You are supposed to learn how to run Facebook ads and Instagram Ads, how to analyze the data, and scale up the business.
It doesn't say, whether you will have your own website.
If you do, my guess is that the online store will be hosted on the IM Mastery Academy subdomain.
That means you won't have control over the website, which is a drawback.
2)DCX Academy
Enrollment $184.95 + $174.95 monthly
In the DCX Academy, you should get mentorship from veteran master educators from the digital currency markets.
Apparently, there is no need to have prior knowledge of digital currencies.
3) HFX Academy
Enrollment $184.95 + $174.95 monthly
This bundle offers training regarding commodities, bonds, metals, and currencies.
4) FRX Academy
Enrollment $184.95 + $174.95 monthly
Apparently, inside the FRX Academy, you get "everything you need to know to start taking full advantage of the $5.3 trillion foreign exchange markets"
Again, no prior experience is needed;
You are told to learn the basics, intermediate and advanced levels… so at the end of the day, you are promised to master currency movements.
5) Elite Academy
Enrollment $324.95 + $274.95 monthly
Full access to FRX, HFX, and DCX academies.
Depending on which pack you choose, you are provided also with a variety of tools.
You can also change the pack, or switch from one to another as you wish.
IM Mastery Academy Independent Business Owner?
There is a possibility to partner with IMMA and become an Independent Business Owner (IBO).
When it comes to IBO, I would like to share with you my opinion.
It is always interesting to listen to these people from MLM when they talk about recruiting.
They go like this: "as your list grows" or "as your customer list grows, you have more and more subscribers…"
Let me tell you one thing straight – people you are about to recruit, just don't show up.
You have to chase them.
You have to find these people and it is not an easy task to talk people into joining such a "business opportunity".
You can try to sell them the dream – to sugarcoat it a bit, but it is not an honest way.
That would be taken advantage of by people.
And since IMMA is an MLM you are recommended by your sponsor to recruit your family members and friends.
These people know you, so it should be a better chance to convince them.
I don't know whether you have some experience with MLM marketing, but most people soon run out of friends and family members.
They just don't want to be bothered anymore.
Products, That IM Mastery Academy Offer
The packs covered above are also the courses you can sell.
If someone chooses to become an IBO, he or she can purchase the following tools individually as add-ons.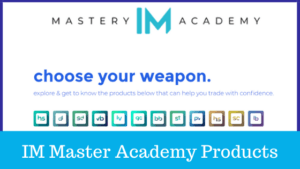 Let's break down a bit some of the tools that are part of the packs as well:

Vibrata – This is a tool that is supposed to help you to find trade ideas, so you don't have to spend time doing an analysis.
Cost $9.95
Levels – This tool identifies entry points and stops loss.
Cost $21.95
Delorean – An algorithm supposed to find you the best market opportunities, and the best different strategies, and helps to suit you the best style.
Cost $21.95
Steady – This helps you to look for long-term trading ideas, so you don't have to keep your eye on them every single day.
Cost $21.95
Goldcup – Combination of different strategies that have a mutual connection with each other, and searching for high-probability trade ideas.
Cost $21.95
Bounceback – This tool should help you to identify the best entry point to get into the markets.
Cost $21.95
Pivots  – This algorithm "guesses out of finding market opportunities by identifying key reversal zones on time frames"
Cost $21.95
Liberty – This tool concerns the high pace of trading ideas for binary options.
Cost $21.95
How Can You Make Money With IM Mastery Academy?
Once you sign up for the IMMA, you become an Independent Business Owner (an IBO).
You recruit other people and thus you create your downline.
There are 11 levels you can climb.
To become a Platinum 150 ( which is the lowest rank), you need to have at least 3 subscribers and meet certain retail sales goals.
Your subscribers will buy one of the starter packs (either the Elite or Platinum Starter Pack)
Having 3 direct referrals (subscribers) you can earn up to $40 a week (that is about $160 a month or about $2,000 a year)
Now the way it is explained in the IMMA presentation, it seems like it does not require a lot of effort to get to the upper level, which is Platinum 600.
Let me tell you how they explain it:
"…what starts to happen, as your customer base grows, you have more and more subscribers, people start referring this as they're having success.
You (your "team") grow to 12.
It's 3 customers who can obtain 3 customers so you don't have to recruit all 12 by yourself. You make $150 a week."
This is the way they talk:
As your network continues to grow, you make more and more money – residual income.
It looks really easy, right?
But think about that.
What kind of effort do you have to make to get these 3 subscribers?
And these guys would have to be better good as you are.
Each of them has to find another 3 persons, otherwise, you are not qualified to be a Platinum 600.

To make a full-time income, you would need to be at least the platinum 5000 (see the table below).
Based on the information in the Compensation Plant there are only 179 people who are at the level of Platinum 5000 and/or above.
179 persons out of total IBOs 26,557 is 0.6% = 6 people out of 1,000 making a full-time income.
That is a very low number.
IM Mastery Academy Income Disclosure 2018 & 2020
Here is a screenshot of the IMMA Income Disclosure for 2018.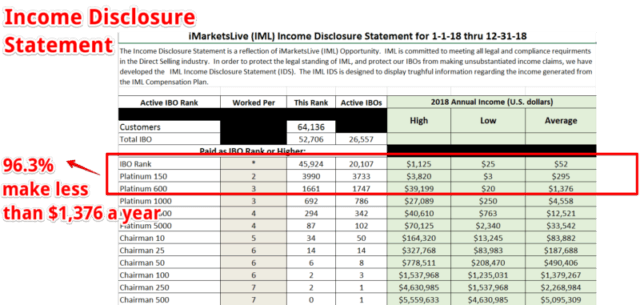 And Let's take a look at the newest IM Mastery Academy income disclosure for 2020.
(I am doing this update on June 2022, but the only available income disclosure is from 2020):
According to the Income Disclosure Statement 2020, 97.58% made less than $10,000 per year!*
That's about $833.33 per month or $208.33 per week.
*Please note that these numbers do not take into consideration any expenses, such as:
payment of initial and monthly fees
transportation costs
training and educational expenses
Source: IM.Academy
Let's take into consideration the monthly fee which is $174.95.
That is $2,099.4 per year.
According to the income disclosure:

More than 84% of their members lose money because they made less than $2,000 per year!
That is practically in accordance with the FTC statement.
(The Case (for and) against Multi-level Marketing
By Jon M. Taylor, MBA, Ph.D., Consumer Awareness Institute)
It isn't easy to make a decent living as an IBO within the IMMA.
Not to mention that going out and "chasing" people might be exhausting and time-consuming.
At the end of the day, you most likely lose money.
Think about the travel cost and the time you waste while visiting your prospects.
Time is precious and it is always better to spend time creating something sustainable, therefore my recommendation is to check the article where I describe the difference between MLM and Affiliate Marketing.
To me, affiliate marketing is much more lucrative in the long run.
Regarding the earnings within the IMMA – The IBO has also an opportunity to earn a commission every time a referral buys one of the starter packs.
If your referral buys a Platinum Starter Pack you get a $35 bonus.
In case your referral buys the Elite Starter Pack, you get a $50 bonus.
The bonus system applies to the 2nd and 3rd generations.
Meaning you get a bonus:
$12 for every Elite starter pack in your downline – but you must be at least Platinum 600 and above
$7 for every Elite starter pack in your downline – you must be Platinum 1000 and above.
Here is a screenshot from the IMMA presentation: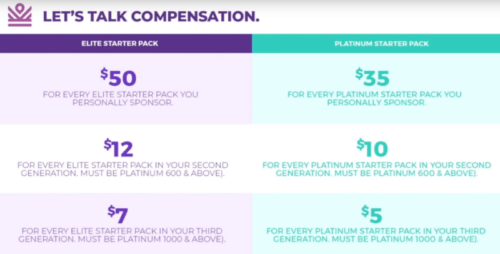 My suggestion for a person who wants to make money by joining the IM Mastery Arcade is to reconsider a different path.
That is affiliate marketing.
You don't have to chase anybody and you can do that at your own pace.
IM Mastery Academy FAQ
1) What is IM Mastery Academy?
IM Mastery Academy is a platform that trades in Forex financial market. The company operates as a network marketing.
In other words, it is an MLM company and despite the fact that people might earn some money by trading, the real money is in recruiting.
Therefore if recruiting is not your cup of tea, think twice before joining the IM Mastery Academy.
2) Is Mastery Academy a pyramid scheme?
IM Mastery Academy is not a Pyramid Scheme.
However, if members of any MLM company make more money from recruiting than from actually trading it can be labeled as a pyramid scheme.
For time being, IM Mastery academy has not been sued for performing illegal activities.
3) How much does IM Mastery Academy cost?
The company has several bundles you can choose from.
The price starts at $175 per month. However, there is an enrollment fee – it is a one-time fee and it starts at $184.95. The Elite Academy enrollment fee is $324.94 and then $274.95 monthly.
Interested in Forex Trading?
Then I can recommend you a different platform called ForexSignals.
This platform offers everything you need to make a forex trader.
Join daily live Streams to watch and copy the trades
Share your ideas and get feedback from professional
You get signals from professional mentors.
You have a 7-day trial to make sure that Forex Signals is for you.
Do you want to try something else?
Then keep on reading…
Is There Another Way To Generate the Income?
People have been exchanging currencies since ancient times.
Some people helped others to do the exchange for a commission.
I am not going to talk about history now.
My point is that it takes much more than just taking all IM Academy courses to become a successful trader with currencies.
Besides, the agenda of IM Academy is not to teach its members to become full-time currency traders but to grow their network marketing.
Not long ago they used to be a pyramid scheme without any product to sell.
To avoid a lawsuit, they have made changes and introduced products as a money-making opportunity for the members. But are these products/courses worth the money?
Do people get valuable information?
The trading business might be too complicated for a newbie. IMMA courses will not make you an expert in foreign exchange trading.
IMMA is presented as a company where one can learn about trading and make money using this knowledge, the truth is that it is just another MLM company.
If you are sick and tired of the MLMs and you still have energy left to learn something new I would recommend you check other paths.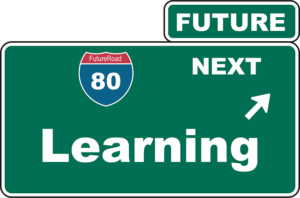 What is much easier to learn is internet marketing. I am not saying you will learn how to make money online overnight.
But currently, people pay a ton of money for online education – when it comes to internet marketing.
That has been around only a few years, unlike the trade market – which has been here long before the internet.
Due to the internet, you now can let others know about what is your passion, and most importantly you can educate/help others as well.
There are plenty of specific niche websites making a 4 or 5-digit in a month.
– f.e. you like taking photos, or fishing. maybe cycling.
Do you know how many people want to be advised by someone who is just a little more experienced?
I mean for many users a piece of advice from a regular fella is much more appreciated and has more value than from a professional.
That being said, anyone with a passion or a hobby can become a successful internet marketer. The best way to start is affiliate marketing.
You, providing help on your website, will gain an audience and they would be asking you how to become better and they would like to buy stuff.
Here is when you should give them advice, what to buy and what to avoid.
You include an affiliate link to the product you recommend and when people click on that link they are sent to (for example) Amazon.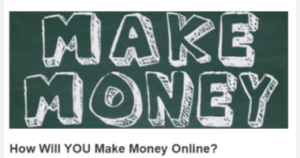 You will get a commission from every sale this person makes.
If you want to find out more about both business models, you can read the article MLM vs. Affiliate marketing where I include the PROs and CONs of both.
In case, you don't have experience with how to build a website and create content, no worries. I did not have either.
In fact, in the middle of 2018, I had a hard time coming up with content.
But it is important to realize that such a blog post is just communication between you and the guy on the other side.
(Instead of talking to each other, he consumes your blog posts and he can leave a comment).
As for the "technical" part about how to build up a website, there are many free videos on how to start.
In my case, I needed something more than a free tutorial video on YouTube.
I wanted to have professionals who show me exactly how to do that.
The platform where I have learned about how to build a website and how to make money with affiliate marketing is called Wealthy Affiliate.
Or let me make it even easier for you
Here is a video (it is about an hour long) where it is explained how to set up an online business in 4 steps.
Building a highly successful business online isn't rocket science, but most people go about it completely wrong.
In the video above, Kyle (founder of that WA platform) is going to blow away the idea of "business is complex" and show you how simplicity in the process will actually lead to much more success.
Back to the IM Mastery Academy.
Pros and Cons of IM Mastery Academy
What Do I Like About IM Mastery Academy?

Courses that can help you to trade on the foreign exchange market (The knowledge is not deep enough though, to apply that and start earning)
The compensation plan focused not only on recruiting but mostly on selling the products as a primary source of income (this way it diminishes the pyramid scheme aspect)
The company offers a 7-day money-back guarantee.
What I Don't Like About IM Mastery Academy?
Success is not a common thing within IMMA – see the Income Disclosure (less than 5% make a decent living)
Expensive to join
Courses – do not give you enough to become a proper trader. It is very difficult to become a successful trader using solely IMMA courses.
Is IM Mastery Academy A Scam?
Hopefully, we have covered all the pros and cons of the IM Mastery Academy,
I have explained why it is not a good idea to go down that road.
In my opinion, internet marketing has much more potential, and it is a perfect business model for those who want to work from home (and from any place on earth with an internet connection).

It is a matter of time before even the IM Mastery Academy will either be labeled as a pyramid scheme or they can make some changes within the company.
People running the IM Master Academy have fixed some major problems but my recommendation is not to join the IM Mastery Academy.
Apparently, they do not offer financial services anymore, but it operates as an educational platform with the MLM aspect.
The MLM (Multi-level-marketing) is based on recruiting and even though, officially you don't have to be part of the MLM, you will be advised to "share" it with others.
If you have any questions about the IMMA or the alternative I have mentioned, please use the comment section below.
I will be more than happy to give you feedback – usually within 24 hours.
Thank you for reading,
Mike.
Do You Want To Learn How To Make Money Online?
More than 99% of people involved in MLM lose (or don't make any) money.
Therefore If you really want to figure out ways how to make consistent income online, choose a proven business model that works.
One of the best methods is affiliate marketing;
Is probably the simplest business model online, where you sell other's people products.
You only learn how to connect the potential buyers and vendors.
Choose a specific topic and learn how to create a simple website where you inform your readers about the product or service.
Learn the basic SEO and how to drive free traffic to your website.
These skills are priceless.
Once you master that, the sky is the limit, when it comes to earning potential
Check the link below to learn more about a specific platform teaching these skills (and beyond).