As it is obvious from the name of the product, it has something to do with $5,000. This is another ClickBank product that right from the beginning looks hyped, but you never know.
So, What Is the 5K Formula System?
According to the sales page, it is supposed to be a new instant commission system that generates $5,000 for the owner on autopilot, for free.
And now you can discover this "done for you" system, so you can become wealthy as well. Let's start step-by-step.
Disclaimer:
Please note, that I am not a member or an affiliate of the 5K Formula System.
This review is based on research and information available online in the public domain. Any recommendations and conclusions are only opinions and may not apply to all persons or situations.
Name: The $5K Formula System
Website: www.5kformula.com
Price: Advertised Price $39.99 + Upsells
Owner: Mathew Neer
5k Formula System Review
The sales page, together with a sales video starts off with very flashy statements/claims – cars, champagne, girls, mansion – A great lifestyle. Then it gets serious and the owner introduces himself self as Mather Neer (Who looks like a nice guy).
Mathew is about to show how he earns $5,000 from a simple promotion by using a specific system which he will reveal to you, soon.
He shows you a short video as proof that he really made $5,000 by going to a bank to withdraw this amount. That is in regard to other products where apparently most of them show fake screenshots only.
Here is only a fraction of the entire video (it has less than a minute)
Well, to me it is not proof either, but let's assume he really did withdraw the 5,000 bucks. He says he made this amount in 7 days. And I do believe he makes that kind of money. I will tell you why in the section for System Tools & Training.
According to Mathew, he leveraged the power of the sales funnel – the same sales funnel that he is teaching you inside his platform.
You have the privilege to take Mathew's site, "put your name on it and sell it as if it was your own… any time they make a sale for you, they will send you all the commissions directly to your PayPal account"
Sounds easy. And almost too good to be true.
He goes on, that the secret is the sales funnel in place that converts traffic into cash "like crazy".
Such a statement to me is like – I will tell you what the secret of a car moving is -> It is the gas you put inside.
Anyways, He does say that setting such a funnel can be difficult. And that is right. There is a whole process behind the sales funnel:
How to get traffic to your site,
how to keep them on your site,
how to grow that traffic,
how to offer them value/help them
and then eventually a small percentage will convert.
Apparently, you would need a programmer to do the funnel for you. Well to me he wants you to think that the process I mention above can be put on autopilot by some program. Such automation is only a short-term process, and search engines are going after such tools.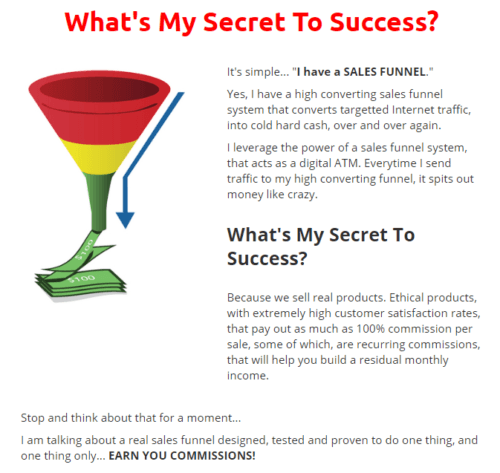 Nevertheless, Mathew has an option for you – he builds a sales funnel for you… here is what he gives you:
Products
Sales Pages
Upsells
The Selling System
The Marketing Material
You basically plug in your information and profit from it. On top of that, there is no hosting required, no domains required, they host everything for you on their servers.
That might be problematic I guess.
Even if the funnel works, you do not have any control over the site since they host your site.
5k Formula System Pros & Cons

30 Day money-back guarantee
Sales funnels are done for you
n/a
You can't manage your business
Everything is hosted on their servers
Besides upsells, you face signing up for other ClickBank products, inside the platform
Who is the 5k Formula System For?
We are again facing the type of product which supposedly is great for beginners and basically for everybody. I mean who would not want to make money on autopilot, right? I am sure everybody likes the idea.
But we know that such a thing does not exist. So whenever you these types of promises, hype videos with lots of cash, cars, and houses – start to pay attention and try to find out what is it they teach you. If there is no value in the product, stop wasting your time, and leave the page.
In order to make money, you have to be better off than other people. Only this is the way how they can exchange your knowledge for their money. Keep in mind that you have to provide value to your visitor and leave the decision of purchasing up to him.
If you are a beginner with internet marketing or affiliate marketing, do not waste your time with the 5K Formula System.
If you have some experience already, I am sure you already moved on 🙂
The $5K Formula System Tools & Training
The platform looks good and there are quite a lot of materials to go through.
In the main menu on top of the page, you have the Quick Start Guide, where you create your account first.
New Accounts – Here is a video guide showing you how to create your Get Response account and ClickBank account.
Upload Code – You are shown how to integrate your Get Response with the campaign sales page
Funnel Link – You put your affiliate link from ClickBank
Click Tracking – How to track your link using click magic
Traffic Stream – You can get into the pool and you should have guaranteed about 100 clicks
The last section in the Quick Start Guide is How it Works. It is a summary of everything above.
Moving further in the main Menu, there we have Traffic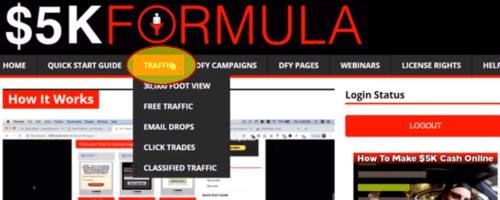 Here are basically different kinds of traffic sources.
Your sales page you will find in the DFY Pages, where you add your affiliate link.
And then on the right-hand side of the Main Menu, there is the webinar. There are 10 of them and it is part of the 1st Upsell. And one to the right, you find 3rd upsell, which is a right to sell the page.
5k Formula System Support
There you see at the very right the Help section, where you can raise your questions or concerns.
Just a small tip – if you purchased the product and you decided that you want to refund, I suggest doing that via the ClickBank site directly. In most cases, this is the simplest and fastest way to get your money back.
The $5K Formula System Price Structure
The price of this formula site is as advertised $39,99.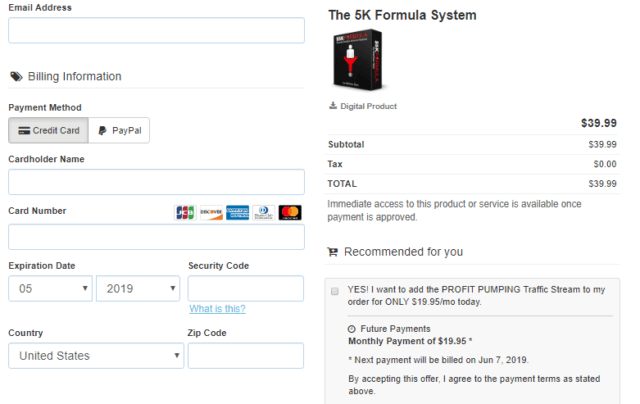 Besides that you have 3 upsells:
For an additional $97 you will have access to webinars
Second Upsell costs $47 and what you get are the Squeeze Pages
The last upsell is the License Rights where you can sell the entire product. You get 100% commission. The cost is $497
My Final Opinion of The $5K Formula System
I think this is exactly the kind of product that teaches you how to make money by selling this exact product, so you teach other people how to make money by selling them this product and earn a commission.
It is a kind of loop that works until the site is shut down.
I do not recommend the product; to me, it is a waste of time.
If you are interested in building a sustainable business online, I have done a similar article about an educational platform called Wealthy Affiliate. In this post, I focus mostly on the Pros and Cons and if you are interested they offer also a 7-day free trial period.
Conclusion
I have tried to list the pros and cons of the 5K Formula System. Would I spend almost $40 on such a product? I would not. Especially because I do not believe that with some system "on autopilot" you can build a sustainable business that will last.
Me, personally I would like to have control over my business.
I want to be able to choose my own niche and have control over the content, theme, and so on. If I have to pay $39,99 I want to have a top-notch platform, with support, community, step-by-step training, weekly video classes, keyword research tool, and so on.
Let me know please, would you buy the 5K Formula System?
Please use the comment section below, I will be more than happy to provide you with feedback.
Thank You For Reading,
Mike.